The Only Ticketing Solution with SMS Marketing
SMS marketing is just another word for text messaging or marketing through texting. It has become a popular way to stay constantly connected to customers, and send announcements, and any updates concerning services, discounts, and events.
Purplepass is proud to announce that we implemented our very own SMS messaging tool for our event promoters! Promoters can use SMS not only for marketing and cross-promotion of their events but more importantly, to offer the highest quality customer service possible.
Sending Messages Using Credits
Managing Cancled or Deleted Events
SMS messages for events

This tool is all about being able to reach your customers in a timely manner and guarantees they will see your announcements. One case study through IDC Research report showed that 79% of people 18-44 have their smartphones with them 22 hours a day.
What is the first thing people do in the morning, or before they go to bed?
You want to say make coffee, shower, read, but no, they check their smartphones. SMS has become a guaranteed way to reach an audience at some point in the day.
79% of smartphone users have their phone on or near them for all but two hours of their waking day; 63% keep it with them for all but one hour.
A full quarter of respondents couldn't recall a single time of the day when their phone wasn't in the same room as them.
Sending SMS messages using credits
Depending on your SMS message word count, you will be charged a certain amount of credits.
Purplepass offers an inexpensive and easy credit system where you can continue to add the credits you need with different pricing tiers to choose from.


Bronze - 500 credits: $10
Silver - 1000 credits: $20
Gold - 2500 credits: $50
Platinum - 5000 credits: $100
Diamond - 10000 credits: $200

How the credits work
When you go to send out your messages, our system will tell you how many credits will be needed for processing and sending. It's 160 characters per credit, so each message requires one credit. A credit is equal to one text message transmitted to someone.
For example: If you send one text message to 10 people, that is 10 text messages and therefore 10 credits. If you send a really long text message to one person that is 1500 characters, that would require 10 messages to get the whole text across to one person, which would also cost 10 credits. If you sent that long message to 10 people, it would be 100 credits.
Understanding auto-refill
This option is for if you run out of credits while sending messages, your account will auto-refill so all your messages can be sent without interruption. You have the option to choose how many credits you would like to purchase when you run out after selecting auto-refill.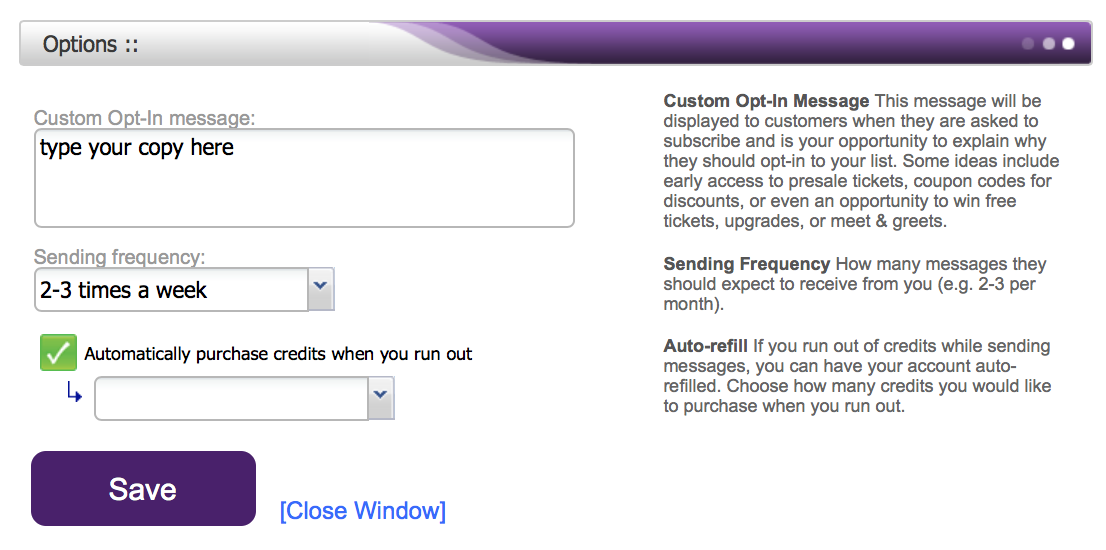 For example, let's say you only have 25 credits remaining on your account, but you still wanted to send a text message to 100 customers.

You would need 100 credits, but you only have 25. This is where auto-refill comes in.
Turning on auto-refill
With auto-refill turned off, if you tried to send the 100 text messages, but you only have 25 credits remaining, it will send the first 25 text messages, and it will pause and send an alert notifying you that you have run out of credits, and it's time to purchase more; until the promoter purchases more credits, the system will pause and not send those remaining 75 text messages.
Turning off auto-refill
With auto-refill turned on, it would send 25 messages, and then it would automatically purchase your select amount of credits to continue sending the remaining 75 text messages without pausing the campaign.
We want to make this as easy as possible and available to you with a click of a button, so you can add whatever you need when you need it.
You can talk to your Purplepass representative about the different credit options available, or take a tour of
your account.
Creating an opt-in campaign
Just like an email list, blog subscriptions, and other marketing tactics, your customers have the option to opt-in.
Opting in is basically a customer giving you permission to receive your direct messages.
If a customer is attending your event, they are most likely to opt-in to avoid missing out on any information regarding future events, discounts, cancellations, and more.

Through your Purplepass account, you can create a customized Opt-in message asking them to subscribe, your mission statement, and what they will receive through these messages.
This should be your longest message.
Managing canceled or deleted events
Our SMS Marketing has a feature that allows you to instantly send a text message to all of your customers, ones who opted-in as well as opted-out, announcing to them that the event has been canceled or deleted.
Don't worry if you are out of credits, we got you covered!
Purplepass will cover the cost as a courtesy to you. If your event is canceled at the last minute for bad weather, artists, etc. we can send a text message to you, updating your customers at the fastest rate possible.
The average open rate of a text message is about 99% while email is only 28-33%.
Meaning, this is the fastest way to notify your customers in an event of a cancellation and provide great customer service.
There are a million reasons why you should consider using this feature for your next event. Below are our top reasons why our event promoters are using our SMS tool:
1. It is a direct channel to customers with guaranteed open rates
2. It increases customer engagement and brand awareness
3. The Purplepass account makes it easy to see who opts in
4. It is cheap and easy to use
5. Free cancellation text courtesy of Purplepass!
6. It is a highly popular form of marketing for each event you do
7. You can personalize/customize each message the way you want it
Use SMS to promote your events
The SMS feature is not only great for customer service,
but can be used as a marketing tool as well.