SDSCPA Brings Our Favorite Family to Life With The Addams Family, A New Musical Comedy
Welcome to the San Diego School of Creative & Performing Arts (SDSCPA)— an arts focused public magnet school for artistically passionate students in grades 6-12 located in Southeastern San Diego. At SDSCPA we nurture excellence in arts and academics through a rigorous dual curriculum. Our students must be extremely dedicated and willing to persevere through challenges, failures, opportunities and successes.
For 2019-2020, the San Diego School of Creative & Performing Arts presents the Mainstage Season named "Cycles".
The Addams Family, A New Musical Comedy
The Addams Family is a musical comedy based upon The Addams Family characters created by Charles Addams in his single-panel gag cartoons, which depict a ghoulish American family with an affinity for all things macabre.
SDSCPA is excited to present this production with music and lyrics by Andrew Lippa, and the book by Marshall Brickman and Rick Elice.
Recommended for all ages.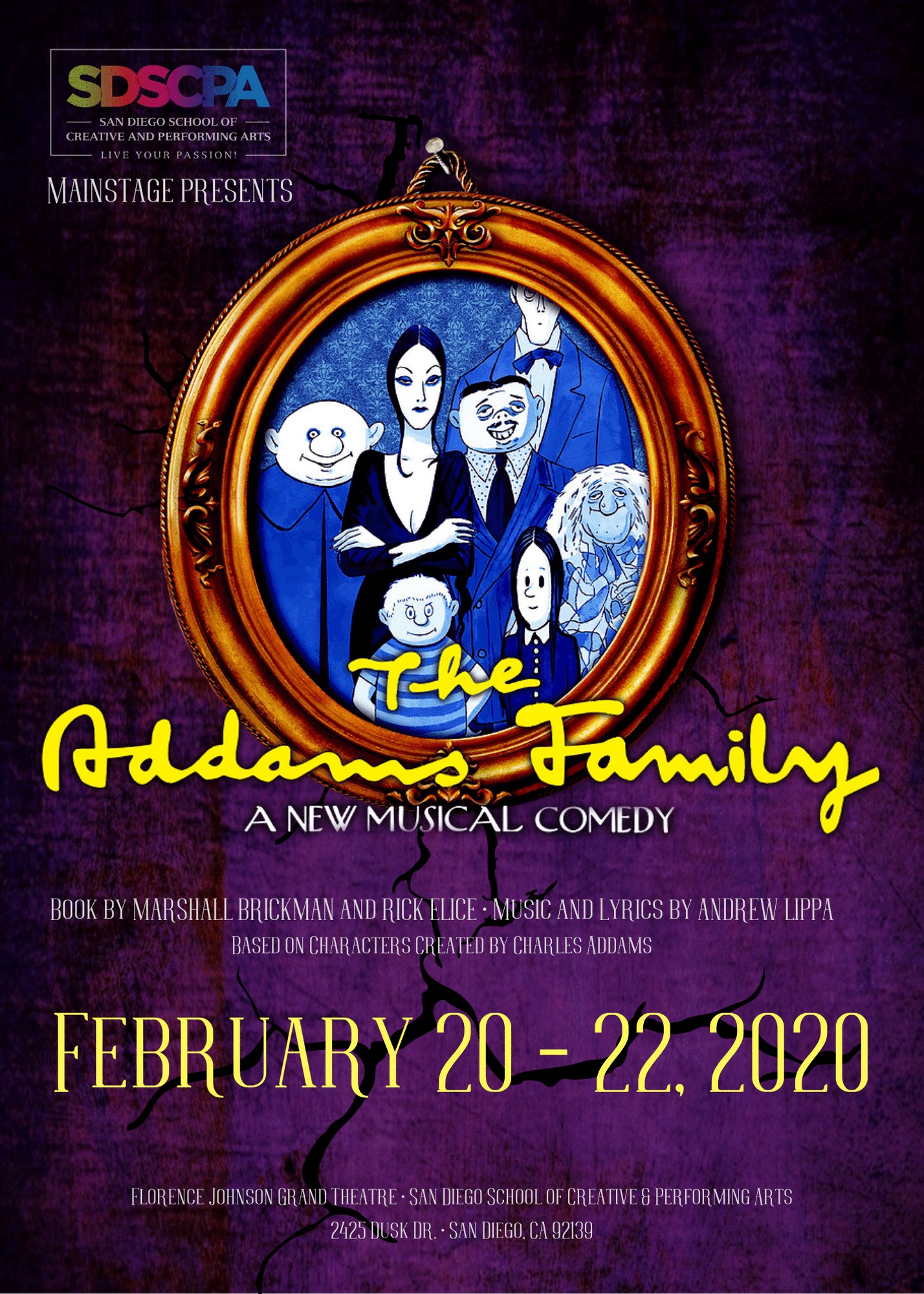 Event Details:
Tickets are available at Purplepass.
Orchestra: $15.00
VIP Seating: $20.00
General Admission: $15.00
SDSCPA Student: $10.00


Location:
Florence Johnson Grand Theater
2425 Dusk Dr.
San Diego, CA 92139


Date:
The production is showing from Thursday, February 20th through Saturday, 22nd.
Click here to select your preferred date and time.
---
The Creative and Performing Arts at SDSCPA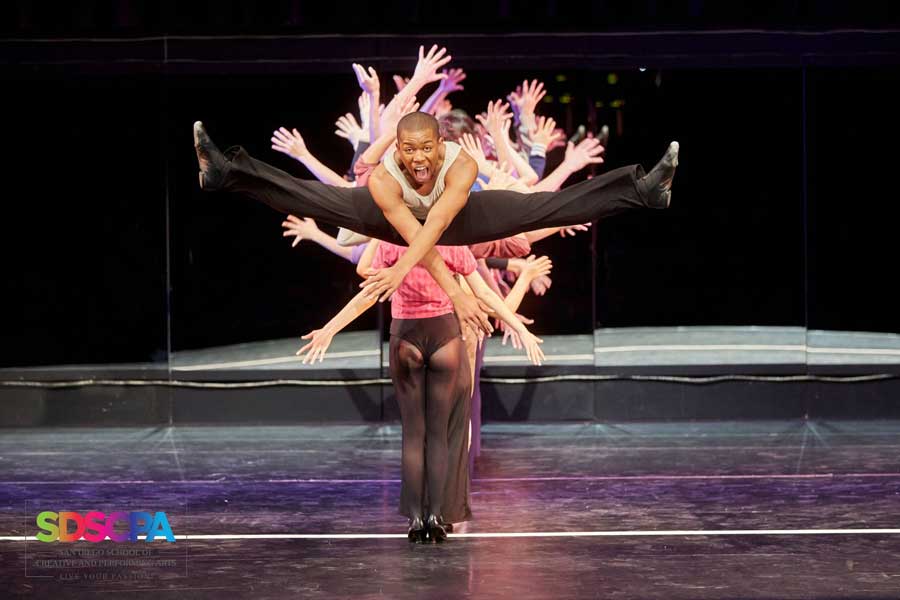 "At SDSCPA, the arts are not an "elective." They are a core and essential area of study. Students do not just perform or create—they live through their performance or creation. It is their existential voice and way to interact with the world. SDSCPA tirelessly creates a space where students feel safe to create, explore, and discover. Students are encouraged to be courageous in telling stories through choreography, with pencil, camera or voice."
Our vision: All students will complete a pre-collegiate curriculum in the arts and academics. All students will demonstrate they are (1) prepared for conservatory study in the arts and (2) a sophisticated, literate critical thinker ready to engage in the 21st century creative economy.


Our mission:
Through a safe and supportive learning environment, we will fulfill our promise to students by:
* Offering a rigorous pre-collegiate scope and sequence of courses in the academics and arts;
* Ensuring all students have access to diverse industry professionals in the arts and academics;
* Providing a passionate, student-centered staff dedicated to ensuring all students experience success;
* Providing ample opportunities for innovation, creativity, and critical thinking.
SDSCPA offers the following Arts Majors for their students:
Creative Writing
Dance
Music
Theatre
Visual and Media Arts

The Addams Family, A New Musical Comedy is an opportunity to see the Dance and Theater department in action! The Arts is an essential part of the society we live in today; to instill this, SDSCPA teaches their students the passion, skills and discipline it takes to master their craft.
Per Niche, SDSCPA is ranked a Top 20 Public Arts School, ranked #51 most diverse in the nation, is a tuition-free, donation dependent public magnet school serving 81 zip codes in San Diego. #LiveYourPassion



SDSCPA's Partnership with Purplepass
SDSCPA has partnered with Purplepass for all their performing arts events. By using our event management platform, their school can use our mobile box office to post current events online.


Here's how they are currently using Purplepass:
Guests and students can purchase tickets online instead of at the gate or Box Office (this is essential for out-of-town guests that want to buy tickets ahead of time).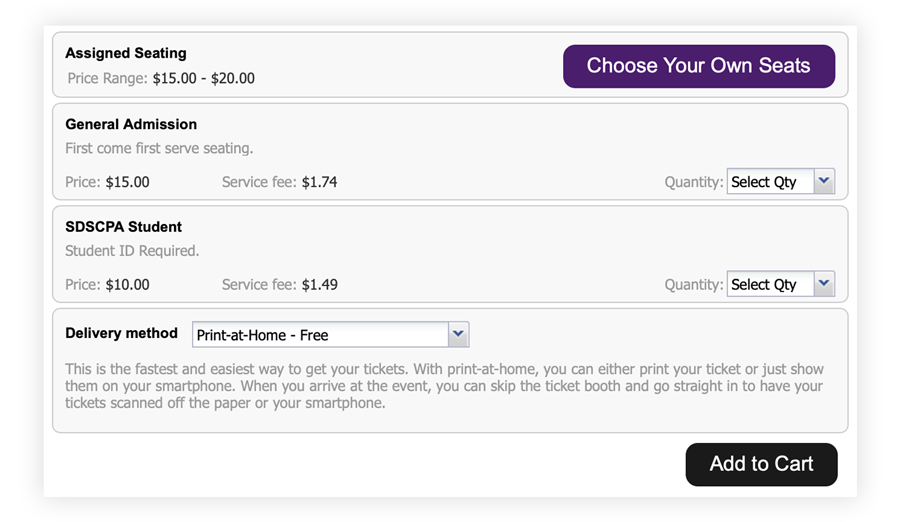 They can create and manage assigned seating maps for their venues. This makes selecting seats by family easy.
SDSCPA can offer their students discounted tickets by using their student ID as a coupon code.
Guests have the option to select print-at-home or pick up tickets at will call.
For guests that want premium seating, they are able to create different ticket packages for VIP ticket holders.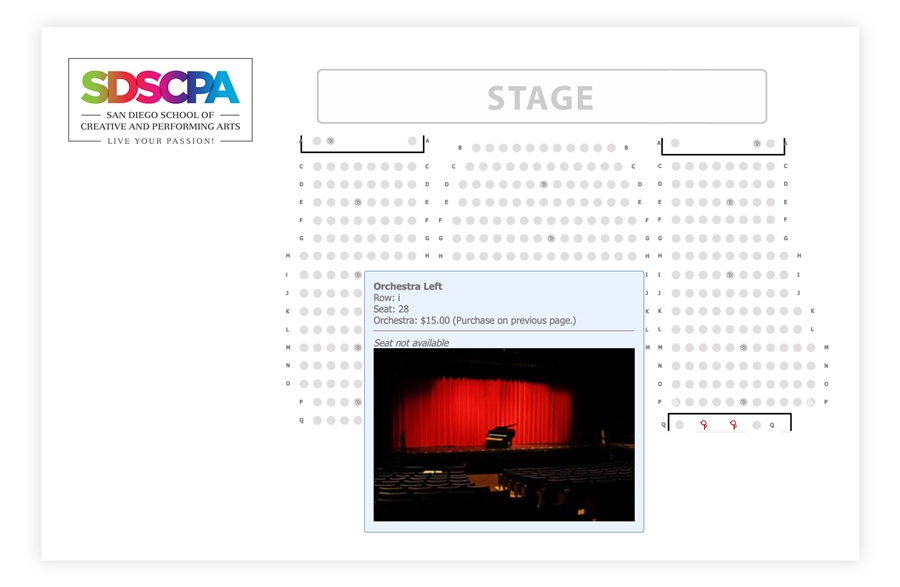 Facebook Event page: https://www.facebook.com/events/180068786563249/
QR Code for Event page: