Remote Project Management: 9 Tips for Organizing Virtual Events
Virtual events are becoming the new norm ‒ and for a good reason.
They allow promoters to host an event anywhere in the world. Virtual events are also inexpensive, boost audience engagement, generate leads, and can help build your brand worldwide instead of just local.
New live streaming widget
Learn about Purplepass' new live
streaming feature that embeds the
virtual event directly on your website.
Defining virtual events - what are they?

This might come across as obvious, but it is what it is. Virtual events are any event you host online. This usually involves master classes, panels, Q&A sessions, webinars, and interviews.
On a much larger scale, virtual events can be help in the form of conferences, online trade shows, company-wide gatherings, and so much more.
In this article, we'll walk you through the nine tips on how you can successfully organize virtual events starting with promoting them.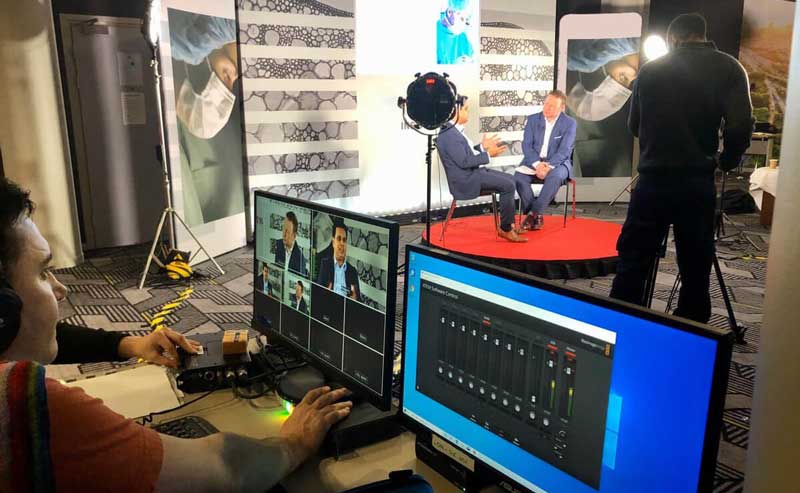 1. Event promotion and digital marketing
Chances are remote stakeholders, or employees will not see or walk past bulletin boards or posters of your event; especially now with COVID-19 keeping us in doors. That's why it's very crucial you put in the extra effort in promoting virtual events. The more you promote, the more will see it and tune in.
Think about all your avenues! Email blasts are also a great option, but you should not stop there.
While you promote your event online. include ticket links, video feed URLs, and any event details and information you have lined up. Place a blurb about any incoming meeting agendas to ensure everyone has the details.
Top promotional ideas for live streamed events:
Create a Facebook event
Market it on social media
Create a TikTok
Work with influencers (special guests can promote on their end)
Email announcements
Traditional ads (radio announcements, banners, etc.)
Use event discovery sites
Paid advertising (do some target research first)
2. Create a compelling event to draw people in
Now, more than ever, with almost everyone moving to virtual platforms, searching for ways to connect with other people in a unique way may be challenging. Ensure that the topic/theme you come up with for your event is compelling enough to draw other people in.
Give them a reason as to why they should attend your online event.
Ideally, look for a topic you want to resonate with your audience, especially during these times of the pandemic or something that is beneficial to them. How is your event different?
3. Make room for interaction - create an engagement plan
Interaction is essential for the success of your event. Questions, comments, and other actions make your event a lot more exciting than one without.
Therefore, during the planning stage of the event, leave out a time for interactions; this can be between guests and/or performers.


How you can get guests involved during a live event:
Use a chat room or a live feed
Offer Q&A sessions or live interviews with a host mediating it
Work with a software that has tools for engagement
Acknowledge your guests in real-time and interact with their comments during the event
Do shoutouts for guests posting about the event and using hashtags when live
Use polls, surveys and live questionnaires on screen that guests can answer while watching
Mail out programs, brochures and other event material ahead of time that they can follow along with during the actual event
4. Keep the presentations on track
While chatter and other side discussions are normal in any event, these things can distract you from your purpose or central theme. As a result, it's challenging for attendees to follow, especially if they attend a virtual event or meeting.
To limit these off-topic questions and comments, including a designated Q&A in your meeting's agenda or a host to mediate conversations live.
5. Choose the right time for your audience
Choosing the right date and time for when your event will be held is crucial.
Before coming up with a date, make sure that you do your target market research. Also, go through the calendar year and make sure there won't be holidays or events that will interfere with attendance rates.
As much as you can, consider time zones. If you're planning to go international, you should pick out a time that will work best for your followers and customers.
If not, see that the content you've presented is accessible even after the live show or presentation is recorded for people who cannot attend or make it.
It's also vital that you plan out several networking sessions and virtual events for those who have different time zones if possible.
6. Choose the right live-streaming platform
Once you've decided on your live event format, the next thing you need to think about is what platform you want to use.
Here are some critical questions that you should ask to help you choose the right platform for your virtual event:
Will this particular platform support the event format?

Will it be ideal for the audience size?

Does it come with the right features that allow engagement with viewers?

Is the platform cost-effective?

Does it offer 24/7 customer support?

Does it come with any privacy or security issues?

Is the platform easy to use?


7. Find a robust ticketing software that supports live streams
It doesn't matter whether you're hosting an online or offline event. Having the right ticketing platform is essential in managing the registration data of the event and the event attendees.
As an organizer, it helps you plan your future events as well.
When selecting an event ticketing platform, a simple solution that gives you total control of the event. Purplepass' new live streaming ticket type and widget allows promoters to stream their events directly on their website. Start by creating your event, tickets, and finally the widget for your stream. Guests can use their confirmation codes to login to the stream on your event page.
8. Get the right equipment (especially audio)
If you're hosting an entirely virtual event, make sure that you're are fully prepared with the right equipment, software and audio interface.
Always check technical aspects and do test runs ahead of time. This is to ensure:
You have a stable internet connection

Your mics are working

Your presentations are in place

Your streaming platform is not lagging


Keep in mind that live streaming and using other event platforms can be a new and overwhelming experience at the beginning.

9. Keep track of your progress and results
The best project managers out there regularly track their progress. The same thing goes with any business. This is no different from project management.
Your progress may include an increase in the number of attendees, a boost in engagement, or the lead and sales you generate from the online event. All this should be tracked through reporting and stats. If you don't, how do you know what channels are working and what needs help?
Final words
Hosting virtual events is a fun and effective way to reach people from all around the world.
Organizing online events requires project management skills. But by following the tips listed above, you're well on your way to success.
---
Author: Juliette Anderson

Juliette Anderson is an Outreach Community Specialist for an e-commerce fulfillment company that specializes in partnering with online sellers who have an average parcel weight of 5+ pounds or greater. She works hand-in-hand with e-commerce stores to achieve optimal sales for four years already. Her specialty lies in social media marketing and paid promotions.