6 User-Friendly Event Marketing Strategies that Still Work In 2020
The event industry is going through a lot of changes, and it's no secret that most of them are COVID-related. The current pandemic has become quite the stress for the event industry and event marketers around the world.
According to the PCMA report
87% of marketers say they had to cancel one or several events

66% of respondents say they had to postpone their events

62% said they considered switching careers because of the unprecedented business disruption


During the pandemic, many event organizers around the world also struggled to keep their events relevant. And those marketing strategies that have proven to be effective in this hard time are likely to still be in the game in the upcoming future.
So, let's look at the top 7 event marketing strategies that are relevant now and will be well beyond 2020 and post-coronavirus.
1. Consolidated event experience
Over the past couple of years, event marketers have been enjoying the unified event experience delivered by apps. Reportedly, 91% of event planners have also seen a positive ROI from using event apps.
There are quite a few reasons more and more event planners get interested in investing in event apps for their own organization as well as for a better user-experience:


Personalized agendas. Event apps replace individual folders, handouts, and other old-fashioned ways to personalize event agendas. Most event apps come with a personalized interface tailored to the needs of every attendee.



Real-time event data. Live attendee tracking is one of the most beloved features in event apps. Event organizers can not only track the attendance rate but also receive real-time pre-event data, which can be used to make event marketing more targeted.



Increased attendee communication. The interface of an event app often allows the attendees to build mutual connections. Besides, event apps often have chatbots that quickly provide answers to frequently asked questions about event organization.



Improved security. Event apps add an extra layer of protection of private information about the attendees. When an attendee downloads the app, it often requires them to complete the two-step verification process before they can proceed to use it.


On top of the above features, real-time attendee feedback is another specialty that event marketers use these apps for. The ability to quickly survey the attendees is as good as gold in event marketing because it can help quickly adjust the entire marketing strategy to make it more tailored to the expectations of the attendees.
2. Paid Promotions
Because many events happen only once, it is important for event marketers to get the attention of the target audience as fast as possible.
Over time, paid promotions have proven to be the most effective, instantly driving the right traffic to the event's web page. Paid promotions also can help boost attendance. Reportedly, people who have visited PPC promotions are 50% more likely to purchase the product or service.
Event marketers can get benefits from various types of paid promotions, including:
affiliate marketing

contextual ads

banner ads

floating ads

pop-up notifications

Social ads
Among all kinds of paid promotions, social media advertising has proven to be the most effective because social media platforms offer the best options for targeting your ideal buyer.
For instance, when creating an ad on Facebook, the Ad Center tool allows not only you to focus your ad on the event description and the basic demographic details, like gender, age, and location but also helps you to navigate the interests and behaviors, making your reach more specific.
You can also see the size of the audience for each interest or behavior. The more of these points you add, the narrower your audience size will be, which is crucial to make your event ads as targeted as possible.
While paid promotions can boost your event's online exposure, your entire marketing strategy should not be confined only to this option.
A good 2020 event marketing campaign should also include some strategies that drive organic traffic as well because it helps you achieve the exposure you expect through trust and credibility.
3. Event-specific website
Creating a website for your event has always been and will remain one of the top event marketing strategies in 2020. A website is a place where all your attendees can look for the event description, go through the registration process, and learn about speakers and sponsors.
Besides, among all event marketing strategies, event-specific websites are in the top 3, with 60% of marketers supporting this strategy because of its potential to drive organic traffic.
The success of your event website depends on how well it is optimized for SEO and whether it includes all keywords necessary to find it.
CES Tech conference's online page is a good example of a well-optimized website. The event marketers used a variety of keywords, which people could use in their search queries, and add them to the website to make it easier to find: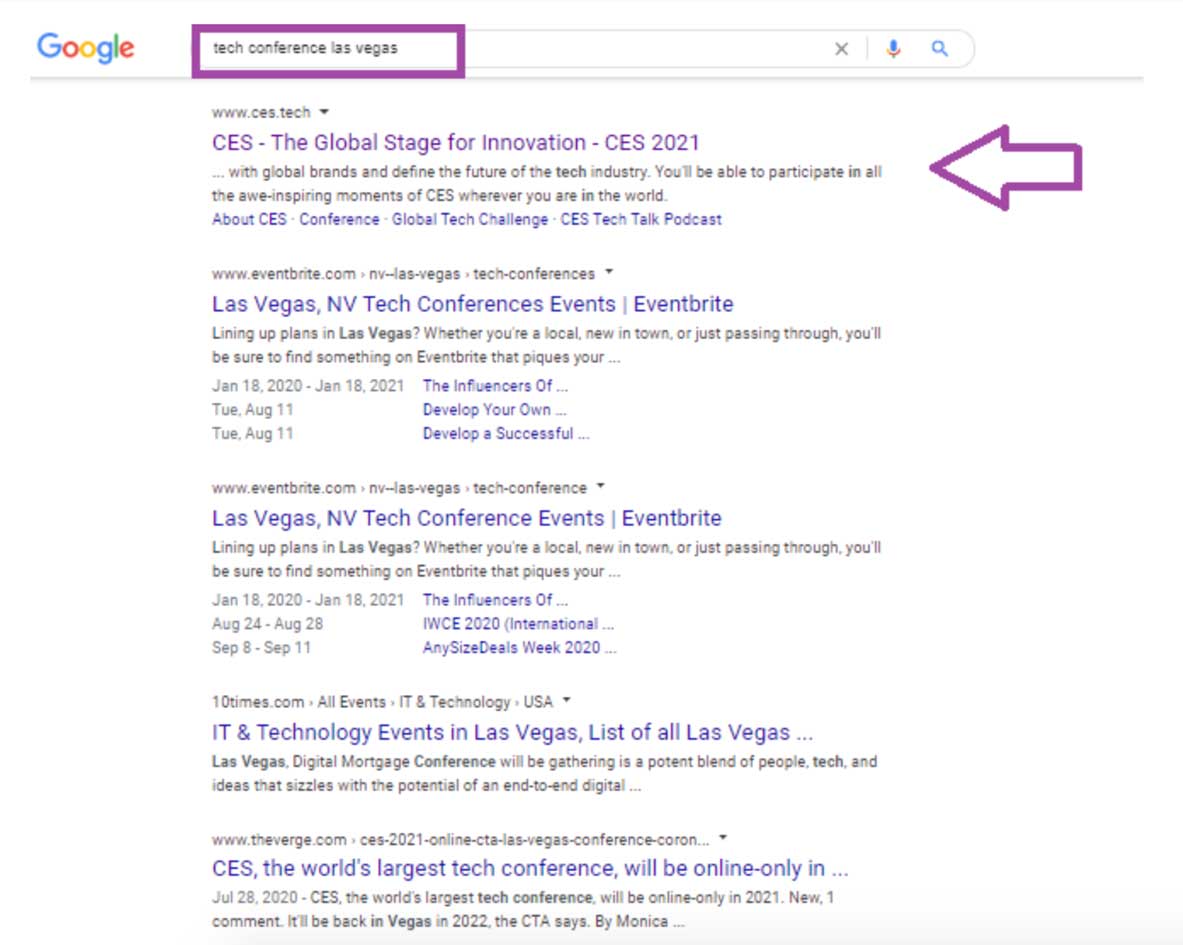 This is only one examples of keywords used by this website for SEO optimization.
In both cases, the website appeared as #1 on the search results. So, as you can see, if used efficiently, this strategy can help you market your event, no paid promotion needed.
4. Email marketing
Another event marketing strategy that is not going anywhere in 2020 in email marketing. Despite the claims that email marketing is dying, it is still one of the most popular marketing strategies, delivering a 15% conversion rate on average.
Event organizers can use this strategy to target potential attendees if they already have them on their subscriber list.
If the demographics of your subscribers reflects the demographics of your event's target audience, it will be faster and less expensive to target them with an email that contains a quick CTA registration button. Besides, email is a great channel to send follow-up messages and updates regarding your event. You can also use this channel to send links to exclusive content or attach early bird discount coupons to drive more attendees to your event.
5. Influencer marketing
In 2020, influencer marketing is now one of the strongest strategies used for promotion.
Reportedly, 63% of marketers plan on increasing their influencer marketing budgets next year, and there is a good reason for that. This strategy gives you quick access to your target audience through an influencer who has earned the trust of their audience.
You should choose the influencer according to the format of your event. For instance, the world-renowned Web Summit often partners with Inc. magazine articles because it also caters to their target audience: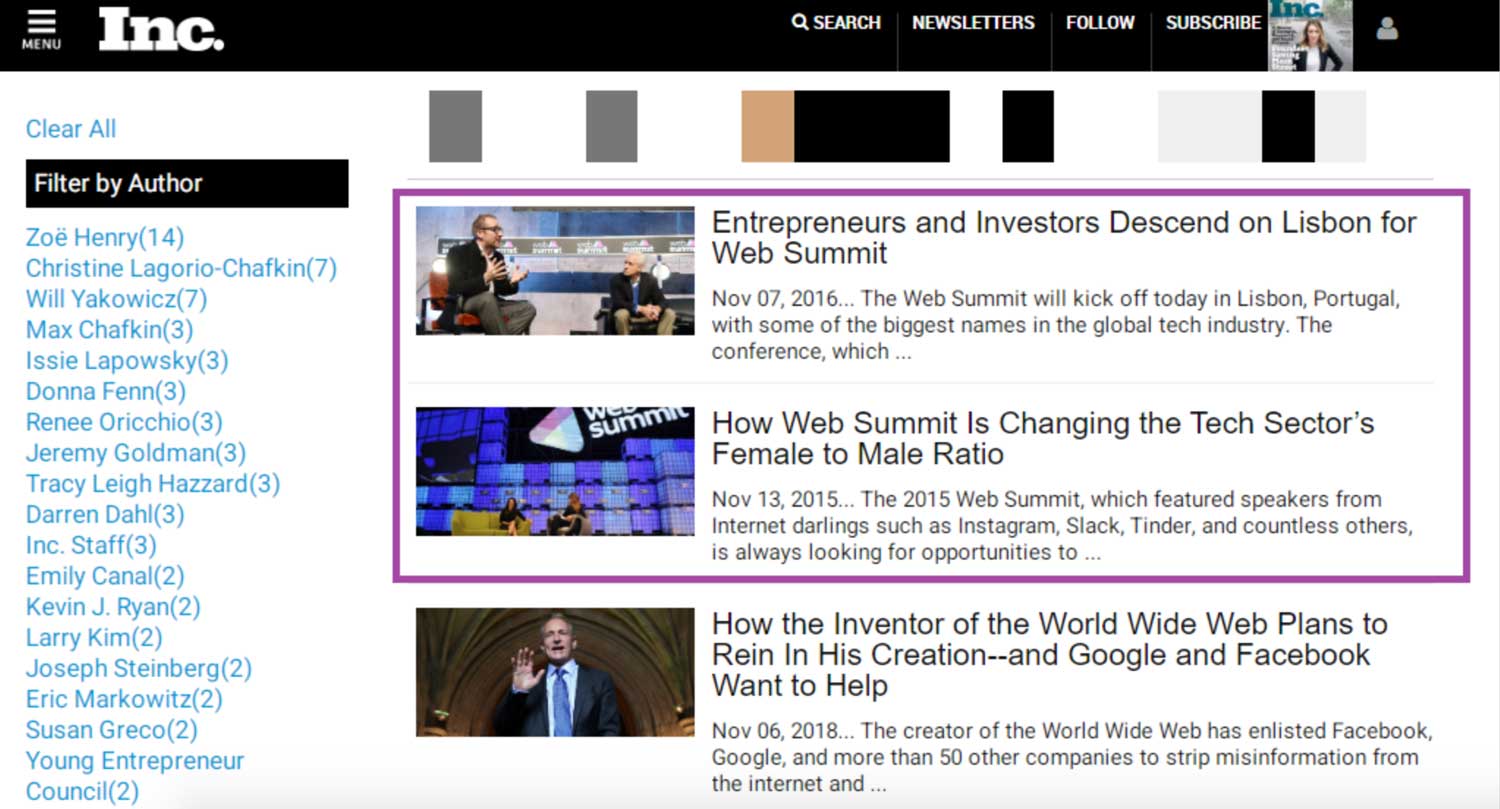 Influencer marketing is a dominant strategy for the pre-event stage, helping you build up the web exposure of your event and increase the number of attendees, as you target the exact audience you need through the credibility of the influencer.
6. Content marketing
This is another strategy that can help you increase organic traffic and boost the exposure of your event online. Content marketing is a powerful tool that, when used correctly, can deliver significant results through creativity.
You can use this strategy to create a unique event description with different content. One way to do it is to launch a blog dedicated to your event; many event organizers use this opportunity to draw more attention.
Adobe Summit is a good example of how blogging can promote an event: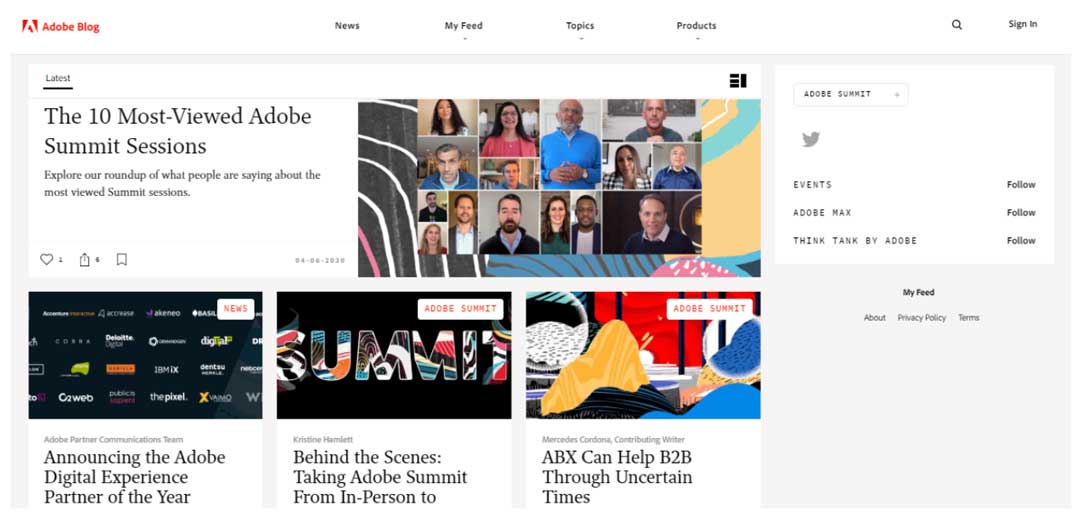 On this blog, you can find exclusive behind-the-scenes details about the preparation for the 2020 summit, and a few articles with insights from the speakers.
To build an effective content marketing strategy for your event, you can also use the help of experts who can create guest content for you. You can find guest content writers using a list of the best writing services or find such experts by searching for their online portfolios. Either way, including an experts opinion on your event's blog is a great way to build authority and increase your event's web exposure.
Another type of content that has been proven to deliver great marketing results is a video. Using video marketing, you can also create a unique event description and tell the story about your event.
Investing in video production to promote your event can be costly. However, the stats show that video content has the best ROI, claiming that marketers who use videos for marketing can grow their revenue 49% faster. This is a good point supporting the fact that video content will remain one of the strongest event marketing strategies for 2020 and beyond.
7. Social media marketing
Last but not least, it is impossible to not give credit to one of the most popular event marketing strategies. Social media marketing is one of the preferred strategies not only for event organizers, and today you can hardly find a company or brand that doesn't use social networks for marketing.
That's why social media marketing will remain relevant as long as social networks exist. And, with 3.6 billion social media users worldwide, the ideal audience for your event is among them.
Social media can be used both for pre-event and post-event marketing, and to promote the content you create for your event. For instance, Web Summit frequently uses their Facebook page as a channel to promote its podcast with different experts and influencers: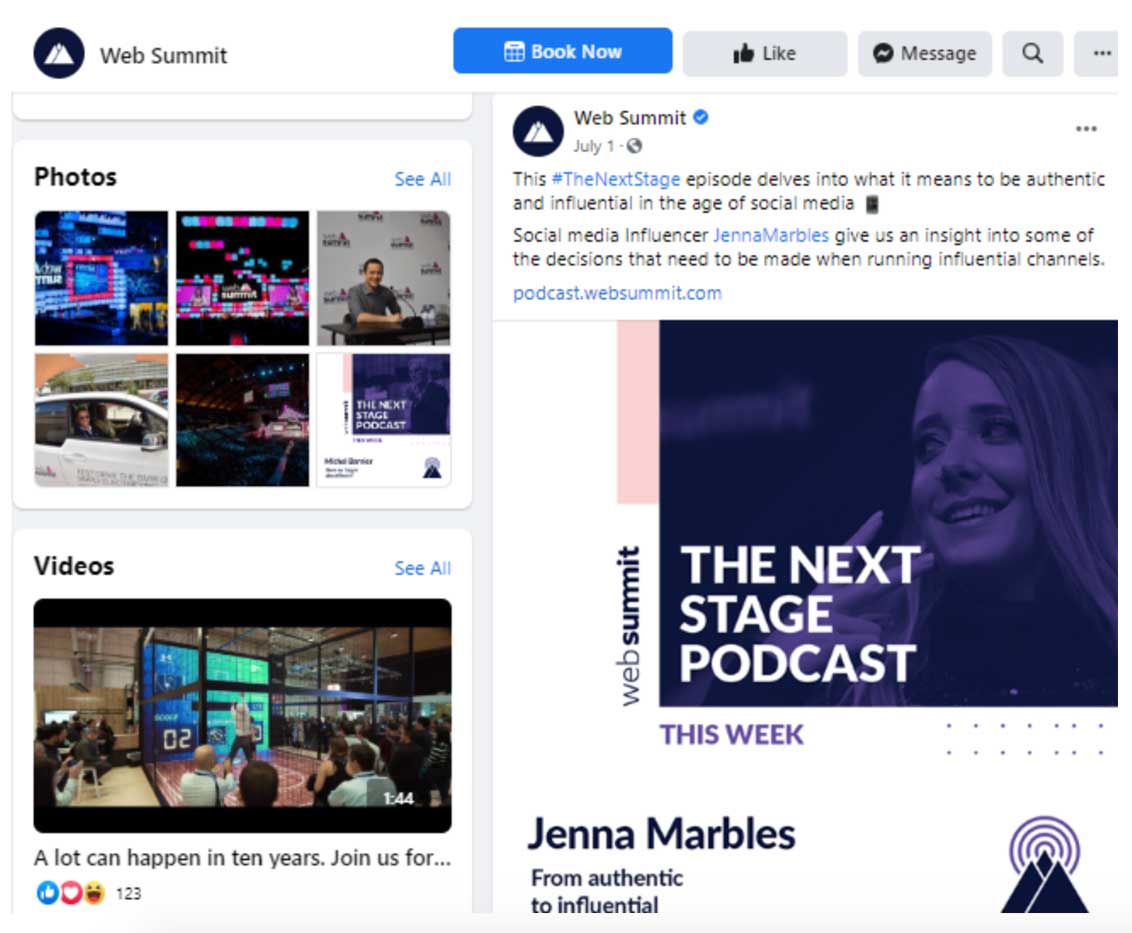 Web Summit also repurpose content to generate more links to their other content resources via their social media channels.
Besides Facebook, the organizers of the summit use their Instagram page to share photos from the event and pre-event announcements: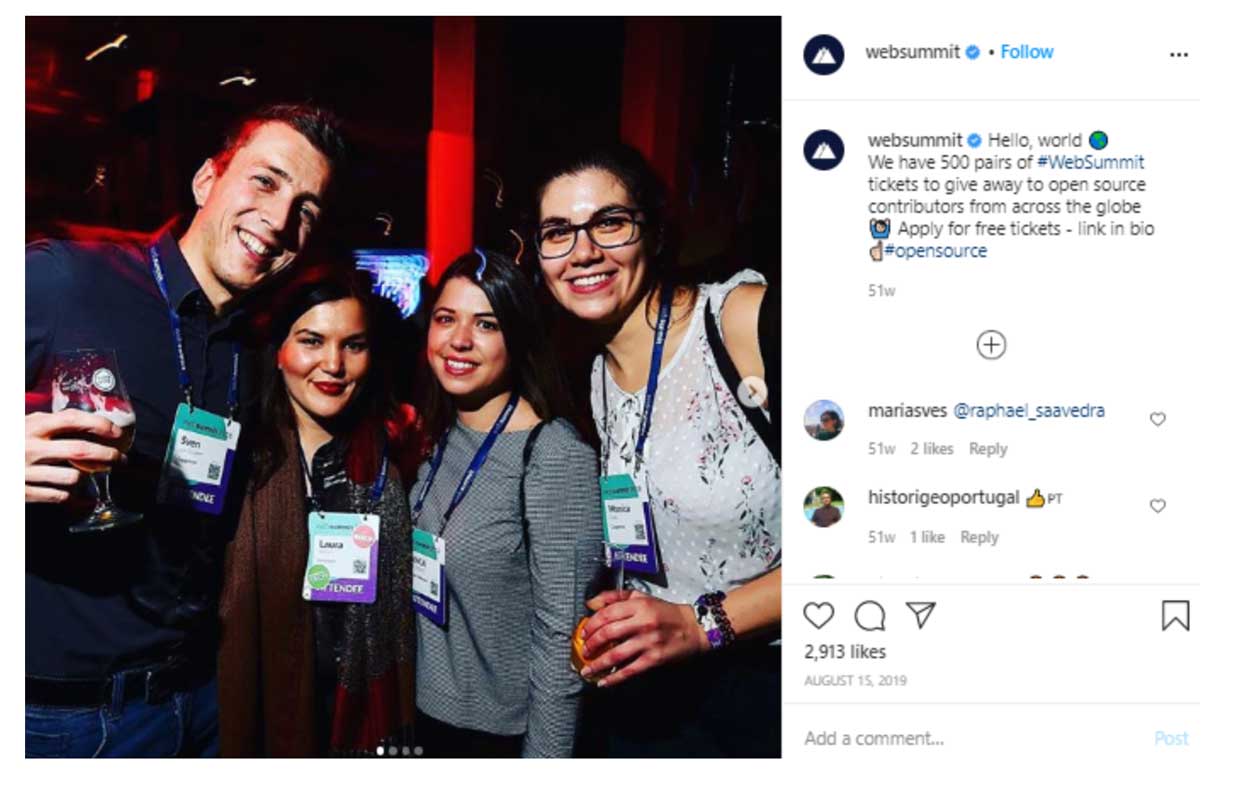 This marketing strategy should definitely be in your marketing arsenal for the years to come. Social media platforms offer marketers all the tools to promote events, from hashtags to geotags, ultimately helping them increase the event's online exposure and reach more people with content.


Over to You
Unfortunately, we're still not out of the pandemic, and there is no definite time when it will end. For the event industry, this means even more challenges and struggles to keep events relevant.
Luckily, in our increasingly digital world, there are strategies that can help you manage event marketing successfully. From paid promotions to social media, these strategies can help you successfully reach your target audience and boost your event's web exposure.
Did you face any struggles with event marketing during the COVID-19 pandemic?
Which of these strategies helped you best to promote your event?
Share your experience with us!
---
Author: Daniela McVicker
Daniela McVicker is a blogger with rich experience writing about UX design, content planning and digital marketing. Currently, she is the chief contributor at Essayguard where she helps individuals and organizations improve their web content writing, design, and planning skills.