How to Plan a 'Fa-boo-lous' Halloween Costume Ball
Halloween is just around the corner, so that means planning an epic party. Who said you can't plan a safe, yet spooky Halloween costume ball this year!
Whether it's your first time putting one on or you just need some inspiration, here's what you should know.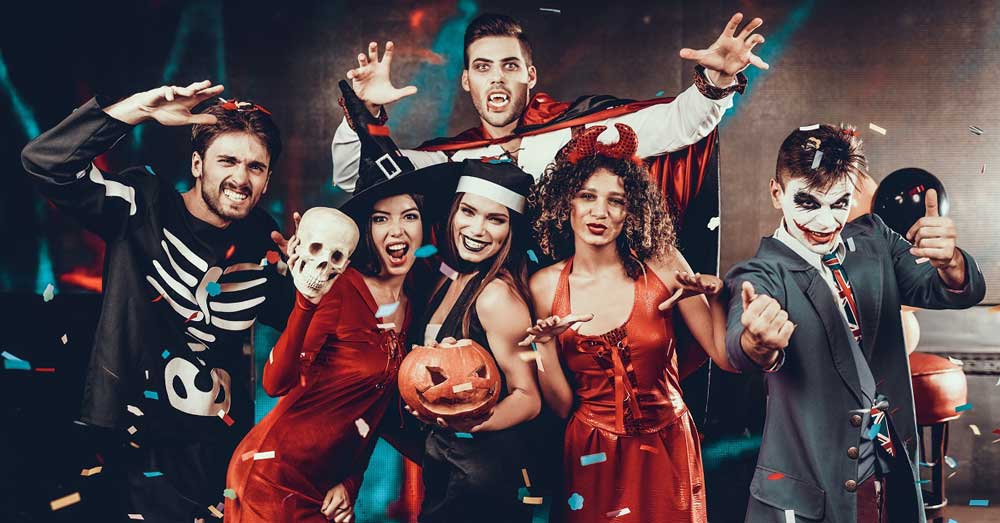 What is a Halloween costume ball/party?
Halloween is such a popular holiday because it allows everyone to dress up and become someone else for a day. Costume parties are excellent opportunities for guests to cut loose and let their creative side shine.
When planning one of these parties, you can decide whether costumes are mandatory. While everyone should be in the Halloween spirit, some guests may prefer not to dress up. It's up to you whether to accommodate those who are less festive. Overall, the goal of a costume party is to encourage engagement and participation.
What is the Theme?
The theme is Halloween, duh!
Actually, narrowing your focus a bit further helps for two reasons. First, it makes it easier for guests to come up with a costume idea. Second, it streamlines the planning process because you can align everything from the decor to the venue around the central theme.
Some Halloween costume ball theme ideas can include:
Vintage Halloween - Costumes should be from a specific era, such as the 1920s or 1970s.

Homemade - All guests have to make their costumes from scratch.

Monster Mash - Costumes should be related to monsters (e.g., Frankenstein, werewolves, etc.).

Superhero, Marvel, Comic-Con
Let your creativity flourish by picking something that's not too broad or too narrow. Consider costs and feasibility as well, both for yourself and your guests.
Pick an Appropriate Venue
Since it's Halloween, the venue is as much a part of the experience as the costumes and decor. While you can host your party in a generic ballroom or banquet center, why not look for something that fits within your theme?
For example, if you go with a vintage Halloween theme, you could try renting out an old house for the night.
When choosing a venue, consider these elements:
Decorating - Can you decorate the space as much as you want? What are the limitations?

Size - How many people are you expecting for this party? Do you have enough room for social distancing if that is a concern?

Accommodations - Does the venue have things like sinks, bathrooms, and a food prep area? Or will you have to facilitate everything yourself?
Pro Tip: It's always almost better to have a smaller venue that can be filled easily, than a large venue with a lot of empty space. Nothing is worse than not having enough guests to fill the venue and then the party looks half empty.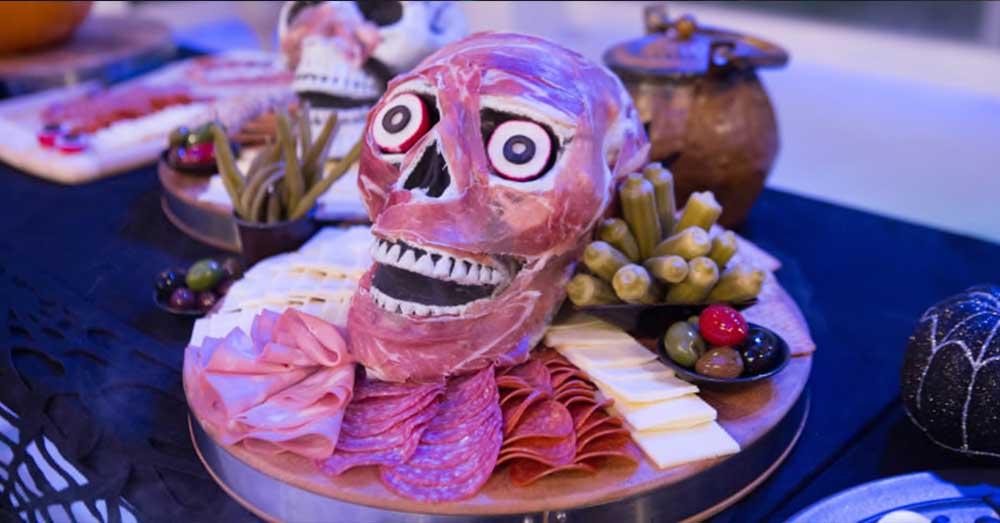 What about food?
No party is complete without food, and Halloween allows you to get more creative with your spread. However, the fundamental question boils down to whether you'll get a caterer or make your own dishes.
Option #1: You can have a potluck where guests bring food items, but that option is often reserved for smaller parties. If you have a potluck, instead of having one table for all the food, create stations to spread out the lines and food options.
Option #2: Alternatively, you can assign food roles to specific guests to avoid confusion or identical dishes. Like a sign up sheet, create a sign up online where people can select the food they will be bringing in order to avoid duplicates.
Option #3: Serve entrees or snacks (or both). Typically, finger foods and desserts are ideal, but the decision also depends on the timing and duration of your party. If it starts later in the evening, snacks are better.
Also, don't forget about beverages - what about a hosted bar?
Consider a costume contest
If everyone is dressing up already, why not reward them to get more creative with their costumes? When developing a costume contest, consider different categories, such as:
Best couples costume/twin costume

Best group costume

Scariest costume

Funniest costume

Overall best!

Be sure to let guests know of the categories and prizes ahead of time so that they can plan accordingly. Also, you'll have to figure out how to measure winners.
Will guests be voting on the costumes, or will there be a panel of judges?
Do guests have to be present to win?
Come up with clear and concise rules beforehand.
Health and safety procedures for a COVID-19 world
Since the pandemic is still going strong, you have a responsibility to provide a safe environment for all of your guests. Some health procedures to consider can include:
Vaccine Verification - Guests can show their vaccination status before entering the party.

Health Checks - Someone can monitor temperatures and symptoms for all entrants.

Social Distancing - If possible, try to spread party elements out so that groups won't congregate too much if it is a big concern in the area.

Masks - Those who aren't wearing Halloween masks should wear regular face masks instead.
Considerations partnering with a charity
What's better than having fun?
Having fun for a good cause. Halloween is the perfect excuse to raise money for a charitable foundation. Either you can charge money at the door, use a registration that accepts donations or have donation baskets at the party.
Be sure to promote the fundraising aspect of the party as much as possible. You can also incorporate fundraising activities such as 50/50 raffles, silent auctions, and more.
Prizes, swag, and gift bags
Halloween is the perfect holiday for party favors and gift bags since it's so easy to find these items.
If you're having a costume contest, try to get substantial prizes that will motivate guests to put more effort into their ensemble. You can also incorporate the idea of trick-or-treating with candy stations throughout the party.
Other activity ideas throughout the night
Finally, what will guests be doing besides mingling and showing off their killer costumes? What other activities can you provide?
Some examples include:
Murder Mystery - Either you can have professionals host the mystery or perform a DIY version.

Scavenger Hunt - Guests can form teams and find Halloween-themed items throughout the party.

Haunted Maze - Depending on your venue, you can create a maze for guests to pass through (if they dare!)

Silent Auction - Host a silent auction on the side if raising money for a cause or fundraising.