How to Increase Merchandise Sales at Sporting Events
Have you ever been to a match where almost everybody wore merchandise of the teams they're supporting? You remember how cool it looked, right?
Or, how exhilarated you felt when you walked into a stadium and realized that there were hundreds of others rocking the same jerseys as yours. Now, imagine how much more exhilarated and fulfilled the organizers of those sports events felt.
Merchandises are an integral part of any sports event. They are not only a measure of how much your supporters love the team, but also a perfect opportunity to make some extra bucks.
Unfortunately, several sports events organizers still struggle with persuading their fans to purchase their apparel. So, today, we delve into how selling merchandise in advance at the registration stage can help solve this problem. But, first, let's look at some common merchandise and apparel for sporting activities.
Ideas for merchandise and apparels at sporting events
Here are some popular merchandise and apparel you can try out at your next sports event:
Caps: They are pretty popular because they're unisex and can be worn of the year. Print your team's logo on the caps' fronts and encourage supporters to wear matching colors for specific games.

Beanies: Unlike caps, beanies are more suitable for sports events during cold seasons.

T-shirts: Besides helping you generate revenue through sales, t-shirts are also a perfect way to make your sponsors feel appreciated. Print the sponsors' logos at the back or front of the t-shirts.

Foam hands: Also known as foam fingers, these merchandises are pretty popular among football and soccer fans. One thing to keep in mind here is that not all your fans are right-handed.

Water bottles: While you may not provide drinking water to every supporter during a match, you can sell them water bottles so that they carry their own.

Thundersticks: These are long and narrow plastic balloons that are struck together to create noise and support players. They're suitable for sports events in large arenas.

Bandanas: Add some sense of fashion into your merchandise's inventory by stocking branded bandanas.

Jackets: If the sports event is in a cold season or at night, consider selling jackets. Otherwise, it may be useless to have your fans buy t-shirts, only to cover them with their home jackets due to weather.
Request your venue seating map
We build an unlimited amount of maps for
promoters...for free! Request one below!

5 ways to promote merchandise sales at checkout
One effective strategy that most sports event organizers often overlook is selling jerseys with tickets. As we'll demonstrate, integrating merchandise sales with the registration process can significantly increase the number of people buying your apparel.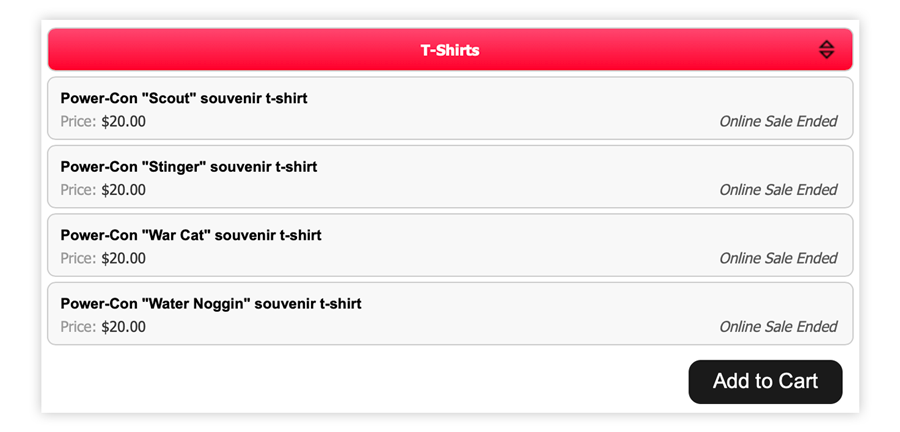 1. Include merchandises as part of a VIP Package
If there are people who need little convincing to buy your merchandise, then it's your VIP customers. Consider adding merchandise fees to the VIP tickets and marketing them as add-ons.
Because VIP customers aren't always as many as the regular ones, you can customize the apparel by printing their names if they buy them in advance.
2. Give discounts to those who buy merchandise in advance
If you've handled merchandise for sports events before, you know how strenuous it may be to sell them at the entrance. From long queues to fans who want the apparel for free, declined cards, low supply, name it.
Selling merchandise in advance helps you evade all this mess. So, it wouldn't break a bone to extend a small discount to those who make purchases at the registration stage. It helps you save time, and in the long run, sell more merchandise.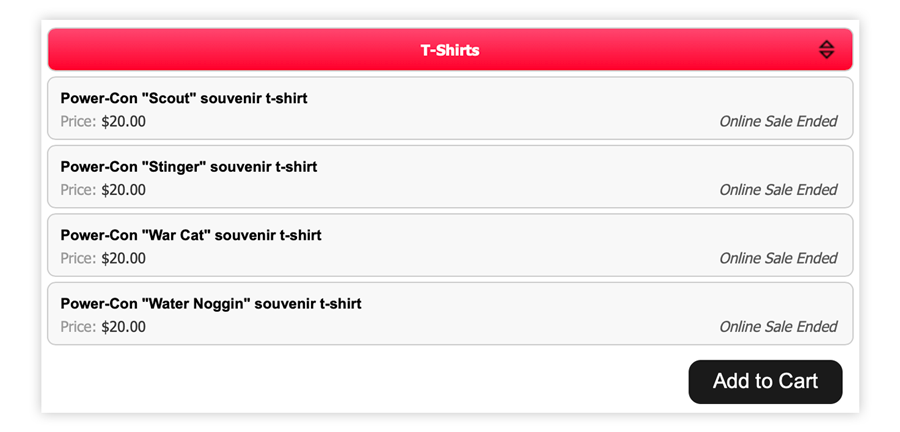 3. Target your most loyal fans
If your matches are seasonal, you definitely have diehard fans who buy tickets for every game throughout the season. These loyal fans are also more likely to purchase your apparel as a show of their loyalty.
Therefore, selling them merchandise alongside the seasonal passes won't be a bad gamble at all. You can even make them feel more appreciated by printing special thank-you messages on the apparel or having your players sign autographs on the jerseys.
4. Award merchandise to customers who refer others
There's no better marketing strategy than word of mouth. Even with the best merchandise in the market, you still need your customers to advertise them on your behalf.
Encourage your supporters to market your merchandise by extending discounts to those who refer others to buy them. If possible, you can award free merchandise to those who successfully refer a number of buyers.
5. Target group tickets
Just as you encourage people to buy tickets in bulk by discounting group tickets, you can give discounts to those who buy several apparels at once. Start by marketing this package to those who purchase group tickets, as they already understand the value of bulk buying.
Other ticket add-ons (not merch) to sell with tickets
People love to know that they are appreciated and offered additional stuff, and your customers are not any different.
While selling merchandise with tickets offers some big-time value for sports event organizers, there are other equally effective ways to make money before the event: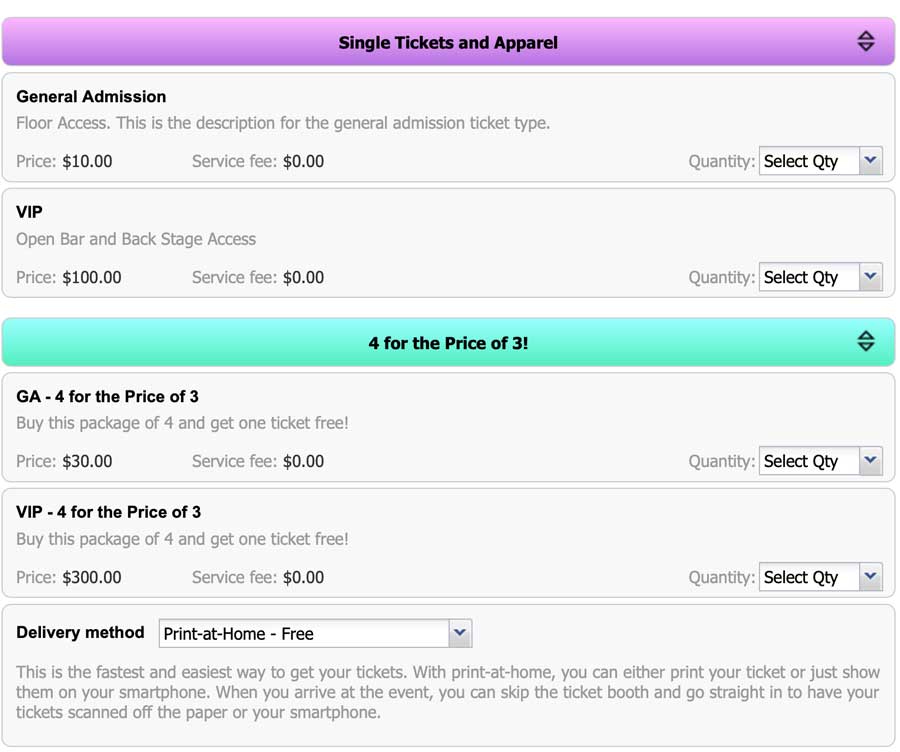 Offer discounts on foods and drinks: Of course, people will have to buy and eat food and beverages at your event, but what if you can sell them these foods before the event? Doing so lessens the work for your vendors and enables you to get money to sort logistics in advance.

Fast passes: Nobody enjoys standing in sluggish queues for whatever reason, even if it's watching their favorite team play. Several people would gladly pay extra bucks for fast passes to bypass these lines.

VIP tickets: Research shows that up to 33% of regular VIP tickets buyers would not go to events without VIP passes. So, this is one offering that you should take seriously. You don't have to give gifts or goodies to these customers; all they primarily care about is having the best experience possible.
Perks of selling merchandise in advance
Even if your supporters have an undying love for the team, long queues are likely to discourage them from buying merchandise.
Selling merchandise at the registration stage enables them to attend the game with the merchandise on without withstanding long, disorderly lines.
It's easier to buy merchandises at the registration stage
Physically buying merchandise at the entrance can be quite challenging. Besides the extended queues, wait as the team tries to find the perfect size. Sometimes, the credit card may be declined, forcing you to wait for more minutes. And the list goes on and on.
Buying merchandise in advance is as easy as stating your preference and making the purchase. If there are any glitches, you can sort them conveniently without worrying about a large crowd behind you.
Purplepass advanced (merchandise) mode
Don't just sell tickets, but merchandise with
your Purplepass account.