Creating the Perfect Post-Event Marketing Workflow
You work hard to get people into your event.
Whether you're running a conference, panel, or major #event, you've probably spent thousands of hours working diligently to put everything together and make your event a fantastic experience for everyone.
So... now what?
Create custom reports and real-time alerts
Track marketing efforts, build reports you need,
and monitor sales that come in. All with your reports.
You have all of these juicy leads standing directly in front of you during the event, but in a few hours, they'll disappear into the night to go back to their busy lives.
How can you capitalize on this moment and turn all of your event attendees into fully-fledged customers or recurring attendees?
Don't spend all of your time getting these leads right in front of you only to let them waste away in digital databases or address books.
Here's how you can set up a post-event workflow to help you keep up with your guests and hopefully transform them into customers.
What is a workflow (Marketing Definition)
A workflow is a logical webbing of automated tasks that you can trigger based upon pre-determined customer actions.
So, let's say that you want to send emails to every customer that signs up for your event via online form.
With a marketing automation software, you can set up a workflow that sends every customer who is added to the "event attendees" group a specific email.
And, you can set it up so that everyone who purchases a ticket is immediately added to said group.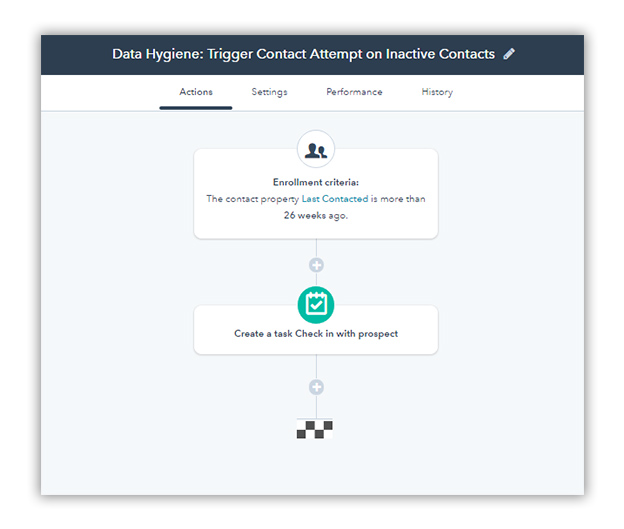 But, workflows can get infinitely more complex than that; It just depends on your needs.
However, there's one absolute — workflows are really only valuable with the right marketing automation software.
So, now that we've talked about what workflows are, let's look at the basic components that should be in your post-event workflow.


The Anatomy of a post-event workflow
There are 5 core components that make up your typical post-event marketing automation workflow.
Email
SMS
Surveys
Mail
Phone calls


This unique mix of digital and physical marketing serves as a good foundation for all of your post-event marketing needs.
And, these components are easily automated.
So, let's look at the role that each of these plays in your post-event workflows.


Email
Email is an absolute, no-questions-asked, must-have for your post-event workflow.
Sure!
We could point to the fact that email generates ~$38 per $1 spent.
Or, we could point to the fact that over 50% of people check their email over 10x daily. But, honestly, who cares?
Those are just... people.
You don't want people.
You want attendees, leads, customers.
Well guess what, there's a magic "something" that happens when someone steps into your event.

They're suddenly... new leads.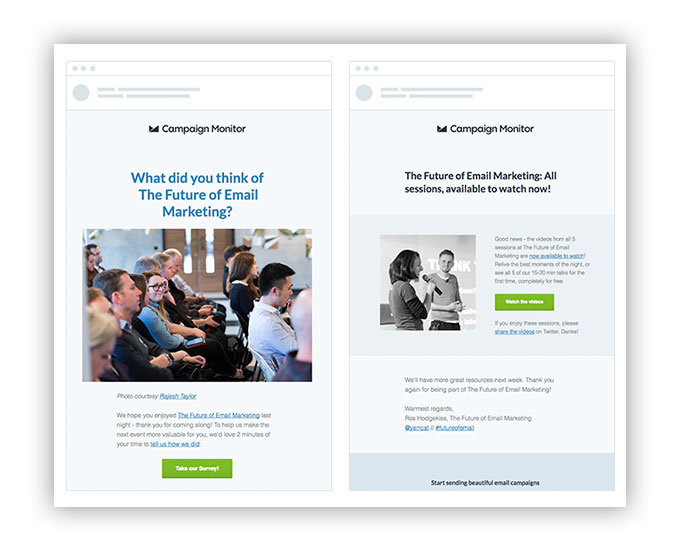 So, let's not even touch those run-of-the-mill statistics. Let's dive into the fun stuff.
Over 80% of event marketers use email to promote their campaigns and/or next event.
And 40% of them think email marketing is the MOST successful event marketing tool out there. So, obviously, there's something to it.
But why?
Emails can easily be automated! The magic of emails isn't how many people use emails (it's billions by-the-way) or that emails have some magic ability to sell.
They are just really easy to send out, and they're not very intrusive.
We recommend starting workflows with emails, but after you schedule that first email, it's time to ramp up your strategy and really get going.


SMS Marketing
If there's one thing you can be sure of, it's that everyone at your event can receive SMSs. Over 5 billion people have SMS capabilities on their smart devices.
Of course, the fact that SMS open rates are 5x higher than emails is amazing and response rates are 7.5x higher.
So, basically... use SMS.
In fact, Purplepass offers their features to make it even easier on you. Learn how you can use SMS Marketing for your next event through your Purplepass account.
Stay connected with our SMS Feature
Send alerts, event changes, promo codes,
ticket links, directly to your customer's device.
Survey your customers
To explain the value of surveys, let's dive a tiny bit deeper into marketing workflows. So, let's say that the first step in your automated workflow is to email your prospects after the event.
You tell them you were glad to have them at your event and that you hoped they enjoyed it. You also leave a CTA to contact you.
That's great!
But, how can you really tell how interested they are in your email?
Is it open rates?
Or is it response rates?
Or maybe some custom baked engagement KPI?
Nope!
You use surveys!
So, you can send a survey with your email (or SMS), and if they respond well, you can separate them into a higher tier of your workflow while receiving great feedback for event growth.
This lets you separate everyone by value so that they all receive personalized marketing materials from here on out, plus you can see who is willing to stay engaged.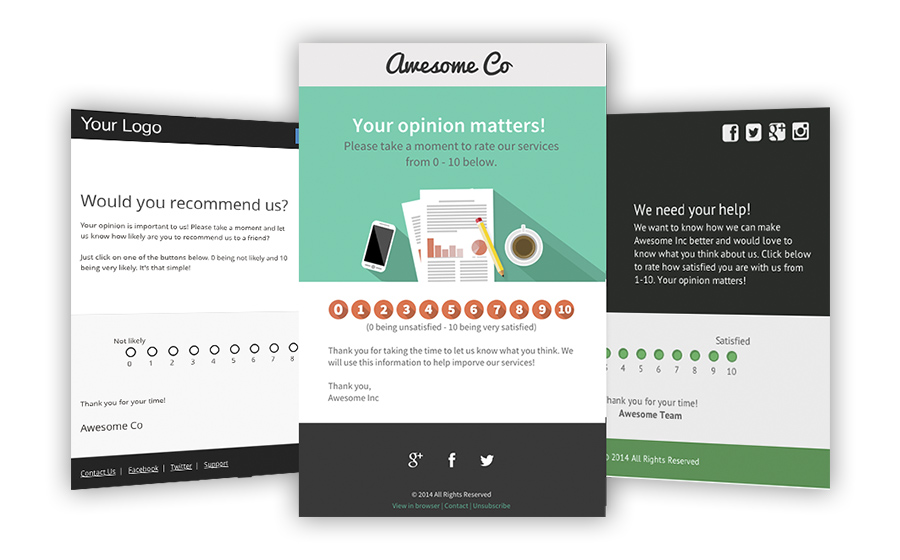 Direct mail
You need snail mail!
First, let's get this out-of-the-way. Some people don't like tech or still revert to traditional ways; you can't forget about them.
Snail mail is going to be one of your only chances to score these prospects.
Second, snail mail and traditional ads actually still work!
Now that everyone had decided that digital-only is the way-to-go, mailboxes aren't as stuffed as they once were, and where there's a gap in the market, there's an opportunity.
In fact, over 40% of B2B events still send snail mail to invites! It works!


Phone calls
The phone is the golden stitch of sales, don't forget it.
Over 40% of sales people still consider the phone their most valuable tool, and nothing beats a good one-on-one conversation. This is typically your final step in the sales cycle.


The prefect post-event workflow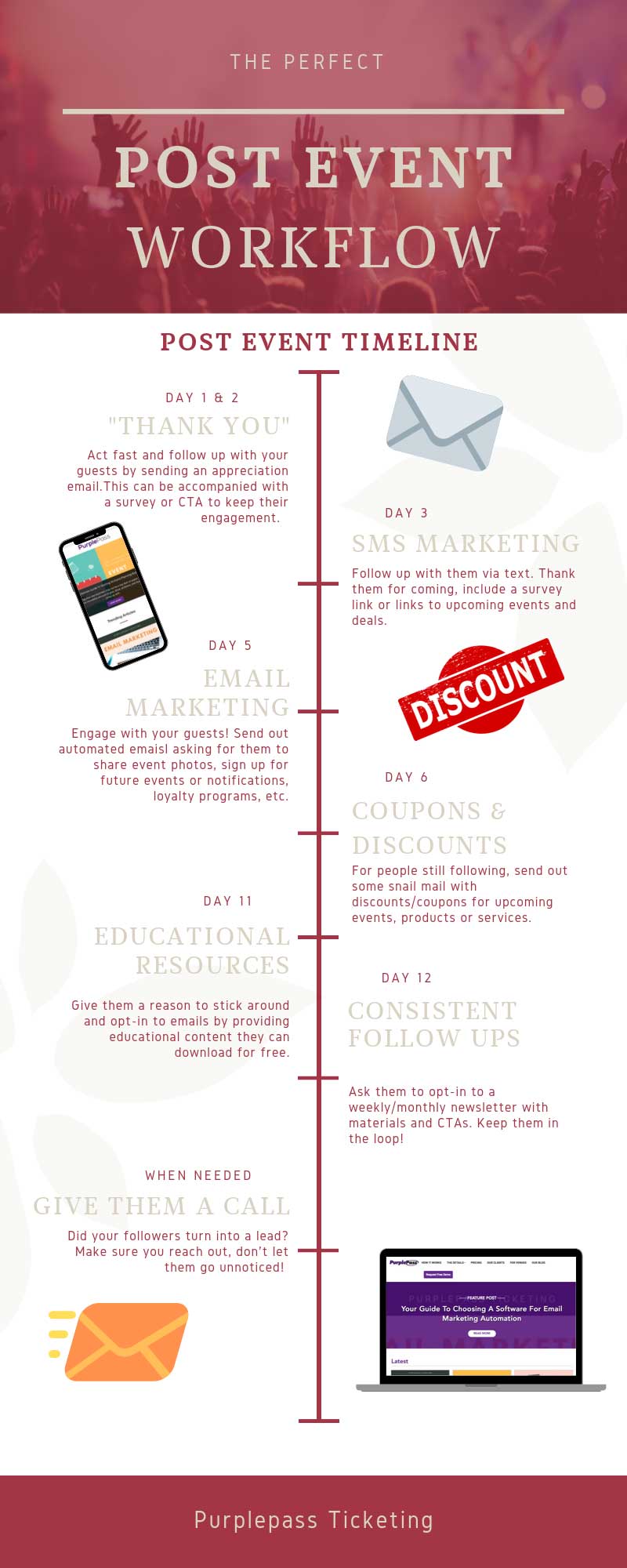 Now that you know about the post-event workflow anatomy let's look at what a solid post-event marketing automation workflow looks like.
Remember, ALL of this is automated!
So, you will be setting these workflows up using whatever marketing automation tool you regularly use. Don't stress about remembering to do all these steps, that's why we love automation.
Step #1
Day 1 and 2
First things first, you need to act ASAP.
Use the data you gathered at the event (or up to the event) to send them marketing material while the event is still fresh on their mind. Typically, this is an automated "Thanks for coming!" email with a killer CTA on the end. Show your appreciation.
If they bite on the CTA, great! But, if they don't respond within a few days, your marketing automation platform should kick over to step 2.
Step #2
Day 3
Time to send them an SMS!
In the message, you should not only thank them for coming, but link them to a survey or other special links to capture engagement.
If they take the survey, you should separate prospects by scoring. If they seem excited about your product/service, immediately jump them to the final step and give them a call. If they don't, continue down the nurture-focused workflow path.
Step #3
Day 5
It's time for another automated email.
This time, a good ideas is to ask previous attendees to share photos of the event or have them sign up for further event notifications.
This part is simple; you want to get them further in your funnel, and you want to get them to share more info about themselves. Plus, the extra photos will be great for marketing purposes.



Step #4
Day 6
Snail mail time! Send out some snail mail to everyone who made it this far.
We recommend shoving a coupon or discount to include in the mail.
Keep it professional, but always include a CTA. You'll be surprised at how many CTA leads you get from this step.
Step #5
Day 11
Email again!
This time, try to have them download some content about the event or future events to keep them involved.
If they download the materials, send them another email with a link to further educational materials or resources they might like.
Make sure you stick with compelling CTAs at this part. If they continue to download materials, push them to the final step — a phone call.


Step #6
Day 12 - ∞
Continue to send them weekly or monthly emails with materials and CTAs. Keep them in the loop and try to get them into your email list.


Step #7
When needed
When your prospects move into verified lead status, you should call them or reach out through email. Keep it straightforward, personable, and get some great sales people on it.
Start selling tickets today
It only takes a few minutes to create an
account, post your event and start selling.