A Crash Course on SEO for Conferences
Got a conference coming up? Promoting your conference or event through search engine optimization (SEO) can help you reach people you otherwise wouldn't.
That means more sold tickets and people in seats (or digital seats - thank you COVID)!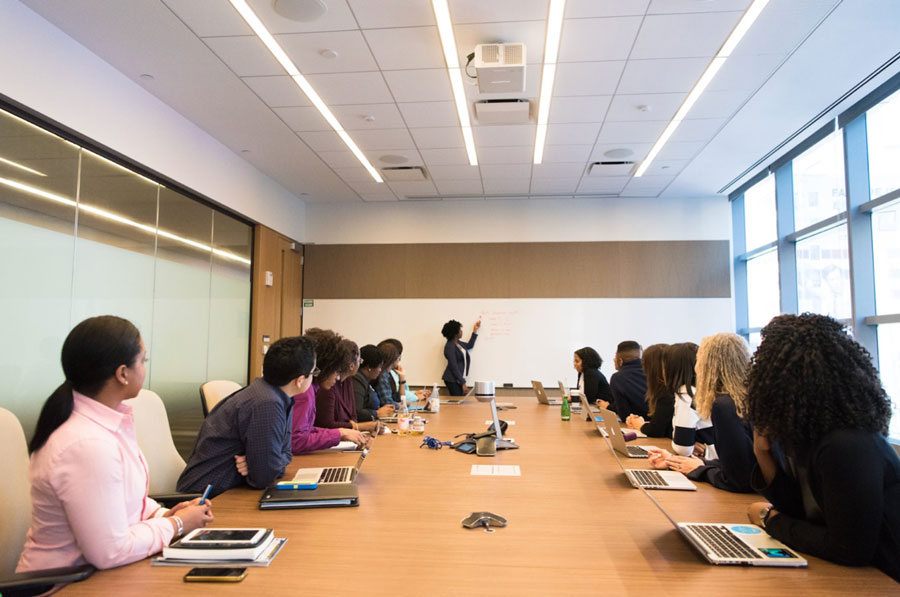 Search engine optimization can involve a lot of different strategies, but they'll all help you boost your website up the search engine results pages (SERPs) for relevant queries.
Here are the three key aspects you'll want to focus on:


Technical SEO: This involves improving the technical aspects of your website, like user experience, page loading speed, navigation, and the like.

Content: It's vital that you create content that targets relevant keywords people are actually typing into their search engines. This will give you a better chance of ranking for them.

Backlink building: When other authoritative websites link back to your page, search engines take this as a vote of confidence in your work and will give you a boost on the SERPs.

Here, I'm going to take you through how you can devise a fruitful SEO strategy that will help you climb the SERPs your target audience are looking at.



Be prepared to play the long game
Keep in mind that SEO isn't a quick fix — it's a long-term strategy that you need to implement months ahead of your event. Even after your event, keep the momentum going!
Continue to use these tactics regularly, between your events, to keep your rankings high for when you want to sell tickets again.



Build a strong web page for your conference
It's vital that you dedicate a web page to your conference so you can promote the event and get people to link back to it!
If you have annual or recurring events, always use the same page and URL; you'll keep page authority and have a better chance of ranking well each time.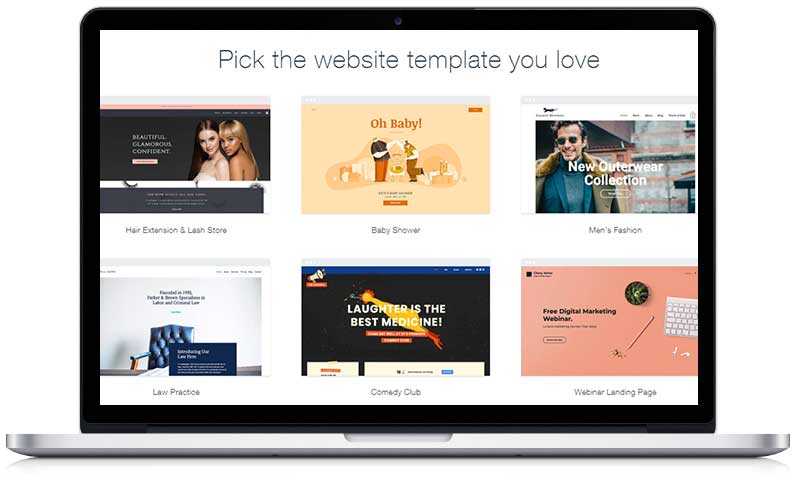 You'll want to build a landing page for your event that is optimized for search engines, this will increase your chances of ranking well and making plenty of sales. Let's look at some elements your event page will need to provide plenty of context for search engines:
Event name: Putting your event name in a header or title tag will give search engines a better sign of what your event is and who to show it to.

Date and time: Not only is this information helpful to potential conference attendees, but it tells Google when would be an appropriate time to show your web page to searchers (i.e. not after the event).

Location and direction: Consider using Google Maps to show viewers the location of and directions to your event. A relatively new Google Maps feature lets you specify details about the event and add photos to help searchers find you.

Ticketing information: No matter how they stumble upon your event page, readers are going to want to know how to buy tickets! Make sure this information is clear to the customer.

Images: The right images can make your content more engaging! In 2019, 74% of marketers stated that more than 70% of their content contained visuals. Add pictures of previous events, for instance. This can help get your audience excited!

Call to action: Finally, it's vital that you have a strong call to action, or CTA. Sometimes, people need to be told what to do! Make sure there's a CTA button that makes it clear to the viewer that you want them to reserve themselves a ticket.


Use Event Schema
You can use Schema markup to give search engines more information about the content on your web page. If you take advantage of Schema, you can help to tell Google what details they should display when your event web page is shown on the SERPs.
If you use the appropriate coding for event Schema, your event will be highlighted in the Google Events section, like this: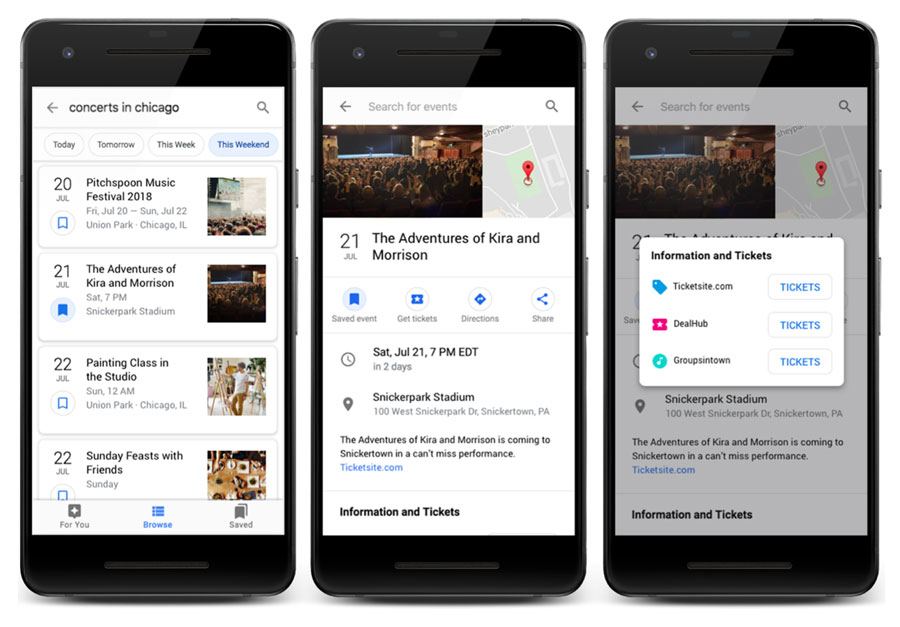 Even before clicking on the event itself, this allows Google to give a user a ton of information about the event up front. Schema markup can help search engines classify results based on location, price, start date, and so on. It provides information to the viewer in an already-familiar way, making it as easy as possible for them to decide whether they want to click through to your website.
With Schema markup, you can highlight many details, including the event address, start date, price, and the like. You can find the relevant codes to display this type of information at Schema.org. Including this information in your code can boost your SEO and get your conference placed in the event experiences section of Google, where they will display your logo, an event description, and more.
For a more detailed explanation, look at Google's guide to using event Schema, which will help you rank for the most appropriate Google searches.
Ask relevant sites and bloggers to promote your conference
Of course, you'll want to get the word out about your conference. One of the best ways to do this is by asking relevant websites, local bloggers, guest presenters, etc. to promote it to their own followers. When they promote your event, ask them to include a backlink to your event page!
This is part of building a backlink profile.
When you get links from other websites, Google takes this as a vote of confidence in your content and will give you a boost on the SERPs. This is really important, as it will help get more eyes on your event page, and ultimately lead to more ticket sales.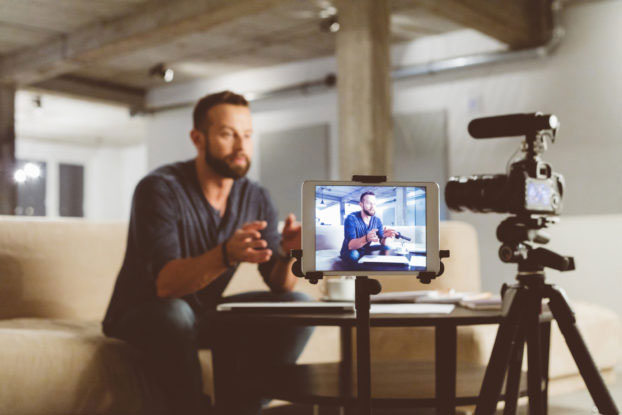 Consider asking relevant websites to promote your event as part of your launch plan.
You could put out a press release about your event or ask local bloggers to publish posts outlining what your event will involve. Get in touch with any speakers or hosts that will attend your event, as well — if they can promote it on their own websites, you will get more traffic!
It's also worth noting that you want to make sure you're securing links from high-quality sites with an excellent reputation.
So, before attempting to build a backlink, make sure you always check the website's domain authority to ensure their links will actually be valuable for your SEO.
Create content that positions you as an authority
Google focuses a lot of their attention on E-A-T, or expertise, authority, and trustworthiness.
This means the search engine will look at how well your site displays these characteristics when deciding how to rank you on the SERPs. So, consider how you can show you're an authoritative voice in your field of work. Besides making your event more searchable, this can help you build trust with potential attendees who are interested in your conference.
For inspiration, let's look at some companies that are already doing an outstanding job of publishing content that establishes them as experts and authorities in their industries.
Lawsuit Legal (example 1):
For instance, Lawsuit Legal is a law firm based out of Florida, and they've created a guide to legal software. This outlines how a company can choose the right tools to save time, streamline their processes, and work more effectively.
Content like this shows search engines (and website visitors) that the company's team are law experts who know how to do their jobs well. Since it's such a thorough guide, other authoritative websites will link back to it, boosting their backlink profile and their discoverability online.
Roadside Dental Marketing (example 2):
Similarly, Roadside Dental Marketing is a company that focuses on helping dentists' surgeries to promote their services. And, one way they've been able to establish themselves as an authority in their field is with their guide to local SEO for dentists.
They outline what SEO is, how it can be maximized locally, and why it's important that dentists use local SEO tactics. Dental marketing is a relatively niche field, and specific articles like this are great for helping companies to dominate specific sectors like this one.
Ahrefs (example 3):
Ahrefs, a highly rated business in the SEO and content marketing world, also establishes their authority through content. Ahrefs offers tools, articles, videos, and more that help customers build backlinks and improve their rankings on the SERPs.
For example, they have a how-to blog post on writing great listicles. It's a thorough article that outlines everything from formatting, choosing an angle, fleshing out ideas, and illustrating your points with examples. Thorough content like this is why Ahrefs are so respected in their field; it shows they're knowledgeable and want to help their readers understand the subject.
Summary
SEO can help you build a wider audience for your conference or event! By optimizing your website and event pages, you can boost your rankings on the SERPs and reach people you never would have otherwise.
Who would want to pass up on that opportunity?
---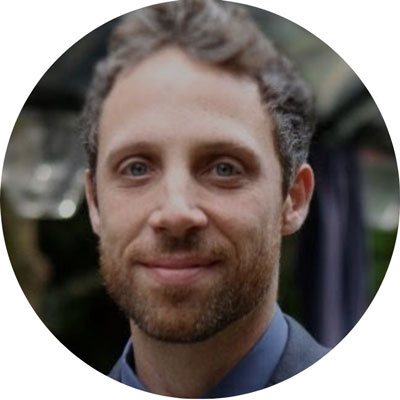 Author: Aaron Haynes
Aaron Haynes is CEO and co-founder of Loganix. The company is
an SEO fulfillment partner for digital marketing agencies and professionals, which provides the services businesses need to improve their online visibility and grow.