8 Tools Every Small Event Business Needs for Virtual Events
Everything is closed and all face-to-face events are canceled or placed on pause because of coronavirus. But that doesn't mean you should stop creating events...does it?
Instead, now is the best time to go virtual! They are easier to set-up, cost-effective, and will help you attract more people. But to in order to get all traction, you must stand out and the right tools can help you do just that.
In this article, we'll talk about the 8 best virtual event tools to help you capture an audience in 2021.
Live streaming widget tool
Purplepass' new live widget tool lets
promoters stream events directly on
their website.
Ticket Registration Tools


These tools help you manage tickets and registrations for your virtual events.
They offer super-easy ticketing, secure payments, and instant join to your events because of the great integration with virtual event hosting platforms.
Just be sure to use the right WordPress builder to incorporate it into your site properly. There are also a few useful plugins that will make adding the following ticketing tools to your site easier.
#1 Purplepass
Overview:
Purplepass is a great tool, regardless of whether you're hosting a giant festival or a small event. It offers 24/7 support, gives you detailed reports, and has integrated CRM to improve customers' relationships and move them to the next stage of the sales cycle.
It's also super-fast, and you can set up the whole ticketing registration within 10 minutes. Plus, their WordPress plugin makes it easy to integrate the entire process on your website.
Pricing: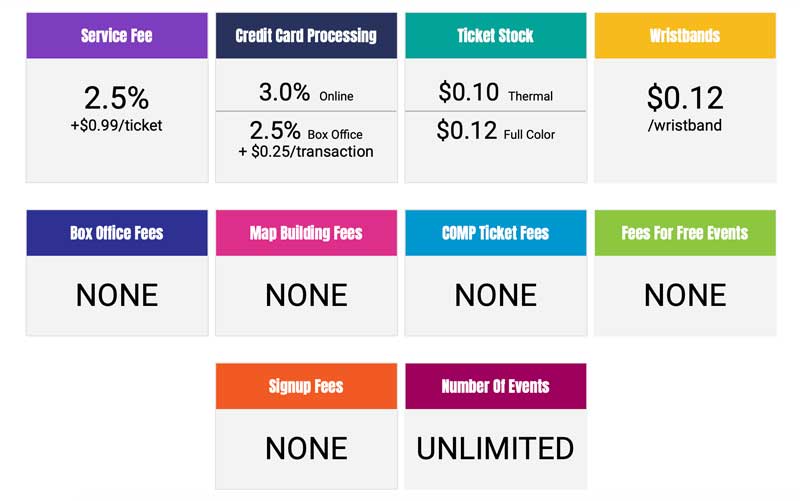 It has an excellent pricing policy - pay by the number of attendants. It's very affordable and suitable for businesses of all sizes. If you are on a tight budget, this may be the right solution.
Bottom Line:
Looking for a simple and reliable ticketing registration tool? You found it. Purplepass will help you set up everything within a few minutes and make ticketing to your virtual events effortless.
#2 Ticket Tailor
Overview:
If you're a fan of Zoom, you'll love this tool because of its seamless integration. It also has a set of useful features like time slots and a customizable check-out form.
Pricing: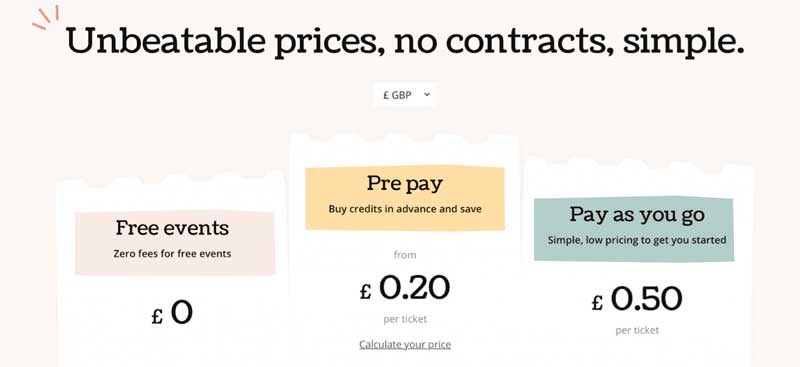 It's another affordable ticketing option. It may not be as suitable if you are just starting or have cheap tickets because the prices for smaller events are higher compared to other tools.
Bottom Line:
Overall, Ticket Tailor is an excellent ticketing tool. For Zoom users, it's the winner because of the great integration. But if you're not using Zoom, you might be more interested in cheaper alternatives.



Virtual Hosting Platforms


A virtual hosting platform is a place where you host webinars or your virtual events. We've picked the two most common virtual hosting platforms, each suiting businesses with different needs.


#3 Google Meet
Overview:
Google Meet, formerly known as Google Hangouts, is one of the easiest and most popular virtual hosting platforms. You can access everything online across all devices. You also get full integration with the whole G Suite, which includes apps like Google Calendar and Gmail.
Another prominent feature is real-time captions (very useful for foreign attendants.)
Pricing: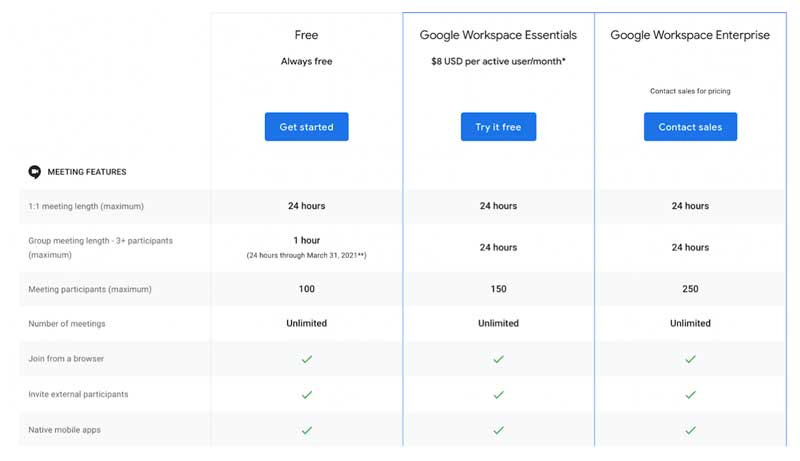 The standard package of Google Meet is free.
However, if you're looking to host virtual events that are longer than 60 minutes and have over 100 attendants, you'll have to purchase the premium version. Please note that, even with the Enterprise version, you can't have meetings with over 250 people.
This may not play a role if you're a small business, but can be a limiting factor later on.
Bottom Line:
Google Meet is a simple and inexpensive solution for hosting virtual events online. If you're a small business looking for a reliable solution, go for it.
#4 Zoom
Overview:
If you're looking for a Google Meet alternative with more attendants, this is it.
Aside from that, it also includes tons of features like recording videos of events, pre-recorded video hosting, and background blur.
It's a more robust and advanced version of Google Meet.
Pricing: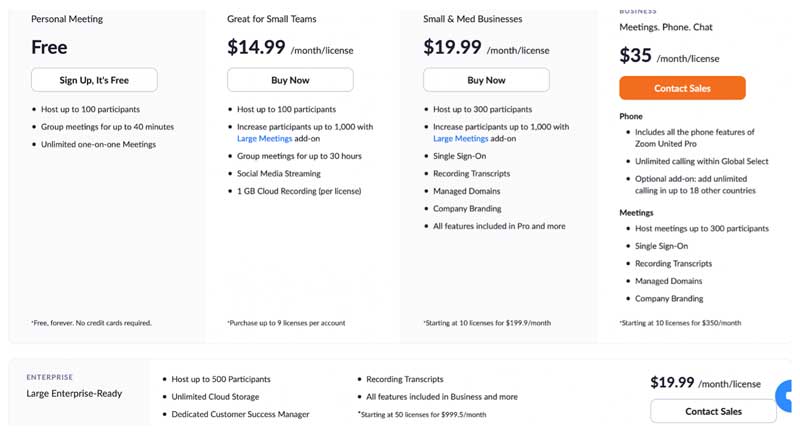 Prices aren't as interesting as with Google Meet. But the value for money is very great considering all the fancy features you're getting.
It's definitely worth every penny.
Bottom Line:
If you are a larger business looking to host bigger virtual events, Zoom is for you.
It's a bit more expensive than Google Meet, but offers a lot more features that will make the complete experience more pleasurable.
Engagement Tools


There are many ways to engage your audience online.
For instance, you could write engaging content and keep your audience returning for more. But for virtual events, it's different. Engaging your audience in real-time can be quite challenging.


#5 Kahoot
Overview:
There's nothing more exciting than competitions and contests.
Kahoot allows you to engage your audience with fun live polls and quizzes and reward the winners afterward. The best thing about it is that everything is happening in real time during the virtual event.
Pricing:
The pricing is pretty okay for the value you're getting. But there's a catch. You can pick Pro - Kahoot 360 Pro memberships only with annual billing for whatever reason.
It may limit, especially if you're looking for a onetime thing.
Bottom Line:
Kahoot will make your virtual events a lot better with live polls and quizzes. It's a fantastic way to engage and teach your audience something new during virtual events.
It can also help them with learning management and getting the most out of your events.


#6 Miro
Overview:
Miro is exceptional if you're looking to collaborate with your attendees on virtual events. It allows you to place sticky notes, create shapes, and type anywhere.
For instance, you could use it to brainstorm ideas for writing blog posts or figuring out what type of content your audience loves the most.
Pricing: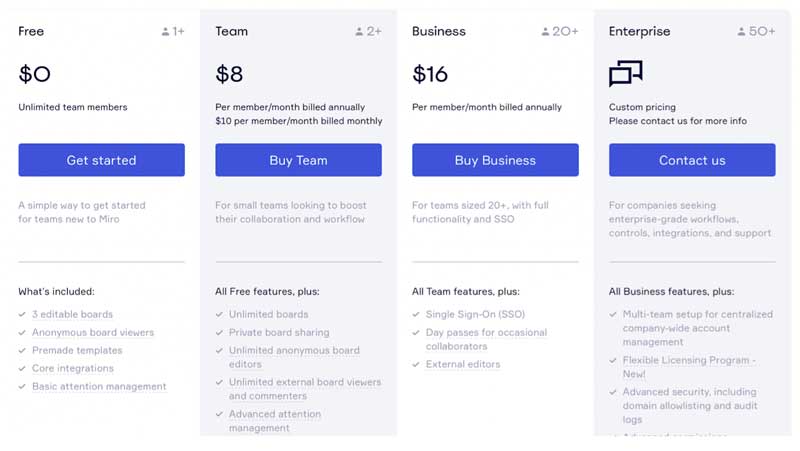 The prices aren't that bad.
You'll have to pick the Enterprise package, though, because you'll definitely exceed 20 attendants that are in the Business plan.
Bottom Line:
Miro is great if you're looking to collaborate with your audience and engage them beyond live polls and quizzes.
You can use it together with Kahoot for the best experience.


Social Media Platforms

Social media can help you make your events go viral and bring you more attendants.
They're especially useful if you're doing free-to-join virtual events. Just make sure to stay on top of the marketing trends and follow the best practices.


#7 Facebook
Overview:
Facebook is the most popular social media platform. It'll help you get a lot of new users to your events, which can increase brand awareness and make your business more successful. It's also completely free.
You can chat in real-time and stream in high-quality and set it up within a few minutes.
Bottom Line:
It's an excellent option if you're into free events.
It'll make connecting with your audience easier and allow you to set up events with a few clicks.
#8 YouTube Live
Overview:
There are many popular video hosting options, but none of them screams louder than YouTube.
Use it to your advantage and host your free events on YouTube completely free. It'll bring you a lot of new attendants and make the streaming effortless.
Bottom Line:
YouTube Live can be a great alternative to hosting events on Facebook.
It'll make the whole process effortless, and it's also super-easy for your audience to join and start participating in your events.


Conclusion
We've talked about 8 best tools you can use to make your virtual events better. They'll help you make your virtual events higher quality and more enjoyable.
They're easy to use and will help you stand out from other businesses.


---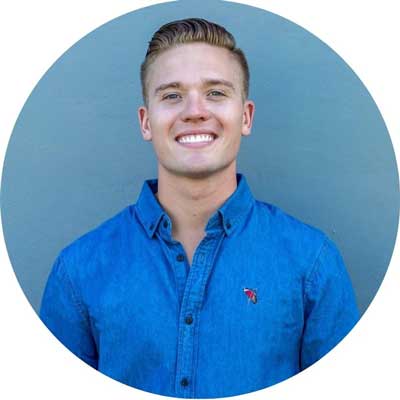 Author: Colin Shipp
Colin Shipp is a marketer who has been working remotely full-time since 2015. He specializes in growth marketing, content marketing, online courses, and remote work. On ColinShipp.com he writes about strategies he is using in his own life.