8 Community Event Ideas for Thanksgiving in 2021
Thanksgiving is a time for celebration. A time to gather with family and friends, giving thanks for all that life offers.
The last two years have been filled with uncertainty.
As a result, many of us are looking past the traditional Thanksgiving celebration of turkey, stuffing, and pecan pie. We are seeking unique ways to celebrate and give thanks to our extended families and communities that have offered support through these trying times.
To help you out, we've pulled together a list of unique ways you can gather your community together and focus on the reasons for the season. Whether you hope to gather in person or via Zoom, these celebrations will help you put the 'thanks' and 'giving' back on this special holiday.
Who knows, this may be the start of a new tradition!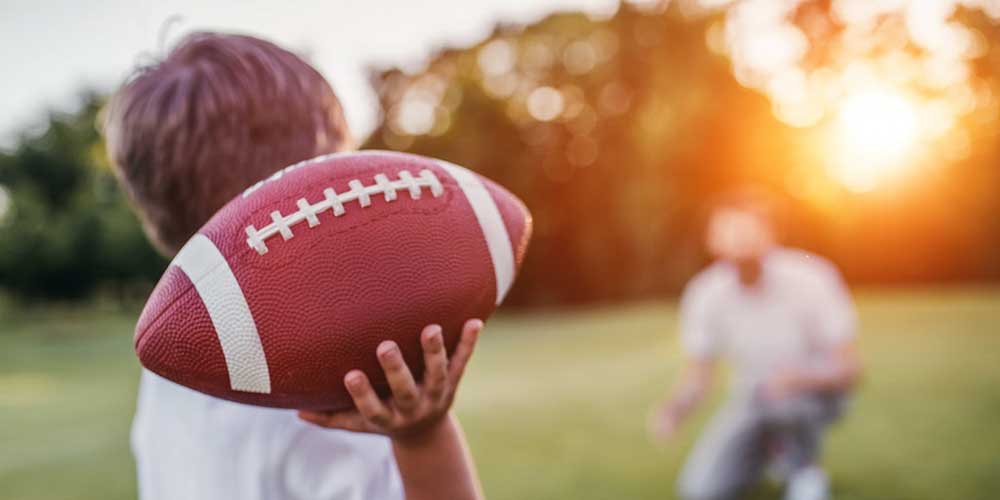 1. Community football gathering
For many, football and Thanksgiving go hand-in-hand. It's also a great excuse to meet up for some laughter and fun.
Nothing brings people together quite like football. If your community has a local college football or NFL team, consider hosting a football gathering. Depending upon your comfort level and resources, you can do this in several ways:
Attend the game as a group

Host a virtual watch party

Host a tailgate party

Start a holiday league
Encourage everyone to dress in their favorite team shirts and jerseys. For a family-friendly event, include some outdoor activities that get everyone involved.
2. Native American history lesson
Thanksgiving is a time to gather with loved ones and reflect on the many reasons we have to give thanks. Why not take it a step further and learn about the holiday's deep history?
Use this time to broaden your horizons and learn something new about one of America's oldest celebrations. Get the kids involved by challenging them to learn one unique fact or a traditional Native American dish. Or host a community reading or story time at the local library.
The Smithsonian's National Museum of the American Indian is an excellent resource. A group could even attend a virtual field trip there.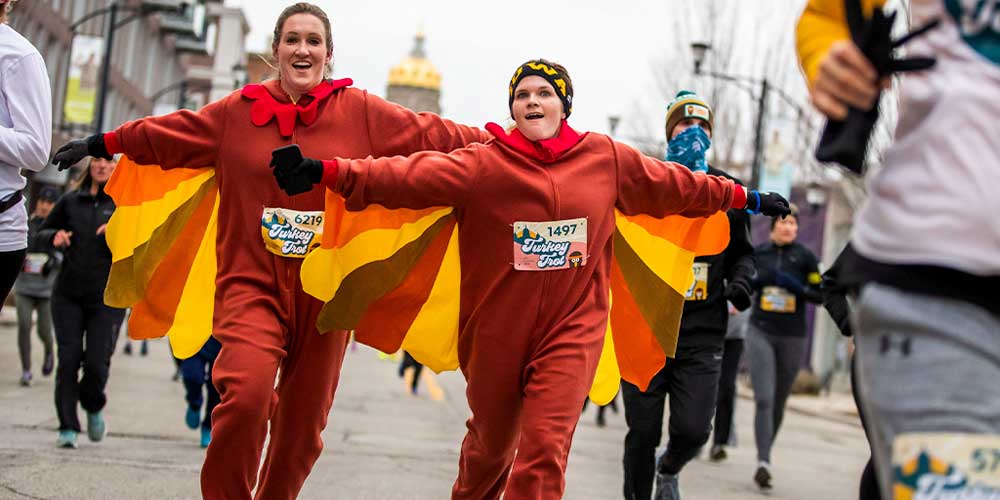 3. Turkey trot or field day
Turkey trots are a Thanksgiving Day tradition for many cities across the country. These foot races offer a sense of community. They're a significant reason to get outside and raise money for folks in need.
Are you looking for a more family-friendly event? Why not host a field day? Include classic field games, including:
Fun run

Egg spoon race

Relay race

Three-legged race

Scarecrow building
A few craft tables and a raffle with prizes will help round out the event.
4. Thanksgiving-themed community trivia night
Everyone loves a good trivia night!
Nothing sparks some healthy competition quite like a trivia game. Why not host it on a grander scale?
Thanksgiving themes for trivia nights could include:
Thanksgiving history

Turkey facts

Food trivia

Unique holiday traditions around the globe
Include everyone by making this both a virtual and in-person event. Approach local businesses for sponsors and prize contributions. You may also want to consider hiring a professional trivia host to mediate the event.
5. Thanksgiving food competition
Most of us think of turkey and stuffing when we think of the traditional Thanksgiving Day meal. Many families have their own unique traditions that do not include turkey.
A Thanksgiving food competition is a great way to learn about other families' customs and traditions. It's an opportunity to fill our bellies and our hearts, bringing the entire community closer.
Why not take it a step further and give back to others in the community that are in need? A few ways your community could give back this holiday season include:
Canned food drive

Collect donations to adopt families in need for the holidays

Blood donation drive

Donation drive - Popular items include clothing, coats, and school supplies


Turn your food competition into a charity event by asking each entrant to match their donation. They can bring each ingredient in their dish as a food donation.
Check with your local charitable organizations, YMCAs, and churches to learn more about how you can help families in need this holiday season. No Kid Hungry is another great resource for planning your community fundraiser.
6. Group volunteer event
There's no better way to give thanks than through giving. Hosting a community volunteer event won't just help the community, it will fill your hearts and bring everyone together.
Popular volunteer opportunities include:
Serving meals through the local homeless shelter or food bank

Helping with a Habitat for Humanity project

Giving back to Mother Earth with a cleanup day

Community gardens

Keep in mind that this is a popular time of year to volunteer. Volunteer opportunities go quick, so sign up early.
7. Community yard sale
Many people use the holidays as a time to declutter their homes. A community yard sale will help everyone purge those unwanted items.
Use the money to adopt a local family or donate food to the homeless shelter.
8. Outdoor event
An outdoor event is a great way to safely gather the community for some fun and laughter in the sun. Potential Thanksgiving outdoor events include:
Picnic in the park

Picnic bingo

Scavenger hunt

Pumpkin patch

Hayride

Community theater

Drive-in movie

Music concert (live and virtual)
If COVID has taught us anything, it's that we need each other. We crave camaraderie and enjoy social events.
Whatever event you decide to host, give people the option to attend in-person or virtually. By streaming the event, you will reach a broader audience, making a far greater impact on the community.