Top 20 Software and Tools for Automating Event Management
When trying to coordinate and plan a massive event, there are many moving parts. Fortunately, we live in the age of technology where solutions are readily available for every problem.
As the saying goes, "there's an app for that."
Thankfully, rather than scouring through tons of sites and programs yourself, you can use this list as a guideline for automating event management. We've broken down the different tools based on how they can help you achieve your goals.
CRM and Event Management
Even when using different tools, it helps to have them all synced in one place. Otherwise, managing logins and account settings for multiple apps can easily lead to confusion and locked accounts.
CRM tools also allow you to create a database of guests and repeat customers for follow ups and workflows post-event.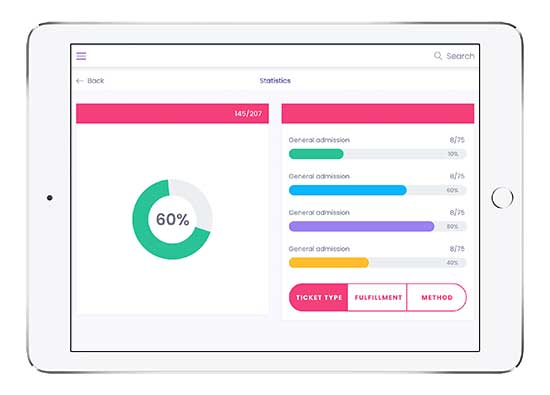 1. HubSpot - $$$
HubSpot is useful for syncing multiple event planning apps in one place. The software is rated one of the best CRM programs overall for any business wanting to track leads, traffic, profit, with marketing tools as well.
Free account option.
Marketing hub $45 - $3200/month depending on number of contacts.
Sales hub $45 - $1200/month depending on number of users. CMS tool $23 - $1200/month depending on what you need.
2. Social Tables - $
Once you have a venue, you can create layouts and planning guides for your event staff and vendors. Best of all, Social Tables has a free option, so you can prepare everything on a budget.
Essential is a free account option. Seats 150 attendees.
Professional is $199/month.Seats 250 attendees.
Contact Social Tables to learn more about their Custom Package.
3. Event Mobi - $$$
If you want to be more interactive with your guests, Event Mobi allows you to conduct surveys, polls, and games before, during, and after the event. The software is an end-to-end event management platform that supports in-person and virtual event needs.
Event App & Virtual Event Platform Pricing starts from $1242/event*, or $10/user/year.
Registration, Website & Ticketing platform starts from $2000/event or $9800/year for unlimited usage.
4. Purplepass - $
Purplepass is a one-stop-shop for event planners. Everything from equipment rentals and ticket stock, to extensive reporting, marketing tools, ticket widgets and site integrations. Promoters can easily track their guest lists and will call orders, look up orders, process payments and refunds online.
Online service fees: For profit (2.5% + $0.99/ticket) Non-profit (2.0% + $0.99/ticket).
Box office fees: $0
Credit card processing: Online 3.0% and Box Office 2.5% + $0.25/transaction.
Bulk preprinted ticket stock: Thermal $0.10, Full Color Custom $0.12.
Internal and Team Communication
Once you have a planning team, the trick is keeping everyone organized and on the same page.
Internal communication apps make it easy for everyone to stay in touch without relying on text messages and group chats, which can get out of control easily.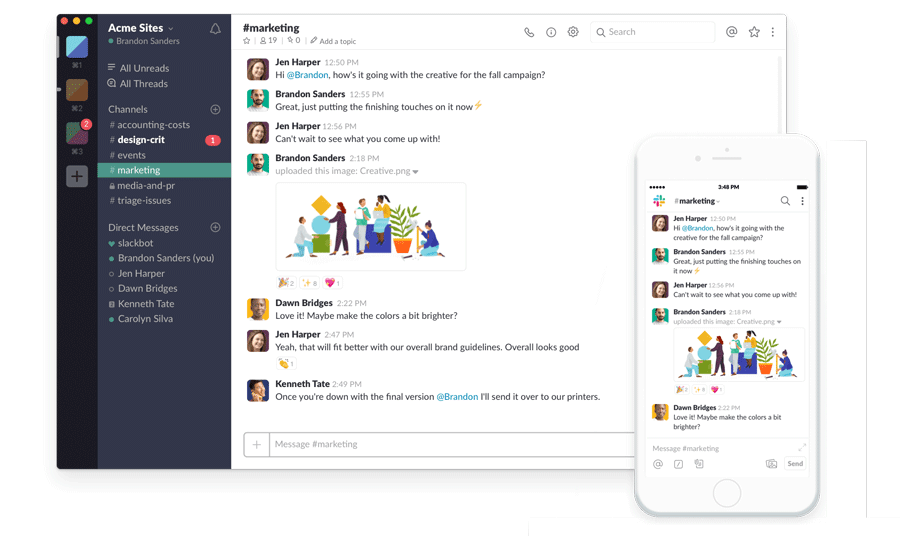 5. Slack - $$
The Slack app is designed for remote teams and project-based businesses, making it perfect for event coordination and planning.
Slack provides a plethora of tools and features that make it easy for teams to stay on task and follow deadlines.
Pro: $6.67 per person, per month
Business+: $12.50 per person, per month
Enterprise Gold: Please contact their sales team
6. Microsoft Teams - $
Many corporate clients love using Microsoft Teams for its integrated components and benefits. While not as streamlined as Slack, this platform provides chat collaboration, file sharing, meeting support, video conferences and more.
Microsoft Teams is slightly more affordable than Slack.
Free option
365 Business: $5.00 per person, per month
365 Business Standard: $12.50 per person, per month
7. Friday - $
Friday is an app that focuses on organization and scheduling along with communication. You can sync Slack with Friday for the best of both worlds, all in one.
Out of all three platforms, Friday is the most inexpensive option for automating team communication.
Free option
Individual: $4.00 per person, per month
Team: $6.00 per person, per month
Company: $9.00 per person, per month
Ticketing and Registration
Ticketing and registration are crucial because that's how you make money from your event.
Promoters need a high-performance app that makes it easy to keep track ticket sales, capacity, refunds processed, etc. Otherwise, expect to experience all kinds of headaches, from overselling your venue to rightfully upset guests.
8. Purplepass - $
Promoters can order all equipment and customizable ticket stock within their Purplepass account. Each user is assigned a client care representative to help them throughout the planning process, plus access to 24/7 phone support for them and their guests.
With extensive reporting pre, during and post event, custom report options, and sales alerts, the software makes it easy to monitor all ticket sales.
Online service fees: For profit (2.5% + $0.99/ticket) Non-profit (2.0% + $0.99/ticket).
Box office fees: $0
Credit card processing: Online 3.0% and Box Office 2.5% + $0.25/transaction.
Bulk preprinted ticket stock: Thermal $0.10, Full Color Custom $0.12.
Custom wristbands: Tyvek $0.06, Vinyl $0.12
Zero sign up or contract fees
Contracts and Other Legal Documents
Whenever you're planning an event, everything has to be legitimate. Legal documents and contracts help protect you and your clients from any potential legal disasters later on.
These sites are excellent for planners who are all about that CYA life.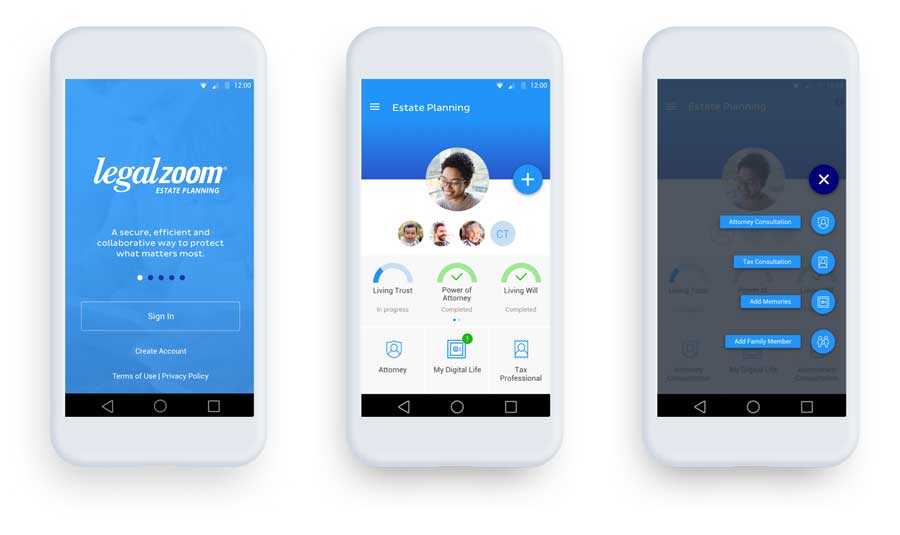 9. LegalZoom - $$$
Find contract templates and documents for virtually everything you could ever need. LegalZoom is the largest and most trusted document and contract website around.
Economy: $79 + state filing fees
Standard: $329 + state filing fees
Express Gold: $349 + state filing fees
10. Avvo - $$
Sometimes, you just need some legal advice for a situation you're not prepared for already. Avvo connects you to lawyers from different professions to answer any questions you may have. This site can be a legal lifesaver.
Avvo Starter if free
Avvo Advanced: $135/month
Avvo Elite: $225/month
11. FindLaw
DIY legal services are great for some elements of event planning, but sometimes you need an actual lawyer. FindLaw helps you get in touch with attorneys related to your situation so that you don't have to spend hours searching the internet yourself.
Finding Sponsors
Another reliable way to make money for your event is through sponsorship. Fortunately, some websites can connect you with sponsors so that you don't have to wine and dine potential donors (although you still can if you want).


12. Sponsormyevent.com - $
This is one of the most widely used sponsorship sites around, trusted by massive corporations and small businesses alike. Just submit your event plan, and you'll find sponsors in no time.

*** Registration is free. However, when you secure a transaction, there is a 15% platform fee from the transaction.
13. Sponsor Pitch - $$
If you need sponsors regularly, Sponsor Pitch is an excellent resource. You can pay for ongoing plans that enable you to find new sponsorships for upcoming events of all kinds.
Prospector: $35/month
Professional: $50/month
Enterprise: $400/month
14. Looking For Sponsor - $
Looking For Sponsors specializes in connecting creators and businesses with companies looking to sponsor them. The platform works for everyone from individual entrepreneurs to event planners and nonprofits.
Document Organization
Once you've collected all your legal documents and contracts, how are you organizing them?
Digital document organization is so much better than using old-fashioned file cabinets and folders.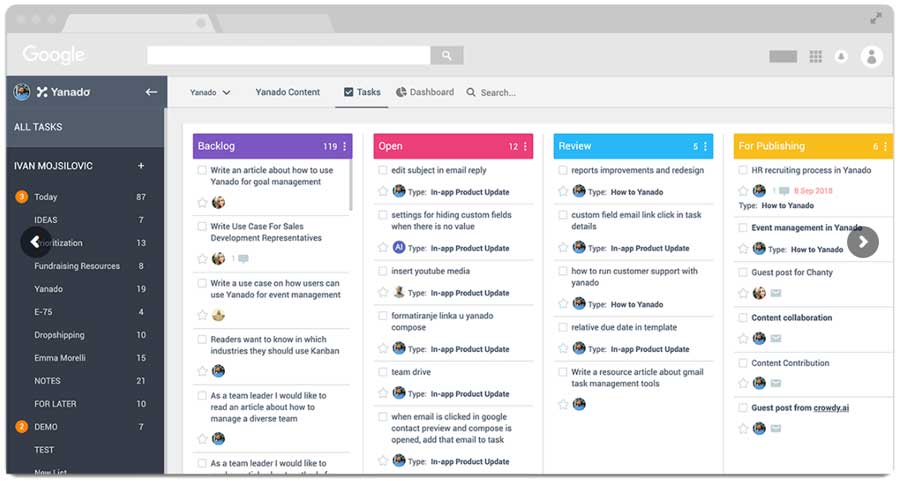 15. M-Files
This software automates document organization so that you can do less it yourself.
*** They offer a few different packages (Standard, Professional, and Enterprise). If interested in using M-Files, contact them today for a custom quote.
16. eFileCabinet - $$$
If you need to coordinate multiple departments, you can handle everything from this easy-to-use interface, eFileCabinet. With smart automation, the software recognizes, organizes and stores files using information contained in the file themselves.
Pricing starts at $1200/feature, per year.
eFileCabinet offers a free trail.
17. Basecamp - $$
Basecamp keeps everything organized in one place with unlimited space for every project, multiple users, collaboration space, projects and more.
Basecamp personal: Free, but limited
Basecamp Business: $99/month
Marketing and Promotion for Events
You won't be able to sell many tickets if no one knows about your event.
While you can try traditional marketing channels like Google Ads and social media sites, they're not always best for event promotion.
18. Eventbrite - $$
If you're looking for a comprehensive event planning solution, Eventbrite is an all-in-one program. Promoting your upcoming gigs is super easy, and you can manage other elements from the same platform.


*** Click here to calculate the estimated fees using Eventbrite.
19. Facebook Events
If you already have an audience on social media, tap into them for marketing purposes. Facebook is a free solution to get your event out there and get people interested in it.
Sales and Ticketing Reports
Finally, you need to be able to crunch the numbers after the event.
Otherwise, how can you know if you made a profit?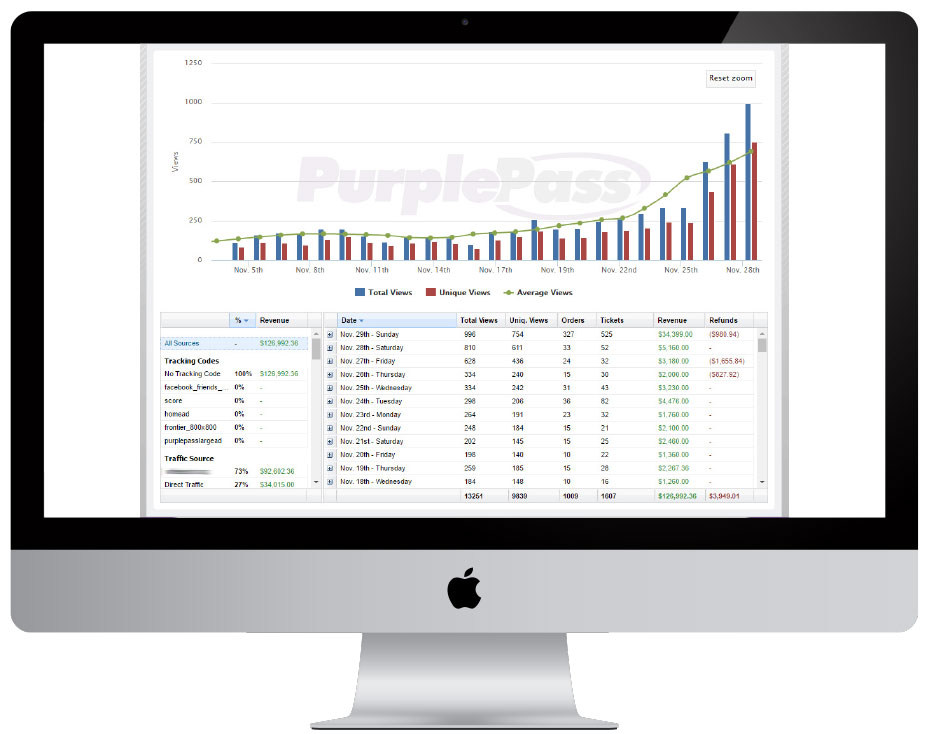 20. Purplepass - $
We're not just here to help you sell tickets. We'll also enable you to dive deep into your event data so that you can refine your process and do better next time.
Reporting and tracking options for planners include ticket sales, marketing, guest lists, geography, box office reports, accounting, and financial reports.
Start selling tickets in minutes!
Create an account, post your event,
track ticket sales in less than a few minutes.