7 Tips For Creating a Sustainable Event To Celebrate Earth Day
As global sustainability and climate change become major talking points in our everyday lives, Earth Day is fast approaching. Each year, Earth Day falls on April 22nd and is celebrated in various ways around the globe. From mantras and thank you prayers to eliminating the use of electricity and excess energy on April 22nd, Earth Day has a special place in many hearts on all corners of the planet.
As more people are becoming conscious and self-aware of their own actions and how they impact the environment around them, sustainability has become a key consideration when it comes to event planning today. If you are thinking of hosting a sustainable event and want to do so in the name of climate change, preserving the earth, or Earth Day itself, there are a few tips to keep in mind along the way.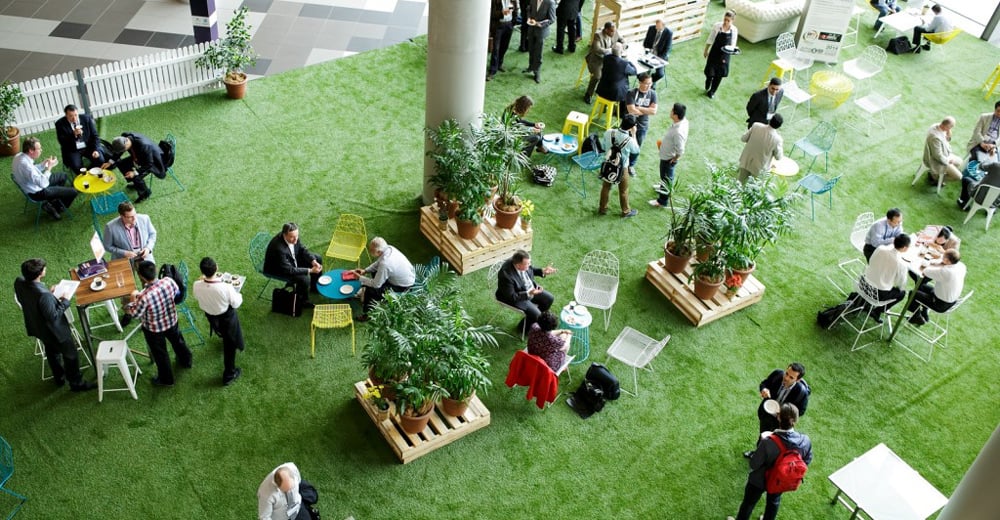 1. Choose a Sustainable Venue
Selecting a venue for Earth Day is one of the biggest hurdles to overcome when planning a large gathering or event. When it comes to hosting an Earth Day event, you will want to seek out a sustainable venue and one that has a sustainability record readily available.
Locations that are considered sustainable may already be utilizing renewable energy sources and local recycling programs, which in turn may help incentivize ticket sales and attendance.
2. Minimize Waste
When hosting a sustainable event, it's imperative to attempt to minimize as much waste as possible throughout the entire duration of the gathering itself. Some tips to keep in mind to help minimize waste and to encourage guests to avoid as much waste as possible include:
Encouraging attendees to bring their own reusable water bottles
Providing multiple free water stands or supply stations for event attendees
Providing recycling and composting bins to help reduce waste and collect recyclables simultaneously
Avoid using single-use plastic products
Require all vendors to use reusable, compostable, or alternative solutions to single-serve plastic
Require all vendors to promote a sustainable product, service, or idea to minimize waste in the distribution of excess products (including plastic and paper products)
3. Use Sustainable Decorations
Using sustainable decorations that can be recycled and/or reused is highly recommended when hosting a sustainable event, such as Earth Day. When celebrating Earth Day, do so by minimizing the use of plastic and paper products, unless they can and are being recycled. Instead, opt for potted plants, fabric banners, and other materials that are naturally found in nature.
Choose recyclable materials while also providing recycling bins to ensure that you are doing everything in your power to minimize waste during your next sustainable event. Sticking to your word when it comes to hosting a sustainability-themed event is crucial to maintaining support from attendees, vendors, and even virtual patrons.
4. Provide Sustainable Transportation Options
If you are looking for a way to maximize attendance at your next sustainable Earth Day event, consider providing additional sustainable transportation options for all vendors and attendees. Encourage attendees of your event to use public transportation if your venue is located on a local route that is available to the masses.
You can also encourage attendees to walk or bike to your event, depending on the venue you choose for the event itself. If transportation is, in fact, required for some, consider promoting the use of electric vehicles, hybrid vehicles, or even rentable bicycles, depending on where your event is being hosted.
5. Use Sustainable Food and Drink Options
Whenever you are hosting an Earth Day event with a focus on sustainability, you cannot forget about the food. Offering locally sourced and organic food and drink options are highly recommended when hosting sustainable events.
Require all vendors to avoid single-serve plastic products such as disposable plates, utensils, and cups. Instead, be sure to opt for recyclable and compostable alternatives instead. If you choose to host a variety of food vendors, be sure to inform them of expectations and responsibilities ahead of your sustainable event to ensure they utilize the proper compostable or recyclable materials themselves.
6. Consider Energy-Efficient Lighting and Sound
Another way to plan a sustainable Earth Day event is to consider investing in energy-efficient lighting and sound. You can also work with companies that provide solar lighting and alternative energy sources, depending on the location of the venue you have selected.
Consider using natural lighting whenever possible to reduce the cost of lighting while also taking advantage of the natural light that nature has to offer instead. The more eco-friendly your event is to those who have an interest in attending it, the more likely your event is to receive a much higher turnout.
7. Give Back to the Community
One of the best ways to host an Earth Day event is to do so in the name of giving back. Giving back to the community by incorporating a charity into your event or hosting your event for a cause can help garner attention and attract a much larger turnout altogether. While giving back to the community, use the opportunity to promote sustainability and a much greener future.

A few ways to consider giving back to the community when hosting a sustainability event for Earth Day might include:
Giving a portion of all ticket sale proceeds to a local charity that is non-profit and focuses on futuristic technologies, sustainability, and/or Going Green
Providing ticket sale proceeds to a local business and/or vendor who has been randomly selected or voted on
Offering steep discounts to local businesses and vendors who choose to promote their products and/or services at your event
Working to create a local coalition of vendors to help promote small businesses in your city, town, or entire local region


Hosting a sustainable event is not just ideal if you are thinking of giving back or want to give thanks to those appreciating Earth Day. Sustainable events are ideal for those who enjoy giving back to the community, living energy-efficiently, and truly having a say in the fight against climate change.