20 Free Online Event Management Tools for Every Budget Planner
Planning an event can exhaust a person and there is a lot that needs to be taken into account 24/7 leading up to the event day.
No matter what type of event you are planning, without stressing over your budget, there are various free marketing tools accessible online to take pressure off your shoulders.
We recommend these different tools to all event planners looking for extra, automated help that are 100% free!
Purplepass For Volunteers
Not just for events! Use Purplepass for volunteer management, create campaigns, sign up pages and it's free!
1. Hubspot Free Marketing tools
Every event planner faces the dreaded hours of creating their event marketing strategies and implementing process.
Well, why not let Hubspot take the lead?
Hubspot has plenty of free marketing tools that you can use to get people to your event, collect data, run reports, manage social media, run automated workflows, marketing campaigns, and so much more; all for free.
Some free marketing tools that you can access include email marketing, live chat, ads, forms, and data reports, which are built into a robust CRM to help deliver a great experience for all users.
Here's a complete list of free tools & CRM available through Hubspot:
Free CRM Tools:

Contact management

Gmail and Outlook integration

HubSpot Connect integrations

Custom support form fields

Email tracking & notifications

Free Marketing Tools:

All features of HubSpot CRM

Free Sales Tools:

All features of HubSpot CRM

Email tracking & notifications

Free Service Tools:

All features of HubSpot CRM

Email tracking & notifications
Your entire team can use HubSpot, every user is free and your free access never expires unless you want to upgrade to a paid plan.
You can also store as many as one million contacts and companies for data analysis, email marketing, lead conversion and more.
What?!!
Why wouldn't you take advantage of this?
2. GanttPRO
What do event planners have to deal regularly? Tasks, for some, endless amount of tasks.
Based on Gantt charts, GanttPRO is a very easy to use online tool for planning, scheduling, and managing tasks and projects.
At the same time, the service opens great opportunities for event planners who need to work with resources, assignees, calendars, team members or clients.
By seeing the whole picture, planners will be able to work on their event projects in an easy and visually appealing way.
All you need is to plan your campaign, add the information to GanttPRO, and update it regularly – and be sure, your project will be successful.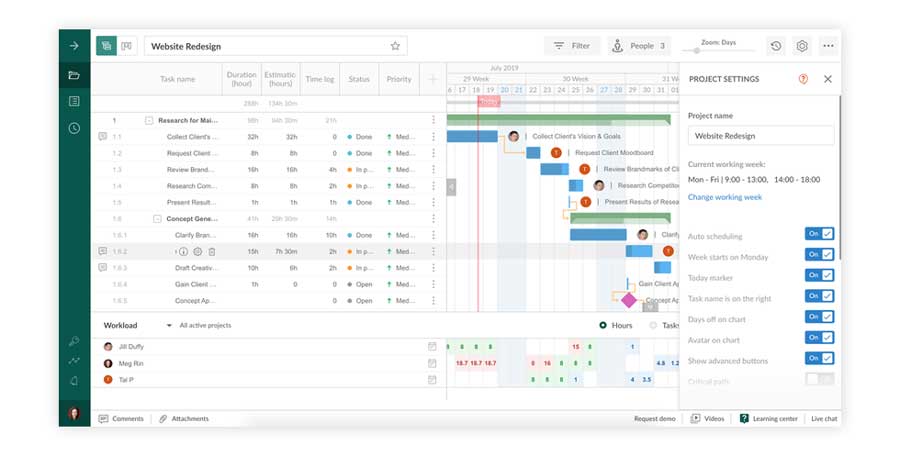 For a quick start, GanttPRO offers a bundle of free event planning templates.
They will be a good start for anyone who needs to start working on projects right away. At the same time, templates are flexible and customizable.


GanttPRO offers a free 14-day trial and no credit card is required. If you need to plan and manage a short-term event, this is an ideal choice.
GanttPRO's pricing plans are distinguished by the ways of using: whether it is for a single user or for teams.
For single users, it starts at $15 per month.
For team plans, it starts at $5.90 per user per month.


3. Eventful
Eventful allows you to post your event for free in a platform of over 21 million registered users. The site also features a unique social media platform, "Demand it!".
This empowers fans to influence the location of live events, entertainment and in-demand talent. Eventful works with partners in the entertainment industry to design, execute mail and online marketing campaigns to help drive ticket sales.
One of the biggest draws for Eventful is that it's a free platform.
Whether you're an individual looking for events or a larger organization hoping to post your own event, it's free to use.
It's easy to sign up and all you have to do is fill out a short form.
However, to extend your reach, Eventful gives you the option to upgrade your account to extend the reach of your event.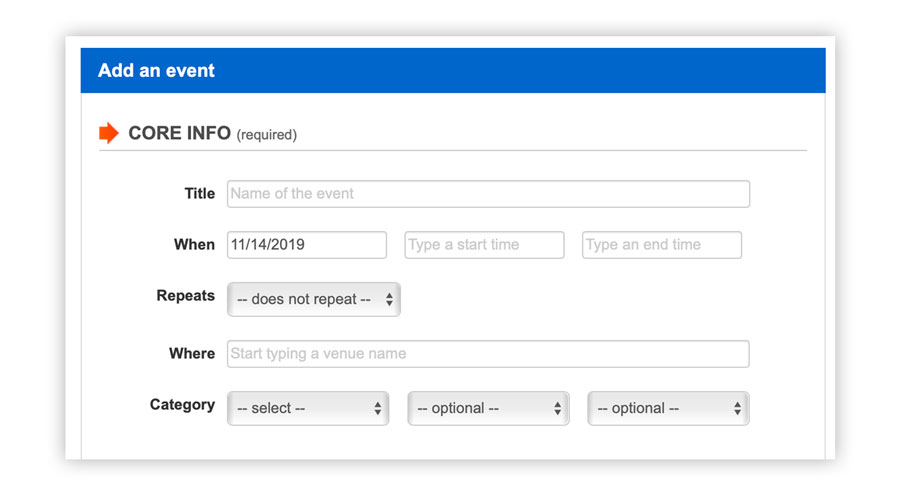 If you are a Purplepass user, any event posted on Purplepass is automatically syndicated and published across different internet platforms, including Eventful.
Meaning, you don't have to worry about posting your event on their software, because we do it for you if you post an event through Purplepass.
Again, this is all for free.
4. WordPress
WordPress is a popular content management system and is used by over 80 million websites.
It's fully customizable and you can choose from many themes and plug-ins while building a website for your event.
You can find themes for event management already set up or you can build your own. While it's not tailored for events, the tools they give you allow for enough creative design needed for building an awesome event website.


WordPress pricing options:
Free Account - $0
Personal - $4/month; a custom domain and 24/7 support
Premium - $8/month; advanced design tools, custom CSS, Google analytics support
Business - $25/month; custom plugins, themes, 200 GB storage, and live support
eCommerce- $45/month; flexible platform designed to grow with you and your business
5. Pocket Scanner: A portable document scanner
Pocket Scanner is a free app that event planners can use to keep their documents, notes, files, contracts organized all in one space.
Scan single pages or multi-page documents, save files as JPGS and add to your cloud of choice for sharing purposes.
All while fitting in your pocket!
6. AllSeated
This easy-to-use platform will give you the organization and seamless collaboration, along with virtual-reality tools to help visualize and see events before they even happen.

This makes it easy for your clients, team or staff to see and visualize the event space before it takes place, which saves time and enhances the client experience through the planning process.
With AllSeated you can design floor plans to true size, manage your guest list, design table elements, buffet displays, and do 2D or 3D walkthroughs. You can get started for free by creating an account here.
7. Purplepass event management software for free events
If your event is free, you can get all the features of the Purplepass platform without paying a dime.
The event ticketing platform allows you to easily sell tickets online and manage your entire event with reporting, assigned seating, social sharing, app integrations and more.
You can even monitor ticket registration by managing your guest list through the platform.
Manually add people and have your guest list printed out and automatically emailed to you before your event begins.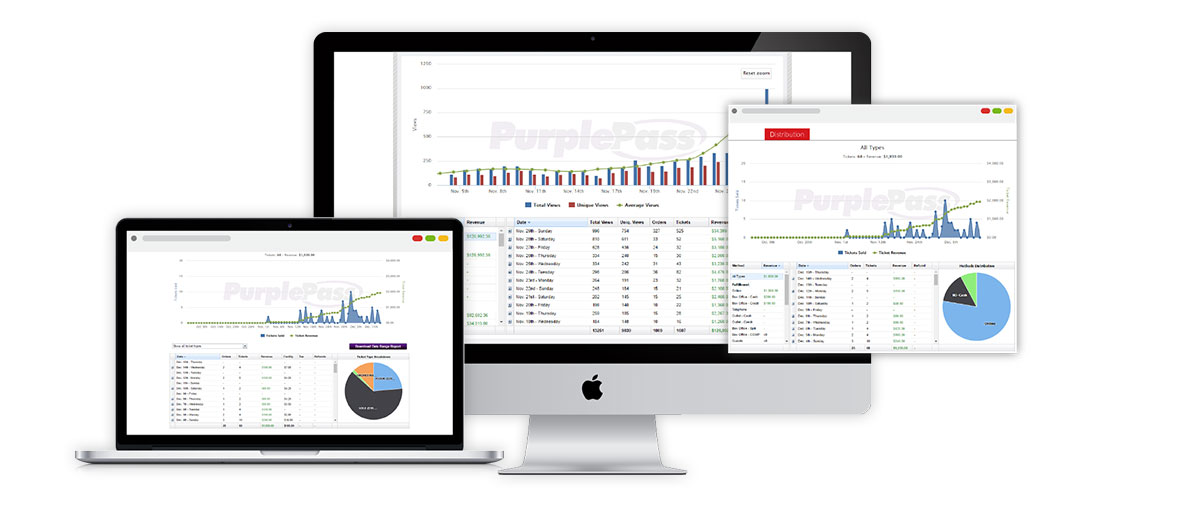 Here is what you get for free:
Ticketing options
Reports, stats, real-time alerts and invoice building
Assigned seating (free map building)
Marketing Tools
Integration options
24/7/365 event support
Unlimited number of events
Social sharing options
Click here for a more complete list.
Stats, Reporting and Sales Alerts
Find a report that works for your event with Purplepass. Use our reports or build your own such as marketing, financial or event statements.
8. SponsorMyEvent.com
This service allows either event organizers or sponsors to publish their event or services in a specific area to attract sponsors.
If a sponsor discovers your event, they can connect you directly through the platform and discuss your event and sponsorship packages.
The platform allows you to streamline any event sponsorships and keep everything in one place while discovering opportunities in your area.

Event sponsors can search for thousands of targeted events by category, budget, location, and keywords and is completely free to use.
If you need to find more room in budget, an event sponsor might be your ticket.
9. Asana
Planning an event can take many people, multiple moving parts and projects all happening at once. Asana is a work management platform that allows your team to stay focused on their goals, projects, and daily tasks all in one spot.

You can plan and structure the work that is best for you, along with setting priorities and deadlines for other team members.
Assign tasks, share details, monitor others work and make sure your event's deadlines are on the right path to completion.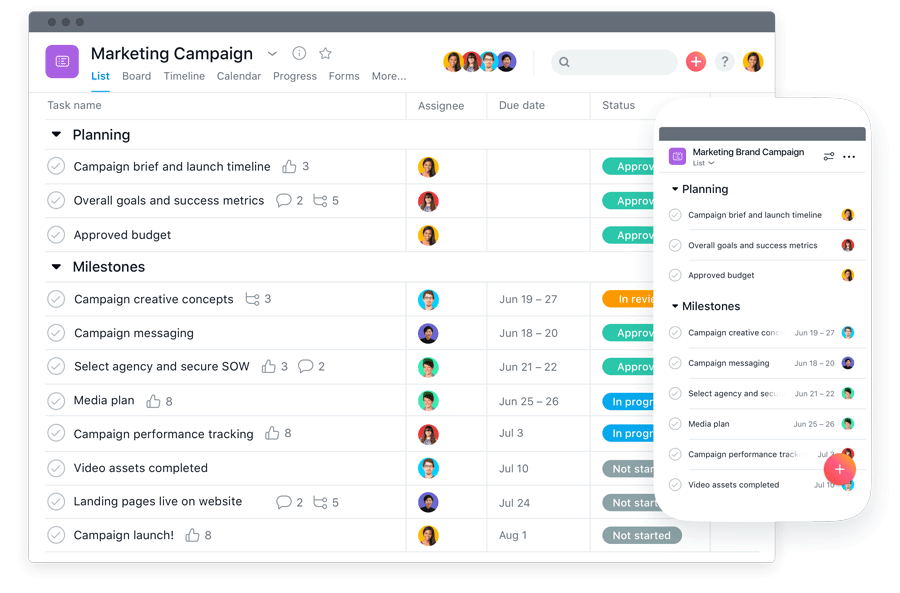 This is a must-have platform for anyone looking for more organization in their life. The basic plan is their free option that allows you to do the following:
Make tasks or assign them
List view
Board view
Calendar view
Assignees and due dates
Collaborate with up to 15 teammates
Integrate with your favorite apps
10. Crowdfire
Every event, no matter the industry, needs social media. Crowdfire is one of the few social media management tools left that still offers a free platform.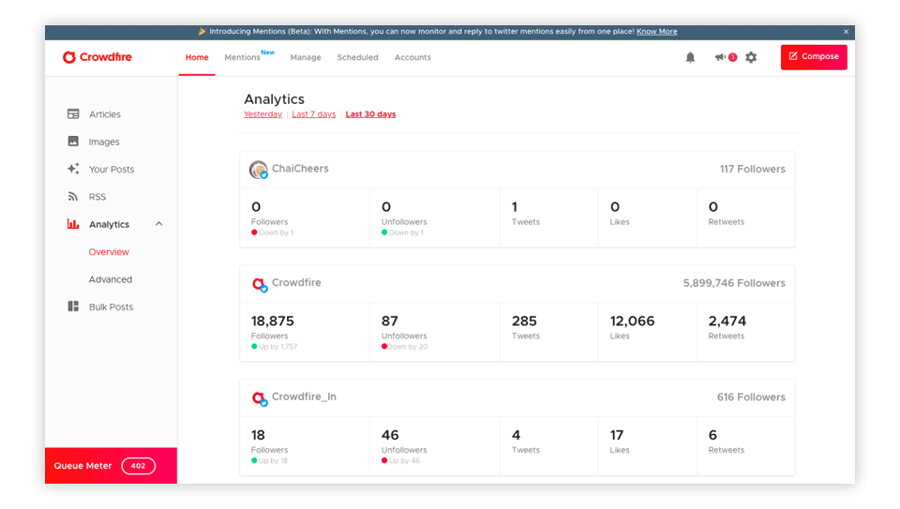 The platform allows you to discover and schedule content and manage your social accounts all in one place; similar to other social management tools, but for free.
Some features include allowing you to schedule multiple posts, help with customizing your post for all your social platforms, and adding your own RSS feeds.
11. Facebook Events
Posting on Facebook Events can allow you to draw some attention to your event on one of the most popular social media platforms used. 68% of America is on Facebook.

And they're on it a lot. The average American with a Facebook account logs 58 minutes into the social site daily.

Connect with our Facebook integration
Request and/or require guests to like your Facebook
page or share their purchase online.

That's 58 minutes of space to find and convert your ideal attendee.

But, it's not just the US. With over a billion DAILY active users spending a massive 35 minutes on Facebook daily, it's safe to say that Facebook is a global marketing gold mine.
Grab attention with an eye-catching photo, use keywords for tags, and let people post on the event wall so you can answer questions they may have leading up to the event. It's also free to use!
12. Social Tables
Social Tables simplifies the seating chart management process with one of the few software options that still have a free plan.
The collaborative platform has helped properties and planners execute over three million successful events.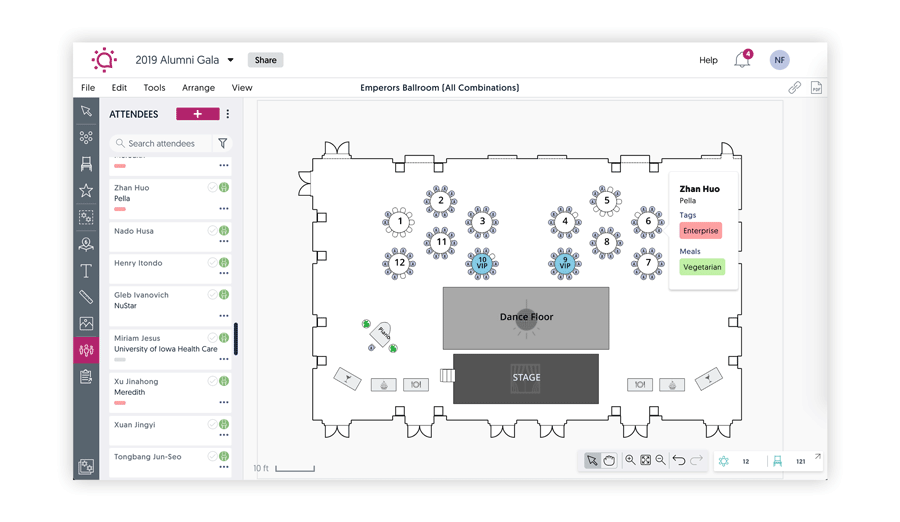 Their free planning tools include:
Diagrams and seating chart building for client and planning purposes
Seating and buffet management
Guest list management
13. Dropbox
Staying organized is an absolute necessity for all events, no matter the size. Files, contracts, invoices, PDFs, word docs, scans, mockups, you can expect a lot of digital files to be pushed around during the planning process.
Dropbox allows you to keep your team organized and gives you one place to keep all your files for your events, accessible online from any digital device.

Depending on your usage and storage space needed, we recommend Dropbox Business - Standard plan is only $12.50/month with 3 users, 5 TB of storage, and sharing tools. You can upgrade for more space. However, anyone can create a free basic Dropbox account with 2 GB of storage.
14. Slack
Large or small companies can save time with Slack by collaborating across teams, offices, and departments on one platform.
You can organize conversations, share files and documents, and find everything in the archive database if you need to revisit a conversation.
There is even a built-in platform to talk face-to-face with team members.
Think of a giant group text, one-on-one texting and text notifications, but on your desktop and only with your work team.
Slack offers three paid plans depending on your needs as well as a free plan.
The free plan includes 10k searchable messages, 10 apps and integrations, 1-to-1 video calling, and two-factor authentication.
15. Microsoft Office budget templates
Every event needs a budget plan for their event, but how or where do you start?
Find free budget templates with Microsoft Office resources.
There are ones specifically made for a variation of event types, so you are guaranteed to find one that'll work for you.
Find a general event budget, an event budget with a cost breakdown, and an event budget with profits and losses. You'll even find an expense calculator to help with understanding your finances.
Find the template you want, click download and open it in the correct software. That's it!
16. Mailchimp
Just in 2017, email users equaled 3.7 billion users, and it's set to grow to 4.3 billion users by 2022. So half the world is using email, easily making it one of the best ways to reach your audience.
Email marketing can reduce your time, effort and resources while acting as a marketing strategy for your event.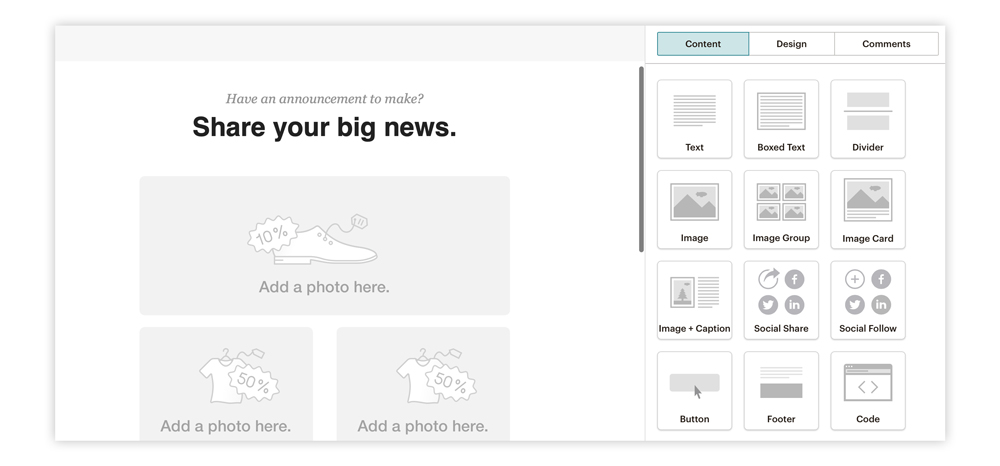 Mailchimp's free plan is great for beginners who want to start out with email campaigns and to test out the tools and features.
With this plan you get up to 2,000 contacts, 10,000 free email sends per month, 7 marketing channels, marketing CRM and behavioral targeting.
We think that's a pretty awesome deal for free! If you want to upgrade to unlock other features through Mailchimp, you have three other packages to choose from. Some features include single email automation and basic reporting.
You can also try out a variety of tools, such as landing pages and postcards.
** For more tips on creating an engaging email newsletter template, check out these design tips and examples that work for 2020.
17. Neil Patel (Ubersuggest)
Search engine optimization can be the key you need to getting your event website to show up in search engine results.
The free tool, Ubersuggest, was created to to show marketers how to win the game of SEO.
Just type in your event's domain or the domain you want to improve and it will give you the following suggestions:
Keyword Ideas
Content Ideas
Domain Overview
Keyword Ranking
Top SEO Ranking
Your Backlinks
A Site Audit
Referring Domains


Neil Patel has plenty of resources to help you build your event website with SEO in mind and to use SEO to reach more people for your audience.
Every marketer on your team should be using this to build your content strength and event reach.
18. Bitly
Social media might not do you any good if you aren't able to track results or share short links for a quick reference.
With Bitly links, you can easily track what is working and who are using your links.
Bitly is a free service used to shorten links you share so you aren't sending obnoxiously long links. They work for SMS messages, social media, email links, and direct messaging.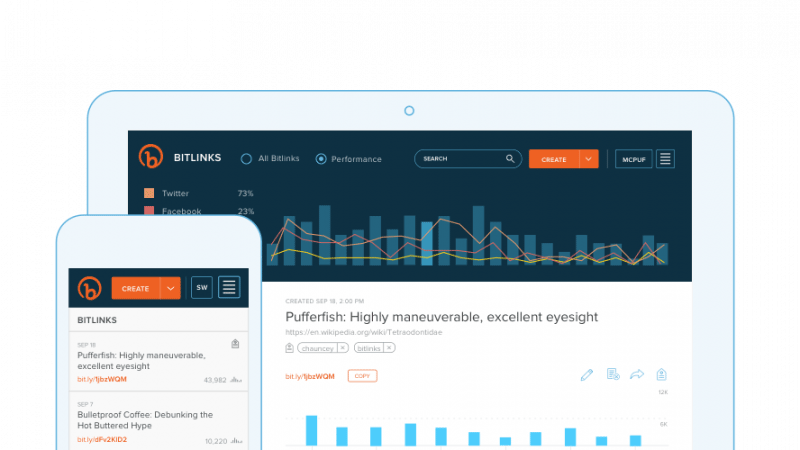 Use Bitly links for paid social ads, influencer marketing, partner marketing, offline marketing, and pitching reporters to see where your efforts are paying off.
The service calculates total clicks, top referred, and where the links are being accessed.
Providing these shorter links will also make your marketing efforts appear more professional and user-friendly.
19. PR.com
If sending out press releases is part of your event promoting strategy, then use pr.com. You can distribute your news everywhere, reach millions online, and gain exposure in search engines all for free.
You also get a full company profile, where you can promote your business, post services with descriptions and images, and even post job opportunities.
To get started, you can create a free account here.
20. Pocket
Put it in your pocket and come back to it later! At least that's the idea. Pocket is an app for saving things and coming back to it later.
Find a helpful event management blog or free guide you can want to save for later, use Pocket to keep everything you find in one place.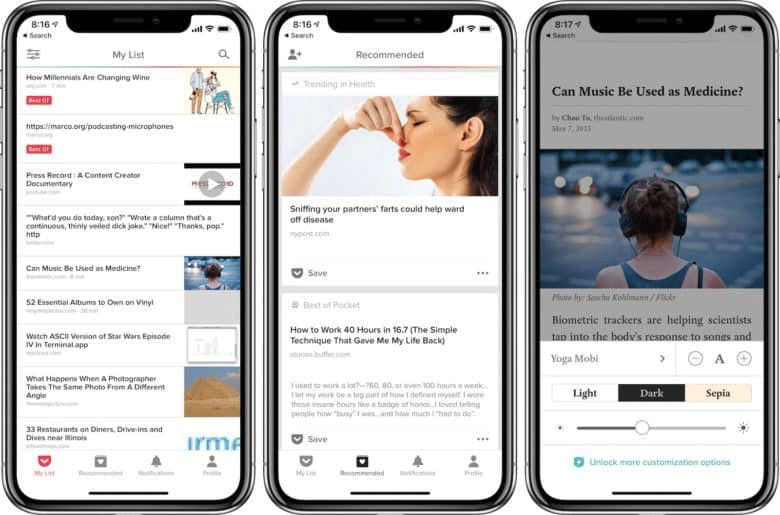 1. Download Pocket on any device
2. Save content you see via email or with an integrated app
3. Come back to it later
It's perfect for event planners always on the go, seeing good content, promising to come back to it later, but forgetting to return.
And it's 100% free.