The Top 5 Best Selling Ticket Packages for Festivals
As providers of ticket solution software, we get to answer a ton of customer questions regarding event tickets.
All of those are pretty common questions.
But we wanted to answer an extremely common one that we've been getting a ton this season — "what kind of ticket packages should I offer customers for festivals?"
The events industry is in the midst of ticket-packaging fever.
From VIP tickets to group discounts, here are the 5 ticket packages that our clients are selling like mad this year for the big events!
Check registration off your list
Request a demo now to set up, create and start selling
tickets with Purplepass. An all-in-one event
management hub.
1. Multi-day passes for tickets
If your festival lasts over multiple days, you can offer customers multi-day passes that give them full access to your event for multiple days in a row.
These kinds of tickets are AWESOME.
Not only can you secure additional cash up front, but your attendees get a discount to your crazy-amazing events.
What's not to love?
Now, let's put a warning in here: multi-day passes can be a serious pain to manage if you're not careful.
You need to have the right organization tools and software to fully optimize your admission process OR you can simply use some RFID tickets— which are the perfect choice for multi-day events.


2. VIP packages for festivals
Did you know that in a survey of over 1,000 event attendees, 33% of them said that the ability to purchase an event VIP pass influenced their opinion on the event?
VIP tickets let you cater unique experiences for your attendees and stuff your coffers with extra cash.

It's a win-win! In today's event ecosystem, VIP tickets are exploding, especially for festivals and larger events.
Whether it unlocks access to a Meet & Greet or a backstage lounge, VIP tickets provide you and your audience better options and experiences.


3. Group passes for friends and family
Group packages and family packages are a great way to offload lots of tickets while still providing attendees with quality service.
All you have to do is discount tickets for bulk purchases.
Here's the crazy thing — we've seen tons of events that don't even discount group or family packages.


By offering group passes, it's going to encourage participants to invite their family members or friends in order to qualify for the discount while increasing your ticket sales.


4. Flex passes for year round
Do you throw a bunch of different events?
If so, you can consider adding a flex pass for your festival.
We see event planners using this option for their events on our platform with great results. It's a great way to boost your bottom line and give attendees a variety of choice.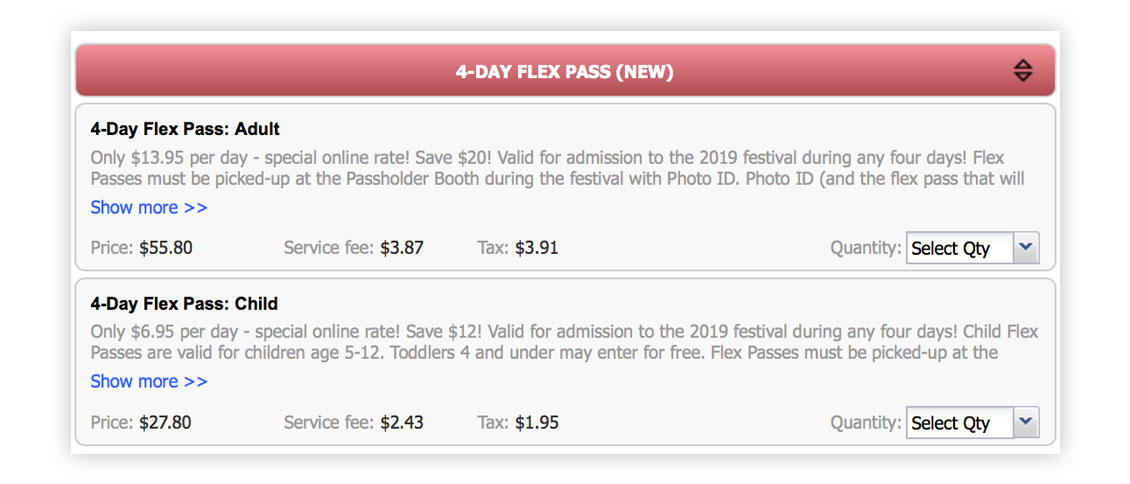 So, if you're throwing five different concerts or festival days, a flex pass may let them attend any 2 of your event days (they'll see a list.)
Think about that! You can get attendees to go to multiple events that you're throwing.
They get to experience new things, and you create loyal customers that can share their experience with others; word-of-mouth marketing.
To learn more about the flex pass, click below.

5. Create Your Own!
Get this.
There are over 127,296 event businesses out there looking to wow attendees.
You have competition.
So, sometimes, flex passes and VIP packages don't cut it or stand out enough. If you're still having issues selling tickets, try to create your own unique passes.

We've seen family-friendly events create family packages where if 2 adults buy tickets up to 2 kids get in for free.
And we've seen events throw in merch, create buddy passes (2 passes with a discount), and plenty of other unique ticket options.
You just have to get creative!
Purplepass is highly flexible when it comes to creating custom built ticketing options and pricing packages that work for you.
To learn more about the different ticketing packages you can create using our event management services, you can request a free site demo or have our services guide be mailed to your door by requesting below.
Request a free services guide
Want to learn more? We will send you an entire
package of everything we offer right to your door.