12 Festival Marketing Strategies To Promote Your Next Event
Hosting a festival (indoor or out) is one of the greatest ways to bring an entire community or group of individuals together. Festivals showcase local vendors, live entertainment, and even artists from a particular region or area.
Whether you are getting ready to host a festival to promote your own brand or numerous small businesses across your town, there are a few ticketing and marketing tips to keep in mind.


Festival Marketing Strategies
When it comes to hosting a festival, marketing, and event promotion strategy matter. Here are some ideas to kick off your event promotion.


1. Social Media Collaboration
Take advantage of social media to promote an upcoming festival by appealing to local residents and vendors who might be interested in showcasing their goods. Once you have vendors and/or partners you are working with, ask them to promote the upcoming festival using their personal and professional social media accounts.
Tips for collaboration on social media:
Create a Facebook event or social media account for your event.
Create an event hashtag that vendors, artists, sponsors, etc. all use in their posts. With festivals, there are usually a lot of external people involved that can be part of the collaboration online.
Have people tag your event on their posts.
If your event is tagged in something, make sure you comment on their posts.
Partner with vendors, artists, or sponsors and host giveaways or contests on social media.
2. Take Advantage of Google
Use solutions such as Google Calendar to keep local residents who are subscribed informed of any updates or additions you plan to add to your festival. Share festival details such as ticket prices, ticketing platform links, and even parking information directly within Google Calendar to keep citizens informed and updated at all times.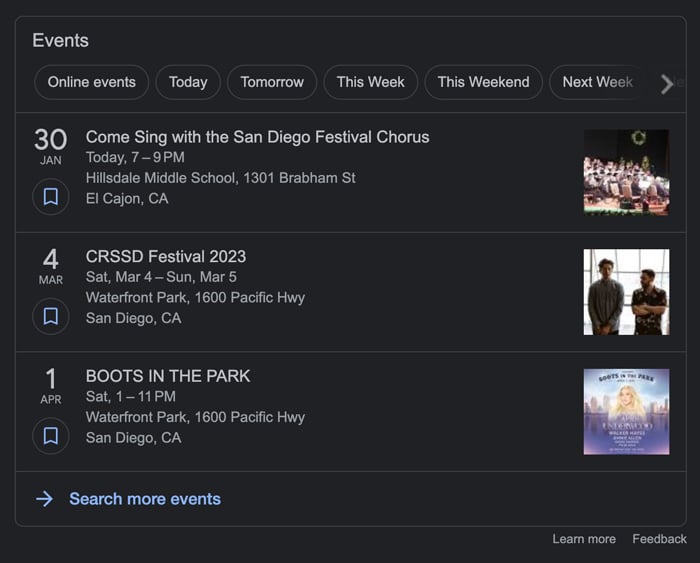 By creating an event website or utilizing Google, you can increase your overall reach online. Use these tips on SEO to make sure your online presence is fully optimized when creating your festival marketing strategy.
3. Affiliate Promotions and Links
Consider working with influencers and local affiliates who are interested in attending your festival and/or sponsoring the festival as a vendor themselves. Creating unique affiliate promotions can also help to attract a much wider audience of attendees who are fans of your affiliates and vendors as well.
4. Create Hype and Generate Buzz
What makes your festival stand out?
When are you planning to host your festival?
How will your festival appear more unique and appealing than others?
Some ideas to consider attracting attendees to your event that may help to generate buzz surrounding the festival include:
Contests and giveaways: Give away products, services, gift cards, and other promotional items from sponsors and vendors throughout your event to encourage attendance and participation.


Work with online influencers: Working with online influencers can help generate buzz around your event, especially if you are interested in targeting younger audiences and demographics.


Create events that people can participate in: More people will be excited to attend if there are events that they can participate in. Examples might include rodeos, pageants or talent shows, cooking or baking contests, booths, etc.


Have an event schedule: Consider mini activities, contests, pageants, etc. throughout your entire festival if it's a multi-day event. Providing a schedule will give attendees a better idea of what to expect and participate in if they want.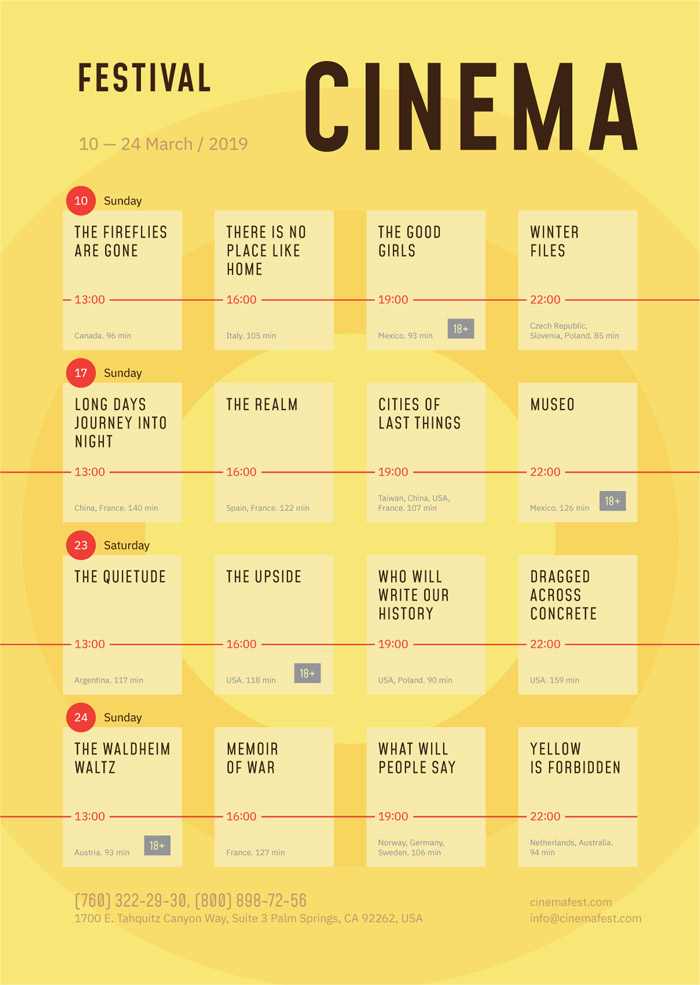 5. Collaborate With Sponsors
Work together with sponsors and vendors of your event to provide festival-goers with goody bags, incentives, and other treats. Sponsors often want to promote their business and can do so by including small products, treats, gift cards, business cards, or even special discounts for festival attendees.
6. Promote Main Events and Segment Mini-Events
While it is important to promote the main events hosted during your festival (such as parades and concerts), it's also important to highlight mini-events you also intend to showcase (as mentioned above). Mini-events can include
food-eating contests
face-painting sessions
pageant shows or talent shows
local performances/band
workshops
individualized activities or booths
7. Advertise for Volunteer Staff
Be sure to appeal to prospective volunteer staff months in advance before your festival event. If you are seeking volunteer staff, doing so ahead of time will ensure you have the manpower to manage your event without feeling overwhelmed or bogged down.
Plus, advertising and hiring volunteers will generate more word-of-mouth about your festival creating a stronger or holistic festival marketing strategy.
Event Registration Tips for Festivals
8. Create an Online Website For Purchasing Tickets
One of the easiest ways to manage ticket sales for an event today is to create an online website with a ticket registration platform (such as Purplepass). Having a direct link to your ticket registration website streamlines the process of reserving and/or purchasing any tickets on demand.
This way, people can purchase their tickets on the go, easily share them with friends, and have a mobile-friendly experience which is important for today's consumers.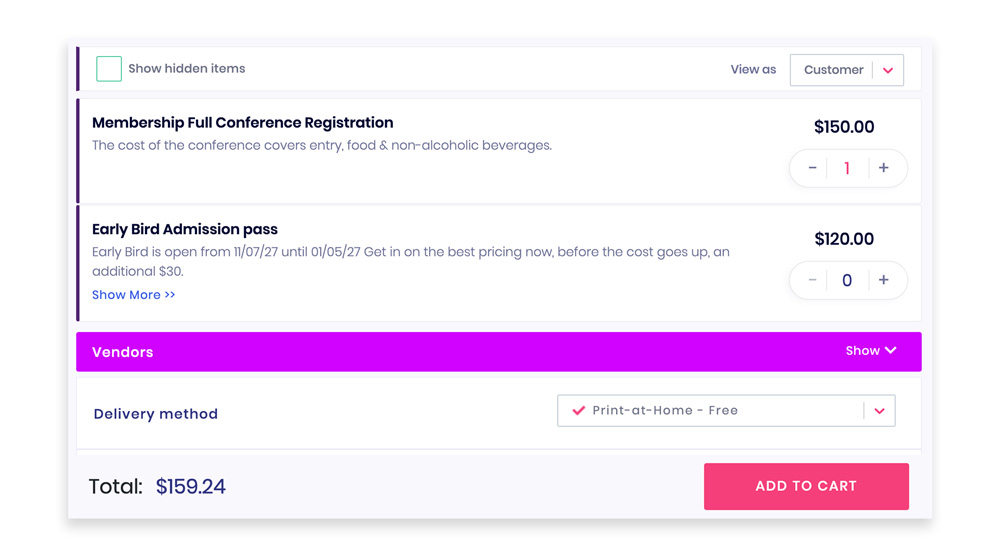 9. Provide Custom Passes
With each festival event you are hosting and coordinating, consider offering custom passes. Some pass ideas suitable for your event might include:
VIP: VIP passes can provide special access to various areas of the festival or to certain mini-events that are not available to the general public.
Backstage passes: If you are hosting live entertainment, provide the option of purchasing backstage passes.
Meet and greet: Meet and greet passes are also a great revenue source when hosting live entertainment and other local celebrities or popular figures.
Early access: It is also possible to offer early access tickets to those who are interested in entering and setting up a bit earlier than others who plan to attend the event.
10. Create Unique Coupon Codes
Using coupon codes can also help to get guests excited about your event, especially if they feel as if their discount is exclusive and/or rare. Early bird specials, student discounts, and even vendor coupon codes can encourage ticket sales and attendance for any sized festival.
Coupon code ideas:
Group passes
All-access pass
Multi-day passes
Student Discount
Senior discount
BOGO
Early bird discounts
Affiliate codes for discounts
11. Make Ticket Sales Easily Shareable
With the use of an online ticketing platform, it is much easier to make ticket sales shareable. Allow those who plan to attend your festival to share the event details with others who may also have a genuine interest in the event.
Using social media is one of the fastest ways to spread the word about a particular event, especially when it comes to larger local festivals (indoor and out).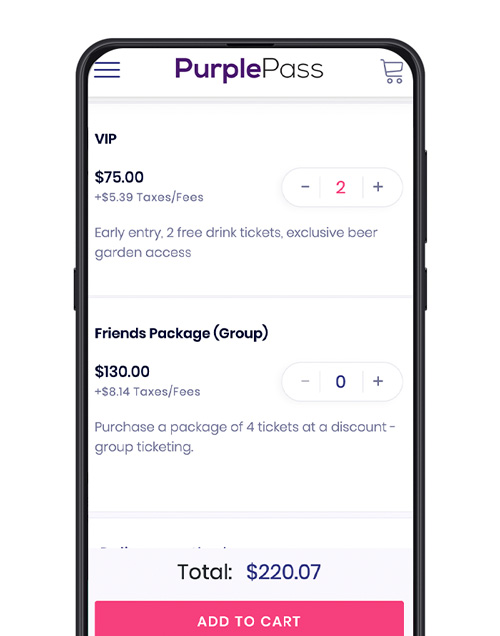 12. Create Affiliate Links
Use affiliate links for vendors, staff, and sponsors to track who is generating the most interest and ultimately, ticket sales. Affiliate links can also provide those who participate with rewards, such as discounted tickets and/or cash rewards, depending on the size and scope of the festival itself. Using an affiliate link and reward program for your attendees, sponsors, and vendors is also one way to help your festival stand out among the rest.
Hosting a festival that goes smoothly does not require the assistance of professional event managers that costs thousands of dollars. With the right festival marketing strategy and ticketing platform, streamline your festival's management from start to finish without a second thought.