10 Checkout Options to Include in Your School's Online Registration
With schools around the world transitioning to online learning or hybrid, most are also turning to ticketing to function as their school class registration software.
This ticketing software is being used to eliminate social interactions, congested lines, crowds and staff-to-student interactions in hopes of decreasing the spread of the coronavirus. If you're considering using a school registration software online, try including these 10 ticket options and package deals.
A free school registration software
Signing up for classes is free for students.
With Purplepass, if your ticketing is free...
so are we!
1. Enrollment and class registration
Allow students to enroll in another semester of classes via an online registration software.
With a ticket registration, this would be consider a free event, only collecting the student's required contact information and/or class selections in place of payment.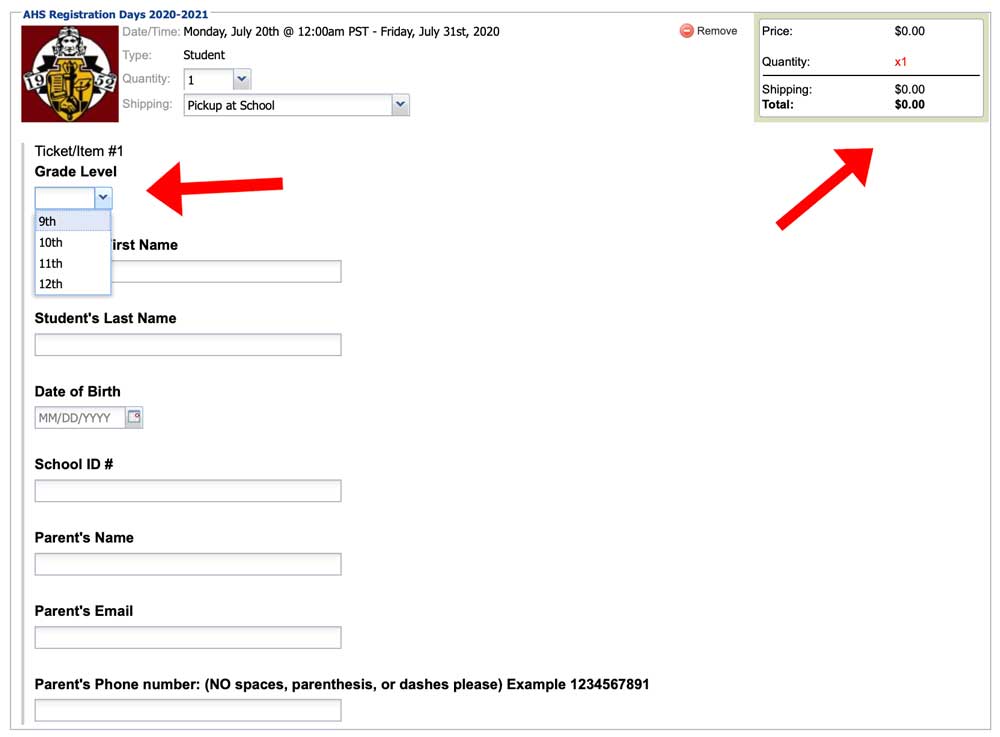 2. Senior packages
Don't forget about your seniors and everything taking place in their last semester. Senior purchases to include as part of the registration process might include:

Graduation tickets
Senior shirts
Grad Night tickets
Special edition yearbooks
Prom and other dance tickets
Student IDs


By giving students the chance to purchase these items in advance and online, you're minimizing in-person traffic and any manual transactions between students and staff.
3. Yearbook purchases
If yearbooks are ready or when they are ready for sale, use a ticket registration for these online sales. Again, this is going to reduce any interactions with staff and long lines when yearbooks become available.
To encourage participation in online sales, yearbooks can be offered at a discounted rate if purchased and shipped through the school's registration software.

Purplepass users can also create coupon codes and use student IDs if they want to offer discounts to select individuals, certain groups or memberships. Learn more about creating discounts for students here.
4. Merchandise and class shirts
Besides senior shirts, schools usually supply spirit shirts and other school promotional wear such as hats, bags, and lanyards.
Use a merchandise selling mode to sell these ticket add-ons during checkout so students can also purchase these items while registering for classes. Many schools rely on merchandise sales as a revenue stream for department funding.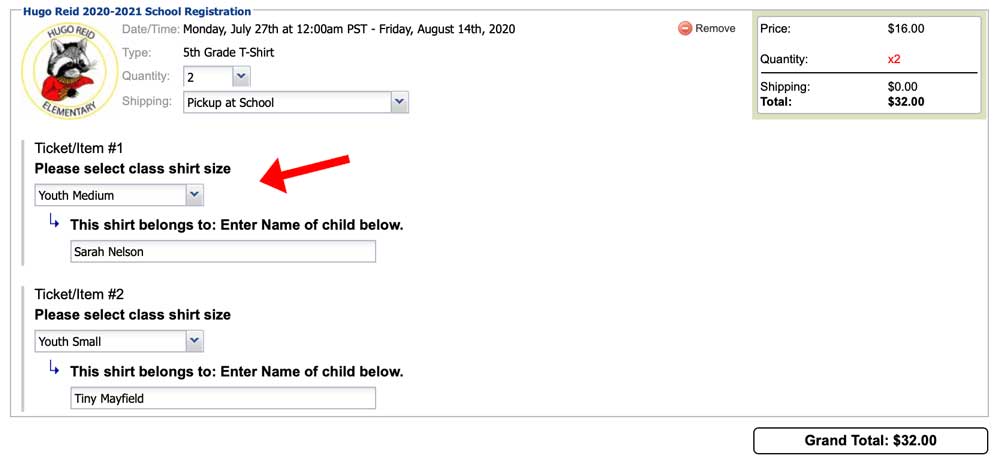 By putting up options to purchase merchandise before checkout, because of the user-friendly experience, students and family are more likely to purchase these items in advance.
Being presented with the option to order merchandise online is going to receive a higher conversion rate versus buying stuff at events (especially since no events are present at the moment).
5. ID cards

Don't forget about the student ID cards.
ID cards are used by most schools as a quick reference tool for staff, taking roll at the beginning of class, quick scanning features for accessing different tools, etc. Current schools using Purplepass can also create coupon codes using these student IDs to make applying discounts and promos online easier and efficient.

Rather than having students come in person to get their cards, they can submit their images online and have the ID cards mailed to their doors for the ultimate touchless, germ-free experience.
6. Season passes and family membership options
If your school hosts an array of events throughout the year such as sports, performing arts, and drama, season passes might be a good idea for families and loyal fans.
Build ticket deals or flex passes that allow customers to select the events they wish to attend throughout the year at a discounted rate.
7. Donations
Schools need the help now more than ever.
Because of the coronavirus, with students fully online and events cancelled, schools are missing out on the ability to collect donations at department events. This is causing a snowball effect; no events equal no opportunity to collect donations for the department, thus they are running out a funds and programs are being shut down.

We encourage all schools to give parents the option to donate to different departments during these hard times. Students don't want to see there favorite after school activities disappear when they return to campus; it's up to the community to keep these programs alive. Give them that option!


8. Booster club sign ups
Does your school have a Booster Club?

A booster club is formed to support clubs associated with the school, such as sports teams and other departments. Booster clubs are crucial for annual fund-raising events and consistent donations.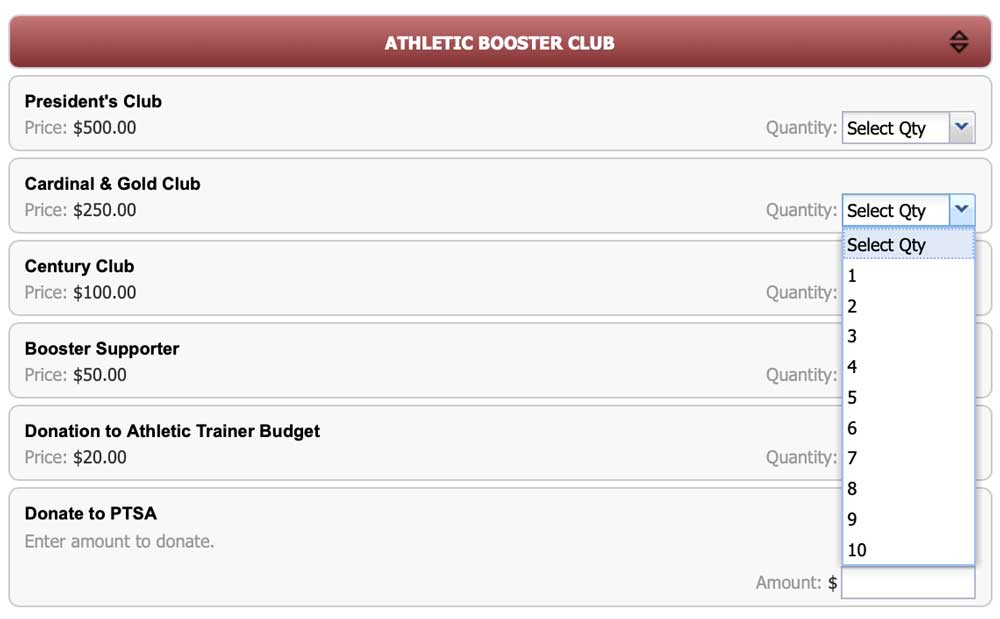 To eliminate faculty or parent interactions, consider creating a spot for club members to renew or register online. You can include different membership levels, club options, and pricing tiers.
9. Rentals for different departments
This highly depends on if school programs are still being offered online during COVID-19.
If an activity requires certain equipment and if the school is offering rentals, include this as part of the registration process.
For example, if a student is participating in a music or band club and wants to rent a specific instrument, whether the school is charging, providing this option at checkout will allow the school to (a) collect funds if applicable and (b) keep track of purchases and inventory online.

Equipment rentals to consider:
Text books
Calculators
Science equipment
Music and band equipment
Laptops and other learning devices


10. Meal tickets and food distribution
Whether your school is fully online, hybrid or in-person, some students still rely on food services to get by. If possible, continue to offer a grab and go breakfast and lunch option (drive throughs for parents and students).
Students can enroll in this option upon registering for classes as well as apply for any reduced-meal programs or free meals. For easy payment options, your ticket registration should allow you to offer a payment plan for parents purchasing meals.
Build custom ticket packages
Create ticket options that work for
all students and other community
members involved.