5 Reasons Payment Plans are Increasing Your Ticket Sales
A big percentage of people reading this article have used payment plans before. Think about paying a student load, car payment, credit cards, mortgage loans, etc.
A payment plan is a plan for paying any debts off in small increments, usually based on what the consumer can afford to pay monthly. Some payment plans are more flexible in payment options and the amounts that can be paid each month.
Create your own merchant account
Want to manage your payment processing with
your own merchant account? It's easy to set up!
So why use a payment plan for purchasing tickets?

Well, not every ticket is cheap. Weekend conferences, festivals, trade shows can all come with a hefty ticket price. And if you can't break the bank in one sitting, you might prefer to pay your ticket spread out in the time leading up to the event.
If you are planning an event with expensive ticket packages, consider all the benefits that can come with offering a payment plan (see example of a payment plan below).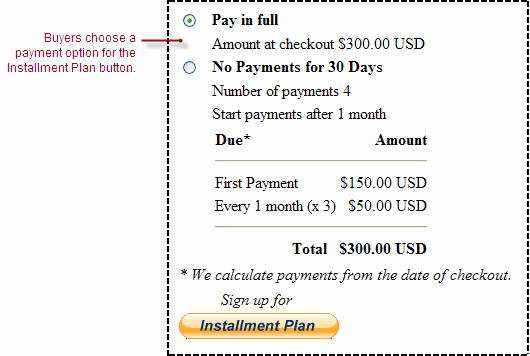 1. Gives customers flexible payment options
Here is where you need to consider your target market and their demographics. If you are offering an expensive ticket package, are they going to need the help of a payment plan?
Or they might not need it, but does having the option of a different payment method appeal to them?
Customers enjoy seeing multiple payment options available at the checkout.
Credit/debit options
PayPal
Cashier's check
Payment plans
You should even offer the ability to pay by phone or email for extra assistance. Again, think about your target market and the different demographics that make them up.
They are all going to expect different payment processing options,so try to cover them all.


"People like to have options and control over which payment they use. If you limit them to one option that they are forced to use, it can reduce your chance of selling and increase your cart abandonment rate. The last thing you want is for your customer to get all the way to checkout and decide not to proceed due to the lack of payment options available"- BMT Micro Inc.

Offering a payment plans shows them you recognize your ticket prices are a little high, but you are willing to work with them and create a payment schedule that is attainable. It shows you really want them there.
2. Offers plans for each customer's financial situation
Everyone has a different financial situation.
Maybe they have the money, maybe they don't. Maybe they are waiting for a check to come through or their next paycheck to make the purchase.
Whatever the reason, payment plans are great for individuals that would rather pay later than now.
The big word here is flexibility, and it will probably keep coming up. As flexibility is the reason why payment plans work. Money is not a static item, it's constantly fluctuating and moving in and out of bank accounts at different rates.
By working with your customer's financial situation, you are changing their perspective. Instead of dropping $300 on a ticket, they are only spending $50 of their paycheck now. Then another $50 later, then a few more, spreads out throughout months. You are taking that scary $300 price point, breaking it up and showing it's not so intimidating after all.
3. Builds a relationship and brand loyalty
This is one of the best reasons to offer a payment plan as part of your checkout process. You are creating a humanized experience.
This shows you have feels, you understand your customers' needs and are willing to work with them even if it doesn't entirely benefit you.
It's also building a relationship that doesn't end at checkout.
You are now working with them monthly to get their ticket paid off, checking in, and making them feel good when payments are complete.
4. They can schedule it, set it and forget it
Depending on how flexible you choose to be, your customers can create a payment schedule and amount that works for them…set it… and forget it.
To start, they only had to pay a small amount, align for funds to be removed when they know they have the money and can now move on. Before they know it or realize, it's paid off, and the event is just around the corner!
Learn about your payment processing options
We offer a few different ways to manage your
funds and receive payments. Learn more below.
This means, your payment plan process should be set up to where they can choose their settings upon checkout, enter their information, and hit submit.
They shouldn't have to do anything more.
5. Plans can help reach a new customer base
Let's say you're selling tickets to a 3-day festival that is $500.
Group A is your usual target audience. They make a decent amount for a living and can easily afford your ticket price, they purchase tickets and are done.
Group B is a group you usually don't sell too many tickets to. They don't have a stable job or much in their checking account after paying off bills. They can't afford your ticket, so they move on.
But wait! Does that say payment plan??
Group B is back. Your payment plan says they can pay off their ticket in 10 increments and set payment amounts that works for them. Maybe they have an extra 50 after paying their bills each month that they can put towards payments? Now, you've made purchasing your tickets possible.
So what just happened? You reached a new audience!


Make large purchases easier for customers to handle by breaking them up into smaller payments. Purplepass will handle the entire payment plan, allowing them to make their first payment upon purchase, and then all future payments will be automatically charged to their credit card based on your defined schedule.
Post your event and start selling tickets
It only takes a few minutes to publish your event.
Talk to a representative below to help get you started.