matching article(s)
Show content for
Everybody
Organizer
Buyer
Answers
Generating a live stream embed code using a widget
Generating a live stream embed code using a widget
With Purplepass, you can generate a live stream widget code for your next event within seconds using the following steps:
Log in to your Purplepass promoter dashboard
Select "Tools" from the top navigation bar
Locate and select "Live Stream Widget" from the left sidebar navigation menu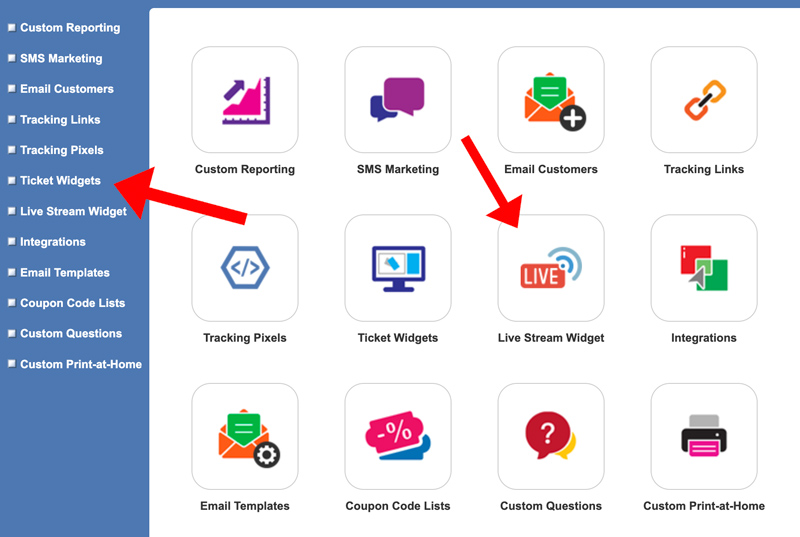 Complete the steps (1-3) presented on-screen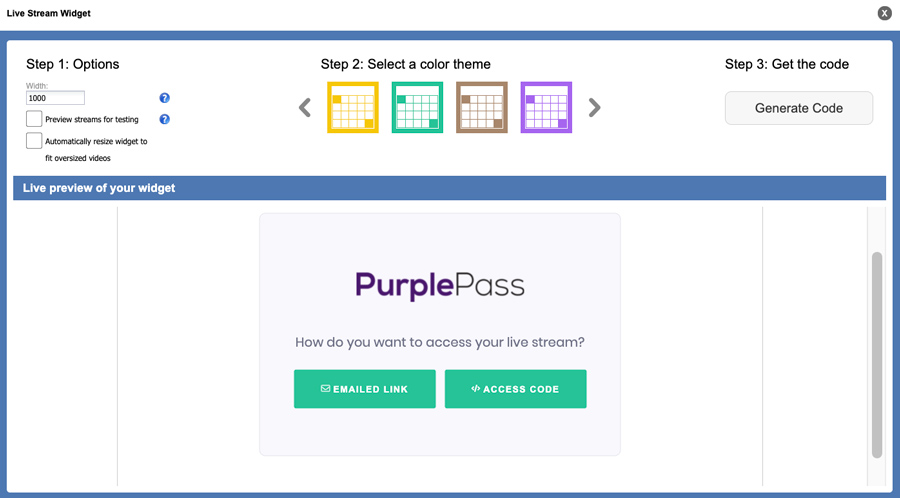 Enter the width of your widget, select a color theme that is suitable for your live stream widget, and click "Generate Code" to automatically display the live stream widget embed code you need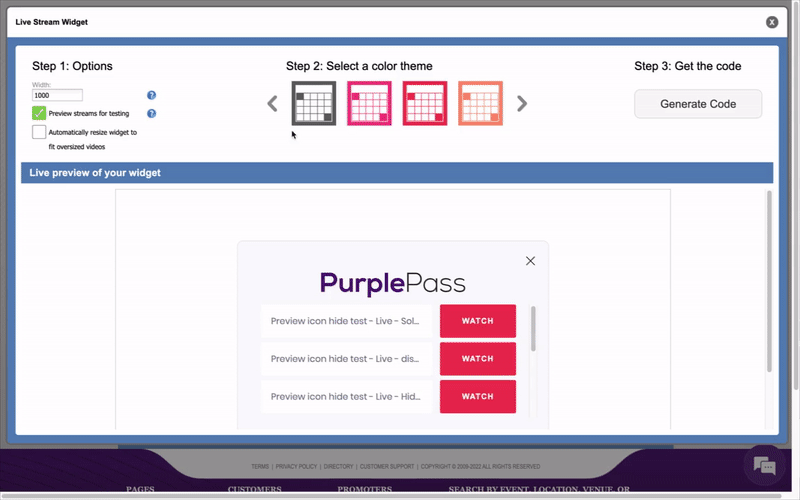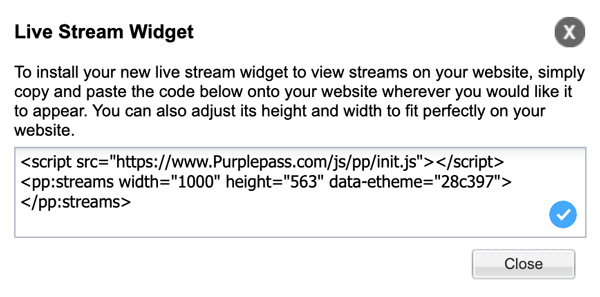 Note: To install your new live stream widget to view streams on your website, simply copy and paste the code below onto your website wherever you would like it to appear. You can also adjust its height and width to fit perfectly on your website.
Adding a generated widget code to the live stream ticket type
Select "Create New Event" from the top navigation bar, or edit an existing event
Scroll down to the "Ticket Pricing and Options" subsection
Click "Add Live Stream" below the admission type options or previously created ticket types or use the drop-down to select "Live Stream"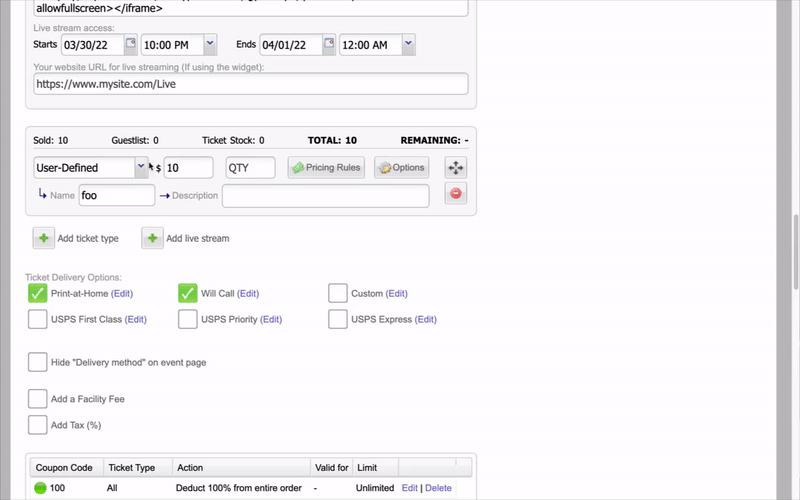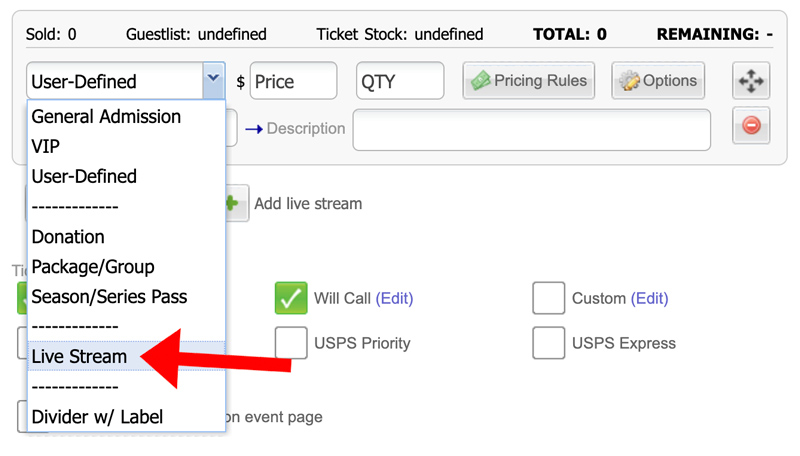 Website URL: The website URL is required for livestreaming the event if using the widget and embedding it directly on to your page or website. It is only needed if you are using the widget. The URL will be used for the shortcut "Play" buttons that are generated and sent in the confirmation email upon a purchase. If you choose not to use the widget or do not enter the URL where the widget is installed, the system with default to the Purplepass live stream page (Purplepass.com/Live). If not using the widget, leave this field blank.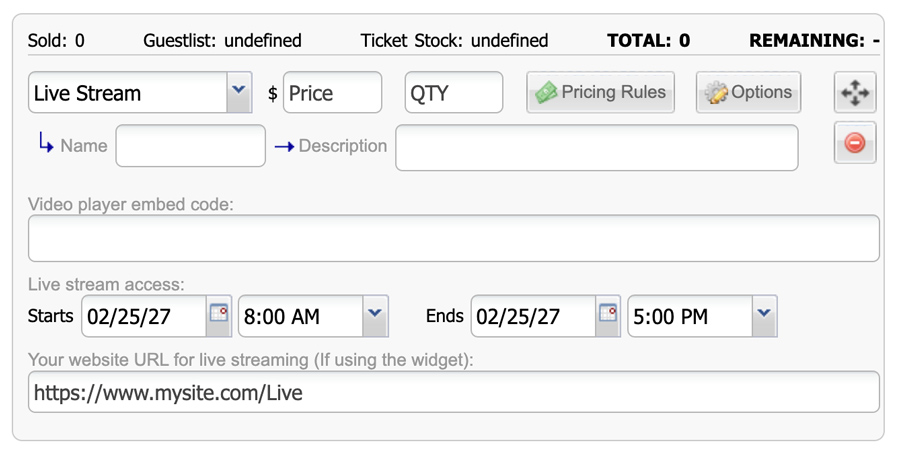 What is a live stream widget?
Similar to ticket widgets, this widget type will act like a portal, giving guests the ability to access the video stream. The widget will be created and installed the same way the ticket widget is through the Purplepass' admin.
Use this widget to directly embed the streaming experience on to the event website and avoid any redirects or third-party sites.
When guests go to access the event, they will use the widget. Once they click on the widget, the system will ask them to enter their order number or email address for extra security measures. These extra steps are used to verify whether they have access to that event.