Your Guide to Using Airbnb for Events: What You Need To Know
Airbnb is one of the largest short-term rental and homestay experience providers and apps available today. Whether you've used Airbnb in the past to enjoy a vacation or if you frequently travel for business, Airbnb has millions of homes and apartments to stay in.
If you are planning an upcoming event and need a desirable location that is sure to attract attendees, consider the opportunity of using an Airbnb event space solution. Using Airbnb for your event space is possible by abiding by the owner's rules as well as any Airbnb policies in effect that are relevant to your booking.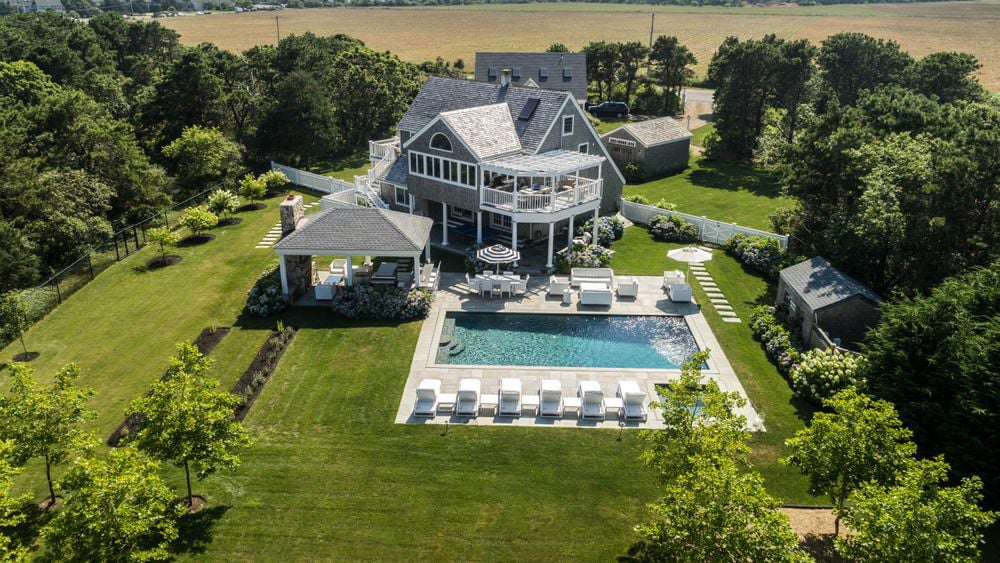 Types of Events Suitable for Airbnb
Choosing Airbnb to find your event location is possible whether you are planning a corporate workshop or an intimate birthday party. A few types of events that are suitable to plan with Airbnb include:


1. Intimate Weddings or Elopements
For those who are searching for a picturesque backdrop or beautiful scenery for their wedding or elopement, Airbnb can offer plenty of options that fall within your budget. Hosting a wedding via Airbnb provides access to homes with beautiful yards, open lots, and even those on a shoreline or beachfront property.
2. Birthday Parties
Hosting birthday parties using Airbnb means having access to large backyards, swimming pools, and other party accessories that are just right for your event. You can also host a birthday party using Airbnb to avoid using your own personal space and allowing it to clutter up.
3. Corporate Events
Hosting a bonding activity with employees or team members using Airbnb is a great way to enjoy a change of scenery while simultaneously working together. Corporate events while using Airbnb can also help workers to take a break from the mundane while getting to know one another on a more personal level.
4. Workshops or Classes
Whether you're a yoga teacher, an instructor, an artist, or even a dancer, an Airbnb rental is the perfect space for classes and planned workshops. Hosting workshops with the use of Airbnb allows you to maintain the privacy of your own home. Additionally, an Airbnb rental can also provide much-needed space to host 5, 10, or even 30 students in your class, depending on what you are teaching.
5. Dinner Parties
If you are planning to host an expansive dinner party, consider doing so at a rented Airbnb for additional space and an extensive kitchen and dining area.
6. Film or Photoshoots
For those who are interested in having a professional photoshoot or simply taking photos, Airbnb offers home and corporate rentals around the world that are just perfect for any setting. Whether you are representing the corporate world, a modeling agency, or even Hollywood, Airbnb has plenty of listings to offer that are just perfect for the ideal photoshoot opportunity.
7. Pop-Up Shops
Entrepreneurs can make the most out of renting an Airbnb by hosting pop-up shops of their items or exhibitions to display their work. Using Airbnb for a pop-up shop is a great way to boost brand awareness and visibility, especially if you are able to do so outside or in the public eye during your stay.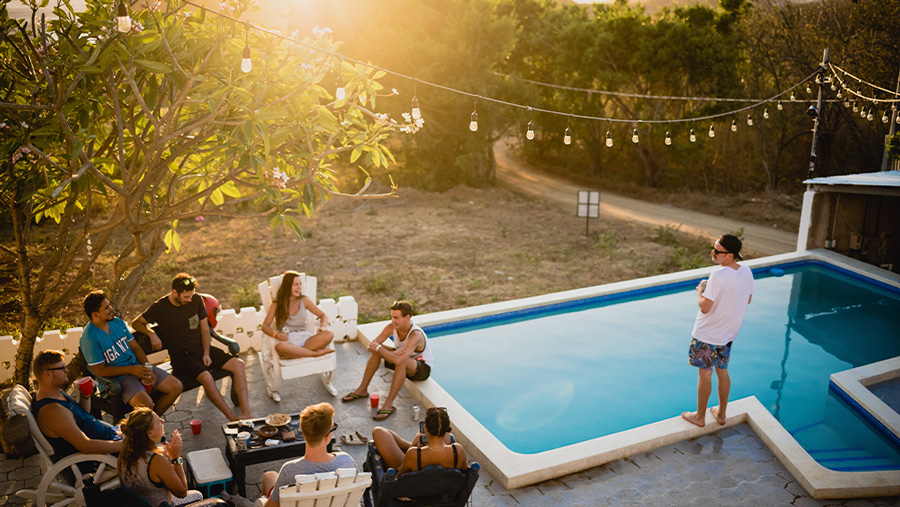 Rules/What to Consider
Yes, it is possible to use Airbnb rentals for events of all types.
However, it's important to keep in mind that, in order to do so, it's required to abide by the homeowner's own rules and listing requirements while also abiding by Airbnb's policies currently in effect. In all event-hosting instances, Airbnb's policy states that events are only permitted on a case-by-case basis.


Check Listing Rules
Always read and review listing rules before inquiring about renting a location for an event using Airbnb. Not all homeowners are open to events and some may not permit additional guests on the property during the stay. Some rules may also include hour requirements, restrictions, guest rules, and other details.


Be Transparent and Upfront
When using Airbnb, transparency is key. Remain upfront and honest with hosts and inform them of your intentions to keep a clear line of communication open at all times. Keeping a good rapport with the host you choose is also essential for an optimal outcome.


Respect the Neighborhood
Before choosing a location on Airbnb that is ideal for your next event, take time to research the neighborhood the venue is in and its surrounding neighborhoods. Become familiar with the neighborhood as well as its surrounding culture to ensure you are as respectful as possible while hosting your event. Avoiding excessive noise and disturbing neighbors is imperative when using Airbnb for any type of rental. Parking in designated areas is also highly advisable when renting from Airbnb.


Follow Local Laws and Regulations
Anytime you are renting a venue using Airbnb, it's essential to comply with any local laws and regulations regarding events in the city and neighborhood you are in. Abiding by noise permits and/or ordinances is also necessary and will prevent potential issues from arising. Spend time getting to know the local area prior to your event so you feel more comfortable once the event begins.


Clean Up After the Event
Disposing of trash and items left behind after an event is also required when renting a home, apartment, or corporate venue from Airbnb. Leaving the location in the same condition as when one arrives is also part of the Airbnb policy. In order to prevent a negative review or response, it's essential to clean up after any event you host with the use of Airbnb, regardless of the type and size of the event itself.
Airbnb's Policies
Whenever you choose to rent a venue from Airbnb, it's important to keep the official Airbnb policies in mind as well to prevent potential backlash, fines, or fees.


Events are permited on a case-by-case bassis: While it's essential to gain permission from the owner of a property on Airbnb to host an event, all events must also be cleared via Airbnb on a case-by-case basis. This means that, even if the owner of an Airbnb listing is open to the idea of you hosting an event, you will still need to clear the event directly with Airbnb before you are able to proceed.
Additionally, anyone who is renting an Airbnb venue must also comply with all local laws and regulations in place. Once your event has been cleared and approved, it's imperative to discuss the arrangement directly and thoroughly with the property owner(s) for the best outcome possible.
Additional fees may apply: In some cases, additional fees may apply when renting from Airbnb, especially if you are doing so with the intention of hosting a particular type of event. Some owners of rentals may choose to charge additional service fees for events that include security deposits, cleaning fees, and fees for additional guests who you plan to invite to your gathering.
If you are unsure about the fees of each location, be sure to read the description of each listing thoroughly. The listing on Airbnb that you are interested in should inform you of potential fees based on the type of rental you are interested in.
Unautorized events are not allowed: Any unauthorized events that are being hosted via an Airbnb rental are strictly prohibited. Because all events must be cleared by Airbnb and the rental host beforehand, any events that occur on-site without permission are not allowed. Hosts may cancel bookings and report guests if they choose to host an event without permission from the rental host as well as Airbnb directly. Unauthorized events that are not communicated with the host, violate the rental's rules and guidelines, or even exceed the number of guests specified in the booking can all void the rental itself, depending on the host.
Guests are responsible for their guests: If you choose to use Airbnb to host your next event, keep in mind that all guests are responsible for their own guests while they are on the rental property. Any guest you choose to attend your event while using an Airbnb rental must abide not only by Airbnb's event policies but also by the policy of the rental host themselves. It is also imperative to ensure that guests are well-behaved and that they do not cause damage to the rental property or disturbances to the public and surrounding neighbors.
Noise restrictions in effect: Any guests who use an Airbnb event space must be respectful to the rental owner's neighbors and the surrounding community. All rental guests must also comply with local noise ordinances and/or restrictions that are set in place. Always be sure to research the local neighborhoods you are thinking of staying in if you are planning an event later in the evening or at night. Some neighborhoods may have noise ordinances that begin much earlier than others.
By following these policies, guests can use Airbnb rentals for events while ensuring that they are respectful of the rental and surrounding community. It's important to review the listing's rules and communicate with the host to ensure that the rental is suitable for the event.