Meet The Artists Of The 2019 U.S Sand Sculpting & Art Exposition
Claimed to be one of the best U.S Labor Day Events in 2018 by CNN Travel, you won't want to miss San Diego's U.S Sand Sculpting Challenge & Dimensional Art Exposition this time around!
Saturday, August 31st - Monday, September 2nd, come celebrate three days of amazing sand castles, more than 2,000 items of hand-made art, and other activities for the entire family. Located at the beautiful Embarcadero and Broadway cruise ship pier. Watch San Diego's famous sunsets dance on sand sculptures as your night comes to an end.


World Master Sculptors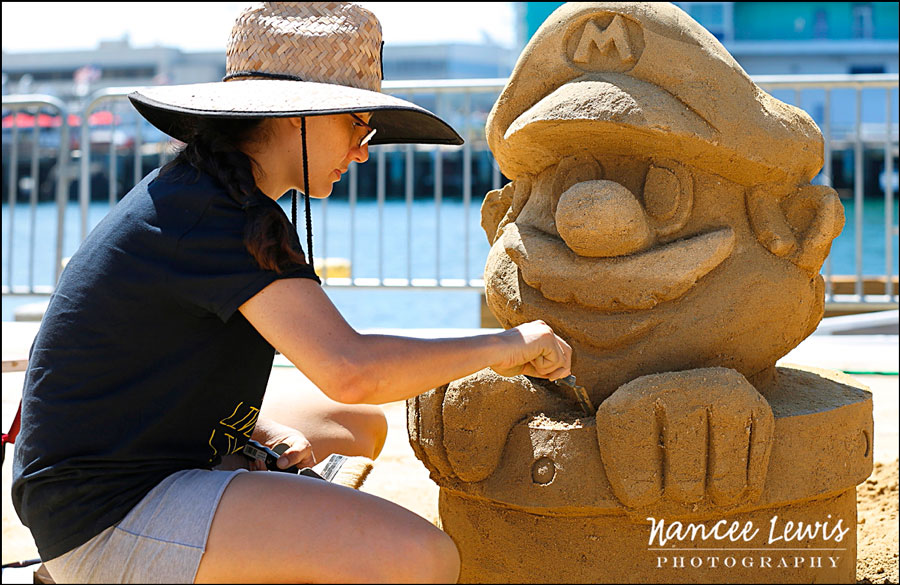 Throughout the world there are only 50 master sand artists that can be called World Masters of sand sculpting and 34 of these very best have participated in this competition.
That's about 2/3 of the most talented artists in this medium on earth.
This year, you can expect 12 World Master Sculptors to carve out amazing sculptures that can reach up to 15ft tall and weigh over 20,000 Ibs using nothing but sand and water.
In addition, three teams of four recreate the U.S. Open Sandcastle Competition that ran from 1980-2011. In all, there are 20 amazing sculptors.
To find more information on previous sand artists who will be or have visited San Diego to compete on Labor Day, you can learn more here and check out their works of art!
Dimensional Artists
Throughout the festivities, the annual Dimensional Art Exposition runs alongside the Sand Sculptors and pier. Visitors can check out +2,000 items of hand-made designs such as clothing, accessories, wood carvings, metal designs, glass art, ceramics and so much more!
If you like it, you can purchase it to take home! These artists are from as far away as New Mexico and Montana, attending to exhibit their work. Check out some of the featured artists here.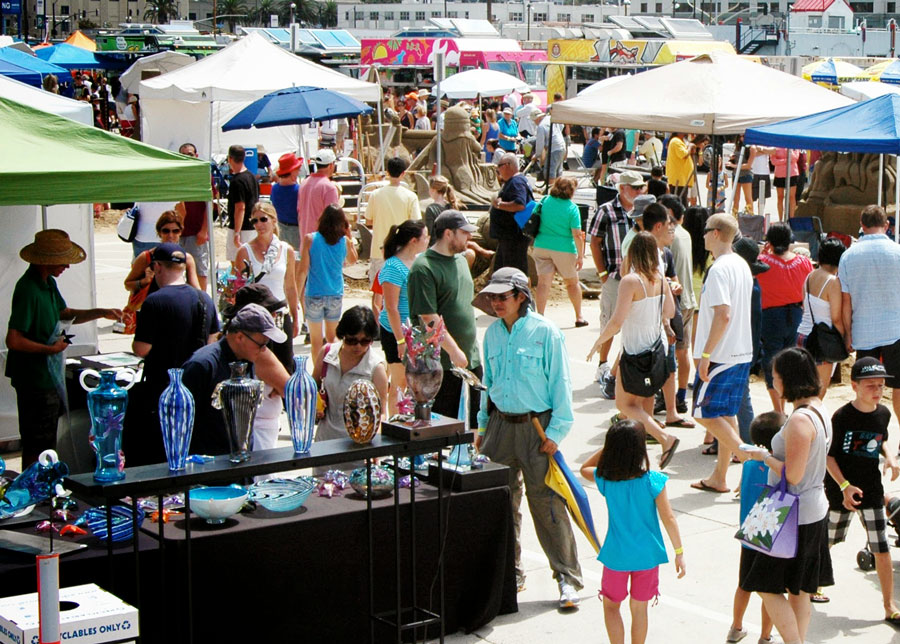 Don't Forget About Entertainment
If you thought quality sand sculptures and hand crafted art was a lot, don't forget the entertainers! Check out their schedule for entertainment below:

Saturday, August 31, 2019
11am-2pm: Private DomainClassic Rock
3pm-5pm: Bayou Brothers San Diego's Cajun, Zydeco & Blues Band
5pm-8pm: Suspicious Minds Elvis Tribute

Sunday, September 1, 2019
11am-1pm: Tehlia Island Style Acoustic
2pm-4pm: Surf Birdz Surf Music (Does this surprise you?)
4pm-5:30pm: Award Ceremony Sculptors and Dimensional Artists get trophies and prize money
6pm-8pm: Suspicious Minds Elvis and his Band are Back!

Monday, September 2, 2019– Labor Day
11am-1pm: Camino Paz Mellow Classic Rock
2pm-4pm: Mar Dels — the Boys Rockin' Piano and Classic Rock
5pm-7pm: Johnny and Friends Classic Rock


---
When; Where; Tickets
When:
Saturday, August 31– Monday, September 2
Saturday, August 31 10am– 8pm
Sunday, September 1 10am– 8pm
Monday, September 2 10am– 7pm
Where: Broadway Pier and Pavilion
Where:
1000 N. Harbor Dr., San Diego, CA 92101
Tickets:
Admission: Adults (13-62) --$12 online thru 8/10; $15 after and at gate
Seniors (62+) --$10 online thru 8/10; $13 after and at gate
Kids (2– 12 years) --$8 online thru 8/10; $10 after and at gate
Toddlers (under 2 years) --FREE
Active duty military, EMT's, fire and police --FREE with valid ID (individual only)
VIP Package (all ages) --Includes weekend-long admission, cut-the-line privileges,
very special shaded seating section in the middle of the bay, 2 free drinks, free Habit
Burger post-event coupon,and upgraded facilities (value up to $70) --$35 thru
8/10; $40 after and at gate
Tickets available at www.ussandsculpting.com