Purplepass's Email Integration Mailing List Options Released
Purplepass's email
integration options
,
MailChimp
and
Constant Contact,
now lets you create separate mailing lists depending on your topic of choice.

MailChimp integrations allow you to automatically sync the contact information of your ticket purchasers directly to your MailChimp account.
With a free, introductory plan option, you get up to 12,000 free emails per month, 2,000 total subscribers and a variety of template options.
MailChimp makes it easy to quickly send out newsletters, announcements, invitations, etc, to all your customers.

With Constant Contact, you can create the most effective email marketing campaigns to promote your events.
By enabling Constant Contact integration, Purplepass will sync and add all of your customer's contact information to your account.
You can also include your Guest List information!
You can start a free trial for your first 60 days which includes live expert help and online resources to get you started and try out this new integration. Constant Contact also has several affordable pricing options depending on your subscribers and email lists.
New integration options
The recently released upgrade lets you create and choose multiple lists to display to your customers so you can allow them to pick which list they want to subscribe to instead of having a general list.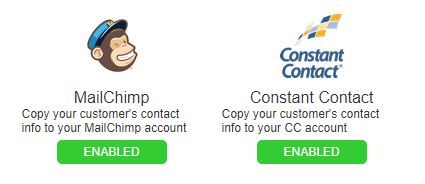 If you are running a Fine Arts program that puts on concerts, festivals, musicals and dance performances, you can create a separate mailing list for each topic and allow customers to choose which topic they are interested in following.
So, for example, if you are using Constant Contact as your email service, you can categorize your contacts by different email lists.


When you are in your Purplepass account, you can enable your Constant Contact integration through tools > integrations and from there you have the option to "Select default list" and "Select lists for users".
By including your guest list, your contacts info for that event will be added to your email account, more importantly categorized into a specific list.