How to Successfully Organize a Focus Group
Discovering personal opinions about a target audience is one key to successfully marketing a product or service to the public.
One of the most widely used and reliable methods of gaining this knowledge is creating focus groups.
These groups have been used for decades by companies large and small as a way to learn what users like and don't like about your services or products.
This approach can be applied in many areas of business and can be a great tool for helping you connect with your target audience on a more personable level.
What Is a focus group?
A focus group is a form of qualitative research used to gather information from the participants about a product, service, or strategy.
The focus group will usually consist of a small group of diverse individuals from a wide demographic.

The group is presented with the item in question and then researchers gather their detailed feedback, opinions, and even suggestions to help with product development.
Many focus groups examine a subject in the marketing field, but it can be used for anything that is going to rely on public engagement and feedback after use.
Where can you host a focus group?
One highlight of hosting a focus group is its flexibility and cost-effectiveness regarding it's staging area; you don't need a fancy location to host a focus group.
You can host it just about anywhere including on the street, a park, or a community center.
The options are plentiful, which allows you to easily plan the logistics.
There are a few situations where a focus group may require a quiet location, but this can be an easy fix if you rent an office space or conference room for example.
How to plan a focus group
Knowing how to effectively plan and organize a focus group is the key to its success. Follow these steps to get started and help stay on track during your research.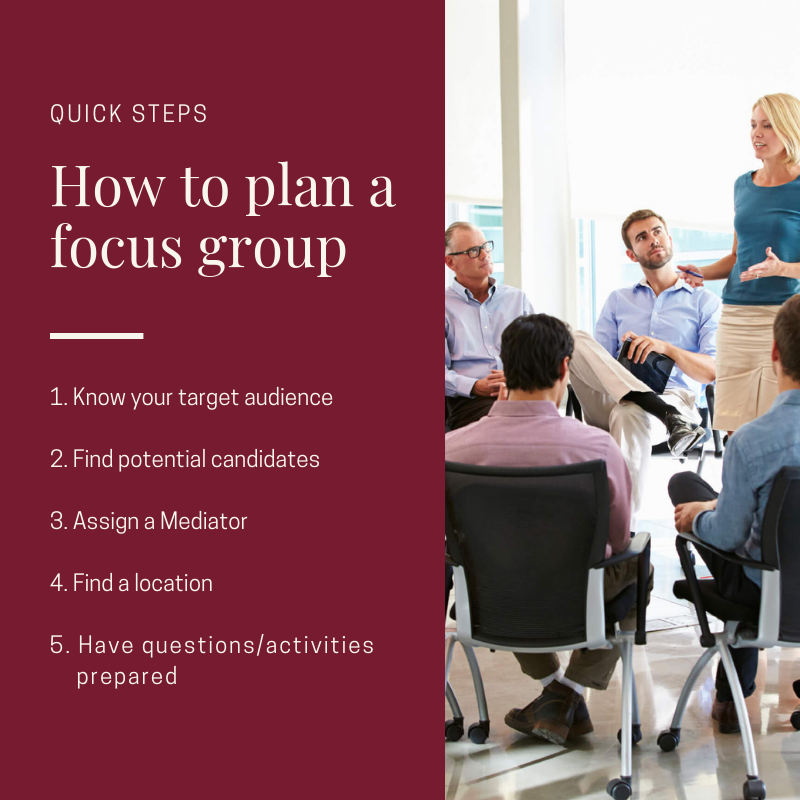 The first step to organizing a focus group is to determine the audience targeted by the group. Who are you trying to reach with your product or idea?


After you have identified your target audience, you can screen potential candidates for the focus group including a wide range of members from different backgrounds. This step is important because in order to get accurate information, you need to assemble a diverse panel.


Designate a mediator who has professional experience in a related field, but who is not too close to your brand. This will enable you to gather unbiased feedback and information which will be more valuable and insightful.


Identifying your target market is a key to a good focus group, but don't make it too narrow. You also want to factor in others who may not necessarily seem like a direct fit, but may nevertheless, be a potential customer or interested party.


Once you have established who the participants will be and where the focus group will be held, you should prepare your research questions and activities. Put thought into the information presented to the group to maximize your results. You can recruit help from other company members or even contacts you have within your field to help you generate productive material to present at the focus group.


Finally, plan to have multiple focus groups to get the best results. One focus group is helpful, but multiple groups will really shed light on broad public reactions, thus allowing your to fine tune your approach.



Ways you can recruit people for your focus group:
- Phone
- Email
- Networking/community events
- Direct Mail
- In person

One tip from bizfluent suggests to
"Always over recruit, that is, recruit more than you want in the group because some may not show up. If too many show up, just pay and send some home without participating. Let recruits know about compensation and whether the group includes food. Be sure to recruit people that speak up and can convey their opinions succinctly."
Hosting a focus group is one of the most useful ways to gather information about public opinion or interest in a brand or offering.
If you use smart strategies and enlist the help of other market professionals, you will get the data you need to help you discover how you need to appeal to your target audience and perfect your marketing approach.