4 Ways to Make Sure Your Event Budget Stays On Track
From the gorgeous venue and delicious food, to special guests and exciting entertainment, hosting an event is one of the best ways to create a fun-filled environment that everyone can enjoy.
In fact, more and more events are popping up, as the Bureau of Labor Statistics reports that the number of event planners is expected to grow by 7% over the next decade — a number that shows exciting promise for the world of event planning.

While everyone loves receiving an invitation to one, an event isn't always the easiest to plan. With so many factors to consider, it's easy to go over budget faster than you think, as you want only the best for your event.
There's no need to fret, however, as you can have a stunning set-up while still sticking to your budget. With that said, here are 4 ways you can keep your team on track: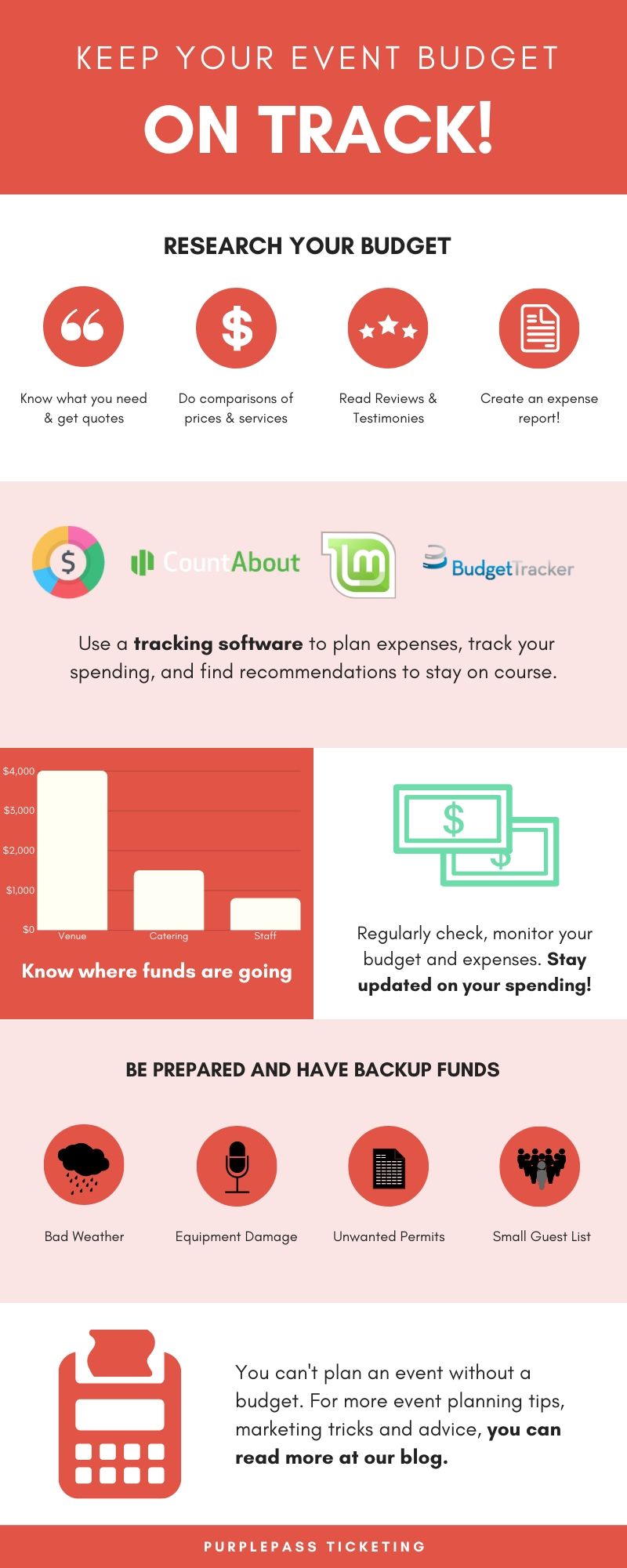 1. Do Thorough Research
Half of the battle when approaching a big endeavor is the planning, and for event budgeting, research is extremely important. After all, it would be difficult to stick to a very flimsy budget with little restrictions in place.
It's important to research, in-depth, the prices of the materials, products, talent fees, and other services for your event. You can accomplish this by searching online, getting quotes from different sellers, and putting all the prices into a comparison spreadsheet.
By doing this, you'll be able to compare the various costs, and decide which among them fits your budget and needs.
Know what you need and get quotes
Do comparisons of prices and services provided
Read reviews and testimonies
Create an expense report

If you feel overwhelmed by the number of variables you need to consider, Inc Magazine suggests defining the audience to help simplify the planning process and what you'll need.
And once you have a clear idea of what you need for your event based on your target audience, you can contact suitable vendors with good prices to build your budget around.
2. Make Use of Tracking Software
Nowadays, you use digital technology practically every minute of the day — we are filled with smart devices. So, why not use these digital devices to your advantage with the digital tracking tools available?
A series of tips by Marcus on how to stick to your budget suggests using the multitude of apps available online to help you track your past expenses and prepare for any upcoming costs.
These tools not only keep you in check but also give you insight on how you go around making purchases for the event.

For example, the mobile app Spendee shows you where your expenses go, while also recommending how you can stay on course with your budgets.
And for your computer, the Budget Simple app is great because it helps you identify the areas where you spend the most money. For events, using technology can help make the tedious job of tracking expenses much easier.
Popular tracking software:
3. Monitor Your Budget
With your tracking software installed, it's important to monitor your event's budget. As you proceed with the planning, you will make adjustments now and then, as you'll be dealing with different suppliers, situations and vendors.

Making a conscious effort to check the costs you've accumulated can aid in adhering to your budget, as it will give you a clear financial overview of the money you've allocated for the event.
In turn, knowing where your funds are going and how much you have left as well can prevent you from making purchases that will break the bank, and help you make flexible and smart choices.
3. Be Prepared For Any Unexpected Outcomes
Last but not least is to expect the unexpected. Although you can meticulously plan almost every aspect of your event, the ones you cannot control are external variables.
Things to prepare for:
Bad weather (cancellation fees)
Equipment Damage (get insurance)
Extra permits (do your research)
Less guests than expected (loss in revenue)
Power outage (have a backup generator or plan B)
Expand the life of your budget by using Purplepass' budget-friendly event management software. Have your event live in minutes for little to no fees. Get started now!
---
Author Jennifer Crews
After growing up surrounded by events due to her mother's career, Jennifer Crews has developed a strong passion for not just going to events - but planning them as well.
As a freelance event consultant, Jennifer has a lot of time on her hands, which she spends learning new recipes and baking up a storm in her home in Nevada.