Best Purplepass Tools for Staying In Touch with Guests during COVID-19
By now, every event planner out there is ready to leave the remote work behind and get back out into the world of event promotion. While remaining at home is currently the safest option for everyone due to the coronavirus, you might be missing your face-to-face communication and customer interactions.
Don't let that stop you.
There are still plenty of ways to remain connected to customers via online. Just might not be as fun.
If you are looking for further methods of communication you can try, don't look too far! Purplepass has a variety of tools and integrations available for all their users.
Not sure where to start?
No problem! Purplepass offers
24/7/365 support to help get you
where you need to go.
#1 SMS Marketing


According to Leftronic, the average user interacts with their smartphone about 63 times throughout the day. 87% of users do it about an hour before going to bed and 68% check within five minutes after waking up.
Safe to say, smartphones are part of our daily routines.
SMS Marketing is a short-message-service that allows you to connect via text to your customers if they opt-in and become part of your messaging list. This tool is available to Purplepass users with an easy set-up process that takes just a few minutes.
Most promoters turn to SMS to communicate any event changes, updates, as well as for sending direct ticket links, PROMO codes and discounts to their customers.
To start using your SMS tool:
Log in to your Purplepass promoter dashboard
Select "Tools" in the top navigation bar
Select "SMS Marketing"
Create your campaign
Opting in customers
Similar to email marketing, you need a list of customers to deliver your messages. Opting in is the form of customers giving you permission to receive direct messages via their smartphone.
To create your opt-in message, select the "Options" button. A pop-up window will appear allowing you to create your opt-in message.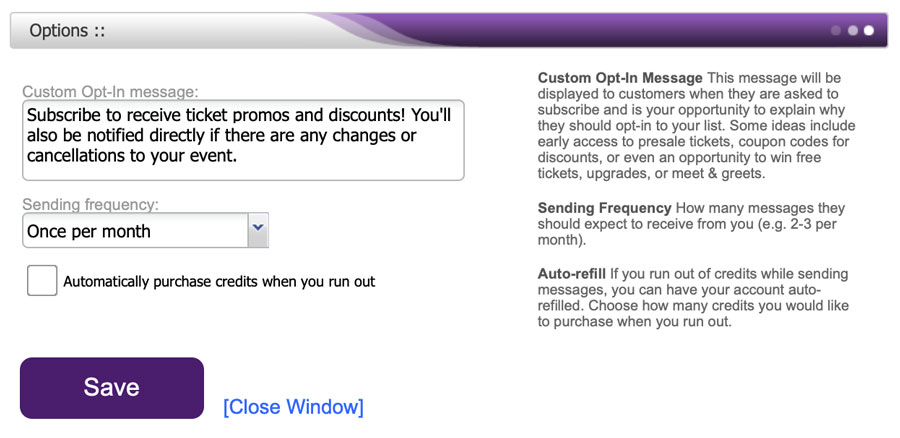 This message will be displayed when customers are asked to subscribe, so use this message as an opportunity to explain why they should opt-in to your list.
Early access to presale tickets
Coupon codes
Discounts
Ticket giveaways
Upgrades
Announcements
Event changes or cancellations
Creating an SMS Message
Creating your SMS campaign takes a few minutes, done from within your account.
All you need to know is:
The campaign name
Message
Schedule time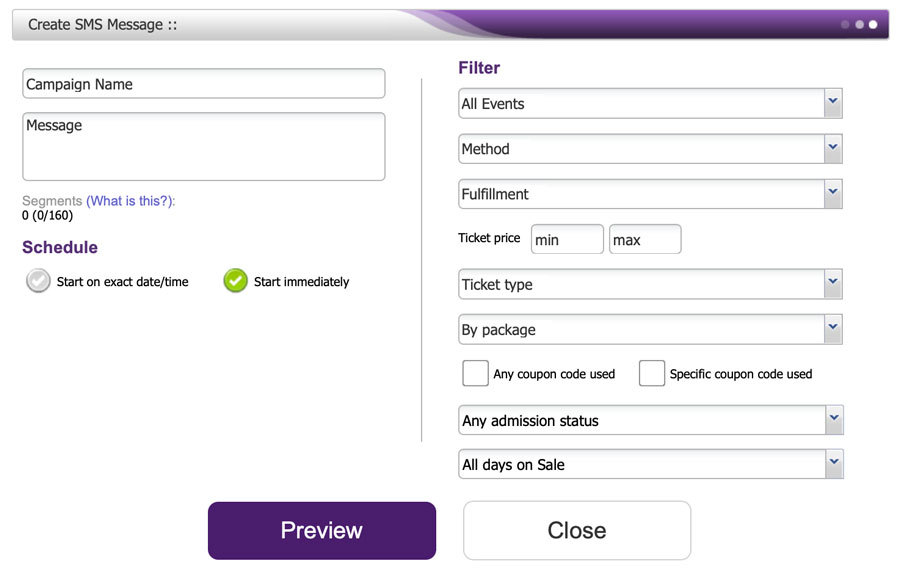 If you have a specific list you wish to contact, you can use the filter option to create your ideal list.
Purchasing credits
To use this SMS tool, you have to purchase credits. Depending on your message length, you will be charged a certain amount of credits.
Bronze - 500 credits: $10
Silver - 1000 credits: $20
Gold - 2500 credits: $50
Platinum - 5000 credits: $100
Diamond - 10000 credits: $200


You can add credits by selecting the "Buy Credits" option, selecting your package. Each message you send requires one credit; it's 160 characters per credit.


For example: If you send one text message to 10 people, that is 10 text messages and therefore 10 credits.

If you send a really long text message to one person that is 1500 characters, that would require 10 messages to get the whole text across to one person, which would also cost 10 credits. If you sent that long message to 10 people, it would be 100 credits.


Use SMS messaging to stay in touch!
With Purplepass' SMS feature, users can
reach guests via text; alerting them of the
latest event updates, changes, PROMOS, etc.
#2 Email integration options


Email automation and mass campaigns are simple ways to stay in touch with your customers. Roughly, a quarter of companies surveyed by Reply found that email marketing was the most successful channel for their sales.
Send out newsletters, event updates, talent interviews, Q&As; your options are endless. Guests will appreciate monthly email updates and current news regarding your organization during the coronavirus.


To set up your email integrations:
Log in to your Purplepass promoter dashboard
Select "Tools" in the top navigation bar
Select "Integrations"
Select your email provider


You have two email integration options via Purplepass.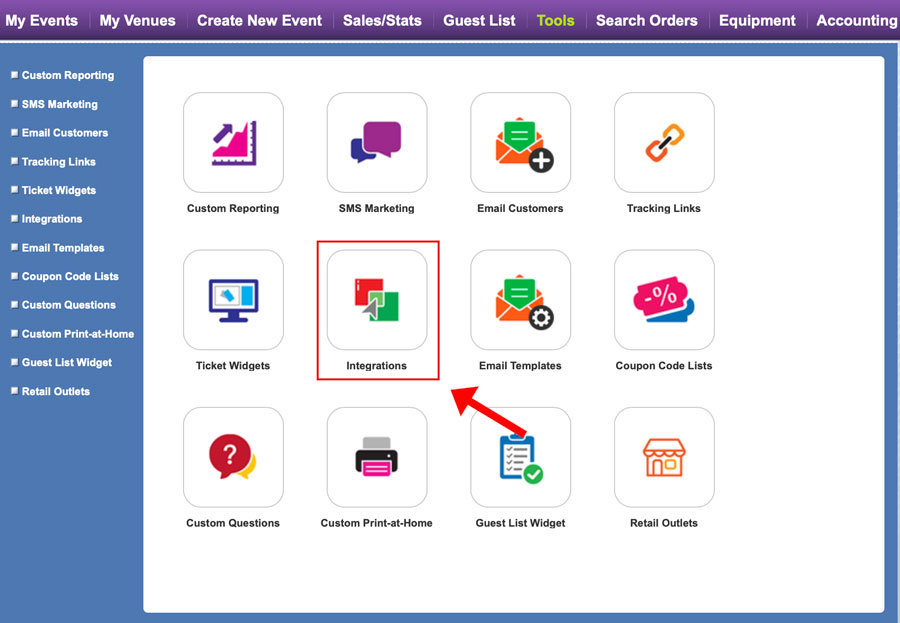 MailChimp
All Purplepass users can automatically sync their customers' contact information directly to your MailChimp account.
MailChimp offers the following:
Free plan of up to 12,000 free emails per month and 2,000 total subscribers
Variety of template options
Custom signup forms
Building landing pages
E-commerce
With Mailchimp, it's easy to send out mass emails, newsletters, ticket sales, and direct invites to all your customers.
Constant Contact
If you're a current Constant Contact user, you can create effective email campaigns for your customers.
All Purplepass users can sync their contact information directly to their account, saving the hassle of building duplicate lists on a third party website.
Constant Contact offers the following:
Free trial for first 60 days
Live expert help
Online resources
Affordable pricing options
Easy editing for templates (drag and drop)
E-commerce email marketing
Social posting
Facebook and Instagram ads
#3 Surveys and Polls


It's not a one-way street.
Especially during these uncharted times, guests are just as lost as you are. Sending out surveys is a great way to let your customers communicate their thoughts and feedback to you.
Surveys can have insightful results and help you determine your next move in the industry while battling the coronavirus.


Survey assessment questions you can ask:
Do you have to travel to attend our event? Are you willing to travel?
Are you in the high-risk category for COVID-19?
Would you be open to attend the event in time slots (capacity control)?
How many people would be attending the event with you?
What would be your biggest concern with attending one of our events in the future? (Open-ended)
How satisfied are you with our communication and customer support throughout this year?
(Rating question)
Would you be willing to still attend our event if it was postponed to a further date?
What point-of-contact do you prefer? Phone, SMS, email, etc.

SurveyMonkey
Sync your customers' information automatically to your SurveyMonkey account and start collecting feedback. This makes creating and sending surveys fast and efficient.
Why event promoters use SurveyMonkey:
To post-event questions
For customer insights and feedback
To learn about their audience
For understanding concerns and problems
To run polls and competitions
Quizzing their guests



#4 Email Customers tool


Instead of using or creating an account through an outside source, i.e MailChimp and Constant Contact, you can create your own email campaigns without leaving Purplepass.
Create, schedule and send emails directly to your customers while managing it all through your account.

To access this tool:
Log in to your Purplepass promoter dashboard
Select "Tools" in the top navigation bar
Select "Email Customers"
Create your new email message


Creating your email campaign
Getting started is simple.
After selecting "Create New Email Message", go through the required details to run your email.
Campaign name
From/reply-to
Select your template
Subject line
Email message
Schedule time


Use the filter options to create your mailing list and exclude any customers based on criteria. ** This is a free tool. There is no charge to send emails through Purplepass to your customers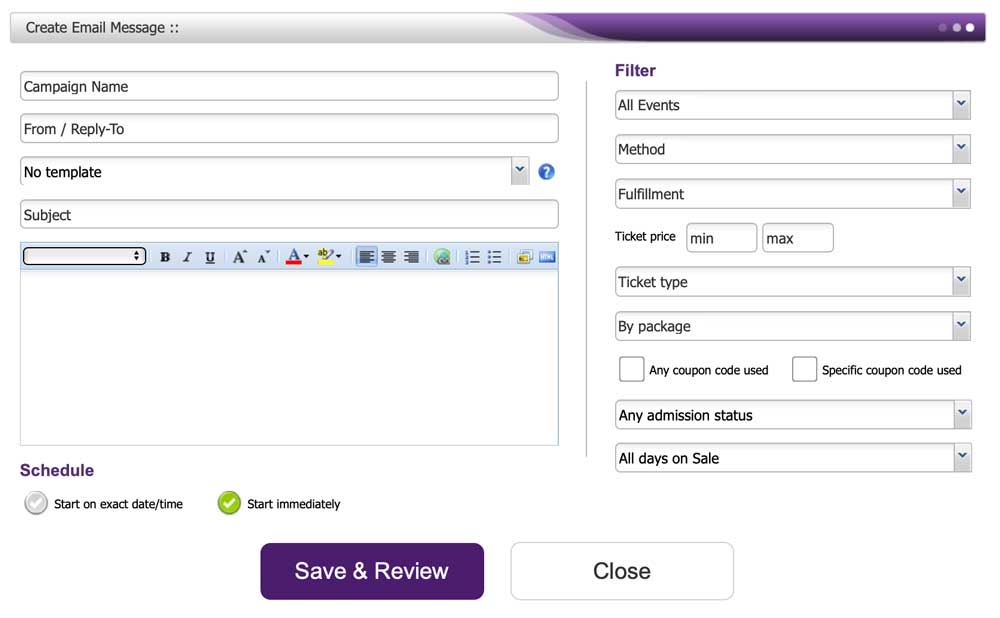 Tips on event planning during COVID-19
Subscribe below for weekly blogs
on dealing with event cancellations,
working remote, and staying sane at home!