The Benefits of Using Your Own Merchant Account for Your Event
If you aren't familiar with a merchant account and why you might need one for your events, keep reading!
A merchant account is a special bank account that enables you to accept credit cards as a form of payment and transfers that money directly into your bank account.
With how fast our technology is advancing, people almost expect vendors, events, and services to accept credit cards; today people carry limited cash on them so a credit card just makes sense.
If you want to increase your ticket revenue, and not limit your customers, I would consider using a merchant account for your next event.
If you are new to Purplepass, here is how you can set up your merchant account. After creating an account, the default payment method is automatically going to be the Purplepass merchant account.
Meaning, all of your profits will go directly to us and after the event, we will pay out the promoter. To learn more about how account payments, fees, and processing works, click here.
Create your merchant account today
An easy, two-step process! Get walk-through
instructions on setting up your account.
Setting up your own merchant account
You have the option to set up your own merchant account with an Authorize.net gateway account or PayPal to receive funds directly to those accounts as sales are being made.
STEP 1:
The first process of setting up your merchant account is giving us all the required and necessary information to get started.
You have three options:
Once you complete step 1 and receive your confirmation, you need to link your account to Purplepass.
STEP 2:
To create an account, log in and go to
Settings
Merchant Account
Here you will find the options to link up your merchant accounts.
Please have your merchant account or PayPal information ready to proceed with this option. Activation is instant after saving your information and confirming.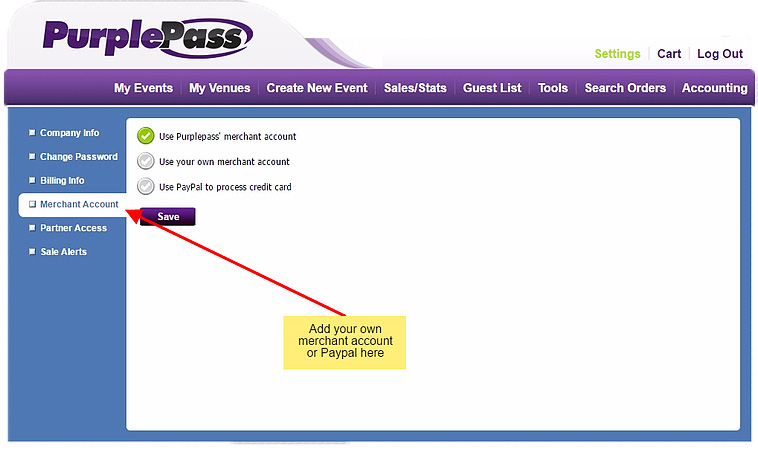 Advantages of having your own merchant account (PROS)
1. All money goes directly to the promoter as tickets are sold.
2. Better processing and credit card fee rates. With your own account, you have the option to choose your pricing plans. Interchange Plus is a common choice, it stays true to the cost of the credit card fee set by these companies with a small markup amount added on top of their rate. You can read and learn more about it below.
3. Eliminates any redirects. So, for example, your customers can check out directly on your ticketing cart page without having to be redirected to another payment account such as PayPal. This creates an overall better buying experience for your guests rather than redirecting to different pages to receive payment.
Disadvantages to having your own merchant account (CONS)
1. You will most likely face monthly fees of around $20-$30/month for managing the account. However, by selling more tickets, you can lower your processing fees and which may outweigh the monthly fees.
2. You are now responsible for your own disputes and chargebacks. Originally, by having a merchant account set up through your ticketing provider, they typically handle all issues regarding the account and the chargeback process. However, your account, becomes your problem and responsibility.
Tips for handling a merchant account

Tip 1: Always, always shop around!
Just like everything else, do your research before choosing a merchant provider; meaning get at least 2-3 quotes.
Their pricing and fees can drastically vary depending on the company, so read their websites, policies, terms and conditions etc. before deciding. Here are some of the top merchant accounts worth exploring.
Tip 2: Use a third-party gateway provider
Using a third-party provider is often encouraged because they remain neutral and allow your shopping cart to communicate with your merchant account.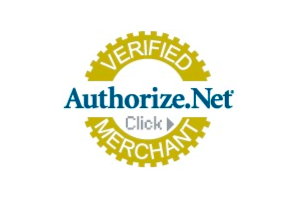 Companies will try to push you to use their proprietary gateway which results in you being stuck with them later if you are offered a better rate from another merchant provider (hence the reason they enjoy pushing for their own proprietary gateway).
Tip 3: Have your merchant provider create your gateway
A payment gateway is an e-commerce application that authorizes all payments for businesses, online retailers, etc.
It's important to use such gateways because they ensure that all information such as credit card details is secure between the customer and merchant.
These gateways are used to transfer all the payment information between the processor and/or bank account. Once you choose your gateway, have your merchant provider create it for you.
The providers get lower re-seller rates and it's almost always cheaper to go through them. Plus, if your sales volume is high enough, more merchant providers will cover the monthly fees for your gateway use.
Tip 4: NEVER pay for a setup fee


Tip 5: Avoid early termination fees ETF) and long-term commitments
Read the fine print when signing your agreement/contract. You should never have to pay an ETF or face a long-term commitment, thus requiring you to be stuck with a company for 3 + years.
This should be a huge red flag; a company that is punishing you for leaving their services early with termination fees is not one you want to work with.
So when going over the basic contract lookout for any of those terms (termination, fees, commitment, period, etc.), you wouldn't want to be stuck with a service you ended up not liking for plus years.
*Purplepass does not have an ETF or sign-up fees
Tip 6: Stick with the Interchange Plus pricing model
There are usually 3 types of pricing models these services offer - Flat Rate, Tiered Pricing and Interchange Plus.
Interchange Plus is one of the fairest and most balanced pricing options used, mainly because of how transparent it is.
Interchange Plus is used by credit card processors to determine the per-transaction cost paid by merchants. According to Value Penguin this pricing option, on average, will cost business owners somewhere around 2.2% +$0.22.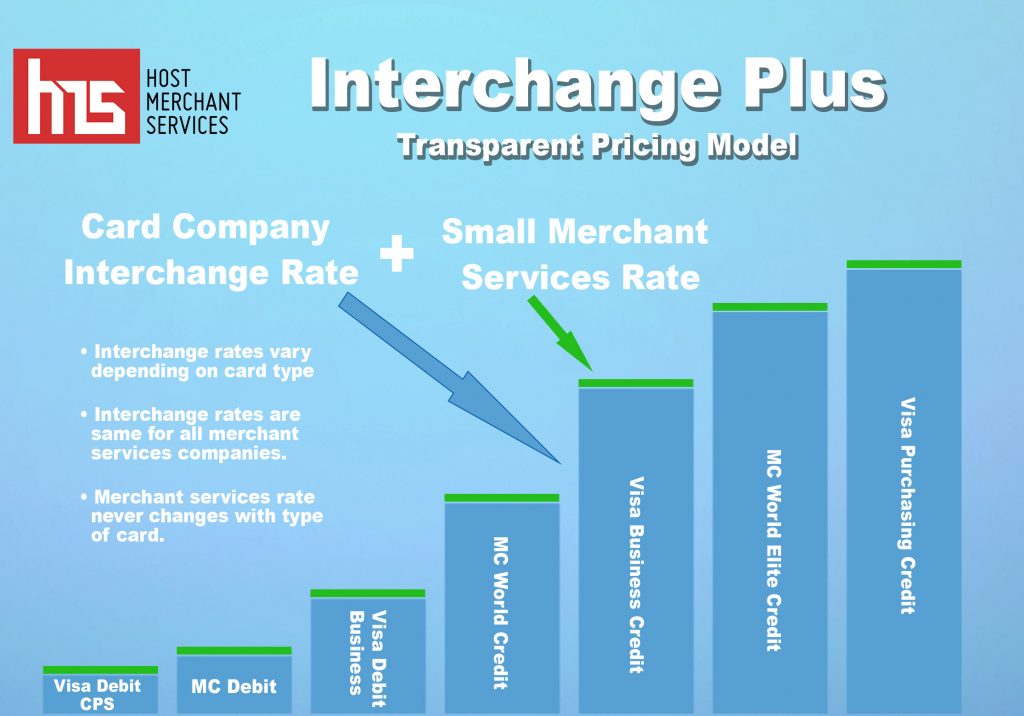 Here is how it works.
Visa, MasterCard, Discover, and Amex all charge a certain fee based on the type of card used, keep in mind that debit and reward cards have different rates than credit cards.
Every card has its own specific rate that card companies charge to process the sale, also known as Interchange.
Because each card comes with its own rates, it can get really complex and complicated. That's why, to simplify things, card companies give you flat rate pricing and tiered options. With Interchange Plus, it stays true to the cost of the credit card fee set by these companies with a small markup amount added on top of this interchange.
For a better understanding, keep reading here. *Purplepass offers interchange plus pricing
We can set it up for you!
We can create your merchant account, test
it and make sure everything runs smoothly.
Everything comes with its pros and cons, that's why it's important to do your homework and find what works for you. If you have any questions about setting up your merchant account on your Purplepass account you can contact one of our support representatives at support@purplepass.com