8 Tips for Enforcing Social Distancing at Future Events
The coronavirus COVID-19 is changing the world as we know it, especially the event industry. Large crowds, social interactions, games, everything we love about events isn't safe anymore.
Even after COVID-19 is under control and the pandemic fades, it's important we keep practicing social safety and eliminate risks when events open up again.
One place to start is by practicing social distancing at your event(s). Here's how.
1. Use floor tape for spacing
We've all seen this by now at grocery stores, drug stores, outlets, etc. The floor tape on the ground used to mark where people should stand during checkout or in lines.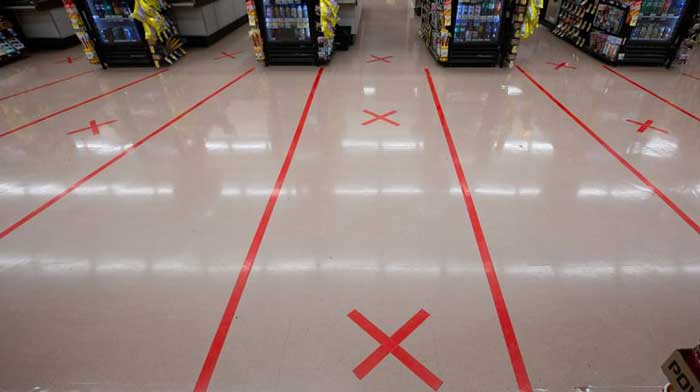 Not everyone has the same idea of what 6 feet apart looks like or simply forgets about social distancing at the time. These tape marks are used to remind guests where to stand to practice safe distancing during the event.
Event planners have the option to use regular tap to mark off 6 feet or create and use customizable tape squares that can help brand your even while being safe.

Places where events should include floor tape:
At the gate/registration lines
Bathrooms
When entering a room or floor plan
Vendor/food lines
Waiting rooms
Merchandise stands
Water drinking stations
Box office lines
2. Have volunteers and staff monitor guests
Even with floor tape, people tend to forget or ignore the markings.
That's why it's crucial that every event uses volunteers or staff to monitor guests throughout the event. They can offer friendly reminders regarding social distancing and enforce the rules during your event.
By having these extra eyes, you can ensure your event and its attendees are following regulations and practicing safety throughout.
3. Use an open floor plan or outdoor venues
For now, avoid small spaces with little room to move or distance from one another. Avoid multiple rooms where people pass through doorways and halls.
Remember, COVID-19 can hang in the air for a period of time; with tight halls and confined spaces, there is no room for the virus to escape.
Instead, look for open floor plans, high ceilings, one sizeable room or even outdoor venues.
Hosting outdoors is highly recommended, as guests aren't limited to one area, get the fresh air their bodies need, and can safely practice social distancing.
4. Limit your guest count
Unfortunately, everyone has to do this now.
An example of limiting customers is being seen recently at grocery stores. They limit who comes in according to how many people are exiting the store to ensure there is enough space inside.
Depending on your venue, it's time to evaluate the risk and determine a safe number of guests allowed at your event.
The smaller the better.
If you can't seem to find a number you're happy with, try turning your event into a virtual one instead.
5. Enforce assigned seating if possible
Using assigned seating can give you the peace of mind that guests are properly distancing themselves.
How?
Because you've assigned seats that are spaced apart.
For example, if your event is in an auditorium, only sell every other seat plus every other row. This, of course, will limit the amount of tickets you can sell.
6. Update your terms and conditions
The world has changed tremendously, and still is, because of the coronavirus.
It's time your event's terms and conditions change with it. New rules for events are now in place, requirements such as masks and social distancing are being enforced, guest safety is top priority.
This needs to be reflected in your terms and conditions before checkout. Guests need to be made aware of these changes and agree to follow them before attending your event.
7. Monitor bathroom lines
Don't forget about the bathrooms. This is a closed space you can't avoid.


Tips for regulating bathroom lines:
Have a worker monitor social distancing throughout the lines
Use floor tape to mark off where to stand
Only allow a few in at a time
Use porta potties or outdoor bathroom stalls to eliminate social gathering
8. Use directional signage, ropes and tape for crowd management
Directional signs can be similar to floor tape.
The goal is to control the flow of traffic and eliminate any congestion. Use arrows on the floor to sign which way traffic is supposed to go.
Also, wall hangs and banners are great for directing guests on where to enter and exit for crowd management.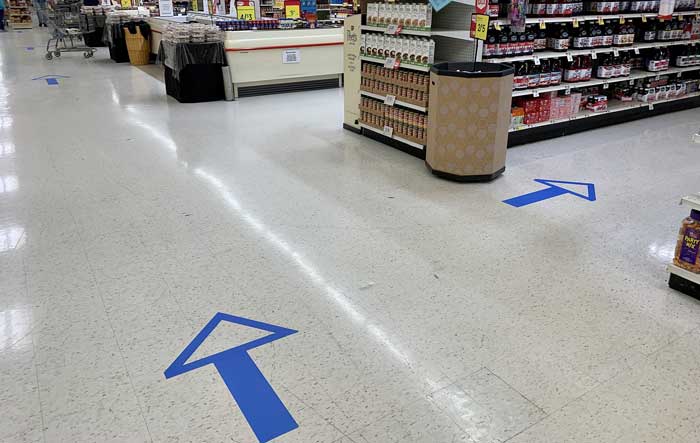 Rope safety barriers are an excellent way to control how you want your lines while spacing people. Before starting, look at your venue's floor plan and determine what directions you want your event traffic to follow.
Social distancing is possible for events if done correctly. These tips will help you create an event that is safe for your guests. However, social distancing is not enough. Consider requiring guests to wear masks and gloves as well as checking their temperatures before entering the event.