A Digital Ticketing Solution for Solo Performers and the Arts
Prior to the coronavirus, artists took to the streets, selling artwork at local markets, performing at community centers, bars, and restaurants.
Artists tend to rely on their community's support and resources to get their name and/or designs out there. The arts are a heavy component of our community; an outlet for creativity, expression, and emotion. We need artists as much as they need us. However, COVID-19 has stopped in-person events which included art festivals, fairs, trade shows, and performances. The resources artists heavily relied on were abruptly taken away.
All hope is not lost.
Just like any trade and business dealing with the effects of COVID, there are resources out there to help people navigate these challenging times.
Let's look at some solutions for artists and performers in today's online world.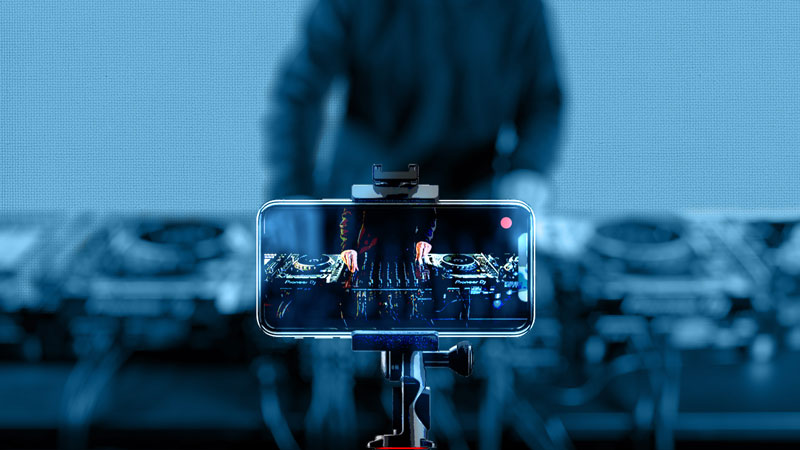 1. Live-streaming performances
If events and performances were your source of revenue, virtual events are going to be the next best thing, if not better. Think about it.
Take your performance, DJ set, band, online and sell tickets to a broader audience rather than just being confined within your community. Broadcast your event to other counties, states and possibly international.


Step 1: Finding a broadcasting service that works for your set.
Gather the required hardware, lighting, backdrops, etc. that you need for the stream. Watch the video below for a complete list of equipment and streaming software you might need. See the entire interview here.
Step 2: Creating a website to host all your sales and events.


Step 3: Creating a Purplepass account for selling tickets.
Once the event is ready, use Purplepass' ticket widgets to allow customers to purchase tickets directly on your website, avoiding any redirects or third party sites. A simple transaction.
Click here for step-by-step instructions on how to create your live stream tickets.
Step 4: Using the Purplepass live stream widget on your website.
The live stream widget is the portal to your virtual event, giving guests the ability to access the stream directly on your website. The installation process is simple and just like Purplepass' ticket widget setup. When guests go to access your event, they will use the widget. Once they click on the widget, they will need to provide their order number or email as part of an extra verification process.
Click here to learn more about the live stream widget and how to set it up.

Step 5: Go live and start sharing your event!
2. Purplepass for inexpensive ticketing
If you're on a tight budget, but need a software for managing online events, ticket or merchandise sales, Purplepass might be for you.
First, if your event is free or RSVP based only, it is free to sign up and use Purplepass. If you're a nonprofit, Purplepass users can receive a discount on their ticket orders. There are no sign up fees, contracts, box office fees, and you can build an unlimited amount of events on the software. Find more information about all service fees, credit card processing, and ticket stock here.
Once you create an event, you won't need to upgrade to receive customer support or extra features. What you see is what you get. You'll have access to 24/7 customer support via phone, email, or text. All features, integration, reports and tools are included, even if your event is free.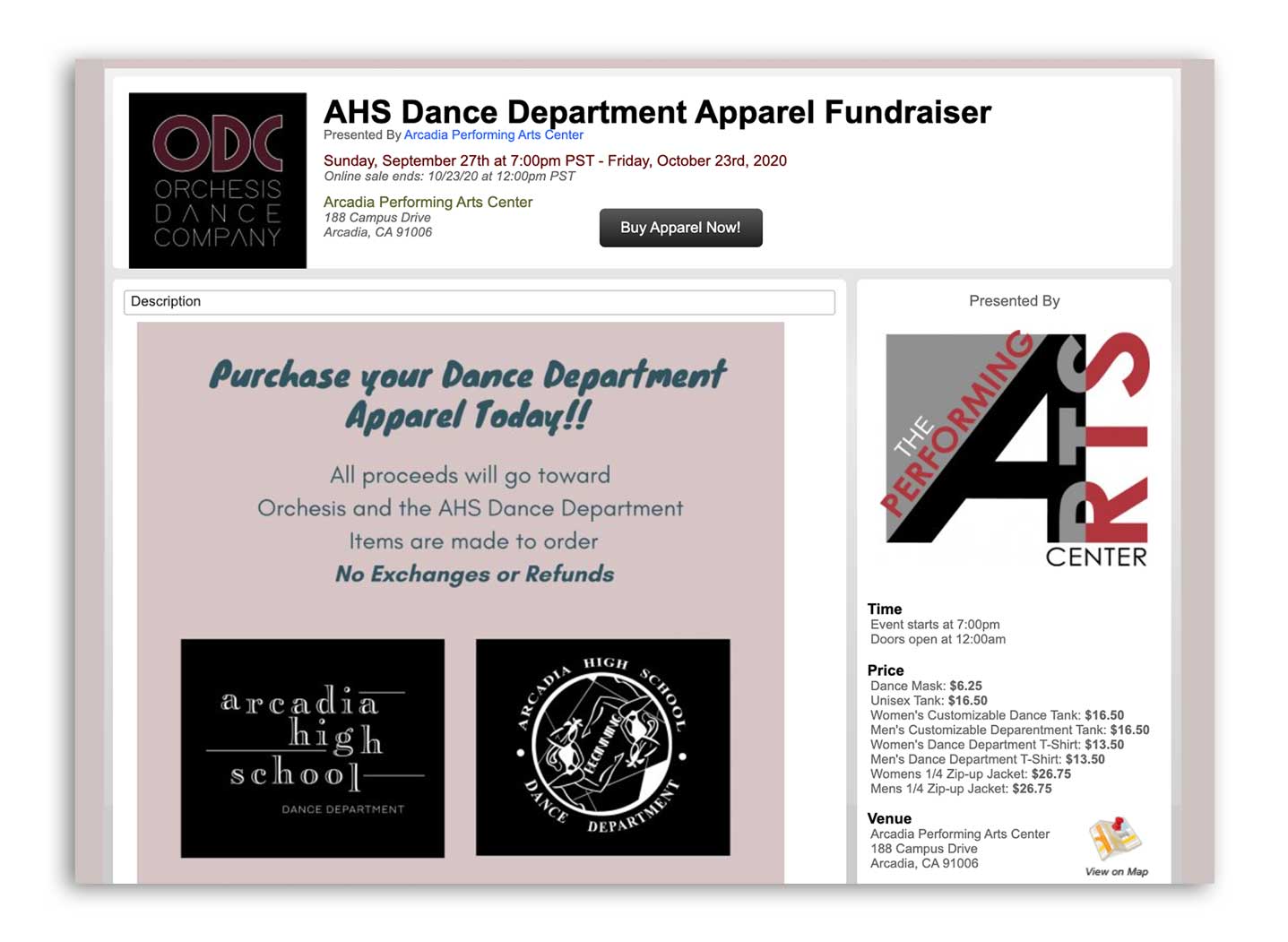 3. Accepting donations online
Some artists and nonprofits strictly rely on donations alone to support their organization or business. Fortunately, there are a variety of online tools today that make collecting donations simple and accessible for anyone that wants to contribute.
Some popular software for collecting donations:
Using Purplepass to collect donations
Log in to your Purplepass promoter dashboard

Select "Create New Event" in the navigation bar or edit an existing event to add a donation option

Locate the "Ticket Pricing and Options" section

Go to your ticket types and/or add a new ticket type by clicking the green + icon

From the drop-down menu, select donations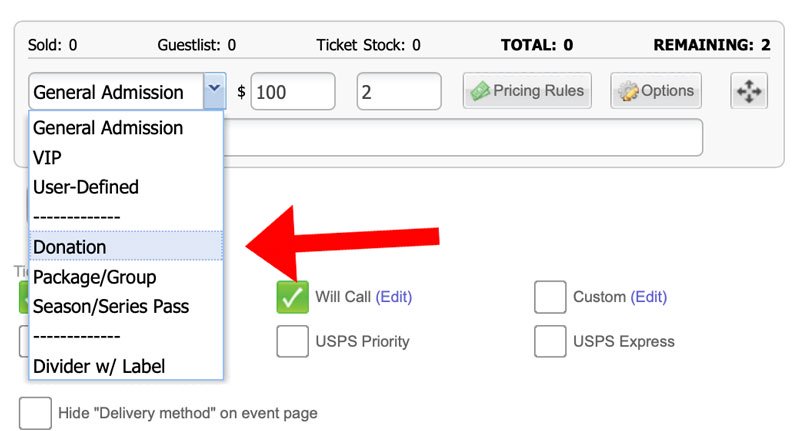 Note: Set it to $0 if you are accepting any donation amount. You can also include a name and description where you can add more information about your cause or perks donors might receive.


4. Selling artwork and merchandise
For artists selling artwork, designs and fine arts pieces, selling online might be your only way to collect revenue for a while. Sure artwork is just not the same online, but with limited in-person events, closed restaurants and shops, it might be your only option until the virus is contained.


Tips for selling artwork online
Start by creating a website where customers can view your original pieces and galleries

Include an about page so customers can learn more about the artists behind the pieces

Use a registration software to keep sales on your website, avoiding annoying redirects, unnecessary accounts and third-party websites

Consider uploading videos of the artwork as well to give customers a better look at the piece

Share what's for sale on social media platforms and other media outlets

Collaborate with other artists to tap into their audiences and expand your reach
5. Hosting multiple show dates online


If a past event was a success, why not host it again?
With the right registration you should be able to see tickets to one event with multiple show dates. This might be necessary if you set a capacity on your event and it sells out, meaning it is in high-demand.
Also, consider whether your performance or virtual event was a hit or not? Like I said, if it sold out and was in high-demand, why not record it and share it again? Give every customer a chance to tune in if they missed it last time or capacity was filled by hosting multiple show dates online.