9 Outside-the-Box Outdoor Event Venue Ideas
As we enter the second summer of COVID-19, we've come a long way since the pandemic began. This time last year, live events were few as both coordinators and guests were hesitant about spending time close to other people.
Fortunately, since it's much easier to host an outdoor event during the season, organizers are now hosting live parties with minimal risk outdoors.
Even as the pandemic dies down, outdoor venues are a desirable commodity. Until COVID is entirely in our rearview mirror, it's better to be safe than sorry. So, with that in mind, we wanted to look at some unique outdoor venue ideas for your next event.
1. Parking Garage Roof
Many venues have a lack of parking, but that's not a problem when guests can literally park beneath the event. Some parking garages have tons of open space, and it's pretty easy to segment your event into different pieces, such as music stages, bathrooms, vendor tents, and more.
The rest of the garage is also great for multi-level events, since they allow guests to move around while maintaining plenty of distance as necessary. The acoustics of a parking garage are pretty bad below the roof, so don't put any music or live theater in these spaces.
Best for: Concerts and Live Music, Trade Shows, Food Festival or Tasting Event

2. Airport Hangar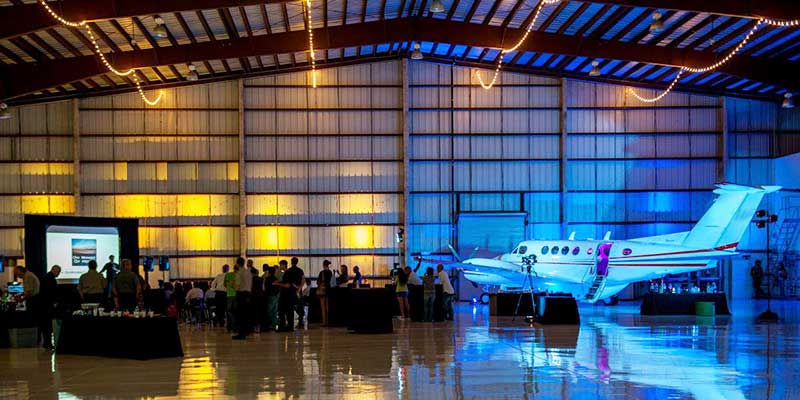 Hangars are already massive since they need to house planes, and they're covered so that you don't have to worry about inclement weather. You can also host a hybrid event by having some activities indoors and outside.
Most hangars should have a decent power grid, but you can always bring generators for some extra electricity. And trust me...no one is going to forget your event with this venue!
Best for: Trade Shows, Performing Arts, Conferences, Food Festivals
3. Drive-In Theater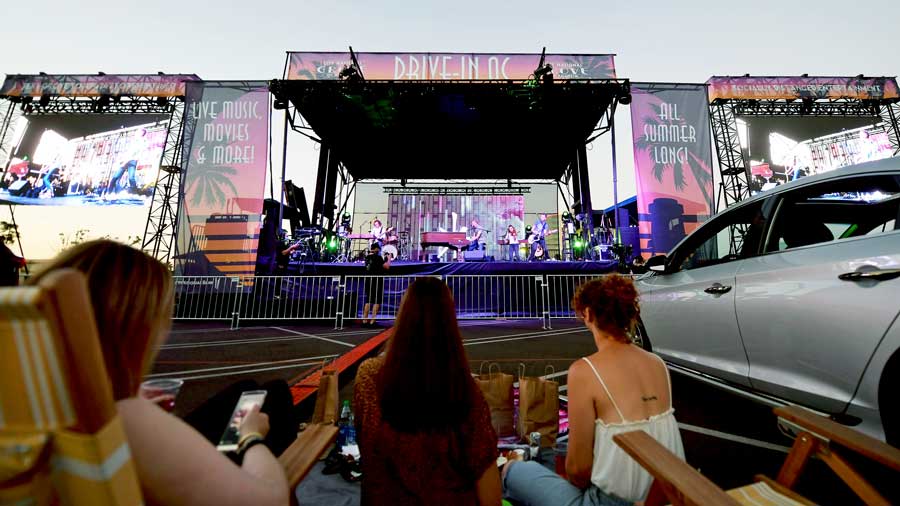 If you're going to have a captive audience anyway, why not have everyone show up in their cars?
Not only can you enforce social distancing, but guests can enjoy personalized climate control. Plus, they don't have to worry about finding parking. If the theater lot is large enough, you can have both cars and outdoor seating for non-motorized groups.
Best for: Concerts, Conference Presentations, Ceremonies, Performing Arts and Theatre
4. Natural Amphitheater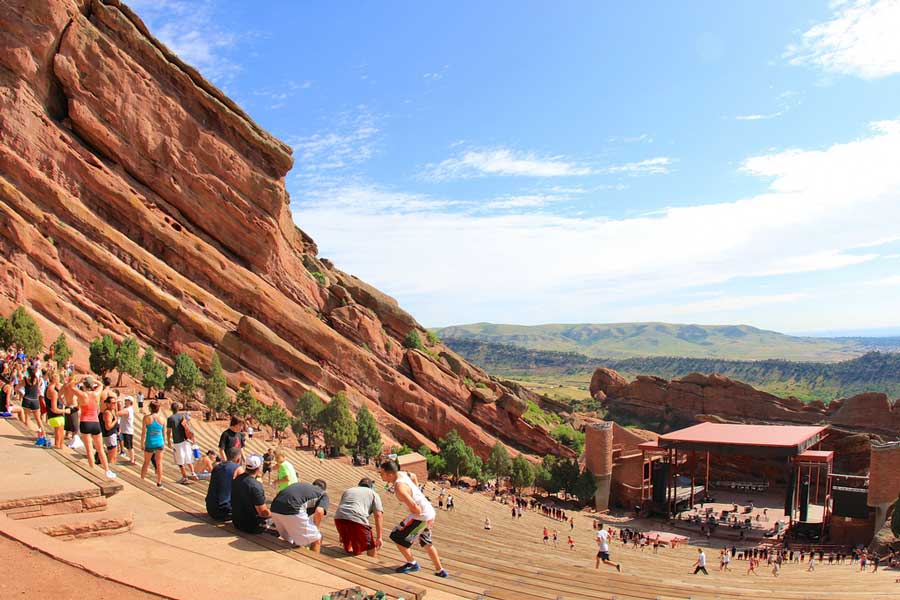 Nature provides the best backdrop, so why not incorporate it into your event?
The U.S. has some stunning natural amphitheaters, like Red Rocks in Colorado, the Columbia River Gorge in Washington, and more. These sites make it easy to enforce social distancing, and you can set up individual pods for groups of up to four or six people.
Best for: Concerts, Performing Arts, Ceremonies
5. Fairgrounds
Most state and local fairs happen during the summer, but there are a few weeks where you can host alternative events. Best of all, fairgrounds are already built for vendor stands, bathrooms, parking, and electricity.
All you have to do is populate the various stalls and stages and let guests move around as they like during the event.
Best for: Food Festivals, Concerts, Trade Shows, Fundraisers
6. Amusement Park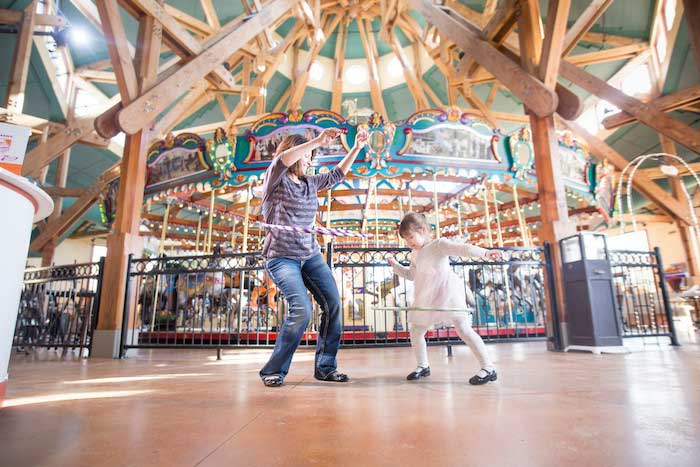 While it may be expensive to rent out a park like Disneyland, local amusement parks should be much more accommodating. As with fairgrounds, these places are built for everything you need, including power, parking, bathrooms, and more.
Best of all, because the rides are so thrilling, you can charge a decent fee for fundraising. Many parks are open to working with nonprofit organizations to ensure that they can earn a tidy profit from any fundraising event.
Best for: Fundraisers, Conferences, Trade Shows, Concerts
7. Observatory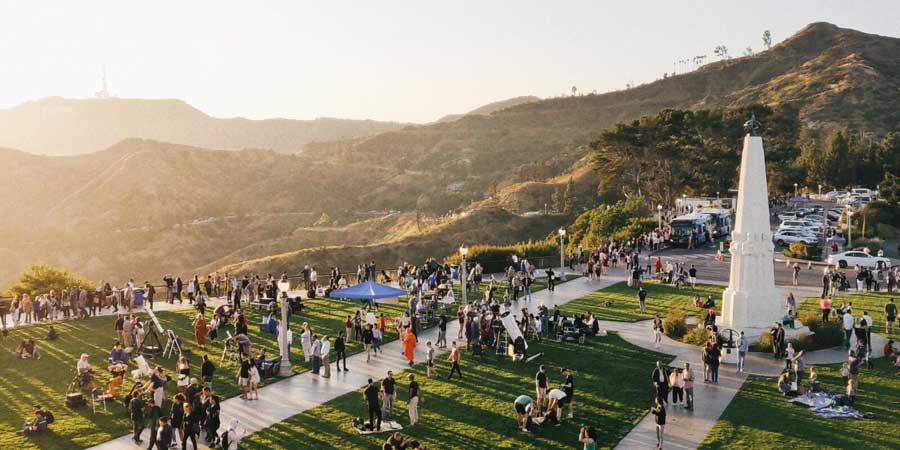 As far as outdoor venue ideas go, hosting an event at an observatory is pretty awesome.
Not only do you have an excellent view of the city, but you have plenty of open space for guests to mingle safely. Once the sun goes down, a laser light show can make the venue stand out even more.
Stalls and activities next to the building can likely draw power from the internal circuits, while generators can work well for stands further away. Plus, observatories usually have sufficient parking for large events.
Best for: Trade Show, Concert, Performing Arts, Conference
8. Forested Park or Arboretum
While open-air parks work well because they're a blank slate, they can also seem boring.
You can add some flair to your event while maintaining safety standards by hosting it at a forested park or arboretum. Towering trees offer an impressive presence that is sure to make the night more memorable. You can add even more pomp and circumstance by adding light displays among the trees for a surreal effect.
Best for: Conferences, Concerts, Performing Arts, Ceremonies, Tasting Events
9. Zoo or Aquarium Amphitheater
Like an arboretum, zoos and aquariums have plenty of bonus attractions to make your event shine. Best of all, these venues offer indoor and outdoor spaces for a perfect hybrid event setting.
Most zoos and aquariums have a theater for a live show or concert, and guests can wander around and gaze at the animals in between show times. Aquariums have an extra-special appeal for nighttime events since most people don't get to experience them at night.
Best For: Conferences, Ceremonies, Concerts, Fundraisers
Bottom Line: Think outside the venue this summer!
Instead of hosting your event the traditional way, spice things up with one of these memorable outdoor venue ideas. Even once the pandemic is over, these spots are sure to deliver a better guest experience they will never forget.