8 Creative Ways to Incorporate Networking Time in Your Event
Businesses and consumers have taken advantage of events to connect and build networks with the right people. According to statistics, 85% of workplaces are found thanks to networking. As a person who wants to build a robust network of people around himself, you must always remember the primary purpose of events and allocate ample time for it.
Attendees can be assisted to connect by inviting the right people to the events and creating an environment that gives them time to network during the event. There are several ways you can achieve this goal and make more networking time throughout your event; in-person or online.
Be sure to apply these methods to every event in your latest events calendar.
Organize regular breaks
Most people attend events with two primary goals in mind – to learn and network. You must give room to the attendees to achieve the two goals without unnecessary efforts. Many event organizers concentrate more on giving as many lessons as possible and forget the other important event objective; networking.
An essay writer for a business website says that one of the best ways to achieve this is to allocate ample time for networking during breaks. You can allocate more time for the morning and lunch break and a shorter time for the afternoon break.


Virtual events: If hosting a large event online, use a software that allows participants to use break-out rooms and small groups during the breaks.
Roundtable discussions
Roundtable discussions allow people to freely discuss and share knowledge without feeling intimidated. The attendees can share their experiences and ambitions during the open discussion sessions. Many people have in the past found their dream jobs or received a business deal during these open discussions.
The professional essay writers for business blogs mention that to help the attendees connect better, try to group people of like minds – that is, group people from the same fields of business or study. If it's not possible to group them, let them discuss and connect with their neighbors to the right or left.


Virtual events: Break-out sessions and small groups should be mediated by a host or co-host. Guests should also have access to a live chat room to discuss during the event.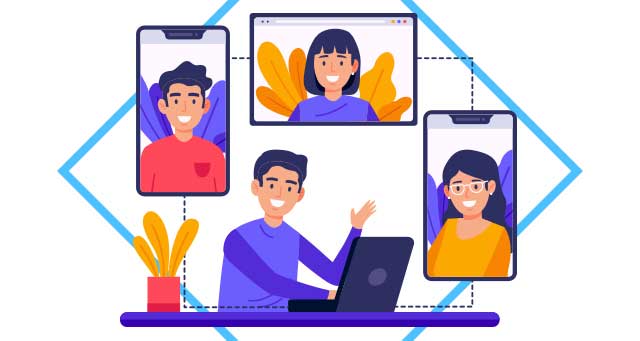 Speed networking
With speed networking, you allow attendees to meet different people within the shortest time possible. Sometimes when people meet, it is hard to determine who will be useful to your career or business. To determine who to network with, the attendee might need to meet at least three to five people during the event.
You can help the attendees achieve this goal if you arrange for short meetings of around 10-15 minutes per session before you call people together again and swap them.


Use badges
Your event could have many attendees. People will most likely be looking for someone worth their time. As a result, the attendees will not speak or seek to connect with anyone, but they will seek some basic information concerning the attendee before approaching them or suggesting for connection with them.
One of the best ways to make this goal easier is to prepare badges that will display the attendee's name, their job title and, if possible, the organization they work with.


Virtual events: Use a software that can display each speaker and participants name, plus other information they wish to include. They can also display their contact info if they are open to having people contact them after the show.
Hold an evening party
The event sessions might be time limiting, especially if the event timeframe is short. You can concentrate on lessons during the event and then invite the attendees to a party in the evening. You may plan for the party on the ultimate day of the meeting or any other evening during the event days.


Virtual events: Host a virtual after party, meet-and-greet for those interesting in connecting even further. This might include event speakers and hosts, businesses and sponsors involved.
Create an online group
A few weeks before the date of your event, invite people to connect online through emails or messengers that are attending the event or show interest. Create the group using your event name and let people contribute positively to the group discussions. The group members will begin building networks before the event even starts, getting a sense of who will be attending in advance.
Post-event, attendees can return to the group chat if they wish to discuss even further, have questions or are trying to pursue connections and contacts at the event.

Target specific attendees
It might be hard for the participants to connect when they attend an event filled with people from all fields like medical professionals, teachers, technicians, marketers and many others. It's important to have a target market for your event or build smaller events depending on each niche attending.
You can achieve this in two ways. First, invite a specific category of people to your event. You can target marketers only, CEOs or influencers, and so on. Another way is to create a poll or survey to evaluate your attendee's industry and the industry type they wish to connect with at the event.
Think of other creative events
People will not always appreciate meeting people in a formal event, especially when they spend more time in the office. To help avoid boredom, schedule your event on weekends or holidays when people are relaxed. You can also create casual social events like wine tasting networking events, making cookies together or creating an art item to create a more relaxed environment for networking.


Virtual events: Virtual networking events might include online conferences, trade shows, conventions, trivia, lectures, meet-and-greets online, etc.
Conclusion
The primary reason people attend events is that they want to meet people they can network with. Every event planner must ensure they remember this goal and give enough room for networking. The event planner must be keen and invite people from different fields to create a balance as the attendees seek for the right person to connect with.
---
Author: Leon Collier
Leon Collier is a blogger and author from the UK who has a deep interest in writing about everything from pop-culture to history and travel to self-development. He is currently working on an education and marketing assignment from a paper writing service. When not busy writing, you can find him reading a book or playing tabletop games with his pals.