8 Community Halloween Events for Kids: Spooky Fun with a Purpose!
Halloween isn't just about candy and costumes; it's about community, creativity, and coming together for memorable experiences. And what better way to celebrate than by hosting events that cater to the youngest in the community while also delivering a positive message?
Dive into these community Halloween event ideas tailored for children and get planning with the handy tips provided!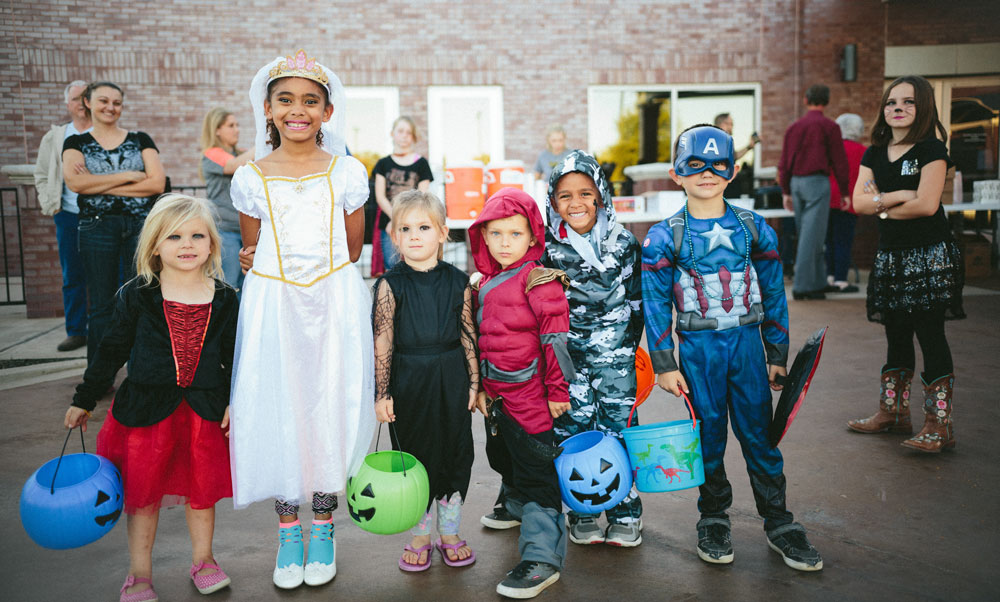 1. Trunk or Treat
For hosting a local trunk or treat, residents can park their cars in a designated area, decorating their trunks in festive, spooky, or creative themes. Children can go from car to car, receiving treats in a controlled environment.
Planning Tips:
Ensure a well-lit location, such as a school parking lot or community center space.
Encourage participants to use creative, non-scary themes to cater to the younger crowd.
For safety, pre-packaged treats only!
2. Halloween Can Drive
Encourage children to dress up and collect canned goods instead of candies. These can then be donated to local food banks or shelters; also known as a Trick or Treat for Cans.
Planning Tips:
Partner with local grocery stores for collection points or promotions.
Offer a reward or a small party for the child/group collecting the most cans to incentivize participation.
Ensure collected items are non-perishable and undamaged.
3. Spooky Storytime in the Park
Tell chilling tales under the moonlit sky. Gather kids in a local park for ghost stories. Local authors or older children can be invited to narrate.
Planning Tips:
Ensure stories are age-appropriate and not overly scary.
Set up a cozy area with blankets, cushions, and maybe even a bonfire (safety permitting).
Offer warm drinks like hot cocoa or apple cider.
4. Halloween Craft Fair
Here are some fun and spooky event ideas for kids' Halloween craft fair:
Pumpkin Painting Station: Instead of traditional carving, kids can paint and decorate mini pumpkins using acrylics, markers, and stickers.

Ghost Lollipops: Use tissues or white fabric to wrap around lollipops, tying them at the base of the candy to create little ghosts. Kids can then draw faces on them.

Spider Web Plates: Provide white paper plates and black yarn. Kids can create spider webs by gluing the yarn in web patterns on the plates. Add a plastic spider for effect!

Haunted House Dioramas: Use shoeboxes, craft paper, stickers, and other decorations to let kids create their own spooky scenes.

Witch Hat Ring Toss: Construct and decorate witch hats from cardboard or buy some from the store, then have kids toss rings or hoops to try and loop them over the hat's point.

Beaded Spider Jewelry: Kids can create spiders using beads and wire, then turn them into brooches, necklaces, or earrings.

Glow-in-the-Dark Slime Making: Mix up some glow-in-the-dark slime using safe, non-toxic ingredients. Kids can add googly eyes or plastic bugs for extra fun.

Mask Making: Provide plain masks, feathers, sequins, paint, and other decorative items for kids to create their own masquerade or Halloween masks.

Halloween Lanterns: Use mason jars, tissue paper, and LED tea lights. Kids can glue colored tissue paper onto jars and when an LED light is placed inside, it'll produce a spooky glow.
Planning Tips:
Collaborate with local craft stores for supplies and possible sponsorships.
Ensure child-safe materials are used.
Offer take-home kits for continued crafting joy.
5. Monster Mash Dance Party
Organize a children's Halloween dance party. Play age-appropriate spooky tunes and let the kids dance their energy out!
Planning Tips:
Ensure a spacious venue with a good sound system.
Consider hiring a professional children's entertainer or DJ.
Plan dance games or contests to keep the momentum going.
6. Pumpkin Carving Workshop
Offer a space where families can come together to carve or paint pumpkins.
Planning Tips:
Provide templates for kids to trace, especially for younger children.
Have plenty of carving tools and brushes on hand.
Ensure adult supervision at all stations for safety.
7. Costume Swap Event (more so for parents)
Before Halloween, host an event where parents can swap costumes their children have outgrown.
Planning Tips:
Organize costumes by size for easy browsing.
Ensure costumes are clean and in good condition.
Promote the eco-friendly aspect to encourage participation.
8. Charitable Ghosts: Donation Stations
Set up stations where children, in exchange for candies, can donate old toys, books, or clothes. These can then be given to charity.
Planning Tips:
Partner with local charities to streamline the donation process.
Ensure all donated items are in decent condition.
Offer treats or small gifts as a token of appreciation for their donation.
Conclusion
Halloween in the community can be about more than just tricks and treats. With the right events, it can become an opportunity for learning, sharing, and spreading joy. Whether you're scaring hunger away with a can drive or swapping costumes for a greener Halloween, the spirit of community and celebration remains at the heart of it all.
Happy planning!