5 Time Management Apps for Efficient Remote Work
Are you always late at work? Do you keep missing project deadlines?
Given you are reading this blog, I will take your answer as "yes!"
75% of the time in any work environment, there are never-ending distractions and telephone calls. Your job is to create chunks of time and get things done to meet predetermined goals. Sadly, it's not the easiest task for some.
Caught between the digital traffic, we start fidgeting if we don't have access to our phones for more than an hour.
It's easy to reschedule your event
Within your Purplepass account, you have full
access to change, cancel or update your
event when necessary.
An Australian study conducted in 2018 found that a third (32%) of workers used smartphones and social media at work. Meanwhile, more than half of the workers (51%) check their phones or social feeds up to ten times a day.
Despite the escalating virtual noise around you, it has become increasingly possible to improve your productivity at work. The same devices that cause distraction can turn into your time-control weapons.
The digital marketplace is brimming with apps to boost employee productivity.
Time management apps have proliferated over the past few years as consumers want to squeeze more productivity out of their waking hours. These apps aim to handle your time efficiently so you can strike a perfect work-life balance.
Below, we have listed five time management applications to improve your efficiency at work.
#1 Hubstaff

Available on: Android and iOS
Hubstaff makes it easy to track your team's working hours and productivity with activity rates. You can assign a task to each team member, so they understand what needs to be done.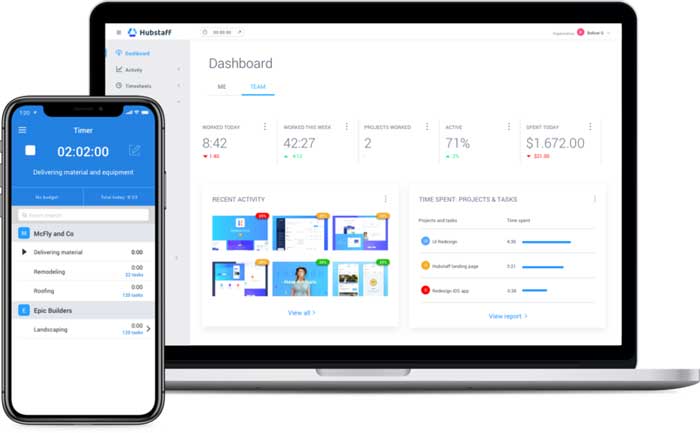 It also allows you to send invoices to the clients, monitor employee work hours, and automate payroll sheets. Plus, there is an option of random screen capture.
And it provides URL tracking as well as a closer look at employee productivity.
All of these features make it viable to use with other project management tools for precise results.
When you start using Hubstaff, you can view your activity levels on the dashboard. Its website provides an ideal activity level for the employees (according to the nature of their work).
You can compare your activity levels against it and make amends, if necessary.
#2 Toggl

Available on: Android and iOS
Toggl is a time-tracker that helps you learn how much your time is worth. Effective time management starts by studying how much time you spend on different affairs at work.
It helps you to analyze and figure out ways to cut out the meaningless elements.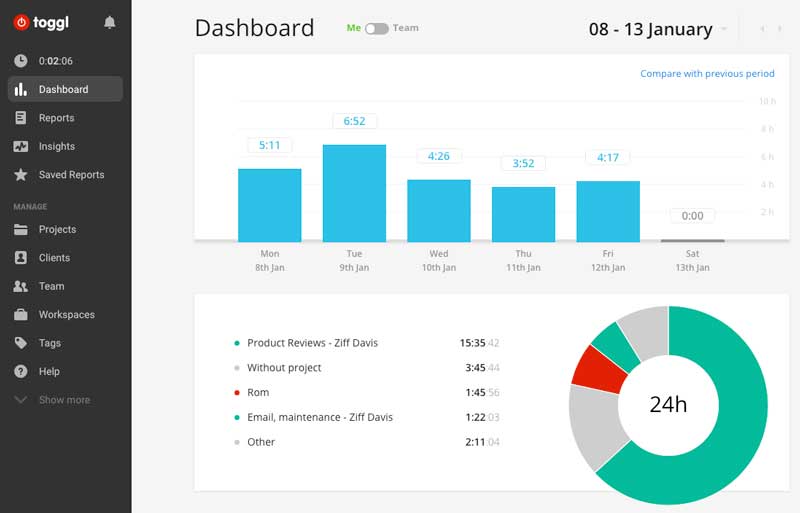 This setup of this app is quite easy. You have to define your work categories, and as you switch from one task to another, you have to operate Toggl timer accordingly. It provides a detailed insight using charts and figures.
These statistics reveal how you are spending your day.
Besides these, there are a bunch of other features, such as calendars and notifications. The calendar allows you to add events as time entries. Notifications keep you aware if you are wasting time on pointless tasks.
#3 MindNode

Available on: iOS
MindNode is an award-winning mind mapping application. It helps to connect your thoughts and clarify your ideas.
Essentially, mind mapping is a brainstorming technique that allows you to get all your interconnected thoughts in a diagram.
You create visual nodes that represent topics, ideas, and steps of a process. You can drag or drop images and files from your saved data onto the mindmap.
Plus, you can create an outline of work, choose varying themes for each project, add visual tags, and share or sync with other devices.
This tool will allow you to strategize with a clear head. Eventually, you can save up some extra hours while designing and planning a project.
#4 MyLifeOrganized (MLO)

Available on: Android and iOS
According to an incisive report issued by online learning platform Udemy, the workplace is filled with distracted employees who aren't achieving their potential.
Simultaneously they feel stressed and unsure of what to do.
MyLifeOrganized is one of the most powerful task management software to tackle task management. It started in 2004, and ever since, the app has gained massive popularity due to its customized features and constant value provision.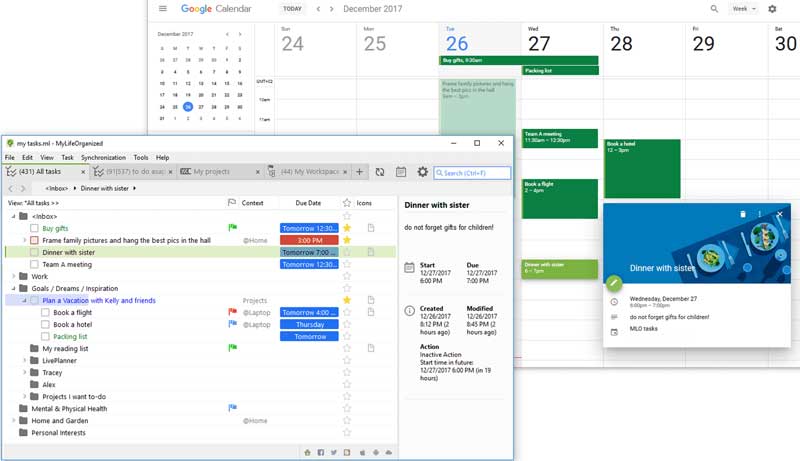 It allows you to prioritize your to-do lists and achieve your goals. Its customizable filters make MLO flexible to adapt to your system and manage your tasks.
You can categorize subtasks and attach dependencies within them. Also, it allows you to view tasks in a hierarchical structure and set necessary reminders.
This automatic task selection streamlines your list of tasks, making it easy to focus on one thing at a time.
#5 Pocket

Available on: Android and iOS
Pocket is one of the best known "save it for later" applications.
As people surf through social media and browser, they may come across some piece of content that hits home. Their interest ignites, and they yearn to know more about it. It causes them to stray away from the original motive of being on the web.
Pocket is an app that comes to our rescue. It is a bookmark management app that allows you to save videos, articles, and other content for later.
You can keep links in it and go through these items when you are free and focused.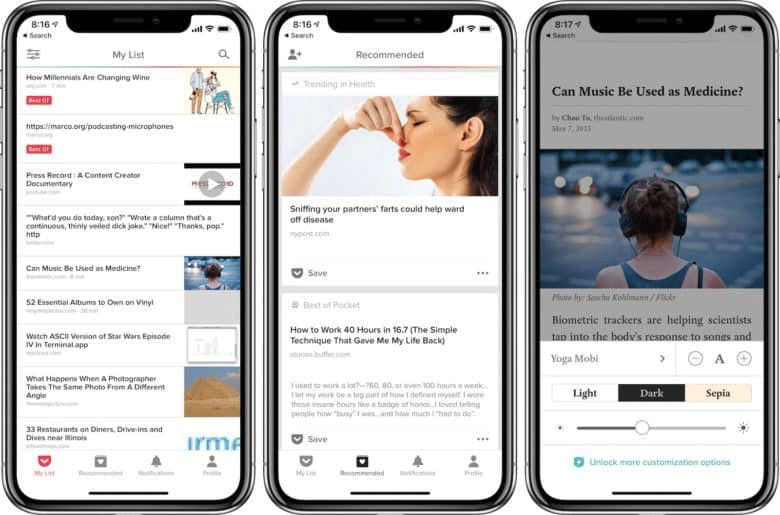 This app syncs across all devices.
You can find content related to your interests on Pocket. The best part is its security. Its stable bug-free algorithm matches that of AirG spam-free apps.
The only drawback of Pocket is the ads. But if you buy the premium version, the advertisements go away.
Parting Thoughts
Bad habits, once ingrained, are hard to break. Sometimes you need support from external entities to lift you up. Check out the apps listed above and dig into the digital marketplaces. You will definitely find an app to save you. It may take the deletion and installation of some apps initially.
But, hang in there. Keep the research going!
And when you finally find the perfect time-management app, don't forget to let us know!
Find more event integrations
Integration social media, WordPress,
email marketing tools, etc. all
within your account.
---

Author Alycia Gordan:
Alycia Gordan is a freelance writer who loves to read and write articles on healthcare technology, fitness, and lifestyle. She is a tech junkie and divides her time between travel and writing. You can find her on Twitter: @meetalycia