10 Ways to Create a Personalized Event Experience
Today, more businesses than ever are turning to virtual and hybrid events to generate interest in their brands and to help them maximize their reach, both online and off.
Approximately 49% of marketers agree that engagement is the major factor in determining the overall success of a virtual event. Having the ability to personalize the event experience you are presenting to others can go a long way for event registrations and engagement.
With the use of event ticketing software, personalize each event experience you create to resonate with the target demographics and audience you intend to reach.
1. Your Registration Platform
When creating your registration platform for your upcoming event, consider including custom event pages, custom coupon codes, and even unique landing pages based on where a user comes from visiting your event page.
You can also include customized registration welcome notes, as well as thank you messages that are displayed to those who register for your event(s). The more unique your registration platform appears, the more likely prospective guests are to remember your event itself.
Ways to customize the registration process:
Custom event pages
Coupon codes
Unique CTA
Ticket giveaways or fun challenges online
Custom emails or messages
Personalized tickets (print-at-home or physical)
Ability to accept different payment options
SMS messages and ability to opt in to event updates
Event app
2. Custom Ticket Types
Offering custom ticket types is another way to incentivize others to attend your event(s), especially if you offer discounts to certain groups.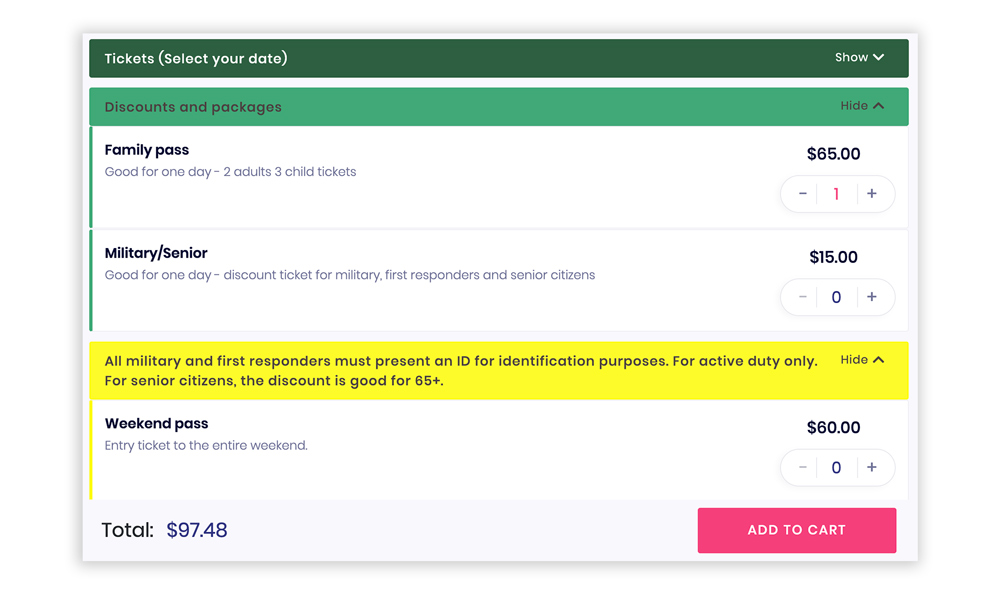 Offering custom ticket types and discounts to seniors, veterans, first responders, etc. can help to increase overall ticket sales while motivating those who are interested in your event to attend.
You can also offer custom ticket types to students, families, and even large groups to incentivize others to attend your event in a larger group setting.


Custom ticket pass ideas include:
Discounts for specific groups (seniors, children, military, etc.)
Group ticketing/family pass
VIP passes/exclusive passes
Weekend passes or specific days (if multi-day event)
Media/vendor/talent passes
3. Merchandise Sales
Selling merchandise for your events is another way to remember your special milestones while celebrating with those who attend.
Consider offering personalized merchandise with custom-printed shirts, wristbands, or other gear, if possible. The more personalized an item is, the more likely it is to be kept, remembered, and cherished by its owner. Selling branded merchandise is also a way to spread brand awareness, especially if your merchandise includes your own business name and/or logo.
4. Wristbands
Create colorful and unique wristbands for attendees of your event based on the type of ticket they purchase or if they are in a special group or club.
Using wristbands can also generate excitement surrounding your event as opposed to simply offering traditional ticketing options; as well as a sense of cohesiveness. Using wristbands with different colors or labels can also help attendees to gain entrance to proper seats or sections they belong in.
5. Custom Packages
Offering custom packages to the guest is another way to spark interest in your event. Whether you offer custom VIP packages, meet and greets, or even special upgrades based on the type of ticket someone purchases, the options are virtually endless.
Custom packages can include access to beverages and food (concessions) and the ability to meet special speakers and VIP guests, depending on the type of event(s) you host.

6. Itinerary and Information
Use your event ticketing software and app or official website to display important event information, such as timelines and itineraries.
Offer directions, built-in GPS solutions, and even parking guides for guests and attendees. Include printable or PDF forms of programs you have created for your event, which can be accessed and downloaded directly from your site for easy access.
Think about your guests and the information that would be helpful for them to have on hand to make their lives easier come event day.
7. Offer a Hybrid Experience
Another option for those who are looking to personalize an event of theirs is to offer a hybrid experience.
After the 2019 COVID pandemic swept the globe, more individuals and businesses alike are turning to virtual and hybrid solutions for event hosting, gathering, and communicating altogether. Launching a hybrid event can allow those who wish to attend events in person to do so, while also providing a safe at-home solution for those who wish to attend virtually.
8. Think About Amenities
Providing special amenities at an event is another way to ensure your guests are satisfied and enjoying themselves.
Event photographer with access to photos after the event
Photo booths (if appropriate)
Entertainment
Food options for different dietary restrictions and allergies *** more on this below
Charging stations
Free giveaways and favors
Comfortable furniture and seating
Water stations
WIFI

9. Provide Food Options
One way to make any event stand out is to offer food and beverages, whether you are hosting your event indoors or outside. Offering food options for a variety of diets can keep guests satisfied and attendees staying at your event throughout the entire duration.
Vegetarian (no meat)
Vegan (no animal products)
Gluten-free/grain-free
Nut allergies


When planning your next event, consider what type of catering options are best for your event based on the length of the event and the number of attendees you are expecting.
Consider whether providing canned drinks such as sodas or enlisting an on-site bartender is best based on the number of guests you are expecting as well as your own budget.
10. Send Thank You Notes
Send thank-you notes to each of your event's attendees, speakers, and guests. Sending thank-you notes to those who have attended a special event of yours will remind them that you are thinking of them and that you acknowledged and appreciated their presence.
Those who receive thank-you notes from professional events may be more likely to return to another event in the future, especially if they felt welcomed and enjoyed the original experience.
Customize your event page!
Add media, videos, info, links, and
more to your event page on Purplepass.
Knowing how to create a personalized event experience using your preferred event ticketing software is essential for both big and small businesses that host events. Whether you are hosting school events or if you are promoting your brand in an international space, a personalized event experience will help your business to stand out from all the rest.