Surprising Ways You Can Sell Tickets With Loyalty Programs
Loyalty programs can be found almost anywhere and everywhere online, used as a clever marketing tactic to bring in more loyal customers. Every company you visit seems to offer a loyalty club or a rewards program of some kind, whether you realize it or not.
A loyalty program is a style of structured rewards that are given to customers in exchange for some desired behaviors or actions. Overall, the goal with loyalty programs is to keep customers coming back, collect customer data and gain new clients from it. The programs use the psychological principals of commitment, loss aversion, and reciprocity to increase the likelihood of a customer coming back to a brand.
Some of the most common loyalty programs are points that can then be redeemed for products and services from the company, cash back rewards, and tiered benefits at different levels. Other rewards for being a member can include first notice of new products, members-only sales, and exclusive discounts on popular items.
Understanding The Importance of Customer Loyalty
Customer loyalty is an important part of any business because it's A LOT cheaper to market to your current customers than it is to acquire new ones. You have a 60% to 70% chance of selling to existing customers but only a 5% to 20% chance of getting a sale from a new customer. Returning customers also spend more money than new customers.
If customers keep coming back to your services, referring others, or consistently purchasing items…why wouldn't you reward them? Loyalty programs are not only a way to make sure these customers keep coming back for awesome deals and point systems, but another way to say…thank you!
Understanding The Different Loyalty Programs
One of the main things to figure out when offering a loyalty program is how your customers will earn rewards or benefits. These are some common ways to structure incentives.


Frequency: Customers will earn rewards when they make a certain number of purchases in a given time period. For example, "Earn 20 extra reward points when shopping during the month of August."
Spend: Customers earn rewards when they spend a certain dollar amount. For example, "Spend $100 dollars online and earn a $20 gift card."
Referral: Customers can get more rewards and points if they refer a friend or family member, or leave a positive review.
Items Purchased: Customers get rewards by purchasing items from a specific category. If items are going out of season, you can offer extra rewards or perks for customers that purchase those products.


Once you figure out which actions will trigger rewards, you then need a system for tracking them. With a point system, customers are rewarded with points for every purchase completed or dollar spent. With a tiered system, customers are rewarded with different ranks, which unlock incentives and rewards they can access.
Starbucks Tiered Loyalty Program
This is a great example of a tiered loyalty system that Starbucks uses to encourage more purchases. Each member can slowly approach higher levels and greater perks based off their spending. It's simple. The more you spend the more points you get.
This encourages customers to choose to go to Starbucks for their next coffee rather than the shop across the street, because here they are getting rewarded for their purchases. Who wouldn't want a personalized gold card or a free drink?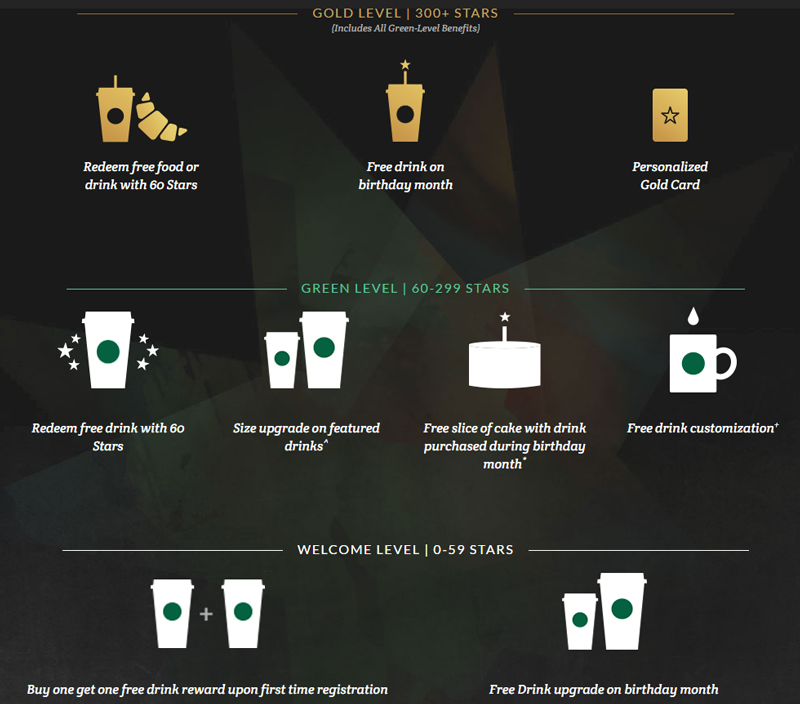 Forever 21 Credit Card Program
Forever 21's campaign Rewarded introduced their new credit card, a fast way for loyal customers to earn points, like cash back on regular credit cards. You can earn 3 points for every dollar you spend on your Forever 21 credit card and get 15% off your first purchase! This campaign is going to encourage their customers to spend, spend, spend so eventually they can save, save, save by cashing in their points.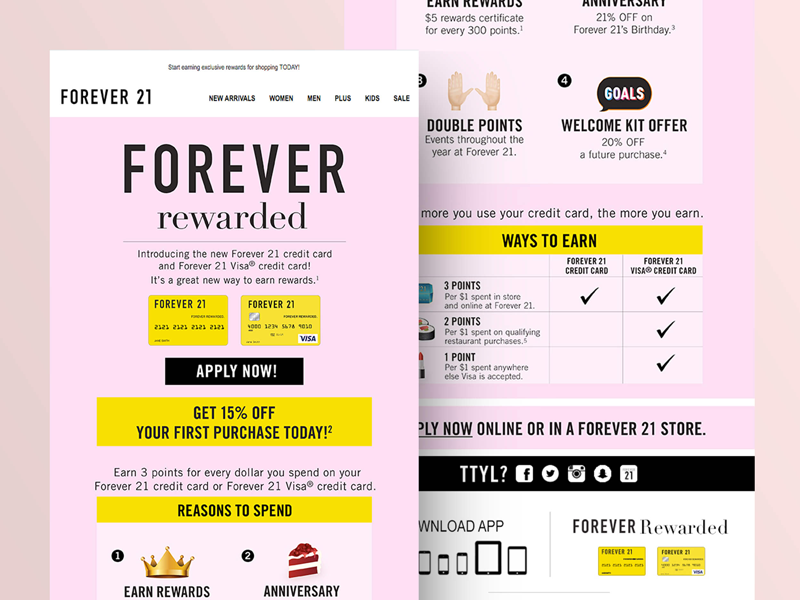 REI Member Bonus Card
If you are an avid adventurer this is your membership!! With REI's membership card, you get a variety of perks that are too enticing not to take advantage of. First, membership sign ups come with an all-purpose towel and water bottle for your next hiking or camping trip.
You also get an annual member dividend; basically a point system that can be cashed in and applied at checkout. You have access to more tours, events, and lessons while paying less with a special membership pricing. You get outdoor gear rentals at a discounted rate and access to Garage Sales; these are discounted items on returned products. Should I say more? If that isn't creating brand loyalty, I don't know what is.
Selling More Tickets with a Loyalty Program
Loyalty programs can work for just about any product, service and company with some tweaks. If you are selling tickets, there are several ways a loyalty program can help increase your sales.


Season Passes: This will fall under the items purchased category for reward programs. If a customer buys season tickets to your shows or events, then you can reward them with a drink and food tickets or free merchandise when they arrive! Another idea would be to put them in an exclusive VIP seating area to really show your appreciation and entice them to purchase the package next year.
Early Bird Discounts: These discounts reward customers that buy tickets early in a certain time frame. You can give them a discounted price or offer them VIP perks. This not only benefits customers this year but also gives them an incentive to purchase early for the next year, helping you increase sales. Trust me, if your discount is good, they'll be on the lookout for it!
Returning Customers: This qualifies under frequency. Reward your customers with discounts if they return and purchase more tickets from your organization. The more tickets they purchase, the bigger the discount can be.
Refer a Friend: This is a classic rewards program that can be used for ticket sales.Starting a referral program or word-of-mouth encouragement is a fast way to get people to purchase tickets. But how? Well, according to Sujan Patel, 92% of consumers trust referrals from people they know and word-of-mouth is directly responsible for 20-50% of purchase decisions. In the end, peopleare just 4 times more likely to buy when referred by a friend because they trust them.
So how can you set up a referral program to encourage more people to attend your event? With good incentives!
What are you giving people for referring a friend or sharing their ticket link? Here are some options:
Discounts/coupons to other purchases
Free merchandise
Upgrade to VIP access
Free ticket
Points that can be redeemedfor discounts, upgrades, or prizes
Fast pass through the admissions lines
Money!
Learn more below.
To create a successful loyalty program, it needs to be accessible. Today's customers want streamlined experiences that are easy to access on the go or in other words ... a mobile app.
Customers need to understand how and when they will get rewards and they should be able to monitor their status through the program, app, and with notifications. Without easy accessibility, rewards can go unused, expire or ignored. When creating your program, make sure you have the following:
A fast mobile app
In-app notifications (new points, offers, upcoming discounts, etc.)
SMS Messaging for notifications of sales and points
A clearly outlined point system or tiered program
Points that are valuable and worth spending money for
An easy opportunity for customers to enroll (make it available in stores and online)
If you want to find more ways to market your upcoming event and boost sales, you can subscribe for weekly blogs below.