Using WordPress for Event Websites: the Good and the Bad
If you are on the fence as to whether WordPress will help promote your event, you are not alone. Plenty of event promoters have heard about WordPress in passing yet many have not taken the plunge.
The typical event promoter is rightfully concerned that WordPress might not be worth the time and/or effort. Below, we provide a quick look at the merits and drawbacks of using WordPress as an event website.
What is WordPress?
WordPress is available to everyone through a free download. This open source project has been available online for over 15 years.
Though the software is free, you will likely spend some money using it to promote your event.
For one, hosting is necessary and premium plugins and themes can cost money. However, there is no need to pay for any additional services if you just need a basic event website.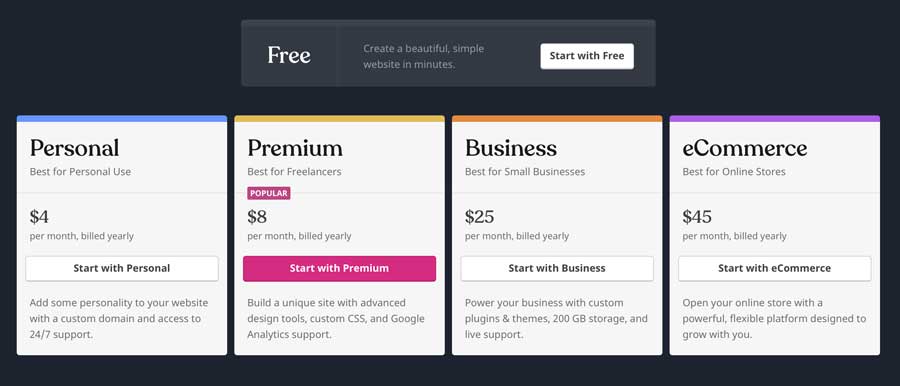 Once WordPress is running, you can add whatever you desire to the site, whether it is information about tickets, event headliners, blog posts, pictures, etc.
Above you can see all the different plans WordPress offers based on your goals and what you want to achieve. You can always start with a free plan and work your way up.
WordPress for your event website
Just about every type of event can benefit from WordPress. Create a WordPress website for your event and you will ramp up interest in surprisingly little time, plus it gives guests a central place to learn more about the occasion.
Whether you are planning a concert, a networking event, a conference, an eSports competition or any other type of event, you can benefit from the use of WordPress.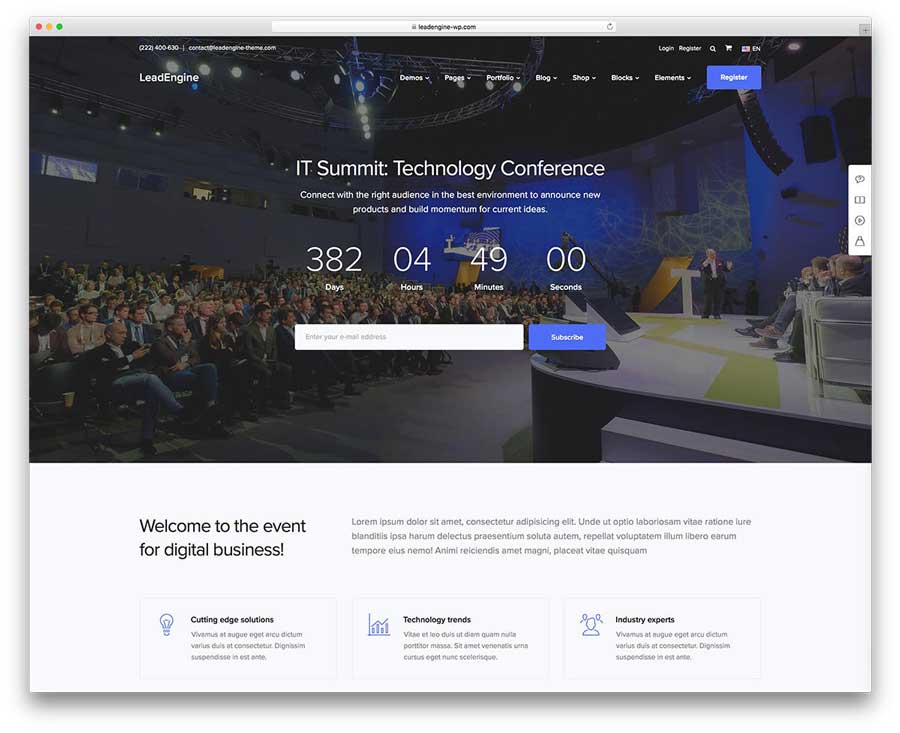 This software facilitates the creation of a website in little time to quickly spark interest in upcoming events of nearly every type.


WordPress Pros
#1 They offer a free version
As noted above, there is a free version of WordPress available to the masses. If desired, you can use some of the software's extra features at a costs, but they are still available. However, there is no need to make a financial commitment aside from the hosting fees necessary for every website.


#2 The number of plugins and customization options available
WordPress is chock full of helpful design elements and features including plugins and templates. Though you may have to pay a few dollars for the software's extra bells and whistles, these features are well worth the money.
The plugins are especially helpful and there are a lot available for free.
Unlike most other similar software programs, WordPress has a plugin for nearly every function you could possibly desire. The website has myriad themes, one of which is sure to prove suitable for your unique event.


#3 Social integration are easy to use
WordPress creators also deserve credit for making it easy to incorporate social media links and sharing options within your site.
Start an event site on WordPress and you will find integrating social media sharing options is quick, easy and effective. The end result is a website that is that much more shareable on Facebook, Twitter and other popular social media platforms.


WordPress Cons
#1 The free plan is very limiting
Though the free plan is quite popular, it has its limitations. If you are an event planner who puts on over one or two events per year, you might find the platform's options a bit limiting.
#2 You can't fully take advantage of WordPress without some experience coding
Furthermore, if you do not have at least a small amount of coding experience, you won't be able to take full advantage of the platform.
Fail to dig deep into WordPress features and your site might end up looking inferior to those of other event promoters who take full advantage of the software's nuanced features.


#3 It takes time to learn the software
If you do not invest the time to master the software, you might be a bit flustered by its moving parts.
This is precisely why it is best to lean on someone with tech expertise or at least build your event website on WordPress with the assistance of a co-worker or someone else who will participate in the upcoming event.
Master the WordPress learning curve and this software has the potential to pay you back quite handsomely in the form of increased attendance at your upcoming event.