Top 5 Ticketing Softwares in 2020 for Events on a Budget
Ticketing software has become more advanced than ever and is an increasing necessity for event planners.
If you have a limited budget, there are still great ticketing options out there that won't take all your money.
With Ticketleap, you can start selling tickets in minutes. Sign up and create your event website. Start spreading the word and then welcome your guests.
Ticketleap allows you to build professional event pages in minutes with an easy-to-use platform.
The templates are designed to showcase the event's unique vibe and you can personalize it with custom colors, photos, and your logo.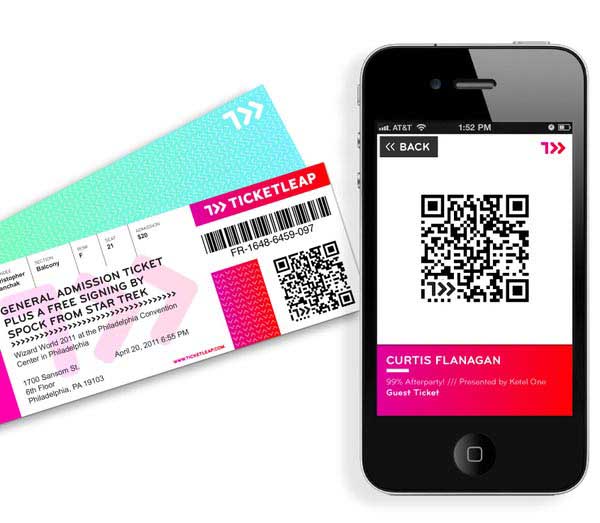 Price:
There are no start-up fees or contracts and you get paid after the event or you can use your own merchant account.
No signup fees or contracts


The fee is $1 +2% but it's capped at $10. There is a 3% credit card processing fee or you can bring your own account.
Free events are always free and there are no fees for onsite sales.
$1 +2% plus 3% credit card processing fee
Free events are free
Ticketleap has an Event's University to help you by offering advice for getting started.


Create. Sell. Simple. Purplepass is an all-in-one event management hub. Create and sell tickets, order ticket stock, design and print marketing material, run reports, rent equipment - we have everything you need.
We also offer 24/7/365 support for you and your guests free of charge.
Our representatives will help guests order tickets, answer questions, and make sure everything is on track.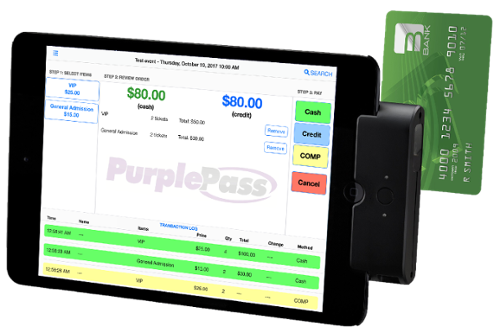 Price:
Service Fee 2.5% + $0.99/ticket
3% credit card processing
Ticket stock is $0.10/thermal or $0.12/full color ticket
Zero box office fees
Zero map/seat building fees
Free for free events
Zero signup fees
Tix is a cloud-based, state-of-the-art ticketing system that has integrated controls for event management, different channel distribution and robust reporting.
With Tix, you get a customer-facing ticket page as well as invoicing, inventory controls, and financial accountability.


Price:
There are no setup fees, annual maintenance fees, or other hidden costs.
Zero signup fees
No long-term contracts


The fees for Tix are $0.25 per ticket for box office fee. These are tickets sold by the organization through the box office system, such as walk-up sales.
You also have $1 per ticket in online fees and $3.50 per ticket for tickets sold through the optional toll-free call center.
$0.25/ticket for box office fees
$1/ticket online
$3.50/ticket through call center
BrushFire allows you to have a robust online ticket platform with flexible registrations.
It's customizable with assigned seating, conditional registration forms, and a branded event experience. It has a flexible API and mobile app, the integrations are PCI compliant, and it has a privacy shield.
The integrated email marketing software makes communication with your attendees easy.
The intensive reporting tool allows you to display the data you care about the most in a format that suits you.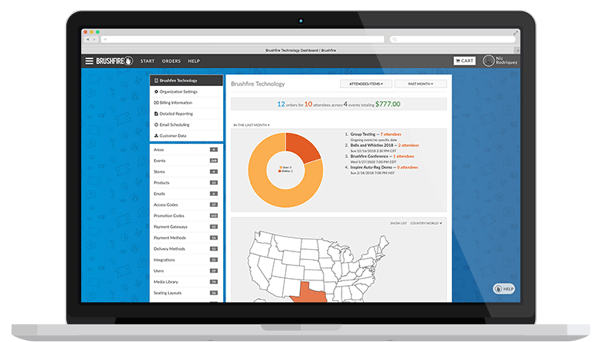 Price:
Depending on the features you want, there are two pricing models.
If you want call center customer service and a toll-free number, it's $2 plus 1% per paid attendee. If you don't want these features, it's $1 plus 1% per attendee.


$1 + 1% per paid attendee
$2 + 1% per paid attendee


Easily create your event page and integrate directly with fundraising tools to create an end-to-end experience for supporters.
Reach the masses using built-in emailing and social media tools to promote the event and reach more people than ever.
You can turn your ticket buyers into promoters by letting them share their experience. Have access to your event's ticket buyer data and sales performance.
Use your insights to optimize the event and sell even more tickets.
The integrated mobile app lets your staff sell tickets at the door.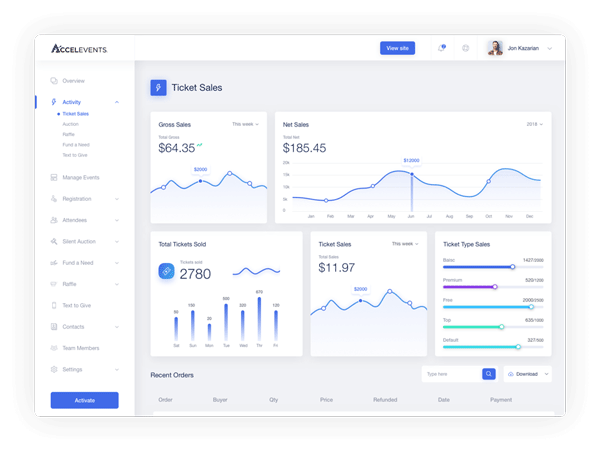 Price:
For event ticketing, the fee is $1 plus 1% of the ticket sale amount. There is no fee for free tickets and you can pass the fee to the buyer, making the service free for you to use.
$1 + 1% of the ticket sale
Free events are free
It's important for you to find a ticketing software that works for you and with your event. For more ticketing alternatives and options, check out this complete list.
Start selling tickets today
Want to learn more about how Purplepass works? You can
speak to a representative today by requesting a free site
demo below!