Top 10 Conference Software for Interactive Video Calling
Conference calls are becoming the go-to for an efficient and effective meeting setup online. However, when you aren't face to face with people, it can make the engagement a challenge. There are ways to get people talking with these software options.
Video options provide the most room for engagement since audio-only conference calls can make your participants feel invisible while only taking a passive role in the call.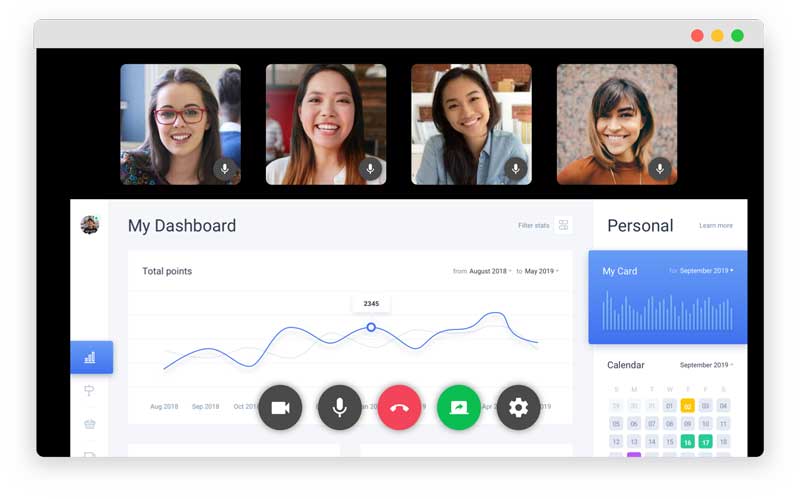 1. Zoom
Zoom allows for an interactive split screen so that you can act like you are presenting in person. When you are presenting, it makes the process much more engaging. The Zoom Rooms tackle some of the biggest pain points of the conference room, and there is one touch to join.
2. Skype
With a conference call on Skype, it allows one person to talk and you can chat and IM with others. This can be a good opportunity to ask direct questions to get everyone involved. Skype has typical video sharing features that can help you stay engaged as well.
3. GoToMeeting
GoToMeeting is a popular service that allows for screen sharing and also highlighting content in real time. With something to look at and make it a real presentation, it becomes much easier to stay engaged.
4. WebEx
WebEx is designed for the way you work and can help the team communicate in real time. The WebEx Board is an all-in-one whiteboard with a wireless presentation screen and video conference system so you can make your presentation as engaging as you want.
5. Uberconference
Uberconference will allow you to use voice intelligence for transcripts and provide recordings so people can re-watch the presentation. The voice intelligence also allows you to automate tasks,and getting people involved will make it easier for people to stay interactive.
6. Join.me
Join.me is like other video conference choices but provides some more customization options. You can claim your own personalized URL with a unique link so people can get familiar with your brand before joining the meeting.
You can also get better toll-free audio so your attendees can always hear. Using the highest quality audio you can is another way to keep participants engaged so they don't zone out because of the static.
7. Free Conference Call
If you need international support then Free Conference Call can be the way to go with video conferencing, screen sharing, and recordings. You can also host up to 1,000 video participants, making it even easier to host a large-scale call. Free Conference Call will provide the high quality audio you need, no matter where your participants are.
8. BlueJeans
The BlueJeans platform brings video, audio, and web conferencing together with the collaboration tools people use in order to encourage engagement.
You can drive more meeting productivity with integration with your favorite messaging, scheduling, and other productivity tools. Use the voice recognition and artificial intelligence to make your meetings even better.
9. Vast Conference
Vast Conference offers simple conferencing services to streamline your calls with other time-saving tools, such as calendar integration, recordings, and live call management. Live call management can be a good way to get participants involved by making them feel more included.
10. Lifesize
Lifesize is the world's first 4k global conference solution and it's rated best in class for audio, video, and content sharing clarity to help teams present your business in a better light.
You can host free video calls with your team from your browser or phone and there are multiple integration options to make it even easier.
When using these software options, it helps to know what you are doing so people don't start dropping from the call.
Spend some time testing out each option to find the best one for your conference needs and get the most out of our next call. It also helps to have an agenda and establish ground rules of the meeting so you can minimize any distractions.