Live Events During COVID: Why Mobile Health Screenings are the Future
As we come out of the COVID-19 pandemic, people are itching to go back to events. However, since we're not out of the woods yet (and who knows if we will face another wave), event coordinators need to figure out ways of keeping people safe while they're having fun.
So, with that in mind, we need to look at the state of the industry, specifically how health screenings and mobile testing might be paving the way to more concerts and live events.
Devin Lezama, founder and creator of EDM Maniac, was recently a featured guest on our podcast for event planners, EventBuzz. Lezama and his team were one of the first to host an in-person experience that incorporated heath passes into their registration process.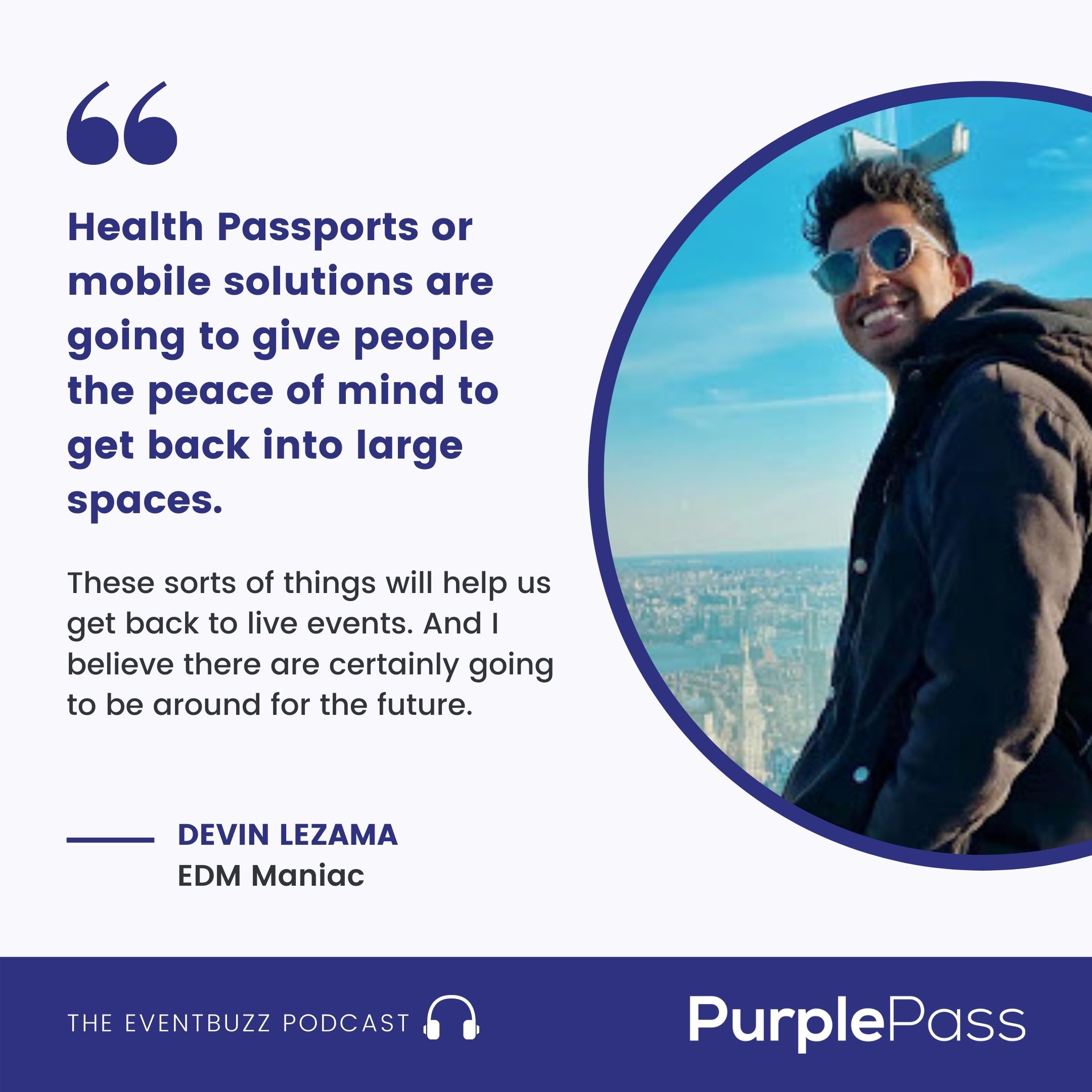 According to Lezama,
"In future, as we sort of leave the tail end of COVID, I believe that these passports or mobile solutions are going to give people peace of mind to get back into large spaces. And it's going to give venues, some liability help. So that when guests enter the venue, they've made a health declaration or that they've been vaccinated, or if they have a proof of negative test. These sorts of things will help us get back to live events. And I believe there are certainly going to be around for the future."
So, how can we use these health screenings when bringing back live experience?
Let's look at five possible mobile solutions for keeping guests (and staff, artists, and vendors) safe as events start to reopen.
Top mobile solutions for health screening at events
Overall, the best way to ensure everyone's safety at a live event is to make sure that they're COVID-free or have been fully vaccinated. While the country (and the world) figures out a more permanent solution, event organizers can consider these high-tech solutions to keep the party going.
Here are five options we've discovered to be top-rated solutions for health screenings.
1. CLEAR Health Pass
Although Lezama and his team used many unique methods for hosting events (such as drive-in concerts and pods), they were also the first to use the CLEAR Health Pass for events.
Here's how it works.
"It's all done through an app, you get a special code for the event, enter the code, you do health questionnaire, or you upload your negative test or your vaccine, that sort of stuff" says Lezama. "And it was a very simple process. But most people took advantage of it because we offered extra benefits, like a special viewing area, dedicated viewing, dedicated edge entry lines. So we wanted to give people incentive to get back outside, but do it in a healthy and safe way."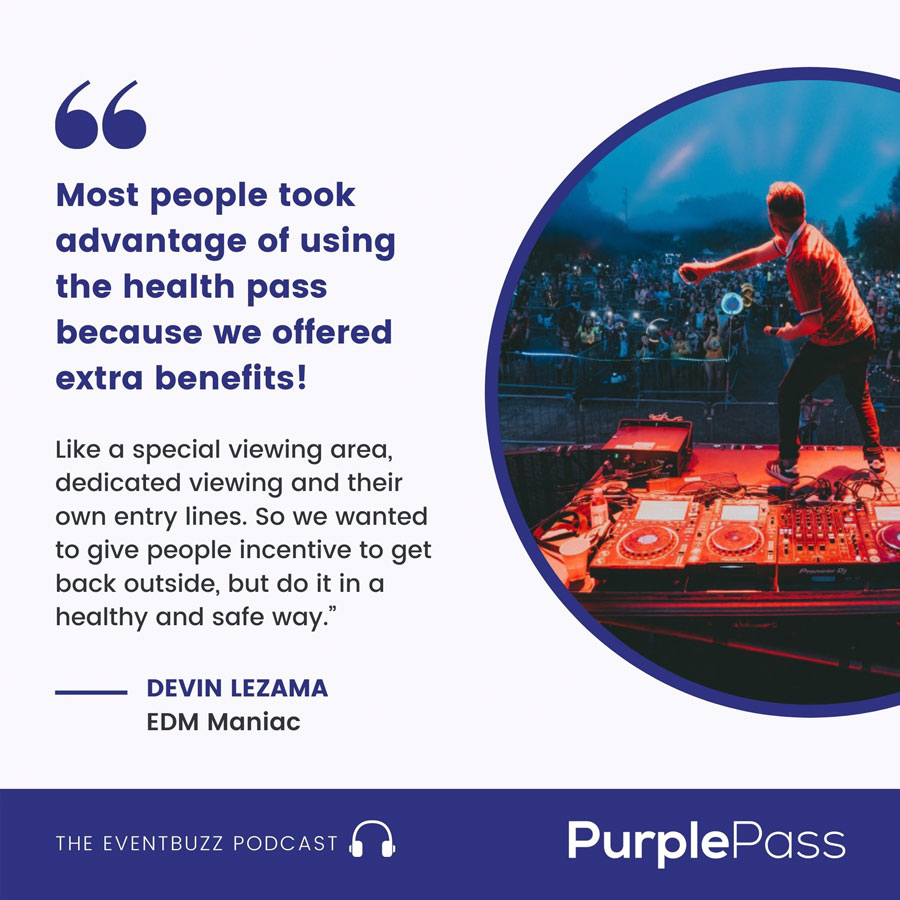 EDM Maniac used the health pass technology during an event in Texas, where government guidelines forbid event promoters from requiring health information about attendees.
As Lezama describes, one way they could get more people to participate with the pass was by offering incentives. It's unclear how many participated specifically because of these upgrades, but it shows that there are ways to encourage healthy behavior when you can't enforce participation.
2. CrowdBlink
For organizers who want more control over their health screening efforts, CrowdBlink offers turnkey solutions that include questionnaires, temperature checks, and ID scanning.
They handle everything through the application, so organizers don't have to manage paperwork or anything physical.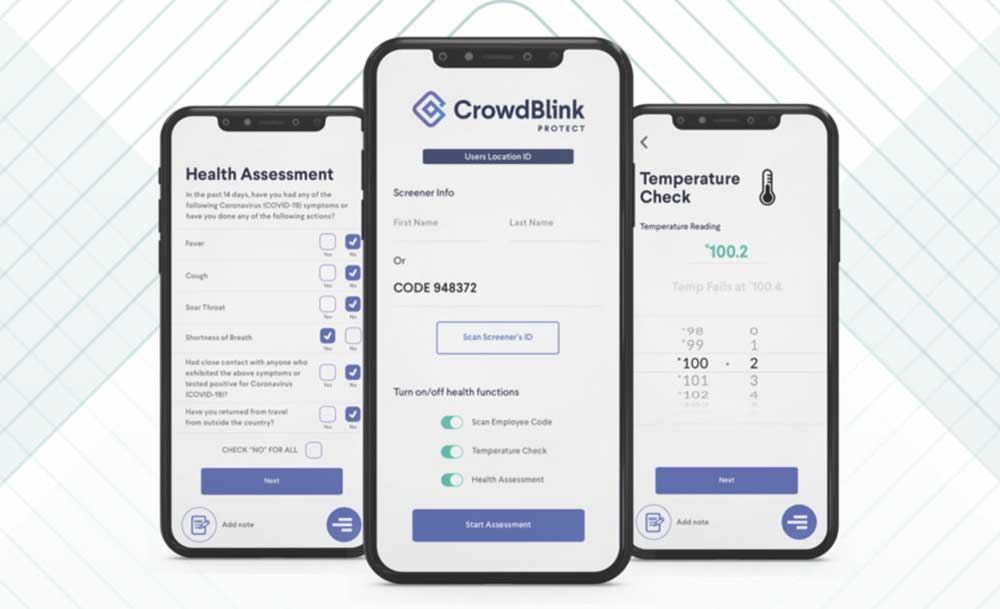 Guests simply have to set up a profile, either on their own or through a centralized hub.
For example, security members can use a tablet for both scanning tickets and having guests fill out questionnaires. The process is a bit time-consuming overall, but it offers accountability and reliability.
3. EventScan
Self-reported assessments are one thing, but COVID-19 tests can provide better peace of mind. EventScan doesn't use apps to manage attendees. Instead, the company offers three customizable solutions:


Rapid Testing - EventScan will set up booths to swab guests as they come in. This option is ideal for relatively insignificant events that may not be open to the public (i.e., weddings).

Thermal Scanning - One common symptom of COVID is a high temperature and fever. Instead of using forehead thermometers, EventScan uses high-tech wizardry to scan temperatures from afar, focusing on a person's tear ducts. The company claims 99 percent accuracy, both indoors and outside.

Consulting - Everyone is trying to figure out best practices for all situations, leading to a lot of confusion and inconsistency. EventScan offers consulting services to help event coordinators determine the best options (which may include third-party resources) for their needs.
4. SafeSpace from BeCore
BeCore is a marketing agency based in Los Angeles that focuses on experience-based advertising. Because their business model is centered on live events, they came up with SafeSpace.
This program works similarly to EventScan's consultation, although BeCore can connect you with certified and trained staff for events. SafeSpace is project-based, meaning that they work with coordinators more than they do with venues.
They'll help you figure out the right solutions for your event and can help coordinate both staffing and infrastructure needs (i.e., on-site testing services).
5. CrowdPass
CrowdPass works very much like the Health Pass from CLEAR. However, there is one bonus - on-site rapid testing and results.
The secret to CrowdPass's multilayered system is that it extends Crowd Health, which has been supplying tests and PPE during the pandemic.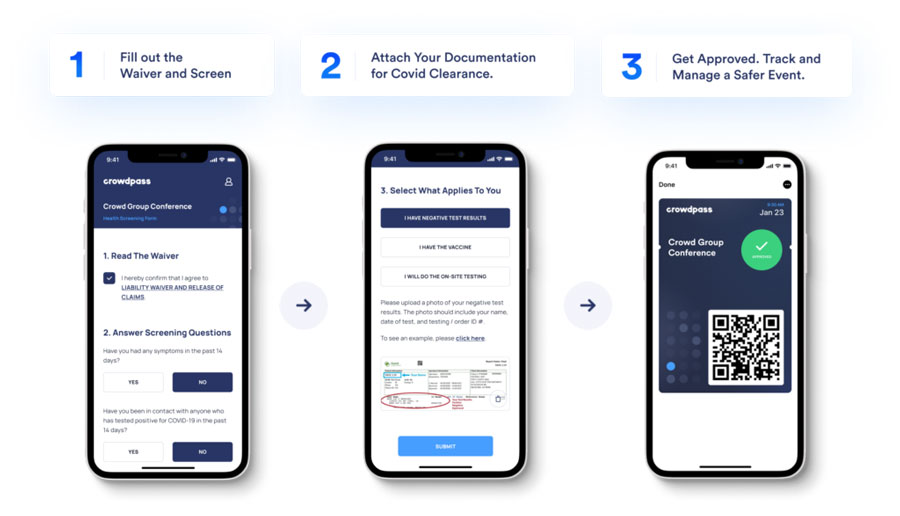 On the coordinator side, you build an event and set your screening parameters. Options include negative test results (either on-site or third-party), vaccination documentation, or a health questionnaire. On the attendee side, they create a profile and upload their paperwork or submit to a test before entering the event.
Coordinators can also pre-clear attendees if they upload these documents beforehand.
Bottom Line: Events can be safe with the right solutions in place
Although event organizers may have to work around local regulations and a shifting legal landscape, it seems like most attendees are okay with some form of screening.
As more events occur and these solutions become more widespread, that acceptance is likely to increase as well.
To listen to the entire interview with Devin Lezama from EDM Maniac, on mobile solutions for event screenings, click here or play below!