Fun Admissions Material Ideas to Use at Your Next Event
Event planning should be a creative process that uses a variety of approaches to keep things fresh and intriguing.
This might include going back to traditional ads or spicing up your promotional material.
Here are some ideas on how to turn your event material from drab to fab!!
Traditional admissions material
Most events need to develop admissions materials to allow attendees to enter the event and/or to pre-purchase before the event begins to make entrance smoother.
Traditionally, most event organizers use the same products and methods that are now expected when entering an event or purchasing admission.


Some examples of traditional admissions materials include:
Passes/tickets
Different VIP passes
Kid passes
Wristbands
Parking passes


Make admissions more exciting with these printing ideas
If you are planning an event, you most likely need to provide admissions materials to attendees whether it be at the admissions gate or available for pre-sale.
That doesn't mean, however, that it needs to be basic, bland, or boring; give them something to remember you by.
Consider spicing up the admission materials with these fun ideas that are sure to attract attention and make the process of purchasing more appealing.
Express Event Printing
Need event and marketing material? Customize, design
and place orders at our sister company, Express Event Printing.
Badges and passes: not your ordinary VIP access
When people purchase a VIP pass, they are paying extra for the experience.
That is why it's your job to elevate the experience by using special materials and different design elements.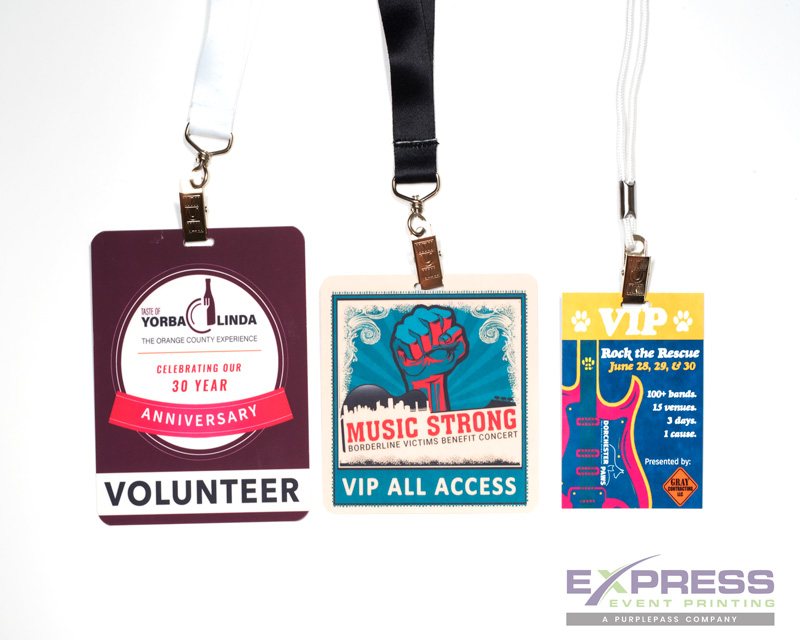 For example, you can use metal VIP passes and even go the extra mile to have them embossed or engraved to customize them for each guest.
Some other ideas include laminated passes in fun colors and even translucent or frosted designs featured on, or covering the actual pass itself.
In addition, make sure you include a lanyard or secure clip to help them keep track of their pass and attend in style.
Brand those lanyards and clips using an appealing design with the name of the event; show them how you are giving them the true VIP experience and make your guests feel special because isn't that what they are paying for?
Fabric wristbands: time to throw out the paper
Wristbands offer convenience, economy, and comfort while being more exciting and fun for your guests than paper tickets.
Many events are using rubber embossed wristbands to ensure comfort and durability that lasts the entire day.
This is especially important if there is any water-related activities; and yes that includes drinks! Some other options include plastic snap-on wristbands and even glow in the dark versions for nighttime activities.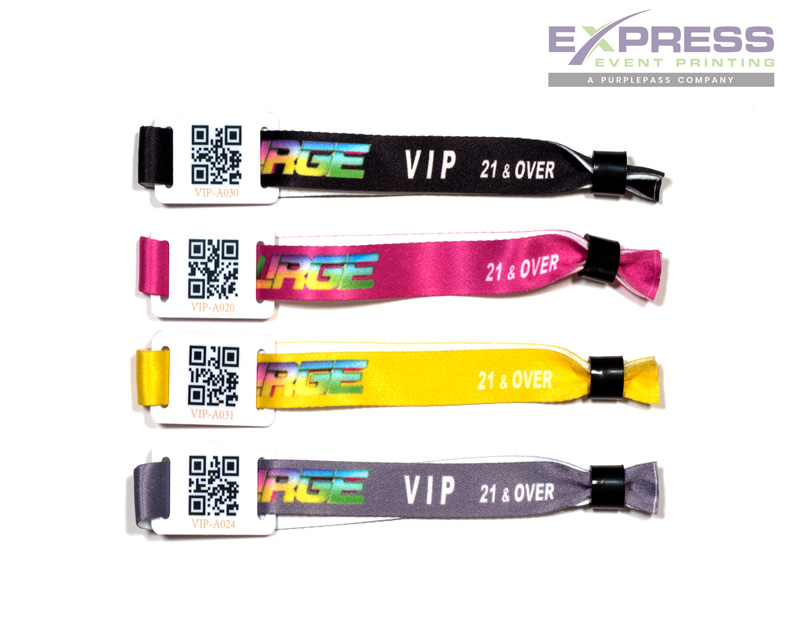 Wristbands identification: keep things colorful
Why not make your life easier by designating specific colors for all your guest types; adults, children, military families, groups, seniors, etc. to help vendors and coordinators identify who is who making the registration process even easier.
This is also essential for identifying if people are over 21 if there is alcohol served at the event, so you can eliminate the time your bartenders or servers have to use to check IDs.
Color coordination helps save time and your staff can identify certain age groups and occupations without having to ask every time which can speed up lines and prevent confusion.
Plus, it looks more exciting!


Your tickets can help make memories
Creating durable and interesting admissions material can help not only make your life easier, but lasting mementos of the event that attendees can keep for years to come.
Wristbands and passes can be kept in memory boxes and scrapbooks that guests can save and will appreciate.
If you make the admission material really stand out with a great design and colors, attendees will remember it for years to come and be even more compelled to save it, which helps your event stand out and may promote it in the future.
Keychain and tag passes: works for admissions, booths and vendors
Creating either key chain or small ticket passes for food, tickets, activities and other optional features at an event allows for quick and easy identification and helps both the vendors and the attendee get what they need without delays.
This is a great product to have at the admissions gate and other booths and vendors.
An example would be implementing a quick-scan program, where your guest can load money onto a small card attached to their key-chain that can be scanned at different booths and vendors as a form of payment.
This way they don't have to worry about having their wallet or fussing with cash, because they have easy access to money and a quick-scan process to keep the lines moving.
Use these fun and useful ideas to help your event stand out and better organize the event admissions process.
Check out Express Event Printing
A service that is able to bring concepts to life to
help designs become a reality at events.