Evensi vs. Eventful Event Promotion Services Comparison
With so many ways to promote your event, it helps to know about the different event promotion services available. Eventful and Evensi are just two of the different ones that can be used.
Evensi has a large reach due to the diverse marketplace it serves. It helps make sure that your event information is in professional hands and reaches the right audience. The company uses AI technology to help promote events along with other cool features we will mention below.
Eventful helps users find any upcoming events near them, or users can register and post their own event. The platform is easy to use, and it's a free service. Over 21 million people rely on the service to help figure out what is happening and what to do. It has one of the most comprehensive selections of local events out there.
---



Pricing Plans
Eventful
One of the biggest draws for Eventful is that it's a free platform. Whether you're an individual looking for events or a larger organization hoping to post your own event, it's free to use. It's easy to sign up and all you have to do is fill out a short form.
However, to extend your reach, Eventful gives you the option to upgrade your account to extend the reach of your event.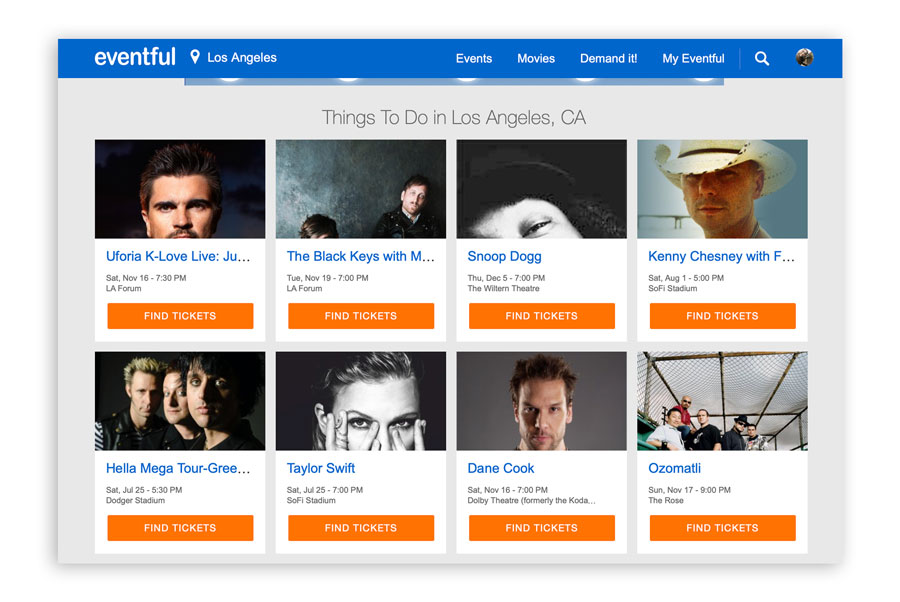 How can I upgrade my Eventful account?
This is a direct quote from the Eventful FAQ section
"Promoting your events through Eventful is a great way to get awareness of your event to a local market. There are two options to do it."
"Online: If you upgrade your event onsite, your event will live in a featured spot on Eventful.com for the week that you choose. (Monday - Sunday) Promoting this way, your event will have multiple exposures from the people that use Eventful in your area."
"E-mail: Upgrading in this fashion will guarantee premier placement of your event listing in our weekly e-mailer. It has an unheard of open rate among active event goers. The email only runs once per week, but those that read it are genuinely looking for activities to attend."
"Either option is great for event promotions. The decision just depends on how active you think your target audience is online. Although, there's nothing to stop you from promoting your event both ways."
"Once you add your event, you will see a "Promote Event" button. This will show you all the pricing for your region and you can just follow the instructions to complete the upgrade! It's really easy to do and will take you through the whole process. Cost and size of audience depends on location, so please follow the prompts to get information specific to your event!"
Evensi
There are different pricing plans for Evensi. No matter what plan you choose, every option includes interest-based matching, geo-targeting, email invitations, in-depth reporting, and AI analysis and learning.


Starter plan:
2 events per month
$69/month


Plus plan:
4 events per month
$119 a month


Business plan:
Frequent event planners
Up to 8 events per month
$199 per month
Unused credits transfer to the next month and you are able to upgrade and downgrade anytime between the different plans. Plans will range in different advertising channels. You can promote your event on just the Evensi network for much cheaper or you could add in Facebook and Messenger ads and Instagram ads.
To test out the different pricing plans you can generate based on your event, I created a test event. Below are the different plan options they generated for me. I also had the option to build my plan from scratch.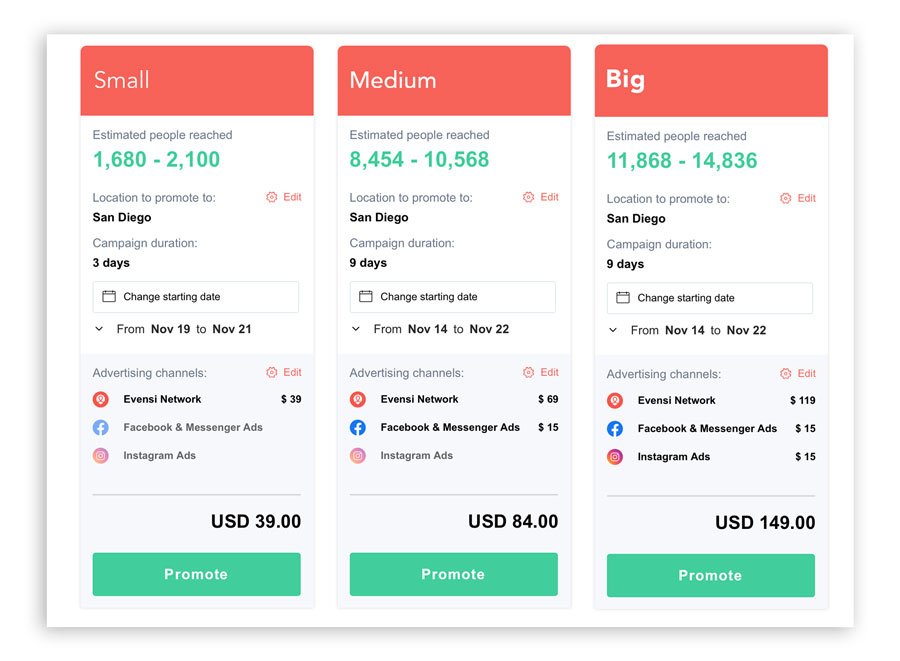 Each plan size (small to large) told me the following:
Estimated reach
Advertising channels it is promoted on
Price of promotion

Although Evensi comes with a price tag, it's followed by some cool perks! All you do is choose a plan that works for you, let them do the work and track the progress!
---



The Process of Creating an Event
In order to promote an event, you need to be registered for both services. The more information you add about your event, the more helpful it will be to those that view it. If you don't see your venue in the drop-down menu, you may be suggestedto add the venue. After you have finished, you can upgrade the event to help it get better placement in the local community. That's the basics.
Evensi
With Evensi, you enter your event information. Fill out the form and then choose where you want to drive your audience, whether it's an event on the website, the ticketing company, or a social media platform.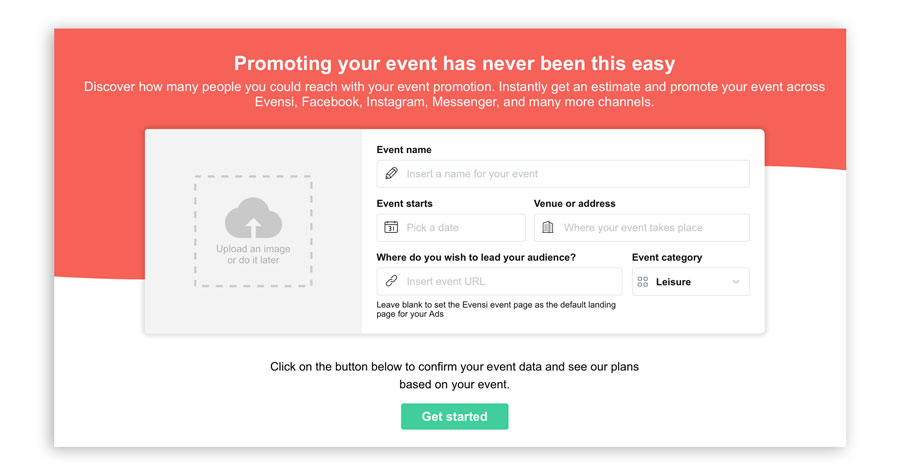 Once you confirm the details, you then choose a plan based on your goals. You can choose between three plans that are chosen for your event or create your own promotion by clicking on the gear icon.

After you promote your event, you can sit back and track the progress. If you need to add more information, you can do so and then use the analytics and reporting to get more information about the progress. You can start by creating an event or by importing your events from your ticketing platform.
Eventful
Eventful is just as simple. On the homepage you will find a + icon next to "Add Event" in the right hand-corner.

On your creation dashboard, simply enter the required information on a super short form and click submit!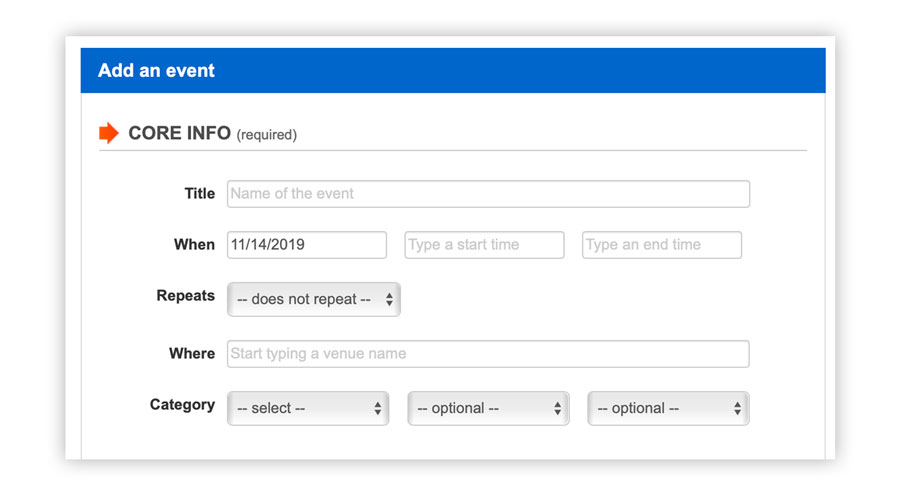 ---


Searching for Events
Eventful
Searching for an event on Eventful is as easy as you thought. You just type in your city and filter categories by events, movies, festivals, family, nightlife, and more. They also offer the ability to search for movies based off your area of interest.
The "Demand It!" feature lets you demand that your favorite performers come to your town. I'm assuming the more votes or "Demands" that an artist gets, the more likely they will come to your area. Another cool feature that is unique to their software for people searching for events.

Evensi
When searching for an event on Evensi, just find your target city and begin searching. Choose the radius and the categories, such as music, culture, business, sports, food, leisure, or nightlife. They also recommend trending cities for events and popular venues.
Both are simple, user-friendly platforms.
---


Login and Dashboard
Eventful
With the Eventful performer dashboard, you can send messages to fans, add events, and get your stats. In the user dashboard, you can get alerts when your favorite artists come to town and exclusive access to early concert presales and more.
Their unique tracker tool lets you build a profile to find events of interest in your area. You can add your favorite performers, sports team, venues, theaters, and select different categories. This is beneficial to people searching for events, not so much the event planners.
Evensi
The dashboard is also easy for Evensi and users can find the events they promoted, along with the "View Report" button for analytics. Their event stats for tracking purposes is a little more extensive and useful than Eventful.
---


Audience Reach
Eventful
Over 21 million people rely on Eventful for information about what is going on. Over 500,0000 comedians, filmmakers, and musicians use the unique social media platform to influence content of events and to determine where to appear based on where fans are interested.
Evensi
Evensi has over 40 million people using it to find events yearly, with 120 million events published on the platform. There are over 10 million event organizers and 250 million people that have attended Evensievents.
---


Purplepass Integration Options
Eventful
Any event posted on Purplepass is automatically syndicated and published across different internet platforms, including Eventful. Meaning, you don't have to worry about posting your event on their software, because we do it for you if you post an event through Purplepass.
---
Who is the Winner?
So who wins the battle? While both services give you the ability to post and promote your event online, there is one that stands out more for us. Evensi!! Eventful is a great service to post your event to, however, Evensi is just a little more robust for extending the reach your event might need.
Their software is more customized with the event promoters in mind. With event importation tools, social advertising options, geo-targeting, behavior analysis, and more, you can see they really give you the tools you need to expand your event. Although it isn't a free service, it might be worth spending a little extra for a big ROI. Either way, you won't go wrong using either service!!
Thanks for reading! For more event marketing tips and promotion ideas, you can subscribe to our blog!