4 Benefits of Using Early Bird Discounts for Ticket Sales
An event that requires ticket sales to cover expenses and turn a profit is only successful if enough people attend, which is why there is so much focus on ticket selling strategies.
We've found many benefits to offering early bird ticket discounts at the beginning of your selling journey. These discounts are beneficial in 4 different ways for both the event organizers and the attendees using them.
So what do you need to know about early bird discounts?
Get advanced sales with discount codes
Purplepass makes it easy to create custom codes,
promos using IDs, expirations, etc.
What are early bird discounts?
Initial ticket sales are first offered for an attractive price when event organizers start off advertising an early bird discount.
This strategy is an effective way to create a buzz about the impending event early on so it will gain popularity and catch the attention of a wider audience over time.
For example, let's say I am promoting a concert where each adult ticket is $50 per person. However, in my advertisements, people that purchase their tickets within the first 2 weeks they go on sale will get half off on their ticket prices; so what originally was $50 will now be $25 if they purchase tickets early.
As an event promoter, It's hard to see how these type of discounts would benefit you, so keep reading and see how these special rates can pay off in the long run.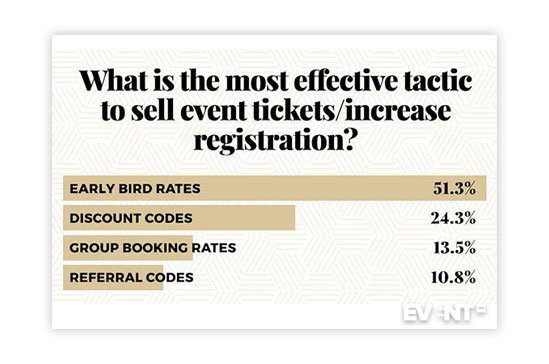 What are the 4 benefits to early bird discounts?
In general, you can expect to benefit from an early bird ticket discount in a few different ways. Keep in mind that these benefits will serve to propel your promotion efforts before, during, and after the event takes place.
Here are 4 ways in which you can expect to see improvements across the board when it comes to organizing an event and any events you host in the future.
1. Collecting data early on for marketing purposes
In the world of marketing, data is king. That is because you can't organize a productive, purposeful marketing campaign without a target audience and market place. Knowing your audience demographic, how and where they are finding tickets, age groups, etc. are all beneficial when marketing an event correctly.
Early bird discounts can give you a jump on data collection efforts by providing you with the information that these early buyers submit, as well as the analytics they generate while visiting your site or interacting with your connected platforms.


How: From one purchase, you can see early on how they are accessing your tickets, what is working and what isn't.
URLs, direct links, referrals, social media, you can see an early breakdown of where your target market is coming from and use that information to create a campaign that markets those areas.

Who: Are the people purchasing your tickets the age you expected?

Seeing a popular age group up front and who is purchasing tickets can direct your marketing to the right buyers in the very beginning.


What: If you have a variety of ticket types, what is the most popular choice? This will also give you an insight on what your attendees want and the popular choice to market.

2. Collecting buyer information for future offers
Collecting qualified leads through target audience information and data will help target current or future promotional efforts. You can collect the information directly from the ticketing site or through links posted to platforms and other internet based outlets.

You can also collect this information manually if there is a physical location or software where tickets are sold.
Your sponsors will also like this perk as it gives you more time to promote the event and highlight sponsors directly to these attendees.
3. Increase engagement and interest early
One of your primary focuses when starting your marketing campaign is creating interest in the event early on and making efforts to promote engagement.

According to learn.g2.com, a recent poll conducted by FreemanXP revealed that the majority of those participants cited promotions as one of their top obstacles when promoting an event.

Offering early bird discounts are a smart way to accomplish the promotion goals and encourage those participants to tell others.


"This is using the scarcity principle in relation to time and saving money. Many event marketers utilize this tactic with early bird pricing.

If you buy your ticket now, you'll save. And, if you know you are going to attend, why wait? No one wants to waste money!" (learn.g2.com).


The goal is to get your guests to buy tickets NOW, the earlier the better, because if they wait, other things might come up ultimatly delaying or stopping them from purchasing tickets. The trick is to use these discounts to encourage your audience to feel like they have to buy tickets now before the sale ends; bringing us to our next point.
4. Create a sense of urgency
If you can create a sense of urgency in those who are invested in purchasing tickets, you will have a greater chance of increasing ticket sales according to Search Engine Journal.

Early bird discounts are only available for a limited time or for a limited number of tickets.
People who know that they want to attend will develop a strong desire to purchase tickets for a lower price before time is up or the available tickets sell out.

Once early bird ticket sales are offered, it will encourage those buyers to spread the word about the event to family and friends in a hurry which boosts future ticket purchases.
If you haven't considered early bird ticket discounts for your event, perhaps you should give it a try and see how the results can benefit your marketing strategy.

The faster you generate interest and sales, the more effective your overall efforts will be. For more information about effective ticket selling strategies, subscribe to our blog below.