Top Social Media Platforms that Support Nonprofit Fundraising
We don't give social media the credit it deserves. Face facts. Social media has more than 3 billion active users, 90% retail brands and 80% small businesses use social media.
Not only are these platforms great for social sharing and connecting with an online community. But the number of people you can reach right from your home is remarkable. Not to mention, if you're looking for low cost fundraising ideas, social media may be the answer.
Business and nonprofits need to take advantage of social media's power to connect with others around the world during the COVID-19 pandemic.
Create a donation page using Purplepass
You don't just have to sell tickets. Turn your event
page into a hub for collecting donations.
Nonprofits rely on their donors.
However, they are currently limited to the type of fundraising and community events they can host for gaining further support and resources. What about online fundraising?
Here are some tips on how to make a successful nonprofit organization using social media for collecting donations.

Instagram - 1 billion users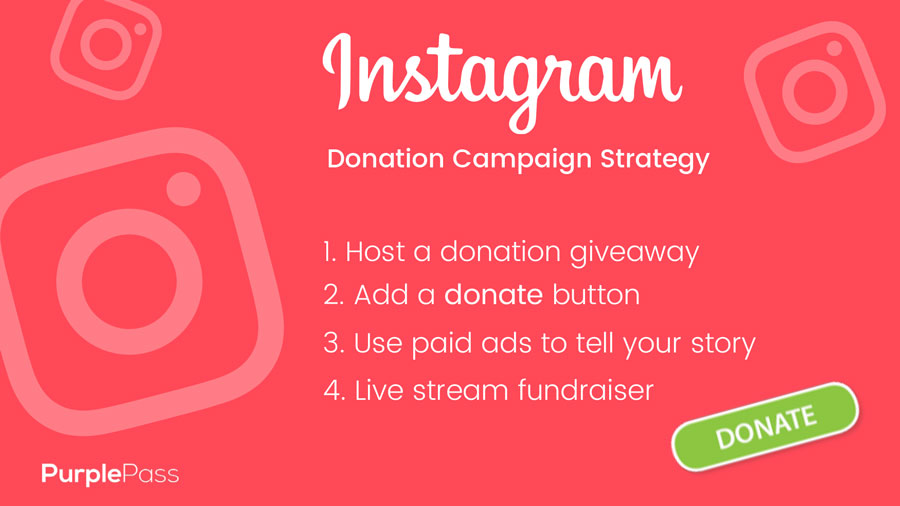 Add a donate button to your bio
Why make donating complicated for your followers? Instead, include a donation button directly in your IG bio.
Start by going to your IG account
Click "Edit Profile"
Scroll down to "Action Buttons"
Click "Donate"
Add your Facebook Fundraising Link (you'll learn more about this when we talk about Facebook)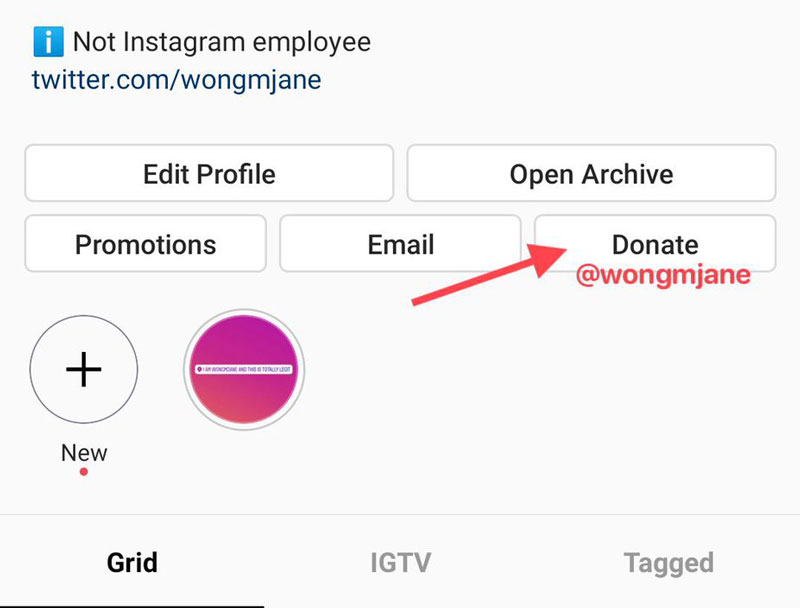 Once set up, you can direct any follower that wants to donate to your bio for a quick contribution.
We love giveaways!
Giveaways are just what they sound like. You're hosting a competition and the winner will receive whatever you are giving away.


Merchandise giveaway:
Have any branded merchandise?
Ask guests to like, share, comment, etc. your social post or "Give" campaign. Depending on how you select the winner (whoever has the most shares, highest donations, etc.), they can win a branded t-shirt, bag, cup, etc.
What do you win? Free exposure to your campaign!


Awareness boost giveaway:
If you need help spreading the word, do an awareness giveaway campaign. Ask your followers to help by sharing your "Give" campaign.
Whoever shares or tags the most friends receives merchandise, a shoutout, etc.
Live story fundraiser
The Instagram live story feature recently added a fundraiser tool for nonprofits. Here's how it works:


Log in to Instagram
When on the main page with other peoples' feeds, swipe left
Located at the bottom of the new page, you'll see the live option
Once on the live page, select "Fundraiser" on the left with the heart icon
Search for the nonprofit you want to donate to
All nonprofits will receive 100% of the money raised during the stream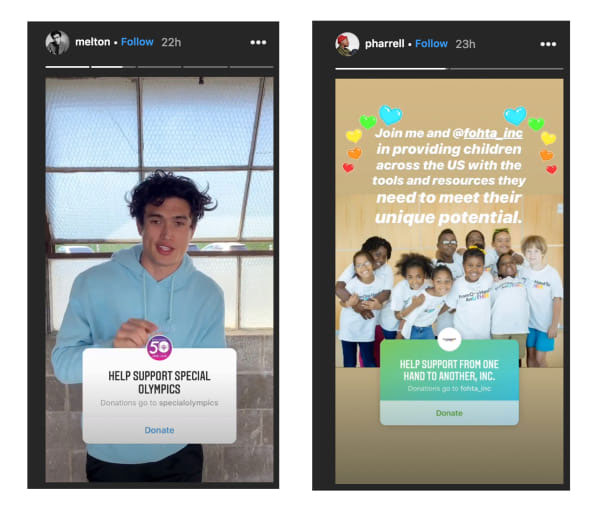 Paid ads
Story ads
Photo ads
Video ads
Carousel ads
Collection ads
Explore
Whatever ad route you take, IG ads are a great way to extend your reach and meet your campaign goals. Plus, you can create your ads from within the app.
Tell your story through videos, a series of photos, include an easy donation button and build your targeted audience list.
Facebook - 2.45 billion users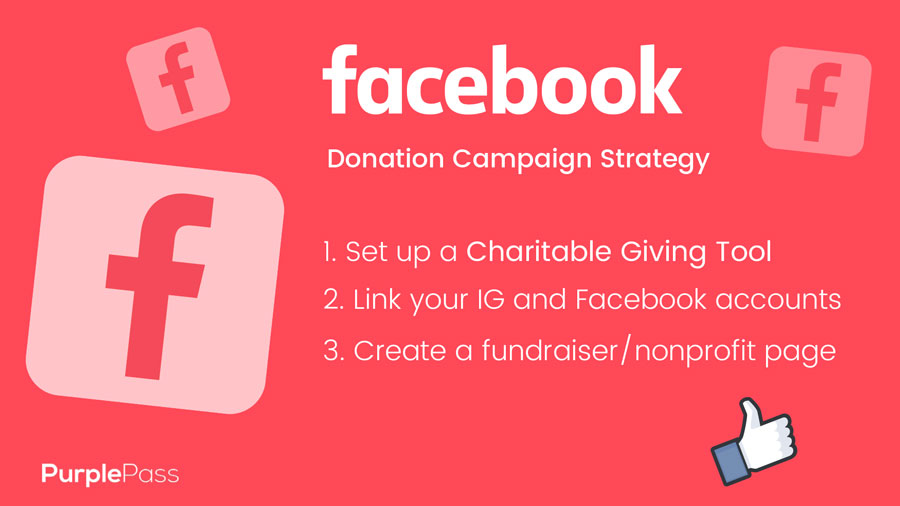 Set up a Charitable Giving Tool on Facebook
Facebook has built a tool that makes collecting donations and raising awareness super simple for you and the community. 100% of the donations collected go to the nonprofit.


To get a charitable tool for your nonprofit on Facebook, follow these steps:
Sign up to accept donations on Facebook - you need an organization page categorized as a nonprofit.
On a desktop, log into Facebook and click "Publishing Tools" in the top menu of your Page
Click "Donation Settings" under "Fundraisers"
Check the box next to "Allow people to create fundraisers"
Check the box next to "Allow people to add donate buttons" next to their posts
Click Save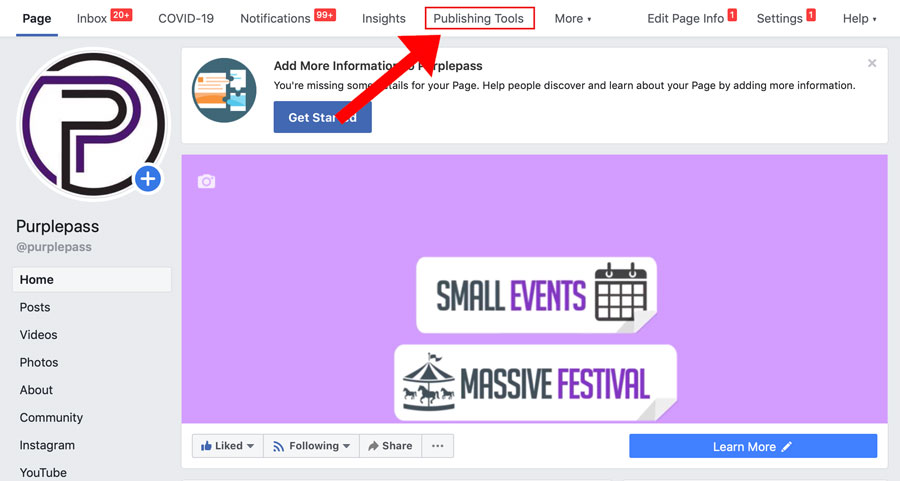 Once set up, you can add a donate button, page fundraisers, stickers, stream videos, and more.


Make sure you're linked to Instagram
In a lot of ways, Facebook and Instagram work together whether it's posting live stories or promoting ad campaigns. They need to be linked in order to reap the benefits.


To link your Instagram and Facebook accounts and share posts directly from each platform:
Go to your Instagram profile and tap on the three bars in the right-hand corner
Tap "Settings"
Tap "Account", then tap "Linked Accounts"
Tap Facebook and enter your Facebook login info.


Once you link accounts, you'll have the option to share a post to Facebook from the same screen where you add a caption. You can also share from Instagram to a Facebook Page you manage.
YouTube - 1.9 billion users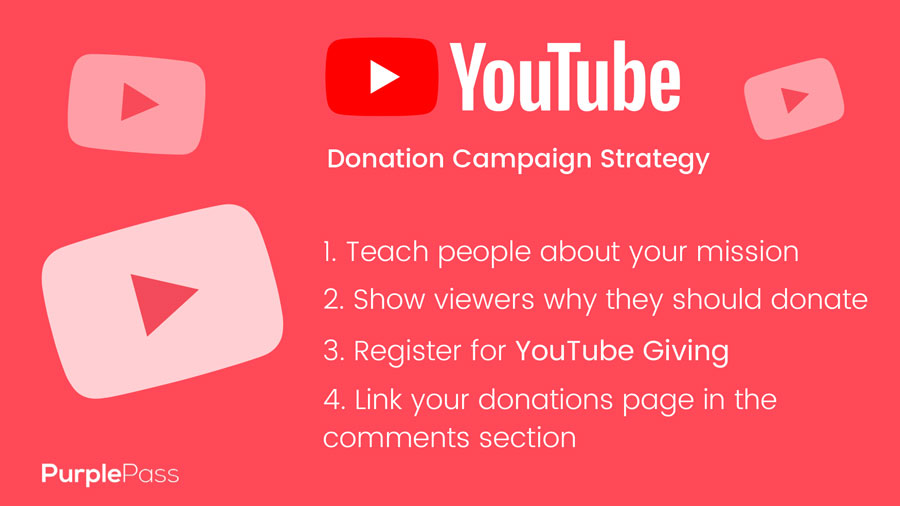 Teach people about your cause
Help people understand what your organization supports and why it's important.
Why do most people head to YouTube?
To seek out help, learn, find tutorials, and meet someone to guide them through a process. Become that guide they are looking for. Putting out informative videos, answering questions and providing insight is a great way to publicize your nonprofit
.
73% of adults in the U.S use YouTube
70% users are further engaged with creators and their channels


More stats on YouTube:
62% of YouTube users are Males.
78% of US men adults use YouTube.
68% of US women adults use YouTube.
81% of 15–25 year-olds in the US use YouTube.
More than 15% of YouTube's site traffic comes from the U.S.
80% of YouTube users come from outside the US.
Stat by focusing on growing your brands awareness and cause. At the end of each video, ask for a small donation and include a link in the comments section below.
See if you qualify for YouTube Giving
If you're a YouTube creator with a large following, you can support a charity by adding a donate button directly into your video streams or video chats. Viewers can then donate directly on the video page or in your chat.


To be eligible to fundraise with YouTube Giving, your channel has to meet the following requirements:
Channel is located in United States, United Kingdom, or Canada
Channel has at least 100k subscribers
Channel is a part of the YouTube Partner Program
Channel is NOT designated as made for kids


Note: You may see fundraising on some channels outside the above eligibility criteria. Facebook plans to make YouTube Giving more broadly available in the future. If eligible, you can create your own fundraisers or join existing ones.
Linkedin - 660 million users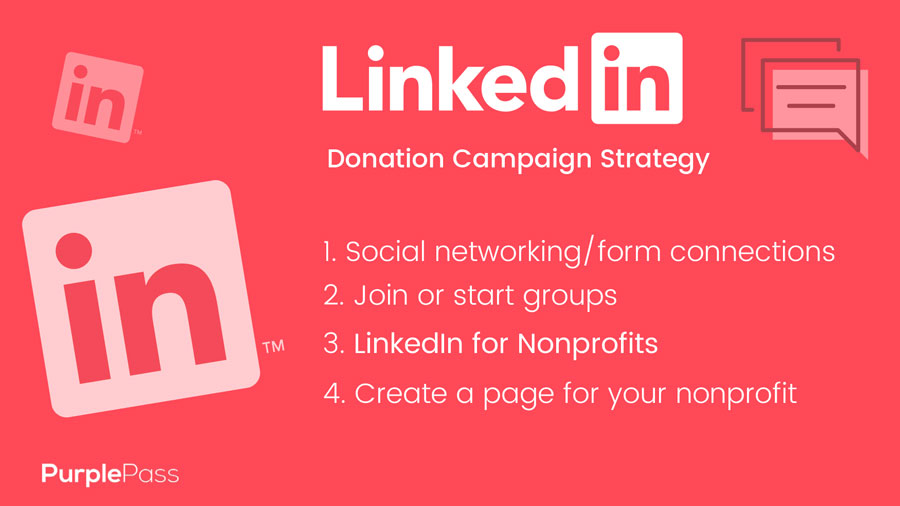 Linkedin is definitely underrated and overlooked by a lot of businesses, especially nonprofits.
With 660 million plus users being business owners, entrepreneurs, nonprofits, freelancers, etc. there are practically limitless possibilities for social networking.
Connect with other organizations
Create a strong fundraising campaign by partnering with even stronger brands. Join groups, send direct messages and network with businesses that might be willing to sponsor your cause.
LinkedIn for Nonprofits
Make finding connections easier with LinkedIns nonprofit tools. Use this platform to market, fundraise, and even hire talent with nonprofit experience.
With 12+ million professional nonprofits on the platform using these tools and roughly $185 million in donations to nonprofits, this might be just what you need. LinkedIn's Sales Navigator helps nonprofits find relationships with volunteers, colleagues, board members to identify connections and funding opportunities.
Create a fundraising page
Creating a LinkedIn page takes just a few minutes. Pages are used to showcase your company, nonprofit, fundraising goals, etc.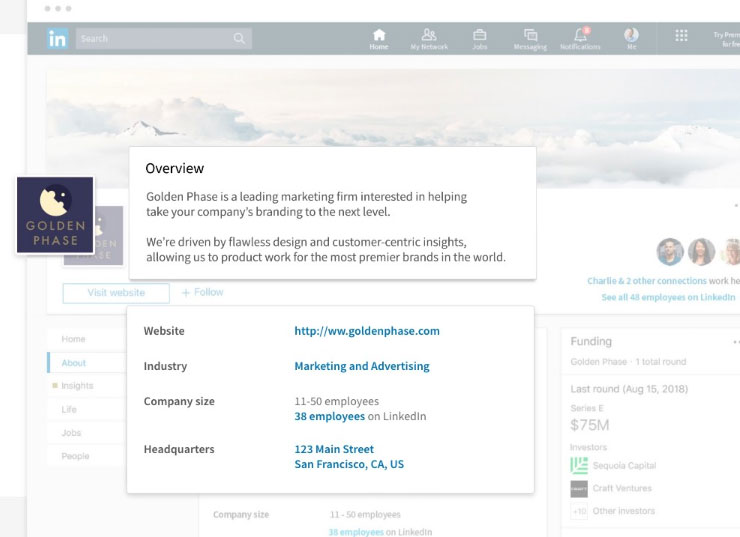 Get full analytics and reports of visitors and their activity. Include hashtags, upcoming events, information about your nonprofit, direct links, buttons, an about page, etc.
Frequently uploading new posts and sharing is a great way to start building follower engagement. If you want to create your Linkedin nonprofit page, start here.
---
Create a donation page using Purplepass
Log in to your Purplepass promoter dashboard


Select "Create New Event" in the navigation bar or edit an existing event to add a donation option


Locate the "Ticket Pricing and Options" section


Go to your ticket types and/or add a new ticket type by clicking the green + icon


From the drop-down menu, select Donations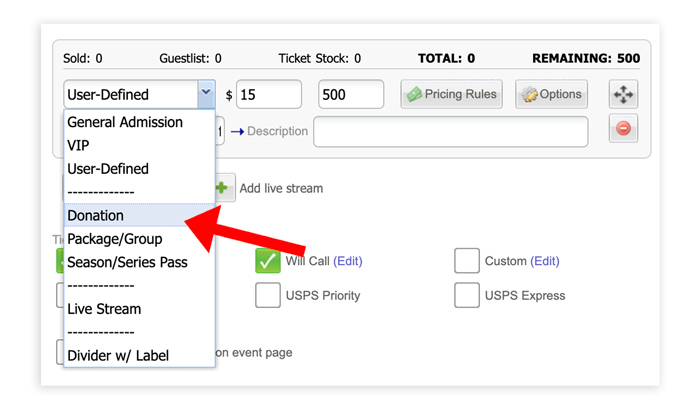 Note: Here is where you can set the minimum donation amount. Set it to $0 if you are accepting any donation amount. You can also include a name and description where you can add more information about your cause or perks donors might receive.