11 Tech Software Platforms for Increasing Virtual Event Engagement
Looking for ways to boost your overall engagement for online events? This list comprises the top tech tools for not only boosting virtual interactions, but building valuable content, presentations, gamification software and more!
Live stream tickets and widget
Keep the streaming experience on your
website with Purplepass' live stream widget.

1. EventMobi - Gamification for a memorable event experience
Gamification includes playing games that encourage competition with point scoring and rules for game play. This is typically used for online marketing or for boosting engagement for a specific product or event.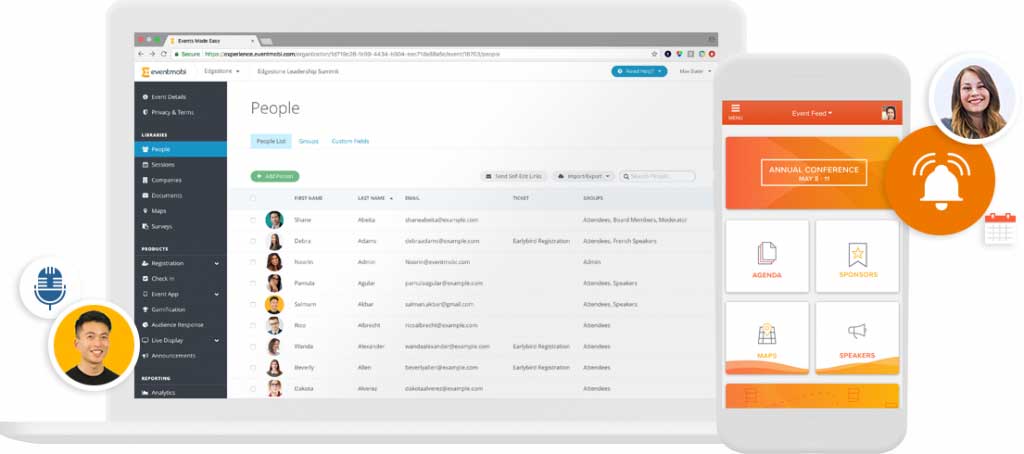 EventMobi's software engages your audience online through games and friendly challenges among participants and even the host. Gamification is used to create a memorable, fun environment that rewards interactive behavior.
With EventMobi, promoters can create custom games, set objectives, goals, and induce friendly competition.
EventMobi also offers:
Mobile support

Live displays and leaderboards

Game concept creation and other elements needed

On-site support during the event

Different objective-based game type (networking, check-in, driving traffic, sponsors, etc.)
EventMobi pricing:
The platform offers customized packages. You can submit a demo or pricing request here.
2. Zoom - Individual breakout sessions for large groups
Promoters love breakout rooms, especially if their event comprises a larger group or an audience that requires separate sessions and small groups (education, training, workshops, etc.).
Zoom is a highly reputable software and potentially a great option for breakout sessions.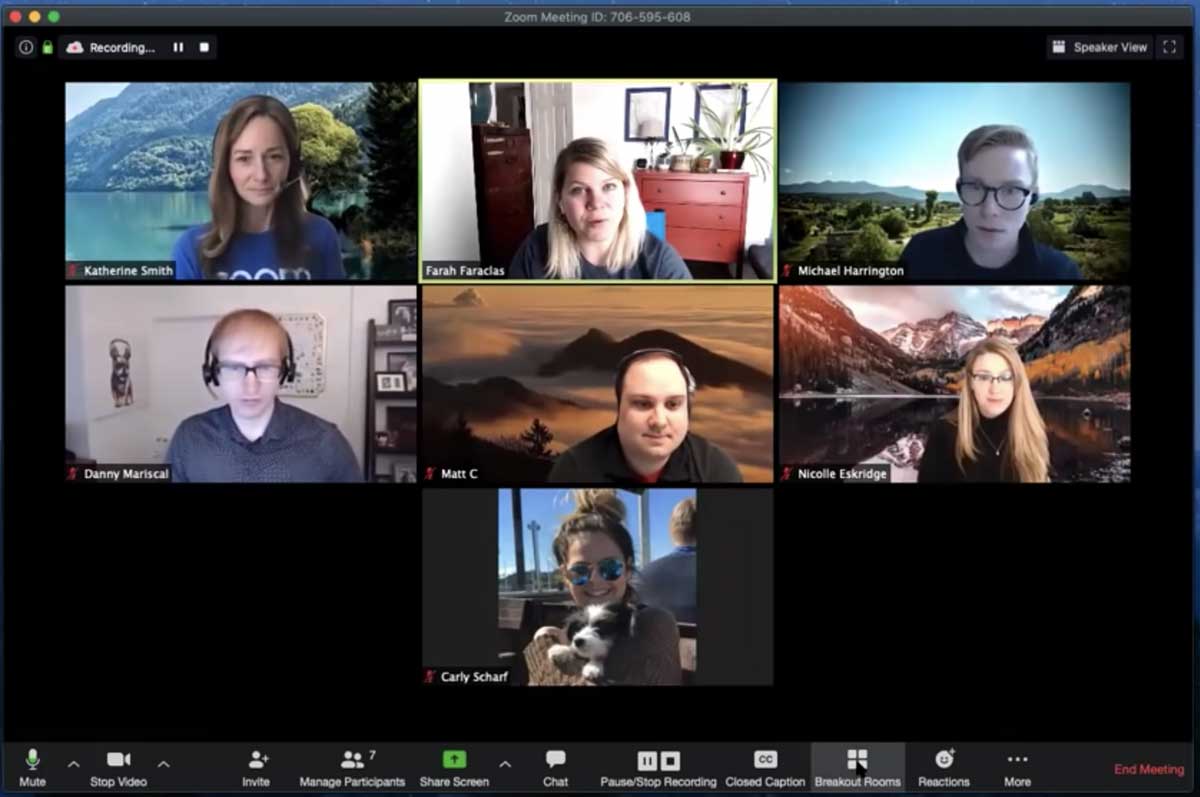 Zoom breakout features:
Up to 50 separate sessions

Create separate sessions automatically or manually

Ability for host to switch between sessions

Pre-assign breakout rooms
Zoom pricing:
Basic - Free (up to 100 participants, group meetings for 40 minutes, unlimited 1-1 meetings)
Pro - $149.90/year (up to 1,000 participants, group meetings up to 30 hours, social media streaming, 1 GB cloud recording)
Business - $199.90/year (recording transcripts, managed domains, company branding, all features included in Pro)
Learn more about additional plans and add-ons here.

3. YouTube and Google - Virtual chat rooms
Give guests the ability to go beyond just looking at a screen and promote discussions with chat rooms. Google's YouTube Live gives promoters the ability to stream, schedule and manage live events on the platform.
Now, with Google Hangouts On Air, there is a live chat feature available for presentations and streams.

Using live chat rooms on YouTube
Presenters and hosts can enable the Q&A tool to allow Google+ members the ability to ask questions during the event. Promoters can add graphics and effects to customize the experience.
To get started, read our beginner's guide for using YouTube Live to stream events here.
4. MeetingPlay Studio - Quality presentations and content
MeetingPlay Studio was designed to make virtual events resemble face-to-face, in-person meetings. Create an enriched meeting experience with effective presentation slides and branded content for viewing.
Change presentation backgrounds, add custom branding, and images to match your online meeting.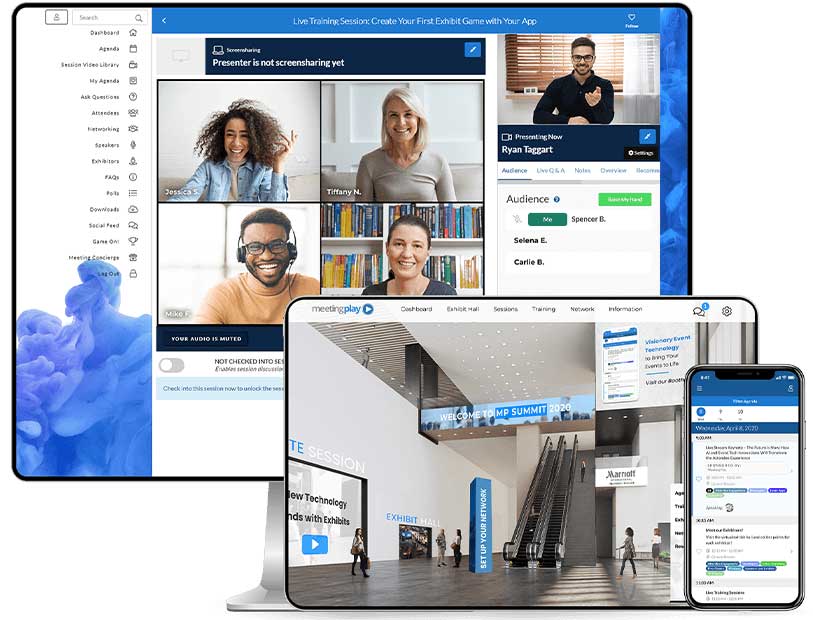 Other features offered by MeetingPlay:
Ability to broadcast video streaming
Stream live or record content for later
Video production tools
Robust panel discussion support
Custom presentation builder
For custom pricing, request a demo here.
5. Slido - Live polling and survey tool
Want to collect feedback or keep participants engaged during their experience? Slido offers interactive presentations and live polling options that require no downloads.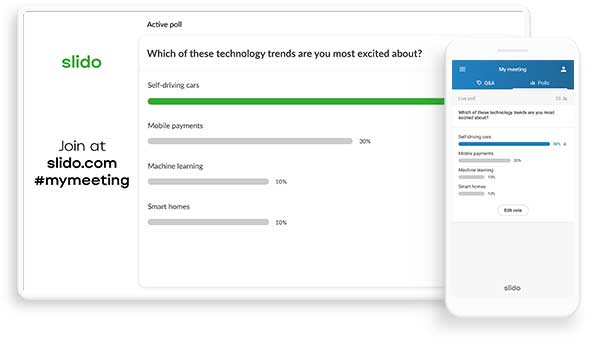 Poll types include multiple choice, quizzes, open text, rankings and more. Promoters will receive real-time results, with analytic reports and the ability to export your results.
Slido pricing:
Basic - Free (up to 100 participants, unlimited audience Q&A, 3 polls per event)
Engage - $12/month (up to 200 participants, unlimited polls and quizzes, privacy options, data exports)
Professional - $60/month (2 users, up to 1000 participants, moderation of questions, branding, privacy options, team collaborations)
Enterprise - $200/month (3 users, up to 5000 participants, professional onboarding, SSO for users and participants, user provisioning)
6. Purplepass - Audience engagement behind the scenes
Engagement starts before and even after your event. With Purplepass, the event management software makes it easy to interact with your guests throughout the event experience, beginning, middle and end.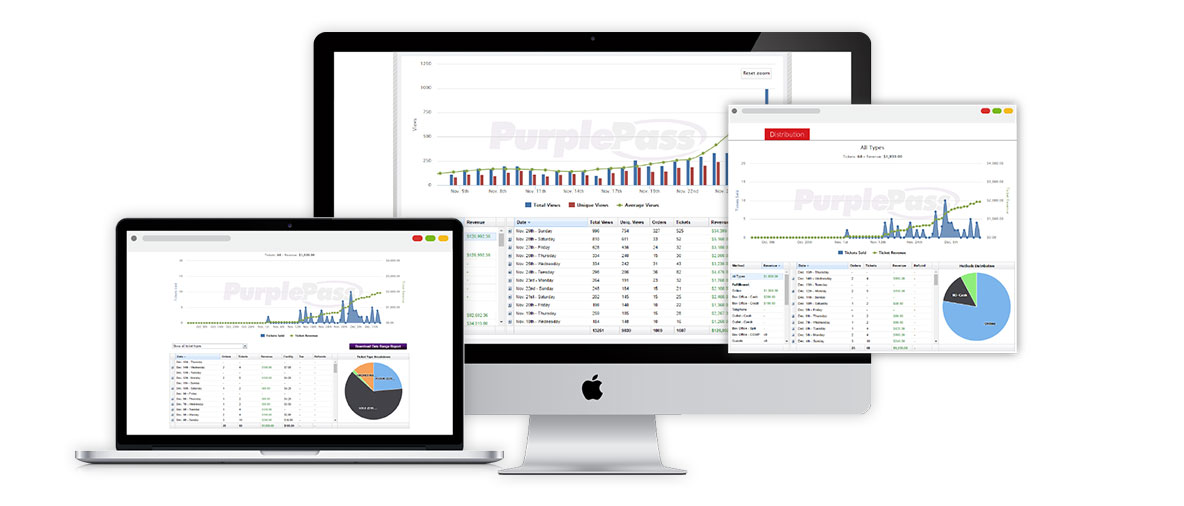 Features include:
Real-time reports and stats
Extensive reports for exporting
Multiple users - Partner Access
Virtual tickets and live widget for streaming
Virtual box office and registration
Marketing support
Ticket widgets for sales on your website
Social media integrations
Mass email integrations
WordPress ticket and event calendar plugin
Custom ticketing (multi-day, recurring events, season passes, etc.)
Click here to view pricing options.
Extensive reports for all events
Monitor real-time stats, guest lists,
coupon codes, tracking links and more!
7. Crowdpurr - Trivia, game shows and virtual contests
Crowdpurr is an audience engagement platform designed to create interactive experiences for live events. The software offers interactive polls, crowd photo walls, live trivia games, real-time leadership boards, and more!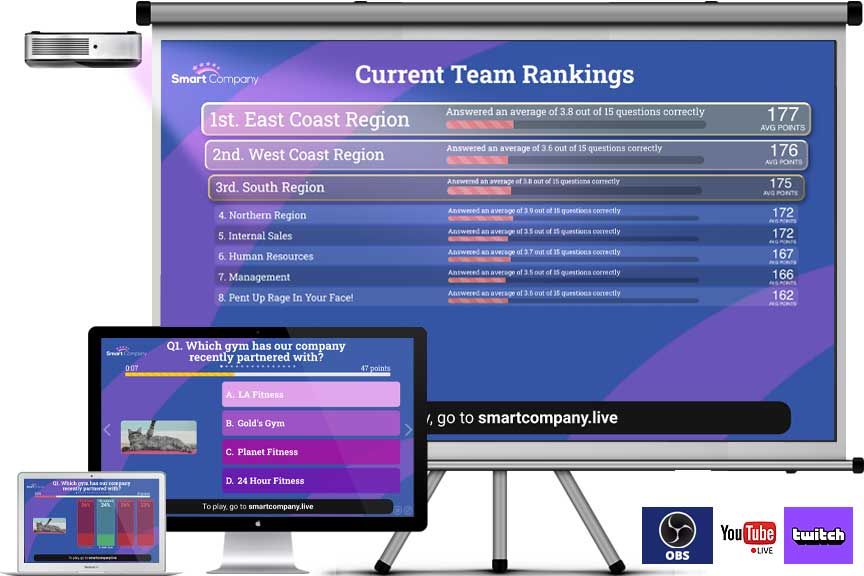 Their live crowd trivia feature lets promoters play with multiple teams to create an interactive environment online. During the event, they can display player rankings in actual time, with customizable backgrounds, colors, chart styes, etc.
Other fun options:
Real-time responses
URLS for joining - easy to access
Mobile support and cross-device
Multi-language options
Live results
Crowdpurr pricing:
Basic plan - Free
Classroom plan - $49.99/month
Seminar plan - $149.99/month
Conference plan - $249.99/month
Convention plan - $499.99/month

Crowdpurr custom - contact for a price
8. Vevox - Live questions and answers tool
Need a platform for conducting a Q&A?
Vevox is the perfect software for effective question-and-answer seminars or events online. Their settings allow for optional anonymity and moderation depending on the privacy of the feedback.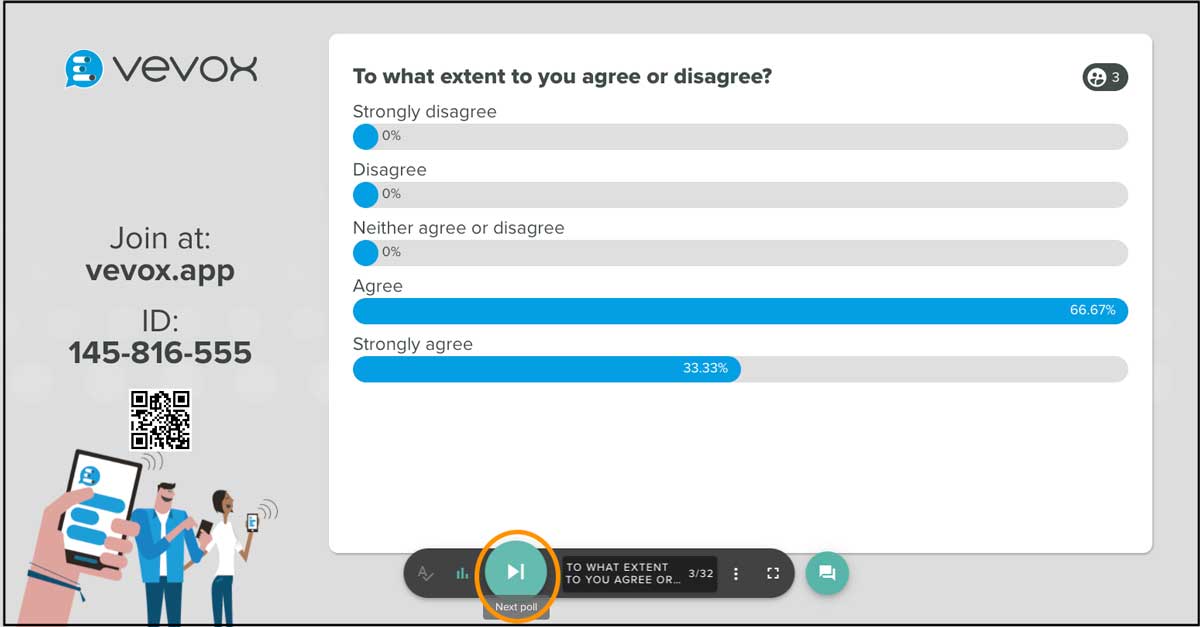 Participants can submit questions, comments, vote on other submissions, all without interruption for a smooth event.


Other features for Q&A includes:
Ability to "Like" other questions or comments

Displaying popular questions first

Reviewing questions before publishing

Control settings
Vevox pricing:
They separate pricing plans into three subjects; business, education and single events. Find your category and pricing options here.
9. Evenium - Networking between participants
Evenium encourages interactive networking between virtual event participants. This includes customized profiles for each participant with the ability to search for other guests prior to the event.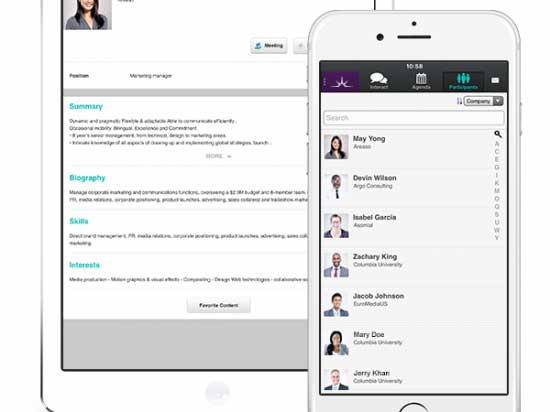 Evenium will create your event website, send invitations, manage registration, plus users will get access to their event app.
Products include:
Invitations and registration
On-site check-in
Event app
Virtual event platform
Evenium pricing:
Management platform - $1/ticket sold
Virtual & hybrid platform - $400/month (up to 200 participants, unlimited number of meetings, email support)
Premium - $800/month (up to 1000 participants, unlimited number of meetings, email and phone support)


10. ThoughtExchange - Analysis tool and community insights
ThoughtExchange is a network visualization tool, essentially. Their software shows promoters what is happening at their events through a virtual exchange of thoughts and discussions.
Their analysis tools uncover areas of disagreement and common ground in real-time; thus giving users an extremely deep insight into their audience. Catch on to common trends and themes to uncover what is most important, with manual tools to help you organize thoughts into understandable content.
ThoughExchange pricing:
Book a pricing call to receive a custom quote.
11. Ombea - Live feedback during events
Ombea is perfect for users looking for an audience response system that shows real-time feedback from their guests during an event or presentation.
Use the software for voting, assessments and engagement with different question types you can use (multi-choice, priority questions, comparison, etc.).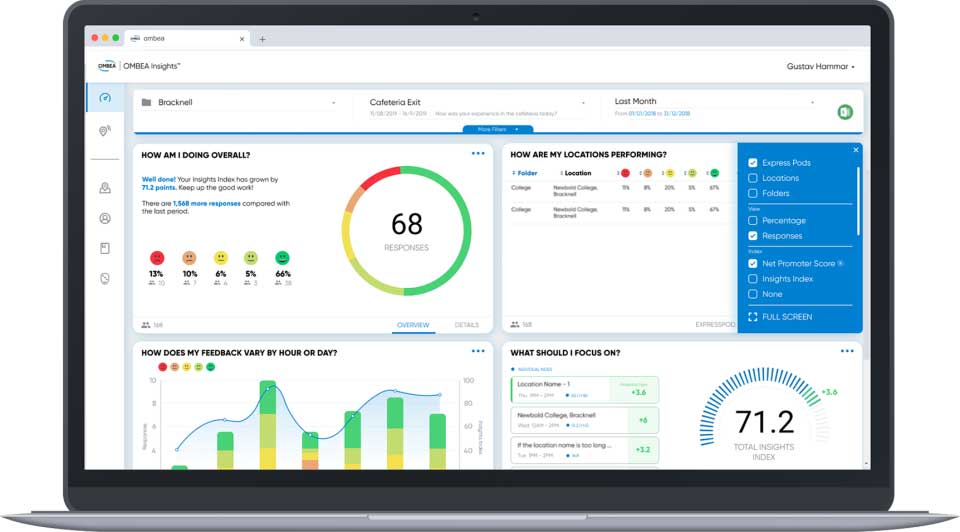 Other Ombea features include:
Analytic tools and response data
Group analysis features
Competition add-on options
Group consensus and comparisons
Personalized overviews for presenters and students
Ombea pricing:
Core - $35/month (all the basics)
Professional - contact sales (excel export, real-time alerts, automatic email reports)
Enterprise - contact sales (includes API)


To receive a custom pricing plan, request a free demo here.
Request your free venue seating map
We build an unlimited amount of maps for
promoters...for free! Request one below!