10 Quick Ways to Market A Food Festival
Hosting a food festival is a fantastic way to bring locals, food enthusiasts, and even food entrepreneurs together to enjoy delicious appetizers and impressive meals.
Whether you plan to host a food festival to celebrate a particular season or if you simply want to bring those in your area together, there are a few tips to keep in mind to help with marketing your food festival along the way.
1. Who is Your Audience?
Before you can begin planning your next food festival, consider who will be attending and do some target market research.
Is this a local or widespread event?
Is this a family friendly event? Children?
How many vendors are working the event?
Estimated number of attendees?
Demographics? Female, male, families, active duty, seniors, students, etc.
2. Market to Local Foodies in Your Area
Use genuine, high-quality photos of some of the food and drinks you will be offering from vendors to market your food festival to foodies in the area. High-quality photos go a long way, especially when it comes to foods and beverages.
If you want a high turnout, and you want to appeal to those who take food seriously in your area, you can begin by collecting high-quality photos of vendor food directly from vendors themselves or by taking your own professional photographs.
3. Use Local Advertising Avenues
Depending on where you are hosting your food festival, explore various local advertising avenues to help with spreading the word about your event. Contact your local newspaper regarding print advertisements, sponsorships, and promotional spaces that are currently available. Use digital calendars on social media platforms along with social media event pages to promote your food festival months and weeks prior to the actual event itself.
Work with local business owners to help you spread the word about your upcoming food festival in exchange for exclusive discounted tickets or food and drink vouchers. Update your social media pages regularly to generate buzz surrounding your event and to avoid being blacklisted or automatically delisted by various invisible algorithms that are often enabled when a user or a page becomes inactive over a period of time.
4. Use Social Media
One of the best ways to market any type of event today, including a food festival, is to use social media. Create a social media page for your local food festival on popular networks such as Facebook, Instagram, and Pinterest.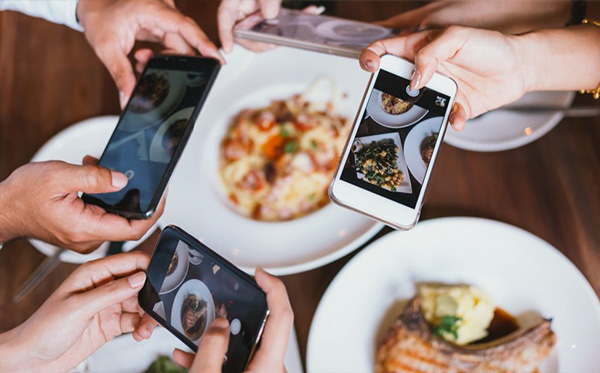 Choosing networks that are relevant to foodies can help with attracting the right audience. You can also use video social networks such as TikTok and YouTube to help spread the word about your festival by highlighting the vendors, foods, beverages, and forms of entertainment that will be available throughout the event.
Social media platforms, when used correctly, also provide opportunities to use hashtags and popular phrases to spread the word about your festival to relevant users in less time.
5. Launch an Official Website and/or Registration Page
Creating and launching an official website and registration page for your food festival is highly recommended if you want to maximize your reach when it comes to attendees, both online and off. An official website can help those who are interested in learning more about your event to do so without hassle, especially if the website's domain name aligns with the food festival event name you have chosen.
Using an online registration page also streamlines the process of marketing, selling, and managing ticket sales. With an online registration, sell tickets with discount codes and provide users with an overview of ticket types, seating options (for various shows or forms of entertainment available), and pricing.
6. Market Your Vendors
Working together with vendors who are attending or sponsoring your food festival is often the key to a truly successful foodie event. Connect with the vendors who are helping to support your food festival by providing them with marketing materials they can use to help spread the word about the event.
Share videos, images, and other relevant event materials that they can pass on or showcase to their own customers and clients to help sell tickets to the event. Ultimately, the more attendees your food festival receives, the higher profit margins all of your vendors will experience.
7. Place Flyers Around Town
One of the best guerilla marketing tactics that can be deployed locally is placing flyers around town, especially during the weeks leading up to your food festival event.
Place flyers near vendor locations that are attending your food festival to encourage patrons of individual locations to purchase tickets to your event as a sign of support. Work with local vendors to place flyers inside their place of business if they permit you to do so before the actual date of the festival arrives.
8. Advertise Your Event's Tickets
Promote your event's tickets both locally and online by working with local business owners and by developing an online presence with social media and an official website.
Market your event's tickets by offering discounts for those who are veterans or those serving as active duty military members. You can also consider offering discounts at your food festival for those attending in groups, senior citizens, or even those with student IDs

Providing coupon codes or exclusive discounts for online followers, subscribers, or even local business owners can also help to incentivize those in your local community to attend.
9. Promote Entertainment and Hosted Activities
Promote various activities and forms of entertainment you intend to include throughout your food festival. From eating contests to live entertainment such as singers, dancers, and performers, there are many different ways to go about spicing up a food festival while keeping your guests entertained.
10. Give People a Reason to Attend
What sets your food festival apart from the rest?
Why should locals in your area attend rather than find an alternative place to go?
Market your event as a once in a lifetime gathering, and one with unique vendors and creators that cannot be found anywhere else. Marketing your event to stand out is essential when hosting a food festival for the best turnout possible.
Launching and hosting a successful food festival does not require in-depth experience or years of working with events. Once you understand the purpose of the event and begin to work with vendors, you can host a food festival any time you wish, year-round. Knowing how to effectively and successfully market your food festival is a way to ensure your vendors succeed while ensuring that your guests enjoy themselves at all times.