How to Encourage Engagement at Your Next Conference
"Engaging people is about meeting their needs, not yours," was once said by Tony Robbins, and he was right.
Every event planner wants a successful event, memorable for years that created a space for their guests to interact and engage in.
With large events such as a conference, guest engagement can be a highly critical point for determining the success of your event.


Check registration off your list
Request a demo now to set up, create and start selling
tickets with Purplepass. An all-in-one event
management hub.

Robbins had a point when he said we need to not look at what we want the outcome to be rather focus on the needs of our guests and create a space for them that sets them up for the kind of engagement they want.
Consider the following information and work it into your next event strategy to make the most out of the night and pave the way for more successful conferences in the future.
Strategically design the space
Start by paying careful attention to how the space you are using is setup and designed to encourage an interactive floor plan.
A thoughtfully planned room could be the difference in an engaged event verses promoting cliques and groups cut off from each other.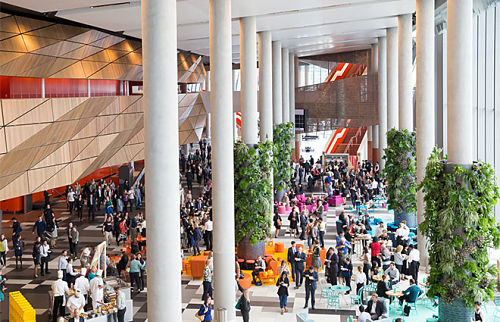 For example, you can position seating to allow the attendees to get a great view no matter where they sit when attending a show, speech, or workshop.
Designing open seating plans is the idea that you are eliminating any possibility of groups forming and inviting everyone to sit together, creating more chances of mingling and networking.
Interactive technology, displays, booths, group activities, there are so many ways you can design a friendly and inviting space for your guests.
For this type of space designing, I would recommend turning to an event interior designer to make sure you are optimizing the most out of your venue.
Larger events and conferences are often used for networking, so give your guests the opportunity to do that and set them up subconsciously.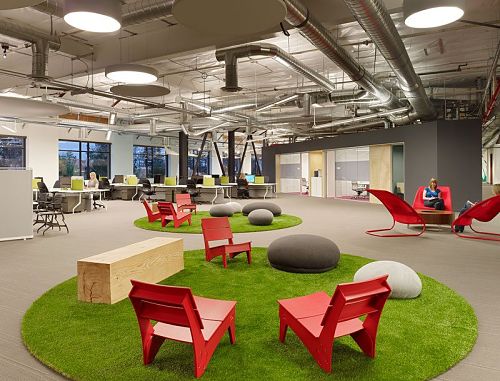 Feature fun technology and interactive displays
We touched base on this a little above, but let's address why this is an important element to have at your next event.
New and interactive technology has become a big draw at conferences of all types. Visitors and guests are more likely to engage with the interactive displays such as augmented reality product demos, then regular booths.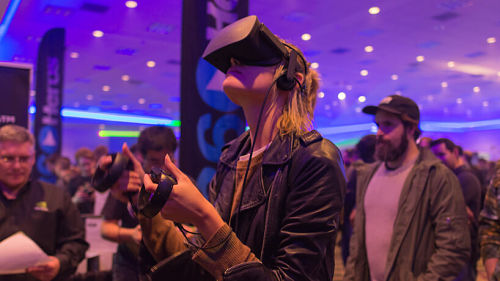 Everyday exciting new technology related developments are being created, with most being great for attracting interest to your brand and engaging potential markets.
For example, much like the familiar virtual reality, augmented reality relies on computer-generated images to enhance a viewer's experience.
Consider using this fun and interesting technology at your next function or event to create a memorable experience for your guests and a chance to escape from reality.


Here are some other new technology advancements that might be worth exploring:
- Virtual Reality
-Interactive pop-up booths
-Virtual Tours
-Interactive Traditional Ads
-Interactive Floor Displays
Schedule guest speakers and breakout sessions
Scheduling compelling breakout sessions or workshops is a great way to guarantee a boosted engagement rate.
Most people will gladly attend if the material presented can help give valuable information, techniques, or strategies they can apply in real life.


1. Start each session with introductions and letting everyone get to know each other. Plan a game or icebreaker to ensure everyone knows a little about each other by the end of the activity. This helps people feel more comfortable and willing to share or engage throughout the session.
2. Depending how long your session is, you should give your guests a 5-10 minute break with snacks and beverages provided. Giving them a mental break will help them be more productive and come back recharged.
3. Again it comes down to your seating map; avoid creating a classroom setting where attention is directed fully on the teacher, but create a space where attention can be on everyone equally.
4. Try to move as much as possible. No one enjoys sitting for hours and little movement can encourage fatigue and lack of focus. Plan activities and lessons that keep your guests moving!
5. Let your attendees talk too! You may be the speaker of the breakout, but you aren't the only one who can talk. Your opinion is important and people are there to hear you, but always encourage questions and get your guests opinions to make a more compelling conversation that everyone can be apart of.


Beyond the breakout sessions, still encourage the above suggestions among your guest speakers and special guests.


Here are ideas your speakers can try incorporating:
- Trivia games
- One-on-one sessions
- Conversational small group breaks throughout the lecture
- Competitions/ creating teams to compete
All of these ideas encourage those in attendance to converse with one another, and it will help break the ice to ensure that everyone has a great time while they are there.
Host a Q&A breakout session
People who have questions about concepts, themes, and projects have the opportunity to get more information from sources who are credible and able to provide answers.
The attendees will more likely last the entire event if they have the chance to ask and get answers at the end of the presentation.
Why are people attending this event?
Most likely because of a speaker or special guest attending, an influential leader in their industry; someone that powerful and giving them a chance to pick at their brain.
Give participants a chance to finally engage with the experts, the reason they attending in the first place.
Again, remember to think about them and what they want first.
If you are planning a conference or think you may at any time in the future, use this helpful information to keep you on track and address any issues relating to engagement.
Focusing adequate attention on this aspect will ensure greater effectiveness and satisfaction for everyone involved.
Have multiple people manage your event
Need help managing your account, but don't want to
give 100% control? Partner access is what you want.