Event Planning On A Budget: Quick Tips for Planners
Hosting an event to celebrate the launch of a business or to bring awareness to an organization, an idea, or a new brand is one of the most effective methods of spreading the word when you need to most.
If you are planning an event, but you are doing so on a set budget, you may be unsure of where to begin. Knowing how to plan on a budget is a way to plan your events seamlessly and with peace of mind, knowing you are far from the risk of going over budget.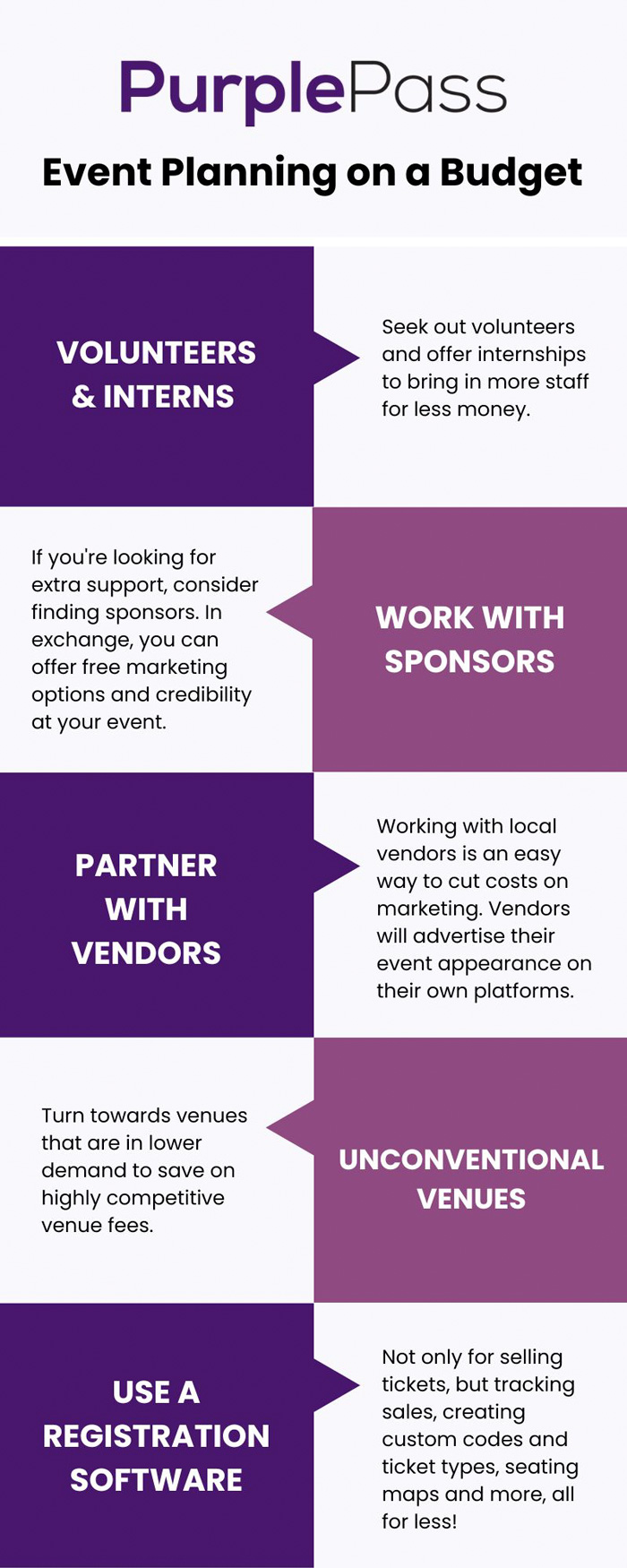 Assess Your Goals
Before you can begin reserving event venues and reaching out to local vendors and sponsors, you will need to assess your event goals. Ask yourself the following questions when planning your next event on a budget:
What is the purpose of this event? Am I trying to spread the word about a business, generate sales, or help attract new sponsors for an organization?
How many events do I intend to host? Am I hosting a one-time event, or a multi-day event?
Will I be working with local volunteers, sponsors, and vendors, or am I hosting and providing for the event all on my own?
Will my event include entertainment, food, beverages, and paid sponsors? If so, what are the estimated costs for each day?
What is the organization or event promoter's goal(s) from running this event?
Seek Volunteers
Search for local volunteers who are interested in helping you to plan and coordinate your event free of charge. Work with local volunteer groups, theater groups, and small business networks to find volunteers who are willing to lend a helping hand.
Hire Interns
Another option to consider when planning an event on a budget is to hire interns. Hiring interns can provide others with valuable experience, while also ensuring your event is well-maintained and properly managed from start to finish.
Interns that are seeking work in marketing, event coordination, event planning, and even in retail can be of assistance when planning a branded event on a budget.
Find Sponsors (Locally and Online)
Working with sponsors is a great way to raise money for any upcoming event you have planned, especially when you are planning on a budget. Seek sponsors for your event that are relevant to the type of vendors, artists, and entertainment you intend to highlight and promote.
Reach out to local and online sponsors depending on the type of event you are hosting (virtually, in-person, or with a hybrid event). Sponsors can help to provide you with the financial boost you need to ensure that all the other event elements you have in mind are in place.
Partner or Collaborate with Vendors
Partnering and collaborating with local vendors and sponsors is one of the best ways to plan any type of event on a budget, whether you are planning a local, virtual, or hybrid event.
Work together with local business owners, vendors, and sponsors to exchange promotional opportunities, discounts, and marketing boosts for one another. Negotiate with sponsors and vendors to provide them with discounts or with additional perks in exchange for helping with your upcoming event. Establishing and building professional connections is key to hosting a truly successful event in any town or city.
Sell Tickets in Advance
Offer "Early Bird Discount" tickets and sell tickets in advance to generate more sales while expanding your event's reach over time.
By offering discounts for those who purchase tickets early on, you can incentivize those who may be on the fence about attending to complete their purchase.
Use a Minimalist Theme for Decor
One option to consider when selecting decor for an upcoming event on a budget is to choose to go the minimalist route. Minimalist themes for decor are perfect for those on a budget. Using minimalist decor items and color schemes will help you to save money while also ensuring your event does not look too cluttered or overcrowded with decorations.
Choose an Unconventional Venue
One way to save on costs when hosting an event for any reason is to choose an unconventional event venue. Using unconventional event venues can help with attracting a unique audience while allowing you to host an event that will not soon be forgotten.
Some unconventional event locations and venues to consider might include:
Local parks and street fairs (if they are currently ongoing and active)
A local museum (such as a children's museum or a niche museum, depending on the type of event you are hosting)
Art galleries
Nightclubs during the daytime
Large parking garages/parking lots (ideal for events that are hosted over multiple days or with numerous vendors/sponsors)
Bowling alley
Partner with Local Speakers and Talent
Partner with local talent and speakers to help generate buzz surrounding your event, ultimately resulting in a greater turnout. Working with local talent and speakers can also provide you with a free marketing boost via social media and any platforms they choose to use to promote their attendance and presence.
Use a Registration Software Solution to Save Money
The use of registration software is highly recommended when planning an event on a budget. With event registration software such as Purplepass, you can streamline your ticket sales and the management of your event from one central location. Using registration software can also provide tools to easily track and monitor useful data in real time without needing to pay for third party software, instead use an event management platform with everything you need in one spot.
Research Inexpensive Marketing Methods
Consider using alternative methods of marketing to promote your event, such as social media, local newspapers, business collaborations, individual signage, flyers, and printed materials. Using inexpensive marketing methods can allow you more time and funds to spend on the event planning itself.
Inexpensive ways to promote your event:
Social media
Facebook events
Discovery sites
Local flyers or prints
YouTube/video moments
TikTok/Story reels
Community calendars
Google calendars
An event website (Wix, WP, etc.)
Knowing how to effectively plan an event on a budget can go a long way, whether you are launching a new business or looking for ways to draw attention to numerous vendors and local business owners. Taking the time to plan your event ahead of time while considering your budget every step of the way is a surefire way to minimize risk and increase your chances of a high turnout in terms of speakers, sponsors, and event guests.