Planning a Medieval Fair? Use These Quick Tips To Get Started
The Medieval times were some of the most memorable in modern history. From the wild world of knights and court jesters to belly dancers and jousters, there was rarely a dull moment during the Medieval era.
If you are planning to host a throwback event that is themed as a Medieval fair, there are a few things to keep in mind to help you through the planning process.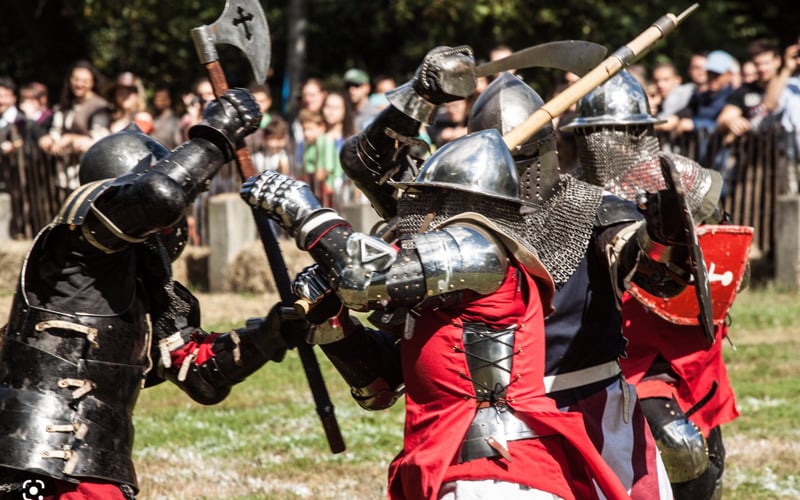 Themes, Themes, Themes!
Will your medieval fair be hosted outdoors?
If so, will you be hosting events such as jousting and eating contests or belly dancing?
Will your guests be encouraged to dress in medieval attire, or are you hosting an event that is casual?
Are you planning to hire stagehands and actors to assist with your medieval festival? If so, what type of costumes and attire will they be required to wear?
How will you incorporate the medieval theme you envision into the rest of the setup of your event?
What type of decor will you need in order to bring your event to life and to help create an immersive experience for your guests?
Finding the right themes for your medieval fair can go a long way in creating an event that will surely be difficult to forget.
Providing Flexible Ticketing Solutions
Whenever you are planning a medieval fair, consider using a ticketing and registration platform. An all-inclusive ticketing platform provides the option to sell tickets online (making them more accessible to attendees), while also providing you with the ability to designate different ticket types.
Some ticket types to consider offering for your medieval fair might include:
Senior discounts
Children's tickets
Military/veteran passes
Group discounts/family packages
Weekend passes (this works well for multi-day medieval festivals)
VIP passes and experiences/exclusive events for an up-charge
Merchandise sales online
Concession sales online
Integrating a built-in ticketing system and registration platform is a way to streamline sales while providing a central management dashboard to monitor sales at any time.
Consider Offering VIP Ticket Options
Another way to take advantage of a registration and ticketing platform is by offering VIP ticket options or special access to certain events and activities you are hosting. While VIP access may provide special parking, expedited lines, or even access to all of your festival's events, you can also consider special access options that can be purchased for the following at your fair:
Meal and drink tickets
Special or reserved parking options
Seating for particular activities or live entertainment
Merchandise reservations
Early access
Exclusive entertainment or shows
Exclusive booth or seating area
Include Terms and Conditions Using Your Digital Registration Page
Include terms and conditions for guests who are interested in attending your medieval fair on your registration pages. T
erms and conditions for medieval fairs might include what type of costumes and accessories are permitted, as well as which items are forbidden. You can also include rules regarding outside drinks and beverages, as well as conduct that must be adhered to at all times.
Consider Vendor Registration Solutions
When planning your next medieval fair or festival, consider implementing vendor registration solutions into your own ticketing and registration page. Allow vendors to reserve locations and sell their own merchandise online, streamlining the sales process, reducing lines, and helping others to spread the word about their business from one location.
Consider Volunteer Registration Options
Along the same lines as launching a vendor registration solution, consider offering volunteer registration options when using your own ticketing and registration platform.
Allowing volunteers to submit an application to volunteer their time to manage the festival is a great way to expedite the process of finding helping hands. Using your registration platform to accept volunteer applications can also help with organizing submissions in one central location, making it easy to search for and recall a specific applicant at any time.
Hire Actors and Stage Performers
Hiring stage performers and actors can help to bring any medieval fair to life. Working together with experienced actors and performers who have worked on medieval-themed events in the past can also help to bring your fair together while embracing your chosen themes.
Actors and stage performers can help with putting on shows, demonstrations, or even performances that involve horseback riding, jousting, or playing chess with a human chessboard. The options are virtually endless when planning a fun and exciting medieval-themed fair.
Planning the Logistics of Activities and Entertainment
Research and plan the logistics of any shows, plays, activities, contests, and tournaments you intend to host throughout your fair. Consider the locations of each event and how many volunteers or staff you will require in order to keep the activities running smoothly.
Create an Event-Specific Website for Your Medieval Fair
While preparing the logistics of your upcoming medieval fair, launch an event-specific website for the event itself. You can also include event details and logistics on your event's registration or ticketing pages, if preferred. These pages should be shared via social media, email newsletters, as well as your business or brand's official website.
Consider Working With Sponsors and/or Volunteers
Working with sponsors and seeking volunteers to help manage your event is a great way to garner more sales while also ensuring your event is handled properly.
Finding the Perfect Medieval-Themed Venue
One of the most important decisions you will make when planning a medieval fair is choosing the right location. Finding a venue that is suitable for the medieval-themed activities, events, and entertainment you intend to host is essential. The right venue can make all the difference in the overall turnout and experience of the festival itself.
Any time you are thinking of hosting a medieval fair, using a built-in ticketing and registration system is highly recommended. With the right platform such as Purplepass, streamline the management process of your event and never miss another opportunity to sell tickets, concessions, or even merchandise for your vendors again.