Event Marketing Q&A: Professionals Answer Questions about Marketing Events
Jump below to see profiles on all Q&A event experts quoted in this article. Click on the links to listen to full interviews with each event professional featured.
Q: What are your thoughts on doing traditional marketing for events? Sending out a postcard or going through mail, or direct calls.

L: For us, that's something we still do, I think, receiving these physical elements, it gives a bit more of a personal touch. And they feel a bit more noticed. Obviously, you can reach the masses through digital marketing. But it's actually when you hone in to the individual, that's probably where you get the most connection, and build that relationship up for products or for events.
For businesses in general, being able to drive that type of connection bullets is definitely key. We've used it in past, we've created postcards when we've had an event. And we've popped in the kind of like a QR code to sign up to make it easy for them. But it gives them all the information that they want to know. And it's something that they can hold on to, they can see the branding, they know that it's come to them, and we've taken the time to actually design it and deliver it to them, instead of just relying on it kind of getting in front of your feed at some point on one of our multiple kind of digital marketing strategies for the events.
We recognize that there's still a lot of people that will have subscriptions and enjoy flicking through magazines. I mean for myself, I love flicking through the book. So I imagine there's a lot of people that still really love getting something physical and reading through it, instead of finding the digital version and flicking through it on your screen. It's not quite the same.
So presenting messages kind of across the board in a multitude of traditional avenues is definitely something I think that is still there. And it can be overlooked as well, because digital marketing is so encapsulating, and it's easy to get to a lot of people, but, those traditional customers are the ones that are probably the more long standing ones. And the ones that you actually want to share a bit more individuality in connectivity and communication with because they're the ones that you are likely to see the quickest and most truest response.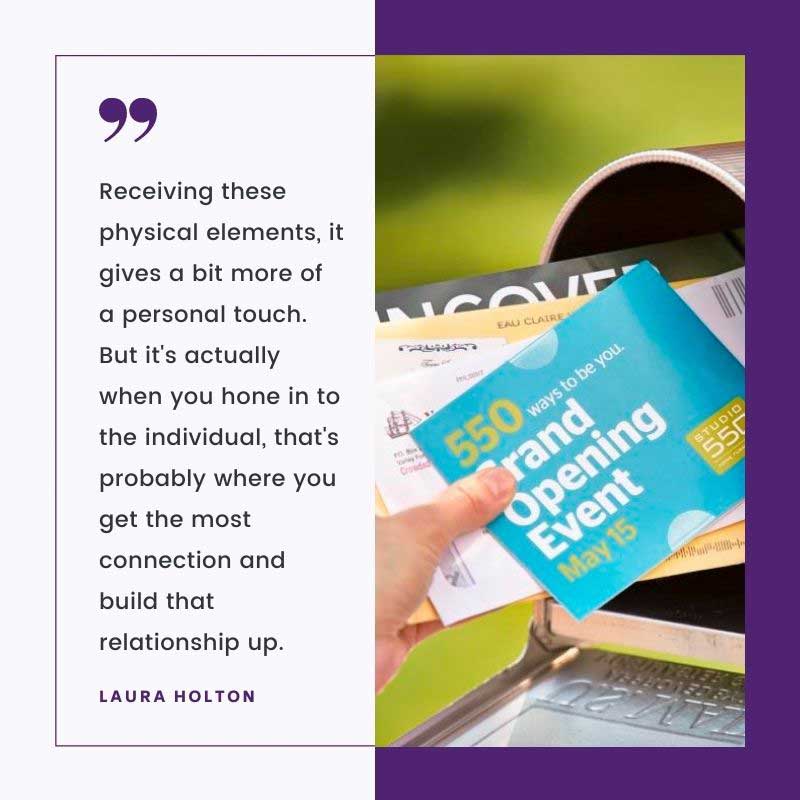 Q: How do you captivate an audience that's constantly being thrown advertisements of this event, this event, etc? How do you compete and stand out?

M: In terms of marketing, I think one of the things that's coming out of this is that the world is just breaking up into smaller and smaller niche groups, of people with particular interests. So whether you're talking to dog owners, or people that read, people that talk about books, book clubs, or, fashion and beauty as a broader one, sometimes these things are very targeted.
And if you're marketing in a very broad way, yes, you're competing with everything, so the challenge is to ask yourself how do you reach that segment, that you really want, that's really most likely that people will tune into and be the most interested in?
And part of it starts with, if you have the budget to do it, or you can do it by finding a celebrity or an influencer with a broad enough social base to bring an audience to it, just based on their involvement. That's a start.
Q: For marketing purposes, do you recommend that event planners partner with influencers?

B: My answer is that it depends. I personally don't typically advise an influencer first strategy, not because I think there's anything wrong with it. But I think you have to be selective. I think when you're a small company, and you're just getting started, you're going to benefit more by making sure that you have a fully optimized website, social channels, digital advertising and marketing strategy. Making sure that those pieces are in place, and you've done a good job.
Because all the influencers in the world, generally speaking on their own will not make or break something for you. So, you know, I think it's really important to understand that you have to have the right pieces in place before you do anything like that. And if you do, or if you're a bigger company, and that's all established, and you've done it well, I think influencers can make sense, assuming that they are the right fit.
I personally happen to really like micro influencers, I think, if you're going to use them find the people that it just makes sense for their audience, for your audience, and that they integrate in a way that feels very natural. When it feels forced, I think most of us get that on a gut level and we tune out and we get that and we don't care.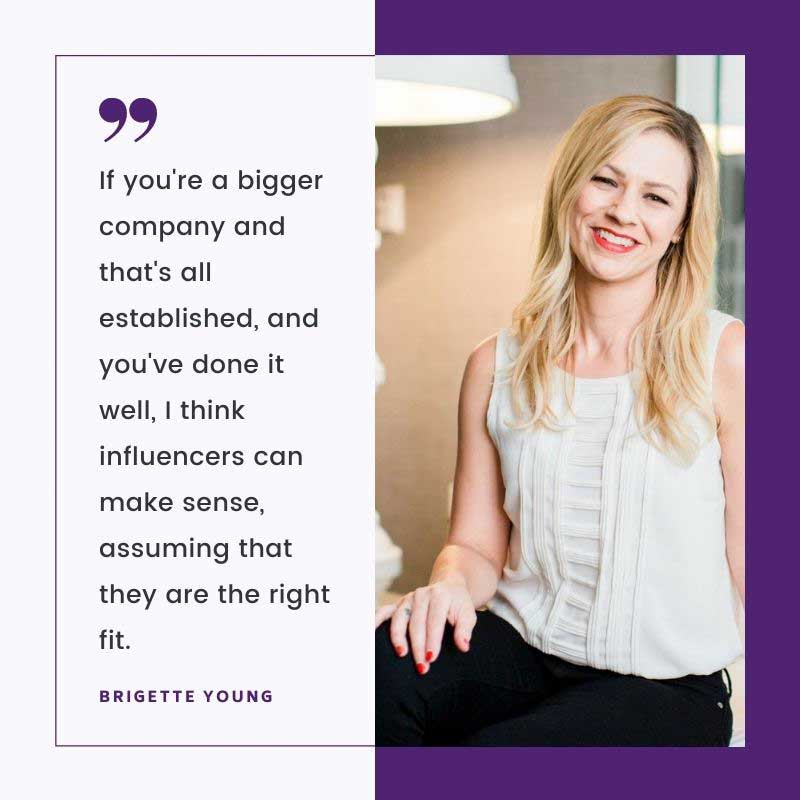 Q: When posting on social media, does consistency matter? Is there a rule for how often a brand should post?

J: I think in a sense, it does matter. So I personally, I have my clients make goals and what they feel comfortable with. So I don't want to tell anyone to post more than they feel comfortable with because the quality, the quantity doesn't matter as much as the quality, right?
But if you're sitting here and you're like, oh, I just like have no idea what to post or how often I would, say make a goal for yourself to post on your Instagram story or Facebook story or on TikTok. I would suggest posting on your story once a day, I would suggest posting on your feed maybe like three, four times a week.
And honestly right now video content is becoming so relevant in businesses. So making a goal to at least at least once a week putting out some sort of video content is so important right now.
Q: How do you think marketing has evolved post-COVID? What are some new trends we are seeing?

E: Digital marketing, I think, essentially, everyone's going into the digital shift. So meaning, ecommerce mainly and essentially with the pandemic, I was reading the other day a data study that says we have basically accelerated, like by five years into the future in terms of the ecommerce and online shopping.
People are spending more time online on their mobiles. So obviously, we really kind of shifted the dynamics from physical location, because of the lockdowns as well.
In terms of online and promotion and marketing, it's been very, very abruptly changed. And then obviously, what has helped also is that social media is also developing technologies, anywhere from around Instagram swipe ups, to tracking essentially ROI, your traffic to igtv, to Instagram Live. People have turned to Instagram shopping as well.
So essentially, now anybody can kind of get into the game in terms of to be seen by millions of people if you're savvy enough to use the technology available.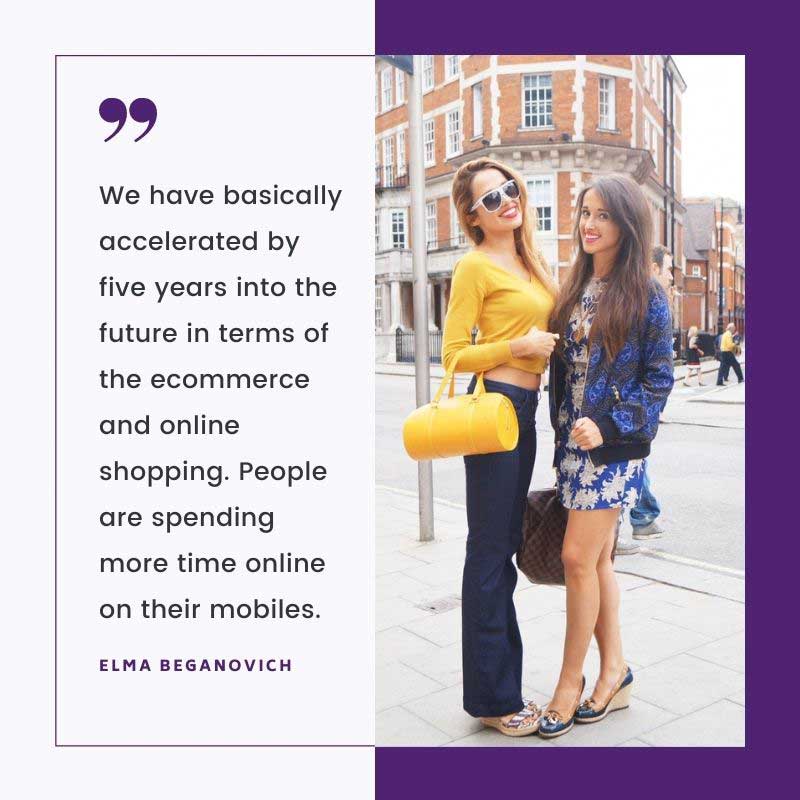 Q: Are marketing and content strategies different for virtual events versus in-person?

J: I think the first thing is, is setting your strategy and your objectives and understanding what is possible and isn't impossible. And the fact is, is that live events is you know, 80% networking and cat and engaging and 20% content. And the fact is virtual is the opposite of that. It's 80% content, and 20% networking and engagement. So just understanding that and setting your sights and your goals and your strategies against that.
You know, it's simple marketing equation, like TV is good for some things, print is good for other things, web is good for other things. And you wouldn't do what you do on TV on the web or in print. You could have the same theme, but you approach them differently, so the first and most important thing to realize is virtual is just a different animal than live and you need to adjust to that.
Then once you kind of realize that and you start to think about it, people engage online every day, how do they engage, they engage with content, they engage with each other, they engage with, fun, interesting things. So there's all different types of ways beyond just the content to get people to engage.
Really knowing your audience, and what's the purpose of your meeting and what you're trying to achieve, and designing the technology to fit that is key. And then once that's done, just ideating the heck and brainstorming the heck for ways to get people more engaged, like shorter content, snackable content, ways for them to interact ways for them to not only interact with the speakers or the acts, but also other people at the event, adding in gamification to kind of make it fun and interesting and a little bit competitive, if that makes sense for your audience.


---


Matthew Glass
SVP of Allied Global Marketing
Listen to full episode

Laura Holton
Marketing Executive at Automation Consultants
Listen to full episode


Brigette Young
Founder of The Modern Muse Company
Listen to full episode


Jordan Crump
The Space Social LLC
Listen to full episode

Elma Beganovich
Digital marketer and entrepreneur
Listen to full episode


John Capano
SVP of Client Development at Impact XM
Listen to full episode