Clubhouse for Virtual Events? Why the Platform Might Not be Ideal for Your Audience
There has been a lot of buzz recently about the Clubhouse app, a new social media for...well, keep reading!
The new platform initially gained popularity among the Silicon Valley crowd. However, it's slowly becoming the latest must-have social media networking app for many users and business professionals.
What is the Clubhouse app?
Clubhouse is an application that allows people to join and host audio conversations with others. The application is a solely audio-based platform that enables people to talk and share ideas in real-time.
Some people are calling for it to be the newest podcast platform, but better!
With its audio-only format, Clubhouse breaks the norm of visual and written media content and focuses on a factor that many social media platforms ignore; audio.
Launched in March 2020, Clubhouse was developed by Paul Davison and Rohan Seth and is run by their company Alpha Exploration Co. The application has grown from having 1500 users in May 2020 to having over 600,00 users in December that same year.
Who can get the Clubhouse app?
Clubhouse is currently available to iOS and Android phone users and can be downloaded through the App Store and Google Play Store. While the application also has a website, it simply acts as a pointer to the Apple App Store and Google Play.
Using the app is the only way to host and join audio conversations.


How can you join Clubhouse?
Clubhouse thrives on its exclusivity.
It is invite-only, meaning that anyone who wants to join the platform must be brought in by someone who already has an account. To join Clubhouse, an existing user has to send you an invitation from their app granting you access to set up a Clubhouse account.
When someone joins Clubhouse, they are initially granted only two invites to send to people using their phone numbers. When you get invited, a link directing you to a sign-up page in the app will be sent to your phone.
Read more to learn how you can get an invite to the audio app.
How does Clubhouse work?
Once you sign up on the app, you'll get prompted to choose topics or people to follow. The application offers various topics to follow, from science to sports to world affairs to technology to religion, and many more. Numerous conversations happen simultaneously on the platform, giving users a wide range of subjects and speakers to choose from based on their interests.
Based on who and what topics you choose to follow, you'll be presented with a list of ongoing and upcoming discussions. You also get access to the list of participants in each room.
Here's how the rooms work:
To join a room, you need to tap on it. Once you enter a room, you can leave at any time. You can also start an additional room. The more people or conversations you follow, the more likely you are to get conversations that fit your interests.
Enable notifications so that you get notified when discussions you are interested in begin.
Rooms have a maximum of 5,000 participants. However, this limit can be turned off.
Conversation rooms come and go as soon as people launch or end them, and users cannot record conversations as they happen.
Most Clubhouse rooms have a TED Talk feel, where one person speaks, and everyone else listens.


Clubhouse app as a virtual event platform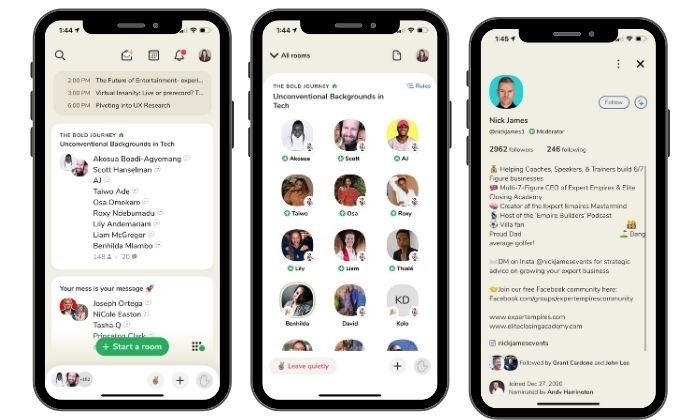 With the rise of virtual events, virtual event platforms are increasingly on-demand. The clubhouse platform has joined this list and has a large and growing community of users, making it attract the attention of many event professionals.
How can event professionals use Clubhouse?
Clubhouse provides an exclusive and intimate community as a club where participants with similar interests can connect and engage with each other.


1. As a networking platform
Through Clubhouse, event professionals can easily connect and network with industry leaders that they would have never had access to or have a hard time reaching. Various event industry professionals are registered on the platform and host several rooms on Clubhouse.
Users have also created numerous clubs that focus solely on event production, event marketing strategies, weddings, venues, and event vendors. Several of these clubs boast thousands of members and host daily and weekly conversations with various event experts.


2. As a Marketing Strategy
Clubhouse provides brands with an opportunity to connect with customers in real-time, organically. There are many opportunities for businesses to share their brand story, generate brand awareness, get product feedback, and run impromptu focus groups in Clubhouse rooms.


The Clubhouse vs. other virtual event platforms?
Clubhouse has become a platform of choice for many users because of various reasons:


1. Accessibility
Unlike other virtual event platforms like Zoom and Google Meets that require users to have a meeting ID and password to join a conversation, Clubhouse rooms are open to any user who can find the room and not a select few.


2. Puts off the Visual Pressure
Clubhouse takes off the pressure of visually connecting with people.
Its audio-only feature is particularly appealing to people with social anxiety. This sense of anonymity makes joining conversations fun. Users can also be as active and present in a discussion as they want. If you join a room and don't enjoy the chat, you can leave quietly.


3. Users don't share their data
On the platform, you can join a room without filling in your phone number or email address. As a result, you don't have to worry about getting unnecessary spammy emails after signing up.
This can be a plus for all privacy-conscious users.


4. Users get event notifications
Once you follow someone on the app, you get notified every time they start a new room. You can also see a schedule of all the upcoming rooms scheduled by those you are following on the app.
Should you use Clubhouse for your events?

Clubhouse may not be an ideal social platform for all audiences. Various aspects of the application make it unappealing to a broader market.
For example:
It isn't easy to join the platform. The biggest draw back for event professionals is how difficult it is to join. The invite-only and exclusive nature of the application locks out a large audience from accessing the platform. Unless your audience is already using the platform, it may prove challenging to invite them all.

The real-time audio-only format of Clubhouse isn't for everyone. Some audiences prefer visual interactions.

Conversations are not available on-demand and cannot be recorded. This means that once a conversation is over, you can't access it. This makes it difficult for people in different time zones to access the same conversation.
Final thoughts - should event professionals be using Clubhouse for their events?
To appeal to a bigger audience and make your virtual experience more convenient to your audience, you may opt to use other virtual platforms for your event hosting needs.
Similar to other virtual event platforms, Clubhouse continues to break down barriers and offers organic ways for people to make meaningful connections and engage with each other.