The State of the Event Industry in 2021 and the Future of Events
In March 2020, the world came to a screeching halt with the onset of the COVID-19 pandemic. The government enforced travel restriction bans, unprecedented lockdowns, and social distancing measures to contain the spread of the virus.
As a result, a few industries were largely affected, and one of the most affected was the events industry.
The state of the events industry pre-pandemic


Before the spread of COVID-19, the most commonly held events included corporate events, conferences, exhibitions, seminars, fundraising, trade shows, festivals, music and art performances, product launches and sporting events.
The primary stakeholders in the events market were and mostly still are corporate organizations, non-governmental organizations, and public organizations.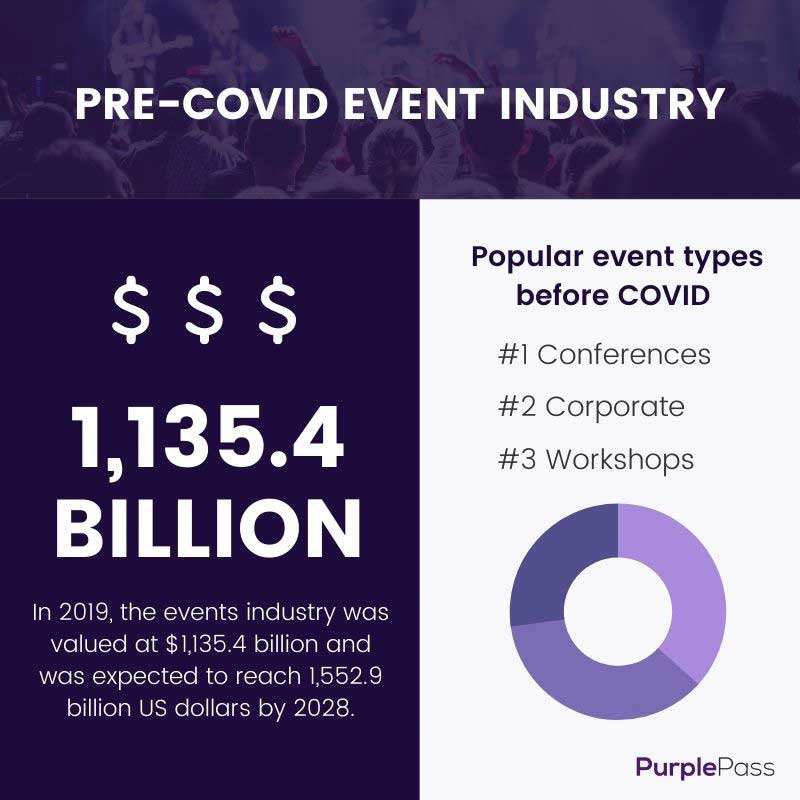 Statistics show that conferences were the most popular type of event in the industry, with 62% of organizers planning them.
The corporate events category was the second most popular type of events, with 61.2% of organizers planning them. This is attributed to the rise in the number of corporate companies and the frequency of events they organized. Additionally, corporate events involve a lot of interaction between the speakers and audience, attracting many attendees. In third place were workshops, with 46.7% of organizers planning them.
In 2019, the events industry was valued at $1,135.4 billion and was expected to reach 1,552.9 billion US dollars by 2028, registering a compound annual growth rate of 11.2% from 2021 to 2028. The music concert event category was predicted to experience the most significant growth with a CAGR of 13.1%.
Popular event types prior to the pandemic: conferences, workshops and trainings, corporate events, music productions
The event industry was valued around $1.4 billion, expected to reach about $2 billion
Concerts were predicted to experience significant growth
The pandemic's impact on the event industry


The COVID-19 pandemic has had adverse events on the events industry as a whole.
A survey conducted by Meeting Professional International (MPI) and Event MB found the following:
96% of event organizers experienced cancellations due to the COVID-19 pandemic

51% of event planners and 73% of suppliers expected the pandemic to have a negative economic impact on their businesses in the next 12 months

21% of event professionals expected the COVID-19 pandemic to have a negative financial impact on their businesses in the next 24 months

15% of event professionals felt that the travel ban would affect their businesses

40% of event professionals were concerned about their job security due to the pandemic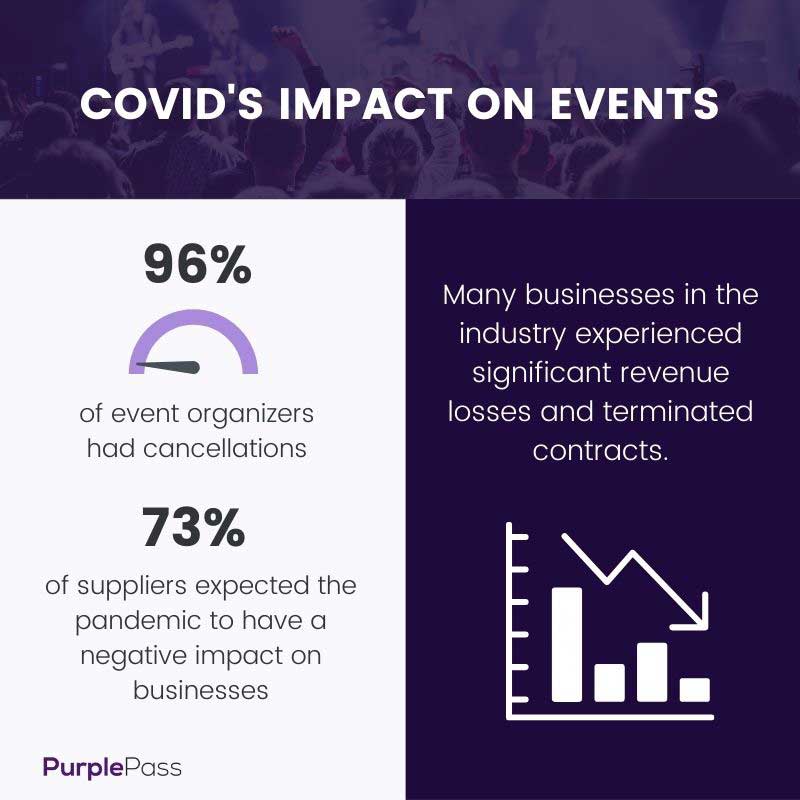 With the enforcement of travel and movement restrictions worldwide, most event venues were forced to close. As a result, many prominent and private events were postponed or canceled and waking up to new postponements and cancellations became normal.
As a result of the cancellations and postponements, many businesses in the industry experienced significant revenue losses and terminated contracts. Several companies in the events industry were declared bankrupt, some were forced to lay off a substantial number of their staff, and others were forced to close down operations. Millions of Americans were laid off or furloughed, while some reported some loss of income.
Some event professionals even departed from the industry on their own accord.
The new way of attending events


Rather than halting an industry entirely dependent on face-to-face interactions, many organizations are embracing virtual events of various sizes for their audiences to substitute in-person events. These virtual events are helping event organizers to connect and maintain a business relationship with their audience until in-person events become feasible again.
With the help of numerous video conferencing platforms and social media, companies have organized and held virtual events. According to a survey by Events MB, 73% of event planners have successfully transitioned their events to the internet.
The virtual events industry is becoming increasingly popular. According to Grand View Research, the virtual events market is expected to be valued at 404.5 billion US dollars by 2027 while growing at a CAGR of 23.2%.
The latest pandemic guidelines for events in 2021


With the approval of the Pfizer- BioNTech COVID-19 vaccine on December 10th, 2020, and the subsequent approval of other COVID-19 vaccines, there is a glimpse of hope that soon the world may return to normal.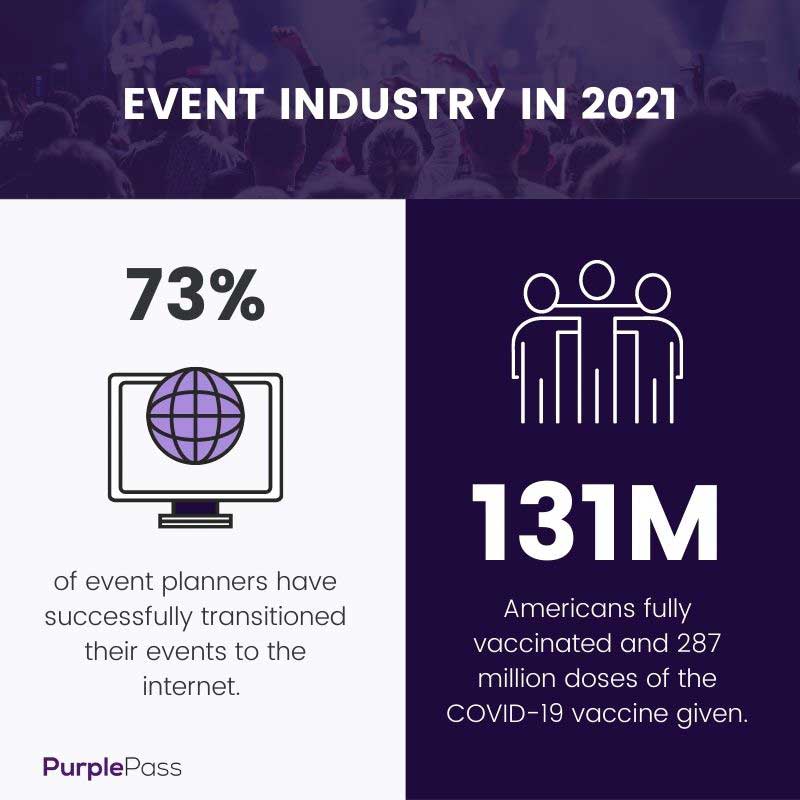 With about 131 million Americans fully vaccinated and 287 million doses of the COVID-19 vaccine given, the Center for Disease Control and Prevention recently updated their COVID-19 safety protocols.
Fully vaccinated people no longer need to wear a face mask or socially distance in most indoor and outdoor settings unless required by state, federal, tribal, or local laws or by a business. However, those who aren't fully vaccinated must wear face masks indoors and in some outdoor settings.
A person is considered fully vaccinated at least two weeks after receiving the second dose of the Pfizer-BioNTech or Moderna vaccine or a single dose of the Johnson & Johnson vaccine.
While some states like Maryland and Texas are reopening their economies, ending the strict COVID-19 safety restrictions, and allowing businesses to operate without capacity restrictions, some are easing these restrictions gradually.
New CDC guidelines for events


The CDC encourages event organizers to adhere to local and state regulations on gatherings. It provides event organizers with crucial roadmaps to resuming events in the United States with details of how to mitigate risk levels and necessary actions to prevent the spread of the virus.
The CDC also recommends that event planners work with local and state health officials to implement this roadmap and adjust it to meet the community's specific needs.
While you can currently organize events in some states in America, we expected the global events industry to stabilize after 2023.


---
Stay updated on the latest industry trends and get free advice from event professionals by subscribing below! Get weekly blogs and notifications when a new podcast episode is released.


Subscribe to our newsletter
Event marketing tips, planning advice,
industry trends, and more!