Explore Italy In Your Own Backyard: Little Italy San Diego
Yearning to explore Italy, have a cup of gelato, dinner date (Lady and the Tramp style), and discover your Italian roots? You don't need to take a 15-hour plane trip when everything you need is just around the corner. Thanks to the Little Italy Association of San Diego!!

Established in 1996, the Little Italy Association of San Diego maintains the revitalization and beautification of the Little Italy neighborhood in Downtown San Diego. Not only does it bring Italy to life in your own backyard, but encourages public safety, and economic development to preserve this unique cultural experience.
Their latest event, Solo Italiano: Dinner in Rosso presented by PenFed Credit Union is taking place Saturday, October 6th at 4:00 pm PST. Taking place at the recently opened, Piazza della Famiglia, this event will transform the Piazza della Famiglia into a magical Tuscan-inspired evening featuring a one-of-a-kind curated and immersive dining experience that encourages guests to dress in their best red attire. The event will also raise funds for the LIA to help maintain the history and unique charm of the community.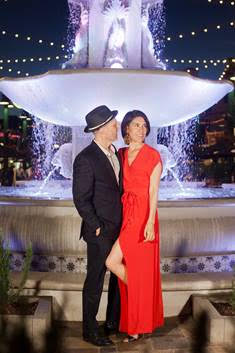 "The introduction of Solo Italiano: Dinner in Rosso presented by PenFed Credit Union will give the Little Italy Association the opportunity to bring the community together for a unique Italian celebration in our new Piazza della Famiglia," said Chris Gomez, district manager of the LIA.

"Guests will enjoy an authentic Italian experience because everything featured at the event is inspired by Italy or the Italian culture—from the food to the entertainment! We hope the intimate communal dining experience encourages guests to engage with each other—even if they come as strangers, they'll leave as family! It will definitely be an amazing experience for all to enjoy."
Dinner guests are encouraged to wear red for this premier event. Family, friends, neighbors, and visitors are all invited to experience the first annual Solo Italiano's Dinner in Rosso this year. There are a limited number of Dinner in Rosso tickets available, and tickets start at $200 per person.
Purchase tickets and learn more about the event here!